As you've no doubt heard, the Short-Fingered Vulgarian announced a plan to round up "millions" of undocumented immigrants via tweet last night: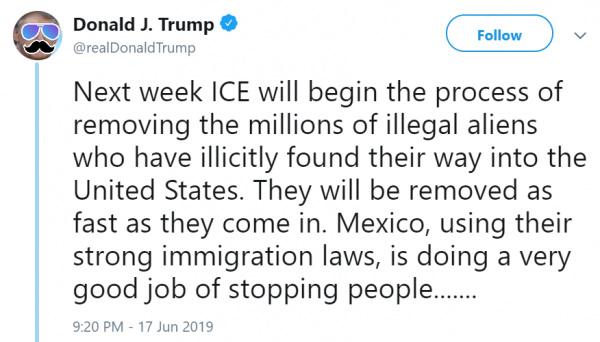 This was news to ICE, according to The Post:
U.S. officials with knowledge of the preparations have said in recent days that the operation was not imminent, and ICE officials said late Monday night that they were not aware that the president planned to divulge their enforcement plans on Twitter.
I'd rather gouge out my eyes with a melon baller than watch Trump's klan rally/2020 campaign launch from Orlando tonight, but I'd bet my next paycheck that anti-immigrant demagoguery will feature prominently in the evening's bellowing. We've seen this movie before. Trump will make stupid accordion gestures with his tiny mitts and leer, snarl, strut and lie in an attempt to sound tough. The rage-fart huffers of Cult45 will stomp and hoot in approval.
But whenever Trump cranks up the bigotry, it's a sign of weakness. Greg Sargent at The Post has it exactly right:
It has never been clear whether Trump acknowledges any political downside to his immigration cruelties and all around border-related impulsiveness. He appears to refuse to accept that they helped Democrats win a large national majority in the 2018 House races. He appears certain — outwardly, at least — that in 2020, this focus will energize his core supporters by enough to tip the electoral college, due to disproportionate numbers of blue-collar whites in the Rust Belt.

But the backdrop to all this is that the Trump campaign is firing several pollsters, because internal data leaked revealing Trump as deeply vulnerable to losing reelection — including trailing in Rust Belt states.

Trump still enjoys the advantages of incumbency and the good economy. But if his immigration agenda in particular is helping boost his reelection chances in those places, there's no sign of it yet. Until that changes, this threat of mass arrests looks more than anything else like doubling down on a failing strategy — both substantively and politically.
In addition to firing up racist, xenophobic base voters, mean-spirited immigrant bashing frightens squishy Republican Never Trumpers like Andrew Sullivan and David Frum, who are urging Democrats to take a harder line on immigration — despite being immigrants themselves. Remind me again why we should listen to those assholes? Oh right, we shouldn't — fuck them.
Candidates Julián Castro and Beto O'Rourke have compassionate, comprehensive immigration proposals. Even if neither man makes it to the ticket, it's my hope that their proposals gain support in the primary, just as I hope many of Warren's economic policies become part of the Democratic Party platform in 2020, even if she's not the nominee.
Outside of Trump's rabid, dwindling base, cruelty doesn't play well. But Trump is going to double, triple, and quadruple down on immigrant-bashing from tonight on through election day — not because he's strong, but because he's weak.
That means we'll have to stay strong, because friends, shit's about to get even uglier. This may be a good time to reach out to immigrants in your life who are understandably anxious about the climate in this country and let them know you stand with them.