It all started with a lovely comment Ozark posted in a Balloon Juice thread on July 5, which prompted me to drop him a line.
Hey Ozark,

Beautiful post this morning!

It reminded me that I have been wanting to ask you if you'd be interested in putting something together about the Woofmeister for the Furry Friends feature.

I would love to know more about the Woofmeister!

Pictures and stories. :-)

WaterGirl
So of course Ozark wrote back with the loveliest of stories.  Make yourself comfortable, and settle in for this treat from OzarkHillbilly.
*****
Tales of The Woofmeister, Miss Kitty, and Percy
by OzarkHillbilly
By the time we bought the Hillbilly Haven, my wife and I had been wanting a dog for quite some time.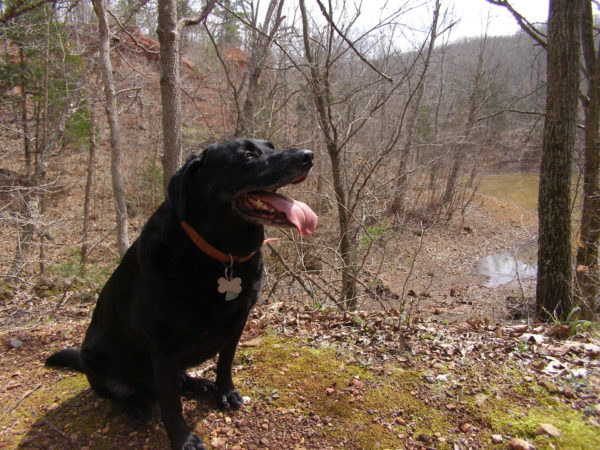 While I worked on the place trying to make it habitable before the landlords kicked us out of our house in Bourbon, we talked about the various breeds. A fellow carpenter had some red heeler pups but one look at their traits on the internet and we decided they would not be a good fit for Baby Girl (our 2 y/o granddaughter). Some years before I had had a white Lab (Willie Maybe, the Say Hey Dog) who was one of the sweetest, gentlest, most patient dogs I'd ever known and had traveled all over the Ozarks with me and the boys. The wife had seen his pictures with the boys and heard the stories and the more we talked of him the more we were sure we wanted a Lab. We started looking to see what we could find. HALO is the local animal rescue group and their website had 2 possibles. One was a Lab mix that was being fostered and the other was a full Lab at the Sullivan pound that HALO had an arrangement with.
The following Monday morning I called the Sullivan cop shop and talked with the animal control officer. He said he could meet me at the pound at 10 o'clock. As was my want, I got there about 15 mins early. He showed up about 10 mins later and we went in. He went back to the cage to let the dog out so we could get acquainted, opened the gate and WHOOOOSH! 80 lbs of black fur and determined bone, sinew, and muscle flashed past and out the still open door at the speed of light. We thought he was making a dash for freedom but no, he had stopped behind a sign (where he could have a little privacy, doncha you know) and for at least the next 10 mins he peed and pooped like he'd been holding it all weekend, which wasn't far off the truth. As we looked at the spotless cage, the ACO told me he had last been there to give the animals their weekend feed at noon on Saturday.
I thought, "I want this dog."
So once he had finally finished his business, we were introduced. He leaned hard against me and was very amenable to the liberal pettins and scritchins I was giving so I said, "OK, we'll take him." and hoped I wouldn't be sorry.
In the pickup on the drive home I began to have second thoughts. He was in my lap and refused to get out of it. Driving with an 80 lb lap dog on our narrow, crooked, and steep roads is not for the faint of heart. At that point I was thinking "Static" might be the perfect name for him. (the vet estimated he was 1-2 y/o so he had a little more growing to do)
When the wife got home we discussed names. As I recall it was a very short conversation. When our granddaughter was just starting to talk, she would point at a dog and in a voice so soft you could barely hear her say, "Woof." And so it was Woofie. After a while I kind of felt he needed something a little more dignified for when mingling in polite society and appended the "meister" on.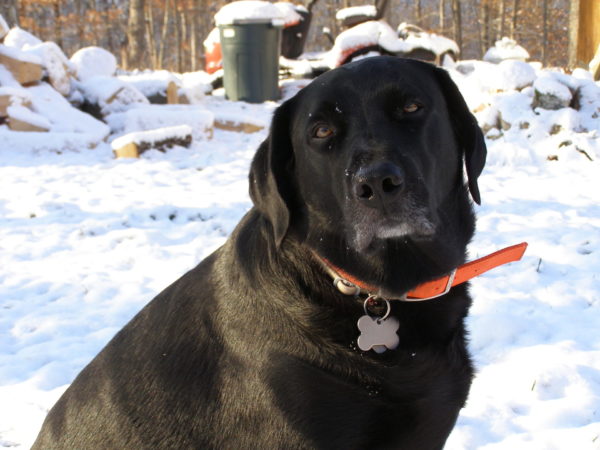 ……………………………………………………………………
Woof was a snuggle bunny from the gitgo. He soon learned we were willing to share the couch and it didn't take him long at all to become an inveterate lap Lab, knowing that every lap comes with generous belly scratchin's and neck pettin's. These days, if I want to sit on the couch I have to first pick up his head, hold it out of the way until I have sat, then when I let go I get 20#s of head flopping down on to my balls. One gets over the pain and besides, there is a belly in need of scratchin's.
At first I tried to say "No dog on the bed!" (like any one was ever going to listen to me), but It wasn't long before I was lucky to get a 6" strip of edge and maybe enough sheet to cover my feet. Maybe. If I was lucky.
……………………………………………………
Like most Labs, he loves retrieving. We soon settled on frisbees and before long he was leaping and catching them in flight. Not a good idea for a dog as big as he and I had to be careful to keep the flight low enough that he wouldn't need to jump or high enough that he wouldn't even try. His favorite is a black rubber Kong, They are soft and floppy and he can pick it up and shake it as violently as he likes, just like he would a squirrel, if he ever caught one.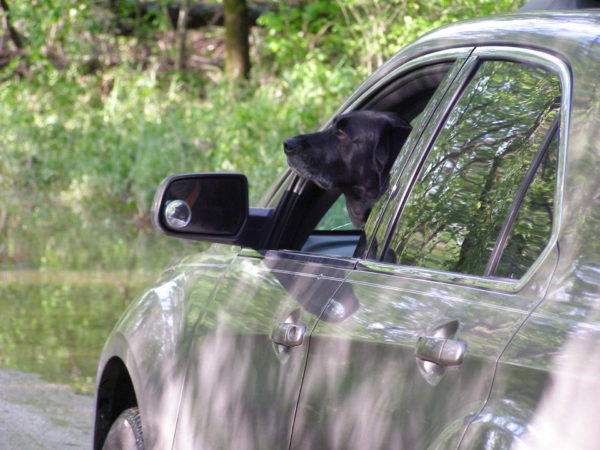 It's flexibility however makes it difficult to throw. I picked up on the nuances pretty quickly and was soon throwing it down the utility easement from one pole to the next, a distance of about 60-70 yards. Others would have difficulty. It always came out of the hand wrong, wobbling thru the air like a wounded duck and unceremoniously flopping to the ground at the end of some pitiable flight. My wife's throws are… Just sad. That is the best one can say. My sons would invariably try to muscle it thru the air and while it would go further it still flew with all the grace of a platypus. Poor Woof, he would walk the ten or 12 steps to the embarrassing end of some ignominious flight, pick up the frisbee, and ignoring whoever threw it, bring it back to me. He'd look up at me and say, "Please? S/He throws like a girl."
These days, he's grown old and arthritic and now has congestive heart disease. He still wants to chase it and gets very excited the first throw or 2 but then he has to catch his breath and it takes longer with each toss. These days I only throw it about 20 yards or so and never down or up a hill. I keep it on the level. Sometimes I'll throw it and he will stop and look off in the direction of where it went and just stand there. One might think he has forgotten what he's doing, but he hasn't. I think he's just trying to decide whether it's worth the trouble of getting it or not. Once he's had enough he'll walk to a spot 20' or so away from me and flop to the ground.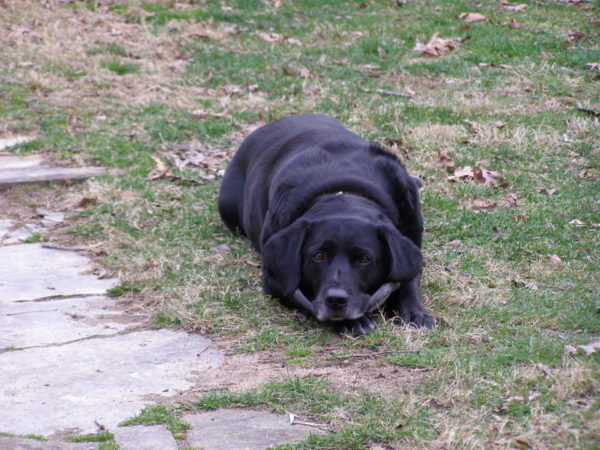 ……………………………………………………………………..
I always wondered why such a sweet, loving, well behaved dog would be abandoned. Despite his clinginess and almost complete attachment to me, those seemed more like the insecurities of abandonment, as he showed no additional signs of abuse. Now he did get dumped at the height of the Great Recession but economic insecurities just didn't feel right. I soon found the real issue, or at least this is the story I like to tell myself: He does not like water. At all. I mean if it is raining? Forget running around in it or splashing thru the puddles, he will go and hide behind the bed at the first hint of raindrops on the roof. He will hold a pee for hours if there is water falling from the sky. This is a fatal defect in a hunting Lab.
I think it was 4 years before I managed to coax him into a shallow creek and all he wanted was out.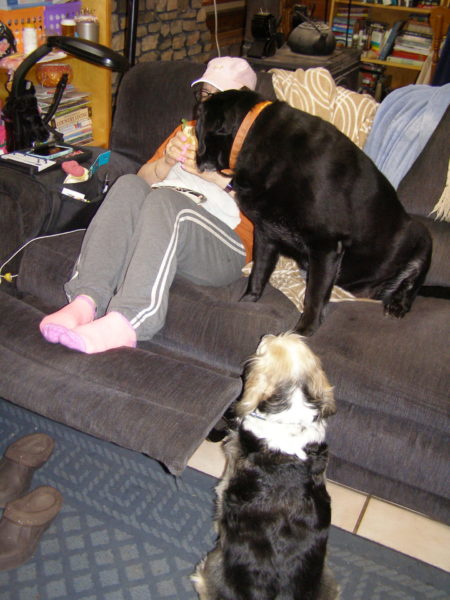 Eventually he did get to the point where he would follow me into the water, but sadly it was only because he felt it his sacred duty to rescue me from the enveloping waters. I'd have claw marks for a week after his attempts to drive me back to shore.
Once while at a creek front property belonging to a buddy of mine, we decided to go check out a nearby cave. We had no lights or anything it was just… Cavers, we gotta smell the darkness. Knowing Woof would insist on rescuing me, I had my wife leash him up, telling her to wait about 15 mins before freeing him, and off K and I went. We crossed the creek, leaving a very unhappy lap Lab behind. After the creek we had to wade thru a long, wide, waist deep, leach filled oxbow and then scramble up a low tick infested bluff line to the entrance of the cave. We went in. It was walking for the first 100' or so, then it was stoop walking with a scramble over a low ledge here and another there. It is surprisingly hard to avoid hitting one's helmetless head on the ceiling when navigating the twilight zone but we more or less managed to keep our skulls unscarred until we could no longer see our hands in front of our faces and decided we had reached the end of this little 3 hour tour. We sat back and relaxed for a few minutes, just enjoying the darkness and the damp moldy smell of cave. All of a sudden I had 100# of wet fur, claws and happy tongue lapping at my face.
"Damn it dog!"
………………………………………………………………………
Anyone who has ever had a Labrador knows that their tails are forces of nature. They can take a coffee table from cluttered to clear in 1.2 seconds. Percy is just tall enough that if he is standing/sitting behind Woof the tail whacks him hard about the face. I half expect him to just slump to the floor unconscious one of these days. One time when she was 3 or so, Baby Girl got caught in that spot.
Wap whappity wapwap… "Stop it Woof!!" her arms up trying to protect her face. Wapwap whappitywhappity wapwapwap…
She marched around in front of him, grabbed his jaws in a two handed grip and got 2 inches nose to nose and said, "I said stop it Woof!" with a very stern air of command. He just looked at her. And wagged his tail.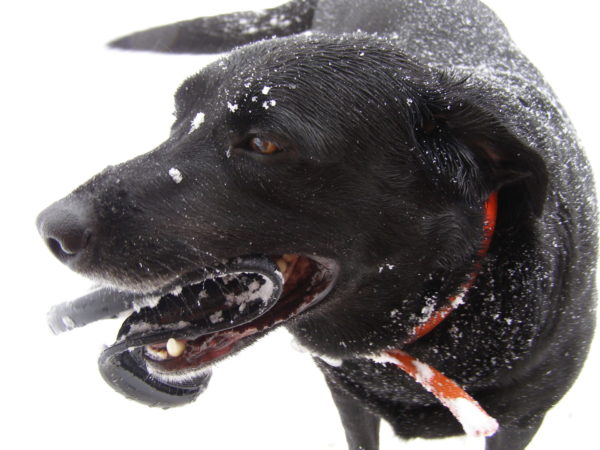 My wife says his tail is a perfect Daddy meter. If I come into a room his tail will thump. Just once. The closer I get to him, the more it thumps. By the time I bend over to give him a rub it is going like Buddy Rich on the Tonight Show with Carson.
……………………………………………………………….
Miss Kitty arrived a few months after Woof and he didn't have any issues adjusting to her presence, beyond the usual teen aged "Oh boy, a friend to play with!!!" that she set him straight on right quick. After a week or so they pretty much just ignored each other. The only exception being, if Woof is getting a treat, by gawd she'd better get one too!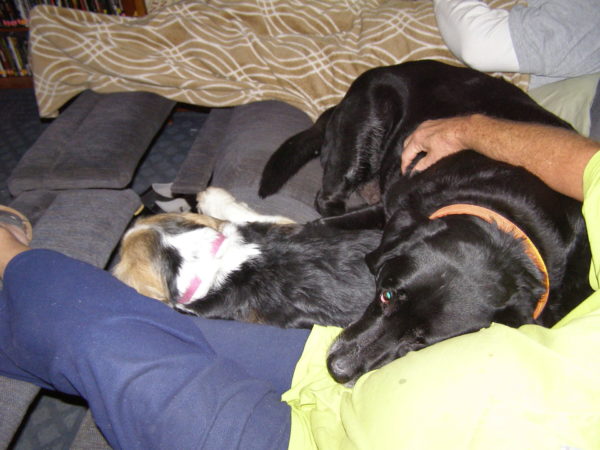 Percy's arrival was a different story. There was no aggression, it was just that all of Woof's insecurities came back to the fore and Percy's insecurities just reinforced them. I can't pet one without petting the other. If I go to the toilet and forget to latch the door, they both come in for butt scratchins (idle hands are the Devil's playground). If I sit down on the couch there is an immediate competition for the "Daddy spot," the spot next to me where they can have physical contact. One would think that a 100# Lab would beat the 50# mutt every time, but one would be wrong. It starts with Woof's head in my lap. Percy jumps up behind him and lays down with his head on Woof's butt and his eyes firmly fixed on the point of contact between Woof and I. He is waiting and time is on his side. But it's not easy. Woofie has big feet and he sometimes uses them to push Percy off. But Percy is nothing if not persistent. He perseveres. And watches.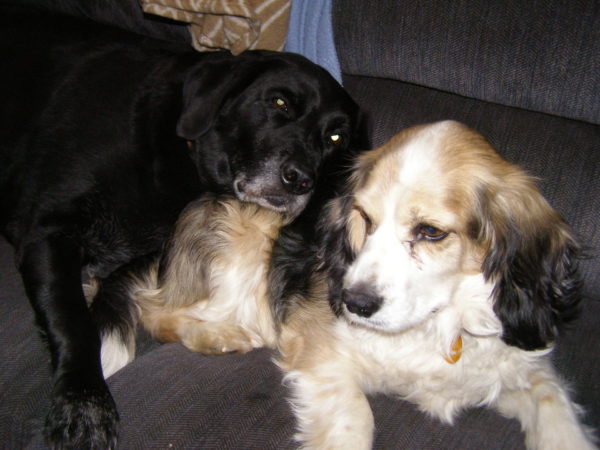 Eventually Woof rolls a little bit onto his back for the belly scritchens. As they proceed he stretches out and a curl will develop in his back and a 3 or 4 inch diameter hole will appear between us and…. Percy pounces. A third on Woof's head, a third on my lap with the final third weaseling it's way in between us. Woof will surrender at that point, get up and flop down onto the floor.
One night not too long ago, after one of these dramas had played itself out, Woof got up and went to the door. Turned his head and as per usual looked at me. "Yeah yeah, give me a minute." I disentangled myself from Percy on the couch, got up and went to the door. Percy followed. I opened the door. Percy went out. Woof turned around, went over to the couch and jumped up on it.
Who says you can't teach an old dog new tricks.