Wait, what?
About a week ago the President tweeted out a broad and sweeping declassification order as part of his own active measures and influence campaign to swing the 2020 election by claiming that President Obama, Vice President Biden, FBI Director Comey, DCI Brennan, DNI Clapper, AP-NSA Rice all working in conjunction with Secretary Clinton and her campaign, the Democratic National Committee, and the government of Ukraine conspired to undermine the President's election by fabricating that Russia was actively trying to assist his campaign in 2016, that he and his campaign were actively trying to recruit Russia to help them, and to cover up the real conspiracy between Secretary Clinton and the Ukrainians. As I've written about before, this is all Russian disinformation and agitprop.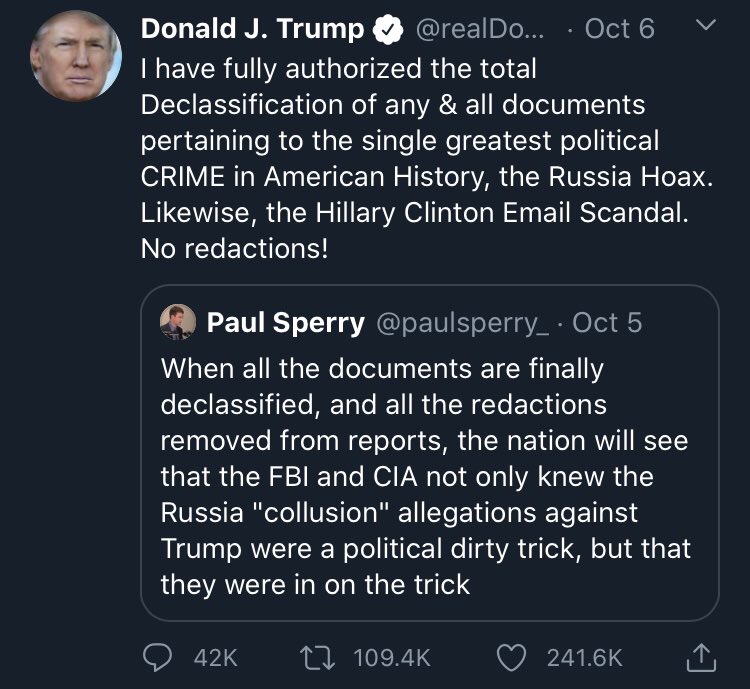 This Russian misinformation and agitprop was most recently laundered by DNI Ratcliffe to and through Senators Johnson and Grassley in his selective declassification and release of former DCI Brennan's memos.
A number of reporters who have been seeking to have redacted and/or classified materials from the various Russia-Trump campaign 2016 investigations released through the Freedom of Information Act (FOIA) immediately filed emergency requests in Federal court to have all of this now seemingly declassified material released right away. Today the Department of Justice submitted their response:
THE PRESIDENT'S STATEMENTS ON TWITTER DID NOT DECLASSIFY ANY INFORMATION–DOJ pic.twitter.com/p7Yp4gtlEk

— Jason Leopold (@JasonLeopold) October 13, 2020
Or a day ending in day.
We are off the looking glass and through the map!
Open thread!