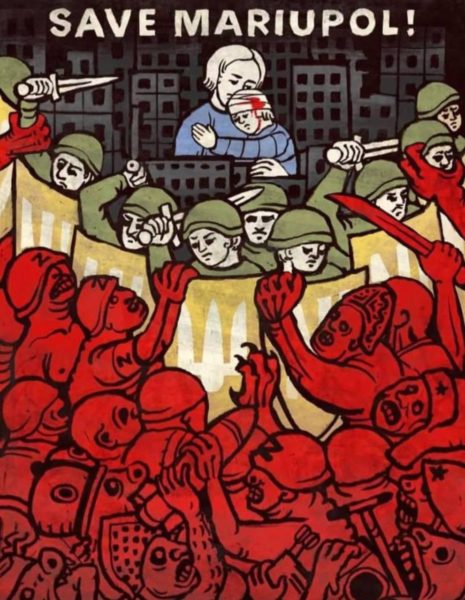 Been a long day here, so let's jump right in and run through the basics. One housekeeping note before starting: I was planning on doing an in depth bit at the end in response to a comment from commenter and guest poster Carlo Graziani regarding the nature of war. This isn't to pick a fight or use him as a foil on the front page, but because I think this is an important discussion to have and it should be initiated in a post, not in the comments. With everyone's forbearance, I'm going to push this to tomorrow evening.
And with that, we're underway!!!!
Here's President Zelenskyy's address to Ukraine from earlier this evening. Video below, transcript with my emphasis after the jump.
Unbreakable people of the bravest country!

Usually I address Ukrainians at this time and in the same way every night, when I summarize the events of the passing day. Every night – from the first day of this full-scale war of Russia against our state of Ukraine.

Every night I report to the public on what has been done to protect the state. On what the Armed Forces of Ukraine managed to achieve. On how we help our people. And on what international negotiations took place.

For example, today one of the notable news was the news of my conversation with you, Boris. Every time such negotiations take place, it is important for my country, for Ukraine. And no less important, I'm sure, for Britain. Because it is about steadfastness, courage and about the leadership that we demonstrate together – the Ukrainian and British nations. In defense of freedom. Our common freedom.

Russian troops today, as every day during this war, have continued to bomb our cities and our people. For example, my traditional morning meeting with the military, with the leadership of the army, with government officials and diplomats was accompanied by the sound of an air-raid siren. This is our reality. Missile strikes every day.

The day before yesterday – on the day when you, Boris, addressed our parliament, the Russian army launched 15 missile strikes at Ukraine. And this can be called a certain "Russian compliment" to your brilliant speech and our fruitful interstate cooperation. Because yesterday there were only 7 such strikes.

Obviously, Russia is annoyed by our proximity – Ukraine and Britain. So this means that we are really strong in defending freedom in Europe.

In general, during this war, the Russian army has used 2014 missiles against Ukraine already. 2682 appearances of Russian fighter jets in our skies have been recorded. Each of these "arrivals" is the death of our people, the destruction of our infrastructure.

If we take only the medical infrastructure, to date, Russian troops have destroyed or damaged almost 400 health facilities. These are hospitals, maternity hospitals, outpatient clinics.

In the temporarily occupied areas of Ukraine – in the east and south – the situation with access to medical services and medicines is just catastrophic. Even the simplest medications are missing.

Russia has brought to Ukraine and Europe such problems that we could not have imagined a few months ago. This is in fact a complete lack of treatment for cancer patients. This is an extremely difficult or impossible access to insulin for diabetics. It's the inability to perform surgery… It's just a lack of antibiotics! These are the consequences of the Russian occupation for a part of our land, for a part of our people, which we must liberate from the invaders.

And we will definitely do it. In particular, due to your support.

Today the rescue operation from Mariupol was continued. With the assistance of the United Nations and the International Committee of the Red Cross. People are on their way to safe territory.

More than 150 people from Azovstal and more than 300 people from Mariupol and its suburbs who were evacuated by the humanitarian corridor this week are already receiving all the help they need. Medical, document renewal, financial assistance, communication with relatives, friends and families.

Currently, Russian shelling and assault of Azovstal do not stop. But civilians still need to be taken out – women, children. Many children who are still there. Just imagine this hell! And there are children! More than two months of constant shelling, bombing, constant death nearby…

We expect an effective regime of silence. We are doing everything to find a solution to save our military. Heroes who defend Mariupol against the occupiers prevailing in the number of troops. There are different units there. They have many wounded. But they do not give up. They are holding positions.

We do not give up either. Every day, the whole team is looking for an option that will ensure the safety of these people. And I am grateful to everyone who helps. To all those who offered mediation and are making efforts to save Ukrainians.

Today I addressed the participants of the high-level donors' conference held in Warsaw. It is also an element of our protection, an element of protection for the whole of Europe. Because it is not only on the battlefield that the fate of our state and the future of the continent is being decided now. But also in the economic field, in the field of readiness of world leaders to unite to rebuild Ukraine after this war and give stability and security to the center and east of Europe.

We have the result. It has been announced that $ 6.5 billion has been raised at this conference. And this is good. But this is only part of what is really needed to restore normal life throughout the territory where Russia has brought the war.

That is why we need a modern analogue of the Marshall Plan for Ukraine. Stronger participation of the free world and international institutions is needed. I spoke about this today at the conference.

However, we call for the cooperation and support of each and everyone. Everyone for whom freedom matters. That is why United24 was launched today – a global initiative that will unite people from all over the world around the desire to help Ukraine. And I invite you to join this initiative!

The initial component is a platform of the same name to raise funds to support our struggle. United24. Its main goal is to increase donations to Ukraine. Just a few clicks – and everyone can join the direction that they find most useful right now and for themselves.

Because Ukraine needs up to $ 7 billion a month to cover the state budget deficit. In total, it has been calculated that already more than $ 600 billion is needed to rebuild what the Russian army destroyed. Just imagine this scale!

That is why every manifestation of support, every sincere help to Ukraine is important. In particular, yours today.

Ladies and Gentlemen!

 Friends!

If everyone in the world – or at least the vast majority – were steadfast and courageous leaders as Ukraine, as Britain, I am sure we would have already ended this war and restored peace throughout our liberated territory for all our people.

But we still have to fight. Fight. As you, Boris, said, addressing our Verkhovna Rada the day before yesterday, we are still writing one of the most victorious chapters in our history.

And now we can assess the significance of this chapter, in particular, by the following fact: 11,672 of our defenders have already been awarded state awards for courage and effective defense of Ukraine. In a little over ten weeks. 11,672 people.

And a few minutes before this address, I signed a decree awarding another 286 servicemen of the Armed Forces of Ukraine. It is on the shoulders of these brave warriors and their brothers-in-arms that Ukraine and, to be honest, the whole of Europe are now standing.

And I thank you for your really effective support of this struggle.

Bravery is rightly believed the first of human qualities as it guarantees all others.

Thank you, Britain!

Thank you, Boris! 

Thank you all!

Glory to Ukraine!
So let's focus in on President Zelenskyy's statement regarding Mariupol. Despite the Russian attempt to crack the Azovstal complex, the Ukrainians were able to evacuate another 150 people who had been sheltering at the Azovstal complex and 300 others who were sheltering elsewhere in Mariupol. If my math is correct, and I do not play a mathematician here at Balloon Juice or anywhere else for that matter, The Ukrainians have gotten about 300 people out of the Azovstal complex and between 700 and 800 out of Mariupol over the past several days. Keep good thoughts for more!
Here's today's operational update from Ukraine's Ministry of Defence (emphasis mine):
The operational update regarding the russian invasion on 18.00 on May 5, 2022

The seventy-first day of the heroic resistance of the Ukrainian people to a russian military invasion continues.

russian enemy continues to conduct full-scale armed aggression against Ukraine.

russian enemy does not stop conducting offensive operations in the Eastern Operational Zone in order to establish full control over the territory of Donetsk and Luhansk oblasts and maintain the land corridor between these territories and the occupied Crimea.

At the same time, russian enemy provokes tensions in the transnistrian region of the Republic of Moldova and in the territory of the republic of belarus. Carries out regrouping, takes measures to replenish ammunition and fuel. russian enemy is trying to improve the tactical position of his troops.

In the temporarily occupied territories, russian occupiers continue to steal the products of agricultural enterprises. russian side continues to accuse the Government of Ukraine of creating a humanitarian catastrophe in the territory controlled by the occupiers. Also, russian invaders imitate humanitarian activities with demonstrative distribution of food kits and medicines to local residents.

russian enemy continues to launch missile strikes on transport infrastructure to prevent the movement of humanitarian aid and military-technical assistance.

The use of mortars and artillery along almost the entire line of contact continues.

russian enemy did not take active action in the Volyn and Polissya directions. In the armed forces of the republic of belarus, it has been noted that certain units have been brought to a higher level of combat readiness for the purpose of verification.

Engineering equipment for positions in the border areas of the Kursk region continues in the Seversky direction.

In the Slobozhansky direction, russian enemy tried to restore the lost positions near the city of Kharkiv, made an unsuccessful attempt to attack near the settlement of Stary Saltiv.

Due to the constant sanitary losses of personnel, russian enemy is increasing the system of medical support of troops, using a network of civilian medical institutions in the temporarily occupied territories of Kharkiv region. The occupiers built a hospital on the basis of Kupyansk City Hospital.

russian enemy does not stop trying to improve the tactical position of its units in the area of ​​the city of Izyum, carries out artillery shelling of nearby settlements, and it has no success.

Due to heavy losses, russian enemy withdrew units from the 4th Tank Division of the 1st Tank Army and the 106th Airborne Division of the Armed Forces of the russian federation to rebuild.

In the Donetsk direction, russian enemy tried to capture Popasna, take full control of the city of Rubizhne and provide favorable conditions for the continuation of the offensive in the direction of the cities of Lyman and Severodonetsk, but was unsuccessful.

In the South Bug area, russian enemy focused on fortifying positions, replenishing ammunition, fuel and logistics.

Administrative and police measures are underway in the temporarily occupied territories. russian occupiers continue to carry out filtering measures against local residents, preventing evacuations to the territory controlled by the Ukrainian authorities. At the same time, russian occupiers are taking measures to replenish personnel losses through accelerated training of military servicemen under contract.

We keep the system! We believe in the Armed Forces of Ukraine! Together to victory!

Glory to Ukraine!
Here's today's assessment from Britain's MOD: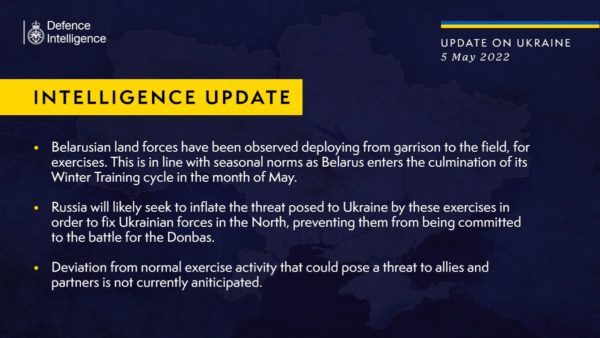 Here's their update map as well: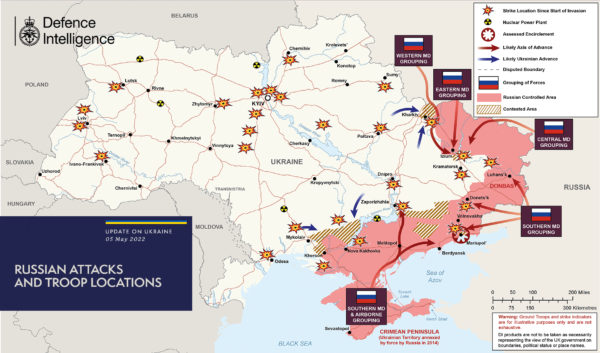 As you can see there's not a lot of large movement from yesterday.
There was no DOD background briefing today, but here's the part about Ukraine from DOD Spokesman John Kirby's press conference today (emphasis mine):
And then lastly, if I could, just to address an issue which I know is on everyone's mind today, and this is the issue of intelligence sharing with Ukraine. I just want to stress a couple of things.

First, the United States provides battlefield intelligence to help Ukrainians defend their country, and we've talked about that quite a bit. We do not provide intelligence on the location of senior military leaders on the battlefield or participate in the targeting decisions of the Ukrainian military. The Ukrainians have, quite frankly, a lot more information than we do. This is their country, their territory, and they have capable intelligence collection abilities of their own. Ukraine combines information that we and other partners provide with the intelligence that they themselves are gathering on the battlefield, and then they make their own decisions and they take their own actions. And I think it's important not to forget this is a war the Russians started, and of course, they can end it tomorrow.

And with that, we'll take questions. I think Lita, you are up first and you're on the phone.

Q: Hi, yes. Thanks, John. Can you tell us whatever visibility you might have on the situation in Mariupol? Have you got any sense of how many of the Ukrainians are still there, and how many, even in broad numbers, Russians are still fighting in that area? And then a second quick one: Have you seen any indication that the exercises by Belarus are concerning at all, or any indication that Belarus is placed to get more active in the war or — in any way?

MR. KIRBY: No indications that Belarus has intentions to — to become active in the war in Ukraine, and I'll let them speak to their exercises. But — but we're not — we're not tracking indications that they're planning to or intend to get involved directly in the war in Ukraine.

On Mariupol, we still see Mariupol under siege from bombardment through airstrikes predominantly. We still assess that — that Ukrainian soldiers are — are still — are — are — are still at that plant. They — they've said it themselves and — and are still resisting. So we again see the violence that's being visited upon Mariupol and the destruction that's being caused there as a continued bombardment by Russian airstrikes in Mariupol.

don't know if that answers your question or not.

Q: Do you have any sense of how many Russian troops, even in very broad terms, might still be around Mariupol? We have been told by others about Russian troops leaving that area. I was wondering if you had any sense of how many remain?

MR. KIRBY: I want to be careful a little bit here and because our knowledge of Russian force dispositions, you know, it isn't perfect, Lita. I think in general we would assess that the majority of Russian forces, ground forces that were dedicated to Mariupol have left and have moved to the north away from Mariupol.

And that a small number, roughly the equivalent of a couple of battalion tactical groups are still in and around Mariupol at this time. Predominantly the activity is largely through airstrikes in and around Mariupol and certainly at that — at the Azovstal — Azovstal plant.

That's about the best I can do, Lita, given that we don't have perfect visibility into every Russian unit.

Q: Thank you.

MR. KIRBY: Idrees?

Q: Just two quick questions. Firstly, the Russian have claimed for a couple of days that they have hit western and NATO weapons inside Ukraine. Any targeting you've seen or any impact on the flow of weapons?

And second question, I heard the May ninth Victory Day in Russia, are you seeing any change in tactics on the ground by the Russians? Are they being more aggressive or is that not really something that's having an impact on the tactical situation by the Russians?

MR. KIRBY: So on the second question, we've seen no — let me back it up, Idrees. In the Donbas region we would still assess that the Ukrainians are putting up a very stiff resistance and that the Russians have not made the progress that we believe they expected to make by this point.

That's not to say they haven't made any progress. I think we would continue assess it as incremental and uneven, but not non-existent. And again we think that that's partly — a big part of it is the Ukrainian resistance but also partly through their own uneven efforts to fix the challenges that they had north around Kyiv.

I can't say that looking at the — looking at what we can see that we can say definitively that there's a change in behavior or aggressive or momentum based on the coming day of May ninth. And what they plan to do or say on Victory Day, that's really up to them. I don't think we have a perfect sense.

But I can't sit here honestly and tell you that we — that we're seeing a correlation between the looming deadline of the ninth and the way they're behaving in the Donbas. It's still uneven plotting, incremental but they have made some small progress particularly in the north part of the Donbas. So I think I'd leave it at that.

And as for the — the shipments of — of — of supplies and weapons and materiel going in, that continues every day, including today, and we've seen no indication that — that — that that flow has been impeded. Does that answer — yeah.
Much more of the Q&A at the link!
I just want to take a moment and remark on Kirby's initial comments regarding US intelligence sharing with Ukraine. Whomever gave that information to the US news media that caused such a commotion over the past two days, provided the reporters accurately captured what he or she said, needs a good talking too! I'm not going to rebroadcast it here, but if what was reported was an accurate representation of the remarks, it was strategic malpractice!
Mariupol:
The Ukrainian defenders of Mariupol after knocking out the latest Russian attempt to assault last remaining ?? fortress Azovstal

?Nik Mark https://t.co/8zy2XaqwuO pic.twitter.com/D7oga3WHaV

— Euromaidan Press (@EuromaidanPress) May 5, 2022
??Attention!
The assault on Azovstal continues! Defenders keep the plant under the heavy fire. The enemy uses aircraft, artillery and infantry. ‼️

— АЗОВ (@Polk_Azov) May 5, 2022
Please share ?EN subs

Appeal to @RTErdogan to help evacuate civilians and soldiers from #Azovstal from a medic, Crimean tatar of Giray descent.

People are dying from lack of food, medicine, shelled constantly. #Mariupol #SaveMariupol

The statement in turkish below⬇️ pic.twitter.com/nfWs9N7NGr

— Viktoriya Radosh ?? (@ViktoriyaRadosh) May 5, 2022
The video above is posted on the Azov Regiment's page, but there are no English subtitles translating the appeal from Turkish to English so I went looking for one with English subtitles. This is the same medic above that posted the message for his mother with his hands still bloodied from providing medical attention to the wounded making a heart shape.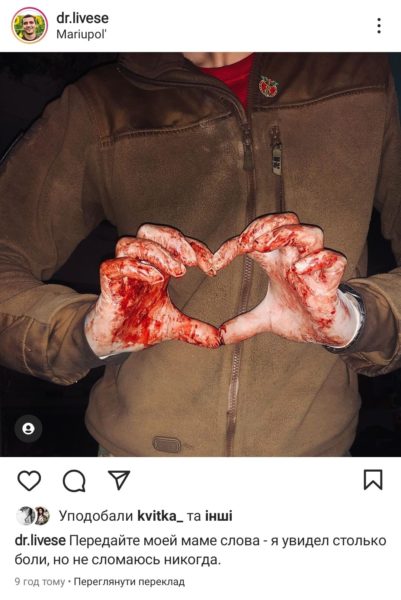 We now know how the Russians were able to gain entry to the underground portions of the Azovstal complex:
A staff member at #Azovstal betrayed ?? and told russians about underground tunnels that lead to the plant. That's why they launched their attack yesterday and currently the russians are trying to force their way onto Azovstal territory. #Mariupol #StopAllTradeWithRussia pic.twitter.com/0YBQV2aiUW

— Anton Gerashchenko (@Gerashchenko_en) May 4, 2022
I expect if the Azovstal's defenders ever get their hands on their betrayer that his life isn't going to be worth much or last long.
Russians have created filtration camps for #Mariupol residents in the village of Bezimyane, which have become a real ghetto – Petro Andryushchenko reports, the adviser to the mayor of Mariupol. Ppl are kept in one of the schools, men are forbidden from leaving without a convoy./1

— Daria Kaleniuk (@dkaleniuk) May 5, 2022
An tuberculosis epidemic broke out at the school. Medical care isn't provided, the first deaths have already been recorded.Russians don't return documents. Those who tried to escape from the camp were detained and beaten./2

It was reported that the men from the filtration camp would be paraded in Mariupol on May 9 as prisoners of war of the Ukrainian military. Women who remain in the Guglino, Myrnyi and Volonterivka districts have been robbed and raped by Russians. /3
Not exactly sure where this is from in Ukraine, but here's video from one of the filtration centers/facilities:
Inside the "filtration camps" Russia has been sending forcibly deported Ukrainian citizens to.

"This smells worse than a toilet, because the people here are sick."

"Here's the sanitary point. 1 sink for 350 people, maybe more."

1.1 million Ukrainians have been sent to Russia. https://t.co/UQMYChyQSz

— Paul Niland (@PaulNiland) May 5, 2022
And here's a bit about the end result of the filtration process:
A document #Russia issues for Ukrainians from occupied region after 'filtering'. After receiving it survivors are sent to economically depressed areas of Russia, often without passports, phones, money and permission to leave region of destination for two years #RussianWarCrimes pic.twitter.com/kp4XrPseuS

— Oksana Ostapchuk (@O_Ostapchuk) May 5, 2022
Such papers are issed for women, children & elderly people. Servicemen, law enforcement officers and civilians suspected in support of Ukraine based on interrogation&their social media profiles/messages/likes or tattoos of Ukraine's state symbols don't pass the filtration

In contrary to deportated women&kids, adult males regardless of age or health are left behind in filtration camps for further prisoner exchange or forced mobilisation. 2000 of them are planned to be walked through a "corridor of shame" at the Russia's Victory Day parade on May 9

If you found this practice upsetting I ask you to remember that Russia invaded Ukraine in 2014. Millions of Ukrainian citizens belonging to different ethnic and religious groups have survived or are still being subjected to war crimes we witness in Bucha, Kherson or Mariupol
Chornobaivka:
The same day, the mayor of the village Ihor Dudar was hospitalized after encounter with Russians who searched his home, authorities reported on May 5.

— The Kyiv Independent (@KyivIndependent) May 5, 2022
I want to address everyone's attention to two very, very good threads on the education and training that the US and other allies provided to the Ukrainian military beginning in 2014. I think these are both excellent analyses. I say that as someone who has a LOT of experience with American professional military education (PME) from the education part as done at USAWC to the training part done at lower levels to the experiential learning component.
I'd agree the UAF took the importance of NCO's to heart but Brig Gen Hilbert is I think mistaken that the Ukrainian military had built an effective NCO corps by the time the war started. Important not to draw false lessons. Some observations… 1/13 https://t.co/ONG4enbQXf

— Jack Watling (@Jack_Watling) May 5, 2022
Just before the conflict Nick Reynolds and I had long interviews ranging from junior enlisted on the line of contact to the deputy chair of the national security and defence council about the structure, planning, and preparations of the Ukrainian Armed Forces. 2/13

We haven't published a lot of the material because much of it could have been useful to the Russians just prior to the invasion. However, I heard very consistent messages on NCOs and junior leadership from all ranks. 3/13

While the UAF aspired to have a professional NCO corps it was very nascent. There was not a strong PME structure for their NCOs. Nor was the exact role of these personnel consistent across formations given a lack of institutional culture. 4/13

Furthermore, before the conflict the UAF had significant retention problems, especially among enlisted personnel who had received specialist training, which included many junior NCOs. However… 5/13

What the Ukrainians did have was a large body of older troops who had experienced fighting in 2014/2015 – and in some cases going back to Afghanistan – who were serving across all ranks. If you went to UAF units you would find 20 year olds and 40 years at the same rank. 6/13

In addition, because of the retention problem, and therefore training more specialists than normal, there was a large body of experienced military personnel in civilian roles who could be mobilised. 7/13

Another aspect to this was that commanders kept rollerdexes of old comrades with specialist skills in areas like signals and logs and when their unit was rotated into the JFO – for example – would call them up and issue short term contracts. 8/13

So in many respects, roles that in a NATO military would be the preserve of a long service NCO were actually being filled by very motivated and experienced short-notice reservists (without said reservist being afflicted by stupid quantities of pointless paperwork). 9/13

The result however is that UAF units have lots of very experienced troops serving next to and at the same rank as newly mobilised troops, and this is not concentrated in a few formations but actually distributed across a lot of the force. 10/13

The UAF were enthusisatic about training provided by the US, UK and Canada (and it was a package at ascending echelons so the aid by these three countries can't really be separated out). But the Ukrainians entered this war at the beginning of reforming the force. 11/13

There is a false narrative that UAF success is because of NATO training. NATO training helped. But in many ways the 'eight years' that Brig Gen Hilbert speaks of both shows how much impact training can have, and how much more could have been achieved. 12/13

There is an interesting lesson here about avoiding self-replication when providing training. The Ukrainian model has proven successful, but resembles Finland's approach more than the US. NATO should be cautious about telling Finns about 'best practice' if it joins. 13/13
And here's an equally good reaction to the the thread above:
Fascinating ??:

The narrative that NATO training is the main cause for Ukraine's mil. performance says perhaps more about our own perceptions of the (inflated) military value of special operations forces (where a lot of training efforts went into) than broader mil. reality. https://t.co/fIolIhgHXf

— Franz-Stefan Gady (@HoansSolo) May 5, 2022
US/NATO training certainly is playing an important role in many ways. E.g., I do think mission command executed by more junior officers the first couple of days of the war played a very important role at the tactical level in coordinating tactical retreats/overall defense.

One reason why some analysts (including myself) underestimated the combat effectiveness of the UAF is what

@Jack_Watling

points out re. NCO corps: the UAF were in the middle of substantial & incomplete mil. reforms usually…

…not a good position to be in when fighting a major military power even when your force has substantial combat experience.

*Our inflated perceptions of the military value of special operations forces relative to regular forces.
Here is an excellent thread by one of Ukraine's top subject matter experts on corruption. Read it while keeping this part of President Zelenskyy's address from earlier this evening in mind:
Today I addressed the participants of the high-level donors' conference held in Warsaw. It is also an element of our protection, an element of protection for the whole of Europe. Because it is not only on the battlefield that the fate of our state and the future of the continent is being decided now. But also in the economic field, in the field of readiness of world leaders to unite to rebuild Ukraine after this war and give stability and security to the center and east of Europe.

We have the result. It has been announced that $ 6.5 billion has been raised at this conference. And this is good. But this is only part of what is really needed to restore normal life throughout the territory where Russia has brought the war.

That is why we need a modern analogue of the Marshall Plan for Ukraine. Stronger participation of the free world and international institutions is needed. I spoke about this today at the conference.

However, we call for the cooperation and support of each and everyone. Everyone for whom freedom matters. That is why United24 was launched today – a global initiative that will unite people from all over the world around the desire to help Ukraine. And I invite you to join this initiative!

The initial component is a platform of the same name to raise funds to support our struggle. United24. Its main goal is to increase donations to Ukraine. Just a few clicks – and everyone can join the direction that they find most useful right now and for themselves.

Because Ukraine needs up to $ 7 billion a month to cover the state budget deficit. In total, it has been calculated that already more than $ 600 billion is needed to rebuild what the Russian army destroyed. Just imagine this scale!
I am getting a lot of questions & concerns recently on UA corruption as a risk & threat to providing NATO heavy weapons to UA & significant support for reconstruction of the country after the victory. Here is what i need to say after devoting my last 10 years to anticor in UA?

— Daria Kaleniuk (@dkaleniuk) May 3, 2022
To start full reconstruction UA needs to win the war. To win the war UA needs to get heavy modern NATO weapons asap. We can't win the war with Soviet junk, as we are already out of ammunition & we can't produce it. Russia has probably 10 times more Soviet weapons then UA

Ukrainian Armed Forces proved the world we can fight back third largest army in the world with creative approach & high morale. We have large active army with rich combat experience , which means we can train very fast to use modern NATO weapons.

Current leadership of UA Armed Forces emerged since 2014, we have commander in chief who never served in Soviet army. We have thousands of very young officers – both women and men – with real combat experience and huge motivation to win the war.

These are the people, who will form very soon new generations of military leadership in Ukraine. Their future is with NATO and modern NATO equipment. They will guarantee this equipment will be well preserved, maintained and controlled.

If we have to do certain reforms in defense sector & in Armed Forces of Ukraine – it would be good if our partners could tell openly to both the government of Ukraine & civil society – what are these reforms. We will make everything possible to implement them.

Now reconstruction plan. We at

@ANTAC_ua

would advise international partners to set up Ukraine Reconstruction Fund, which would be managed by independent Board composed of both UA citizens and foreigners.

Money to this fund should not go through UA Treasury to avoid risks of corruption & delays. All procurements for big infrastructure construction projects in UA should be managed by this fund. UA government & local communities will request the fund which projects to support

Construction will likely compose the largest stake of budget for rebuilding Ukraine, & historically construction of infrastructural projects is quite corrupt sector. So the Fund will cut this corruption and ensure businesses from abroad will be able to bid

To strengthen Ukraine institutionally after the victory it would be important for EU to open a fast track EU integration process for UA (let's say EU membership for 2 years) linking it to very specific list of reform priorities and their implementation.

In 2014-2016 we had Visa Liberalization Action Plan – a roadmap with very detailed specific reforms Ukraine had to implement to get visa free regime with EU. All key anticorruption and other hard reforms mentioned there were implemented.

The same will be with all reforms we need to do to enter the EU. What the EU needs to do is just to say: "dear UA people, we want you to join EU in 2 years, here is the list of homework your politicians need to do. Make sure you all together do it". And we will do it.

Those politicians who will slow down in these reforms, including all anticorruption and rule of law measures, will be hold accountable by Ukrainians immediately. It will be a political suicide not to do these reforms.
Speaking of a Marshall Plan for Ukraine and reconstruction, Ukraine is going to have a great need for a Civil Affairs' capability. What is Civil Affairs you ask?
What is Civil Affairs?

Joint and Army doctrine defines civil affairs as "designated active component and reserve component forces and units organized, trained, and equipped specifically to conduct civil affairs operations and to support civil-military operations," which in turn support broader U.S. interagency stabilization efforts. CA is the Defense Department's "primary force specifically trained and educated to understand, engage, and influence the civil component of the operational environment, conduct military government operations, and provide civil considerations expertise."

Far more than a force multiplier, CA is a national strategic land power capability to consolidate military and security gains into political and civil outcomes – before and during as well as after decisive military action. Beyond its more storied role in transition management, from war to peace and from military to civilian lead, it engages partners and others in the "human geography" in support of national interests and policy objectives in all operations, phases, and levels.

In today's people-centric irregular conflicts of influence and great power competition, CA has even greater importance as a unique economy-of-force capability that helps commanders preserve their combat power and concentrate its lethality only when and where necessary—and make good on the blood and treasure they may have to employ on the nation's behalf.

In other words, Army and Marine civil affairs are an integral part of winning and not just fighting wars, or to "secure the victory," per the Regiment's motto.

Civil affairs' enduring values-added stretch back well over a century. You can learn more by looking at the civil affairs briefing and notes on this website.
For full disclosure, I'm a member of The Civil Affairs Association, though, to be honest, I think I forgot to pay my dues this year… Maybe also last year. I blame the pandemic. I also served as the Cultural Advisor to the Civil Affairs Branch Chief from October 2012 through December 2013. If you want to know more about Civil Affairs historic mission beginning in World War II, this is a good biography of the Army officer who helped found the specialty. For the real gluttons for information, here's the link to Civil Affairs: General Concepts and here's the link to Joint Publication 3-57: Civil-Military Operations.
I think that's enough for tonight.
Your semi daily Patron:
Patron the Dog is at our service here pic.twitter.com/gjRqikNJWZ

— Illia Ponomarenko ?? (@IAPonomarenko) May 5, 2022
For you cat fanciers, we've got you covered!
Ukrainian military medic and cat. pic.twitter.com/u1shPzOZ3U

— UkrARMY cats & dogs (@UAarmy_animals) May 4, 2022
Your daily Chef Jose Andres spotlighting Chef Tim Kilcoyne:
Big missile hit a residential area in Kramatorsk this morning…landed in a playground area! All @WCKitchen teams & partners are safe…@cheftkilcoyne sent this update as they went to deliver hot meals families living there. Air raid siren started going again… #ChefsForUkraine ?? pic.twitter.com/1TeTrmNH4u

— José Andrés (@chefjoseandres) May 5, 2022
Open thread!