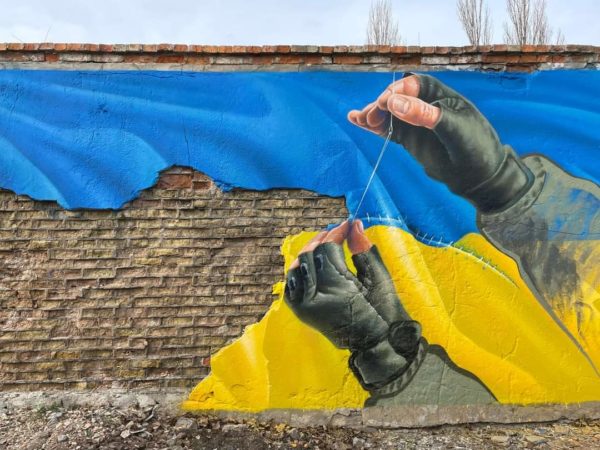 Let's start with President Zelenskyy's address to Ukraine from earlier this evening. Video below, transcript with my emphasis after the jump:
Unbreakable people of our most beautiful country!

Our defenders!

Today we can report on the 200th downed Russian military aircraft. Russia has not lost so many aircraft in any war in decades. And Russia has lost almost 27,000 soldiers, many of them young conscripts. Russia has lost more than three thousand tanks, armored combat vehicles, a large number of conventional military vehicles, helicopters, drones and all its prospects as a state.

And why all this? For a monument to Lenin to stand in the temporarily occupied Henichesk for a little longer? There is no other result for Russia and there will not be any.

In fact, no one today can predict how long this war will last. But we are doing everything we can to liberate our land quickly. This is our priority – to work every day to make the war shorter.

However, this depends, unfortunately, not only on our people, who are already doing the maximum. It also depends on our partners. On European countries, on the countries of the whole free world.

I am grateful to all those who are working to strengthen sanctions on Russia and to increase defense and financial support for us, for Ukraine. This is the only recipe for defending freedom in the face of Russia's invasion. And for Western countries, it's not just expenditures. It is not about accounting. It is about the future.

The world has already recognized that Russia's blockade of our ports and this war are provoking a large-scale food crisis. Russian officials are also openly threatening the world that there will be famine in dozens of countries. And what could be the consequences of such a famine? What political instability and migration flows will this lead to? How much will you have to spend then to overcome the consequences?

These are the questions that need to be answered by those who are delaying sanctions on Russia or trying to postpone aid to Ukraine.

Every day of war is an increase in global threats, it is a new opportunity for Russia to provoke instability in other parts of the world, not only here in Europe. And these are new lost lives in Ukraine: Ukrainian men and women who give their lives so that everyone can live freely. I emphasize this: everyone, especially in those countries where they still find time to argue instead of investing in aid as much as possible.

Therefore, much more pressure on Russia is needed. And I talk about it openly and daily to everyone on whom it depends.

We continue to restore the de-occupied territories of Ukraine. As of today, 1015 settlements have been de-occupied, which is plus six in the past 24 hours. We return electricity, water supply, communications, transport, social services there. It is important.

Of course, we remember every city and every community that is still under occupation. Kherson, Melitopol, Berdyansk, Enerhodar, Mariupol and all cities and towns of Donbas… The gradual liberation of the Kharkiv region proves that we will not leave anyone to the enemy.

We do not stop trying to save all our people from Mariupol and Azovstal. Currently, very difficult negotiations are underway on the next stage of the evacuation mission – the rescue of the seriously wounded, medics. It is a large number of people. Of course, we are doing everything to evacuate everyone else, each of our defenders. Everyone in the world who can be the most influential mediator has already been involved in the relevant negotiations.

Already 37 foreign missions have resumed their work in Kyiv. And I am grateful to all of them, because this is 37 proofs that Ukraine stands strong and has prospects in contrast to the Russian Federation. I am sure that other foreign missions will return to the capital soon.

It is worth returning to work for all Ukrainian businesses that have not yet resumed operations, although they may do so in a safe area. Providing jobs and adjusting economic activity to the existing conditions is also a big contribution to defense, to our future.

Traditionally, I signed a decree on awarding our heroes. 212 servicemen of the Armed Forces of Ukraine were awarded state awards.

Eternal glory to everyone who defends our state!

Eternal memory to all who gave lives for Ukraine!

Glory to Ukraine!
Here is today's operational update from Ukraine's MOD (emphasis mine):
The operational update regarding the russian invasion on 18.00 on May 13, 2022

The seventy-ninth day of the heroic resistance of the Ukrainian people to a russian military invasion continues.

russian occupiers did not stop the offensive in the Eastern Operational Zone. russian enemy continues to launch missile strikes on industrial infrastructure and fire on civilian targets in Ukraine.

In the Volyn and Polissya directions, russian enemy did not take active action. Its main efforts were to cover the state border in Brest and Gomel oblasts. As part of the inspection of the Armed Forces of the republic of belarus in the Kobrin district of Brest region and Lida district of Grodno region, meetings with conscripts continue.

The threat of missile strikes from the territory of the republic of belarus on infrastructure facilities on the territory of Ukraine remains.

In the northern direction, the enemy is strengthening the protection of the Ukrainian-russian border in the Bryansk and Kursk regions. From the territory of the russian federation, the enemy fired artillery at civilian targets in the Sumy region and launched an air strike on the village of Tovstodubovo.

In the Slobozhansky direction, russian enemy's main efforts are focused on ensuring the withdrawal of its units from the city of Kharkiv and preventing the withdrawal of units of the Defence Forces to the rear of the russian group of troops concentrated in the city of Izyum. russian enemy units fired on the positions of our troops in the areas of the settlements of Petrivka, Pytomnyk, Ruski Tyshky and Ternova.

In the Slovyansk direction, russian enemy concentrated its main efforts on the offensive in the area of the settlement of Bohorodychne, but had no success. Its conducted artillery shelling in the areas of Nova Dmytrivka and Krasnopillya. It carried out air strikes in the areas of the settlements of Dolyna and Adamivka.

Enemy units continue to fire on our troops in the Donetsk and Tavriya directions. The occupiers tried to establish control over the settlements of Novoselivka Druha, Kamyanka, Marinka and Novomykhailivka.

In the Lyman direction, russian enemy tried unsuccessfully to gain a foothold in the area of ​​the settlement of Oleksandrivka.

In the Severodonetsk direction it carries out active fire influence in the area of the settlement of Rubizhne.

In the Bakhmut direction, russian enemy carried out assault operations in the directions of the settlements of Zolotye and Komyshuvakha, but was unsuccessful. Carries out shelling of the settlements of Toshkivka and Orikhove.

In the Avdiivka direction, with the support of artillery, he is conducting offensive operations in the directions of the settlements of Kamyanka and Novoselivka, and has no success.

In Mariupol, russian occupiers focused their efforts on blocking our units in the area of the Azovstal plant, and the shelling continues.

russian enemy did not conduct active hostilities in the South Buh area, firing at units of the Defence Forces with artillery and mortars. He continued to conduct air reconnaissance.

Illegal actions against the local population continue in the territories temporarily occupied by the enemy. Measures of the administrative-police regime are underway, the counter-intelligence regime has been strengthened. Unreasonable detention of civilians, especially those with an active pro-Ukrainian position, continues.

Ukraine's Defence Forces are inflicting losses on the enemy and are ready for any changes in the operational situation.

We believe in the Armed Forces of Ukraine! Together to victory!

Glory to Ukraine!
Here is today's assessment from the British MOD: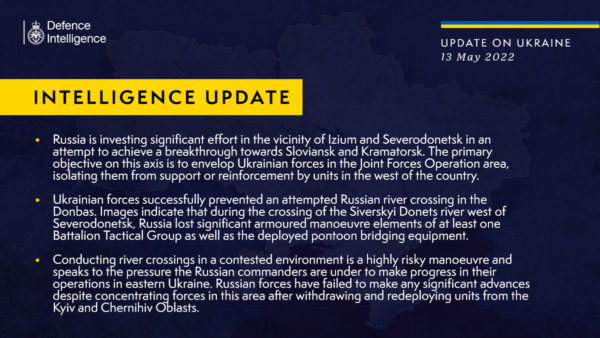 And here is their updated map for today: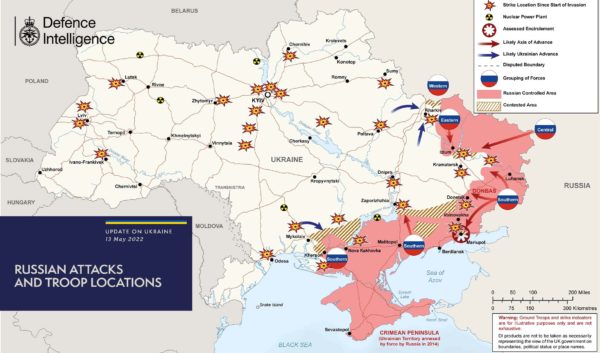 Not a lot of change from yesterday's map.
Here's today's DOD background briefing (emphasis mine):
SENIOR DEFENSE OFFICIAL: Okay, good afternoon, everybody. I know we pushed this back a little bit, I apologize for that.

So day 79 here. Obviously, most of the activity that we are seeing and watching is in the Donbas area, and essentially, we continue to see the Russians not making any major gains in the Donbas. Very much, as we said, that would be very much an artillery fight back and forth, and that Ukrainian artillery is frustrating Russian efforts to — to make much ground, — including frustrating their efforts to cross the Donets River, as they continue to try to find a sense of momentum in the northern Donbas.

And — the failure to — to make some of those crossings is affecting their ability to consolidate their forces, because you're not getting many people across the river and that's affecting their ability again to mass reinforcements in the northern Donbas.

Basically, in — in addition to the — the shelling — of their bridging efforts across the Donets, they — they really haven't made much progress on that Izyum-to-Slovyansk axis. And so there's a lot of fighting in between Izyum and — and Slovyansk. And again, they're just not really able to — to force a breakthrough. And the fact that they aren't able to get across the — the Donets River with some reinforcements is — is making it even harder for them.

I — I will say that they have made some incremental gains to the west of Popasna. There — there continues — it's not — not very far but they are moving outside of — of Popasna but it's — again, it's not significant.

And we've seen no significant battle shifts in the southern part of — of the Joint Forces Operation area or in the Kherson area. No — no — no — there's — there's still fighting between Kherson and Mykolaiv but no — no — again, nothing — no — no major shifts one way or the other.

In the air domain, they flew — over the last 24 hours, they flew about 250 sorties. Again, this is pretty much in the mean range of what we've been seeing. And they're focusing their strikes, not surprisingly, on the JFO and on Mariupol but also Kharkiv and inside the JFO, particularly on Slovyansk. Again, we knew that they were trying to make progress towards Slovyansk, so strikes on — on Slovyansk is — is not — not something that is a surprise.

In the maritime domain, I — I know some of you have — been watching Snake Island, and the — the Russians are trying to improve their defenses at — at Snake Island. And — and, you know, again, — they are still in possession of it — but there is a — there's active efforts by the Ukrainians to dislodge them from Snake Island, and — and what we're seeing is really the Russians just trying to — to — to reinforce particularly some of their air defense there, but — but there's really no change to — to Russian naval posture, in — in a macro sense, in or outside the Black Sea. So nothing really to — nothing really to report there.

On — on the security assistance front, you know, all but one of the — of the 90 howitzers are — are inside Ukraine. And — and the sense we're getting from the Ukrainians is that the majority of those 89 — not all of them but the vast majority of them are actually in a forward-deployed setting.

I — I couldn't tell you exactly where or — or, you know, what — what rate they're consuming ammunition but — but the — but we're getting from the Ukrainians that the majority are — are — are in the fight and the feedback we're getting from — from artillerymen inside Ukraine is — is very positive about — about the usefulness of the M777s.

Let's see. On the training side, up to almost 370 Ukrainian soldiers have completed M777 training, about 30 of them have completed maintenance — a maintenance course. There's another 17 or so that are still in — in the — in the two week — maintenance course. They're — they're at about day five right now. So they're — they're working their way through that. And a little — and about 20 or so Ukrainians are — are in the midst of — of training on the Puma, the — the unmanned aerial system. We hadn't talked about that in a while. The training that was done on the Phoenix Ghost has been completed.

And let me just make sure I don't have anything else I'm missing. We've talked about Snake Island. Yeah, I think that's it.

We'll go to questions. Lita?

Q: Thank you.

Can you provide any other either guidance, background or — or sort of details on the call between Secretary Austin and Shoigu, even things like how long it lasted, who initiated it, whether it was left open that they will talk again? Can you describe it, either — was it, you know —

SENIOR DEFENSE OFFICIAL: — I'm not going to provide more — much more detail than was in the readout. That was — it — and I'm not going to, either on — well, in any attribution, I'm just not going to go much beyond the — the readout, in terms of content, Lita, but the — the phone call lasted about an hour, it was — it was requested by the Secretary, he initiated it, and — and, you know, both leaders had a — a chance to — to — to talk back and forth with one another, but I'm not going to get any more into the context of it.

Q: So just —

SENIOR DEFENSE OFFICIAL: And as for whether they're going to speak again, I mean, the secretary did, you know, express an interest in keeping the line of communication open. So I mean, he did make that — he did make that point.

Q: Can you say what the response was?

SENIOR DEFENSE OFFICIAL: You know I won't speak for the Russians. But I think generally our takeaway was that the message was received with respect to keeping the lines open.

Q: Thank you.

SENIOR DEFENSE OFFICIAL: Yes. Pierre?

Q: Yes. Can you confirm, please, the situation around Kharkiv? Are the Russians away from the city? It's not encircled anymore?

SENIOR DEFENSE OFFICIAL: They're still fighting over Kharkiv. We definitely see Ukrainian resistance in and around Kharkiv. There is — there have been, you know, again, continued airstrikes and bombardment by Russian forces around Kharkiv. We have — we basically assess that the Ukrainians continue to make progress in reclaiming towns and villages around Kharkiv.

What we've seen over the last couple of days is that they have been able to push north, push the Russians away farther to the north from Kharkiv, and we talked about them pushing them to the east. I don't think we've seen any change in eastward pushing in the last day or so, but we have seen some progress by them pushing Russian forces closer to the — closer to the border and away form Kharkiv.

Q: Thank you.

SENIOR DEFENSE OFFICIAL: Yes. Anton?

Q: Thanks.

I wanted to go back to the question to the call between Secretary Austin and Shoigu and understand whether the call for an immediate ceasefire — what lies behind that and what it means? I mean, we've had Olaf Scholz making a similar call. (inaudible) So is this coordinated with allies?

Secondly —

SENIOR DEFENSE OFFICIAL: Oh, very much.

Q: — does — so as — okay. Go on.

SENIOR DEFENSE OFFICIAL: No, no. I mean, yes.

So, of course — I mean, look. This — our call for a ceasefire is very much in line with what the others — other allies and partners want to see happen. I mean, so we definitely — I think there's a sense of alignment here in terms of what we all want to see happen.

Q: And just to follow up on that, (inaudible), I mean, you know, it was only — what is it? — a week or two ago that the secretary was talking about helping Ukraine win and wanting to weaken Russia. Therefore, has he changed his mind on that?

And has he called for a ceasefire before? I don't remember him calling for a ceasefire before.

SENIOR DEFENSE OFFICIAL: Yes. I think we — the administration has been consistent in wanting the fighting to stop. And we've said it many times. In fact, the secretary himself has said the war could end, you know, today, whenever he said it. But he meant it, you know, could end that day if the Russians stopped their offensives and started to pull back.

And so, no, there's been no change in his view of what needs to happen here. There's been no change in administration policy. We want to see the — hang on a second. Sorry about that.

There's been no change in our policy. No change in the objectives. He's been very consistent about that.

Q: All right. I don't want to hog this, but just, you know, the — Zelensky has said, you know, there can't be a ceasefire unless the Russians withdraw, and the word "withdraw" wasn't in the readout.

SENIOR DEFENSE OFFICIAL: I'm not going to go — (Anton?), I think I'm just going to leave the readout the way it is. And I think it's a very honest readout as to what he said, and I — and the readout is consistent. The policy is consistent. The secretary's statements to the minister today, again, completely consistent with what our policies have been. And I would — I would caution you from reading into the readout that there's sort of change in tone or change in policy or change in objectives. That's just not the case.

Q: Thank you.
The rest of the Q&A is at the link.
I was wondering if the references to a ceasefire in the readout were going to come up. Especially in light of President Macron's remarks and President Zelenskyy's response. For those who haven't seen that:
Zelensky in an interview with Italian TV Rai1 has confirmed that Macron had proposed him to make concessions to Ukraine's sovereignty in order to come up with a face-saving option for Putin. "We are not ready to lose territory to save something for somebody" – added Zelensky

— Daniel Szeligowski (@dszeligowski) May 13, 2022
"(Emmanuel Macron) has always said that it was up to the Ukrainians to decide the terms of their negotiations with the Russians," Anne-Sophie Bradelle, in charge of the international communication at the Elysee Palace, said on May 13.

— The Kyiv Independent (@KyivIndependent) May 13, 2022
Given President Macron's never ending attempts to try to work out a diplomatic solution to Putin's re-invasion of Ukraine regardless of what Putin tells him during their phone calls, and with no offense to his spokeswoman, I'm going with President Zelenskyy's account of the conversation.
We appear to have an answer to a sort of question asked a few nights ago in the wee hours. I can't recall who asked the question as it was very late/early, but apparently someone wound up talking to a Marine vet who spends too much time on MAGA social media and was claiming that he was told by a friend of his that the friend was deploying to Ukraine as part of an airborne mission. I confirmed that that wasn't the case in a reply, but now we know what the ultimate origin of the Marine vet's ramblings were:
Elements of @101stAASLTDIV have been notified to begin movement to Europe as soon as this summer. The deploying units will join V Corps in support of our commitment to Europe and our NATO Allies as part of the ongoing response to the invasion of Ukraine#StrongerTogether2022 pic.twitter.com/hpTJHY58qm

— 101st Airborne Div. (@101stAASLTDIV) May 13, 2022
This was basically what I suggested in my reply, that one of the airborne divisions or elements thereof – I referenced the 82nd – was most likely to be doing a rotation into one of our NATO partner countries. That should put that mystery to bed.
Here's an interesting thread about the difference in age between the people running Ukraine and those running Russia and analysis of what it means:
Russia's warmongers in chief are around 70. In Ukraine, people in charge of defense and key government functions are in their 40s and 30s. The average age of Russia's key officials is 64. For Ukraine, the average is 44. It's a war between generations. Short thread

— Maxim Trudolyubov (@russiafiles) May 13, 2022
The elderly chekists are trying to destroy not only the new generation of the Ukrainian elite but also those relatively young Russians who could and should have replaced Putin's generation. Putin is certain to fail at the first task, but he has already accomplished the second. 1/

Putin's age cohort has destroyed–not physically–those who could have led Russia out of the hole the elderly checkists had dug. Some leaders like Navalny (Navalny will be 46 this year, Zelensky is 44) have been jailed. 2/

The checkists have either enslaved the next generation or driven them out of the country. Many Russians in their 40s and 30s either work in the service of the kleptocratic rulers or have gone into internal or external exile. 3/

In fact, age may not be an issue if leaders have experience building and managing projects, winning elections, and being held accountable by voters. That's exactly the experience Ukraine's current leaders have and Russia's leaders lack. 4/

If Russians in their 40s and 30s possessing experience similar to their Ukrainian peers had been in power, we would not have seen this war. 5/

I still hope that Russians who are now in their 30s and 20s have a chance to come to power in my country. At some point. But I am not sure. 6/

In the West, a "war" between generations ostensibly pitting the young against the old in a quest for wealth is a common discussion point, particularly on the left. But look at this war… It's when it gets existential. 7/ENDS
This is not only a problem in Russia. America has a gerontocracy problem as well. Including in its politics and especially at the federal/national level. I think we are all tired of watching the same two generational cohorts – war babies and boomers – continue the fights they've been having among and between themselves for far too long continue to trap the rest of us who came after those two generational cohorts.
Here's some important reporting from The Washington Post about what the Russians are doing with the Ukrainians they're forcing into internal displacement and/or becoming refugees in Russia.
RIGA, Latvia — Russian authorities are forcing Ukrainians who seek safety to submit to strip searches and interrogations, placing some refugees in guarded camps, stripping them of their vital documents and in some cases forcing them to remain in Russia, according to displaced Ukrainians, volunteers helping refugees, and Ukrainian and Western officials.

At least 1 million Ukrainian civilians have fled the fighting into Russia, according to Russian Defense Ministry numbers that the Ukrainian government also accepts as valid. In many cases, especially in the devastated city of Mariupol,residents were effectively forced into Russia with no option to seek refuge on friendlier soil. In other cases, especially in the breakaway territories of eastern Ukraine, the travel to Russia was voluntary.

Almost everyone has had to pass through "filtration camps," a perilous process in which Ukrainians are strip-searched and interrogated. People suspected of having sympathies to the Ukrainian military are being detained and tortured, according to refugees, representatives of volunteer organizations, and Ukrainian and U.S. officials.

"They are disappearing people who talk openly about pro-Ukrainian positions," said Lyudmila Denisova, the Ukrainian parliament's human rights ombudsman.

Not every story has ended badly. In some cases, Ukrainians who wanted to pass through Russia and go to another country were able to do so, even if they were staunchly pro-Kyiv. Some spoke appreciatively of help from local Russian humanitarian groups.

But many Ukrainians have been transferred to a constellation of temporary refugee settlements across Russia's vast territory, leaving them trapped inside the country that had targeted them with hatred and leveled their homes.

At the camps, the questioning often continues, refugees said.

"'Who are you for?' they asked. 'For Russia or for Ukraine?'" said Bohdan, a 26-year-old construction worker from Mariupol, who escaped the city with his wife and 7-year-old daughter in mid-March when buildings in their neighborhood began collapsing because of heavy fighting. He spoke on the condition that his family name not be published because he fears for his security.

He fled into Russian-held territory, the only place he could reach at the time. Eventually, he made his way to a refugee center in Yalta, in Crimea, on the site of an abandoned Soviet health resort that he said had not been renovated since then. He was repeatedly interrogated about his loyalties.

"I said, 'You are interesting people. There was a war happening in my homeland, Russian soldiers attacked, and my house was smashed. And you want me to shout pro-Russian proclamations?'" he recalled telling them.

Russian officials also questioned him about the location of Ukrainian military positions inside Mariupol, he said.

He and his family went on to leave Russia in mid-April with the help of some foreign volunteer organizations, he said, and are now in Stockholm. The rest of his group of refugees was taken to a run-down health resort somewhere in a remote area of Russia, more than 600 miles inside the border, he said.
Much, much more at the link!
It is important to keep in mind that the Russians have scarfed up an estimated 190,000 or so Ukrainian children and relocated them to Russia.
⚡️ Russia announces it has kidnapped 190,000 Ukrainian children pic.twitter.com/aJ8pomjxgQ

— Dr. Ian Garner (@irgarner) May 12, 2022
My understanding is while some of these children are orphans, others were taken without their parents. As hard as it is going to be to track down and account for the adults or the intact families of parents and children and get them out of Russia and back to their homes, tracking down and returning these children is going to be orders of magnitude harder!
Again, until the following is resolved in some way, it is going to be a major reason why the sanctions and economic measures regime are not fully effective:
⚡️Russia's oil revenue rises 50%, enabling its aggression.

According to a report published by the International Energy Agency, Russia has been making $20 billion a month from selling about 8 million barrels of crude oil and oil products a day since the beginning of this year.

— The Kyiv Independent (@KyivIndependent) May 13, 2022
Politico has an interesting article on Ukraine's Air Force:
KYIV — When the order comes in over his radio, the Ukrainian fighter pilot known as "JUICE" has mere minutes to scramble. So he's never more than 200 meters from his MiG-29 these days and, as he put it, living in a "constant state of readiness." Any delay could be the difference between successfully intercepting a Russian jet and another airstrike on the territory of Ukraine, between life and death.

Juice is a 29-year-old pilot from the eastern Donbas region, where Russian forces have refocused their military operation after failing to capture Kyiv. Speaking to POLITICO over Skype Thursday, he hid his face behind a flight helmet and asked that only his call sign be used to identify him for security reasons.

Juice's words were cold and serious. To do his job effectively, he explained, he needed to be those things at all times. But he showed a rare bit of emotion and anger when discussing Russian pilots and his wingmen killed in action by them in recent weeks.

"They're bombing cities and places where there are no military objects every day. It's just stupid and it's immoral," Juice said of Russian pilots. "They're just criminals."

Juice is part of the small but mighty Ukrainian air force that has defied expectations and kept the Russians from controlling the skies over Ukraine since VLADIMIR PUTIN invaded the country on Feb. 24. Western governments and military analysts expected Russia's air force to wipe out Ukraine's air defenses and relatively meager air force in the first days, if not hours, of the invasion.

Instead, Russia's strikes on airports and runways were limited or else failed to hit all their targets, and Juice and his fellow pilots for the most part held their own in the sky.

"We were expecting that they would be much better than they are at the moment. But they weren't ready for a real, large war," Juice said. He thinks Putin's defining the war as a 'special military operation' led Russia's air force pilots to think "that it would not be a full-scale war."

"I think their understanding of the operations was on the level of Syria, where they had full air superiority without any real resistance," Juice said. "They were not prepared for the resistance here."

Russia has lost 200 of its roughly 1,200 combat aircraft and 162 of some 500 attack helicopters since the start of the invasion, Ukraine's air force reported Friday.

Juice said that sending more of what they have right now won't tilt the balance in Ukraine's favor. Speaking fluent English, he said that he and his fellow pilots need F-15s and F-16s to get the upper hand on the Russians. He estimated it would take roughly two weeks to learn to fly the US F-series jets.

In fact, said Juice, who was given his call sign while training with the California Air National Guard in Fresno in 2018 (he ordered fruit juice at a bar while the Americans ordered shots during an after-hours gathering), many Ukrainian pilots have been able to familiarize themselves with U.S. jets during joint exercises in recent years.

Juice recalled losing several friends in recent weeks. Among them was Maj. STEPAN TARABALKA, who was shot down during a mission in March. He was later wrongly identified as the mythical "Ghost of Kyiv" by Western media.

Ukraine's Air Force and Juice himself were frustrated about Tarabalka being mislabeled as the Ghost. Juice believes the Ghost legend is more helpful than harmful but he says there is not one single ghost of Kyiv — even though he admits to the legend stemming from one pilot whose MiG-29 was seen zipping over Kyiv region in the first days of the invasion.

"It's a collective," Juice said. "We are all ghosts of Kyiv."
Much more at the link!
I think that's enough for a Friday the 13th!
Your semi daily Patron:
Your semi daily Chef Jose Andres, featuring Chef Kilcoyne:
Update from @cheftkilcoyne who is on east side of Kharkiv in Ukraine…Reporting from one of our @WCKitchen restaurants! Power has been out for 3 days here due to bombing, but these Food Fighters are still cooking ? Amazing to see the love put into every meal! #ChefsForUkraine ?? pic.twitter.com/7odQwExlwK

— José Andrés (@chefjoseandres) May 14, 2022
Open thread!