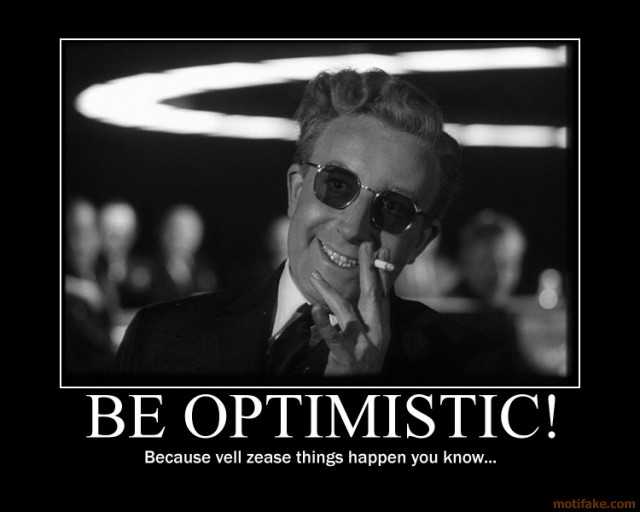 Let's begin tonight with the news out of eastern Ukraine. The Ukrainian forces in the Donbas have decided to pull back, thereby removing themselves from the salient where they've been exposed on three sides since late February/early March.
So yeah – it's eventually confirmed – the Ukrainian forces have orderly retreated from Lysychansk to escape an inevitable Russian death trap.
We all knew this was the only correct decision, given the circumstances. And fighting continues at another fortress. pic.twitter.com/9WSdABFZLH

— Illia Ponomarenko 🇺🇦 (@IAPonomarenko) July 3, 2022
Here is former NAVDEVGRU Squadron Commander Chuck Pfarrer's analysis of Ukraine's movements and an updated map that he posted earlier today:
LYSYCHANSK AXIS: RU units are are now ascendant. Though UKR is conducting a steady retrograde operation, the salient from Siversk to Lysychansk is predicted to collapse within the next 24-36 hours. It is critical that UKR forces regroup to a new defensive position in Siversk.

— Chuck Pfarrer (@ChuckPfarrer) July 3, 2022
For everyone's convenience, here's his map as a stand alone image: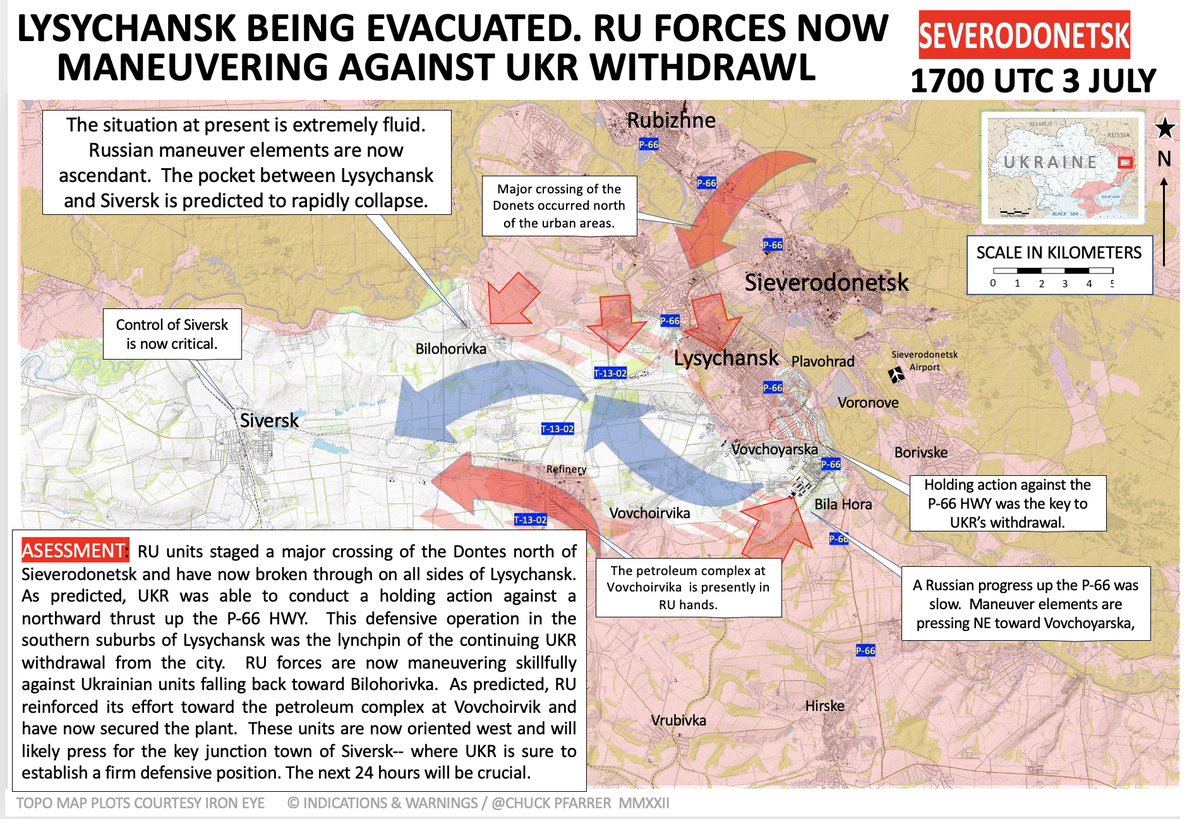 A retrograde operation or movement is defined in US Army Defense Publication (ADP) 3-90: Offense and Defense as:
A defensive task that involves organized movement away from the enemy.
For you old timer vets out there, when GEN Perkins served as the Commanding General of the Combined Arms Center he decided to authorize a name change for doctrinal publications. Instead of field manuals (FM), the Army now has Army Doctrinal Publications (ADP) and Army Doctrinal Reference Publications (ADRP).
Back to the Ukrainian military's decision to pull out. This is a smart move. I must have written about the need for the Ukrainian Joint Force Operation in the east to find a better position, reduce their exposure, and straighten out their lines. At this point they've attrited and bled the Russians far beyond what anyone would have expected over the past 45 days or so of combat in and around Sievierodentsk and Lysychansk.
However, now its a race to establish a new line of engagement in a position advantageous to Ukraine!
Here's President Zelenskyy's address from earlier this evening. He does discuss the coordinated withdrawal. Video below and English transcript after the jump (emphasis mine):
Ukrainians!

All our defenders!

Today, two important professional holidays are celebrated in our country: the Day of the Naval Forces of Ukraine and the Day of Anti-Aircraft Missile Troops. I sincerely congratulate all defenders of Ukraine who serve in these troops, I congratulate all veterans of the fleet, all veterans of anti-aircraft missile troops. Thanks to your service and your bravery, thousands of lives of our people have been saved.

The Russian occupiers suffered very significant losses both at sea and in the sky. They have not had such losses for many decades. Thanks again for your service!

The main task of the state is to do everything for our heroes, our warriors from all branches of the army to have everything necessary for the defense of the state, to have the most modern weapons. It is not easy, it takes a lot of effort, it requires many negotiations, but we will ensure such a supply. Ukraine will reach the level when the fire superiority of the occupiers will be nullified. We are not losing a single day – we convince our partners, establish new connections, use all opportunities – political, diplomatic, information…

Today, the Russian army once again brutally shelled Slovyansk, Kramatorsk, Kharkiv with MLRS and "Smerch" systems. In Slovyansk alone, six people are on the list of dead, and about twenty are wounded. A girl died, her name was Yeva. She would have turned 10 in August this year…

Russia has enough Smerch, Uragan and Grad systems to destroy city after city in Ukraine. They have now accumulated their largest firepower in Donbas. And they can use tens of thousands of artillery shells every day on one section of the front. This is reality. That is why we destroy the potential of the occupiers – day after day, calculatedly, powerfully. And, of course, the HIMARS systems we received and other weapons from partners play an important role in this. The fact that we protect the lives of our soldiers, our people, plays an equally important role. We will rebuild the walls, we will regain the land, but people must be saved above all else.

And if the command of our army withdraws people from certain points of the front where the enemy has the greatest fire superiority, in particular this applies to Lysychansk, it means only one thing: we will return thanks to our tactics, thanks to the increase in the supply of modern weapons.

Ukraine does not give anything up. And when someone over there in Moscow reports something about the Luhansk region – let them remember their reports and promises before February 24, in the first days of this invasion, in the spring and now. Let them really evaluate what they got over this time and how much they paid for it. Because their current reports will turn into dust just as the previous ones. We are gradually moving forward – in the Kharkiv region, in the Kherson region and at sea: Zmiinyi is a good example of this. There will be a day when we will say the same about Donbas.

The Prime Minister of Australia visited Kyiv today. A historical moment. And this is a very important visit. Australia is one of the top countries in terms of its level of support. We have already received significant defense assistance from it. Today, Mr. Prime Minister announced a new support package. I am grateful to him for that. Australia will also increase sanctions against Russia. This is the result of our constant activity, which increases the cost of this war for Russia.

The Russian economy found itself in the biggest crisis in the last 50 years. The world severs ties with Russia. The words "collapse", "deficit" and "poverty" will be the description of Russian life as long as this state wants to be a terrorist state.

They lost more than 35 thousand soldiers, and this is a conservative estimate. What is all this for? For the sake of insane propagandists to be able to show a Russian or Soviet flag on the ruins somewhere in their broadcasts… There is simply no other answer.

It is clear to everyone in the world – and, I am sure, to all the sane people in Russia itself – that Ukraine will win. It's only a matter of time. It is a matter, unfortunately, of the losses we suffer, primarily of people. It is a matter of modern weapons, which we must get and will definitely get.

Tomorrow there will be a conference in Switzerland dedicated to the reconstruction of Ukraine. Today in Kyiv, I met with the President of the International Olympic Committee, and one of his initiatives is the convening of a special conference to raise funds for the restoration of Ukrainian sports infrastructure… These and many other international initiatives simply would not exist if the world doubted our victory.

Therefore, we must continue focused work, fight and beat the occupiers until we regain our entire country. Ukraine will be free.

I am grateful to everyone who defends the state!

Glory to Ukraine!
Here is today's operational update from Ukraine's MOD (emphasis mine):
The operational update regarding the russian invasion on 18.00 on July 03, 2022

The one hundred thirtieth (130) day of the heroic resistance of the Ukrainian people to a russian military invasion continues.

russian enemy continues to launch rocket attacks on civilian objects on the territory of Ukraine.

There are no significant changes in the position and nature of the activities of the armed forces of the republic of belarus in the Volyn and Polissya directions.

On the Siverskyi direction, the enemy fired artillery and mortars at the border settlements of Bachivsk and Vovkivka, Sumy oblast.

In the Kharkiv direction, the occupiers are concentrating their main efforts on preventing the advance of our troops in the direction of the state border. The enemy carried out artillery fire in the areas of the settlements of Zolochiv, Khrestyshche, Malynivka, Cherkaska Lozova and Chepil.

In the Slovyansk direction, the enemy shelled the territory near Dolyna, Kurulka, Bogorodychne, Adamivka and Husarivka with artillery. Ukrainian units repelled the assault in the direction of Pasika – Dolyna.

In the direction of Kramatorsk, the enemy has forced the Siverskyi Donets River, is trying to develop success and take possession of Bilohorivka. Fire continues to influence units of our troops in order to constrain their actions. Artillery shelling was recorded near Hryhorivka and Bilohorivka.

In the Lysychansk direction, the enemy is shelling from barrel artillery in the areas of Zolotarivka and Verkhnokamyanka settlements. It led an assault in the direction of Zolotarivka and took control of the settlement.

In the direction of Bakhmut, the occupiers are shelling the districts of Soledar, Pokrovske, Bakhmut, and Klynove with artillery.

Ukrainian soldiers successfully repulsed offensive actions in the direction of Nyrkove – Berestove. Also, the enemy unsuccessfully tried to carry out combat reconnaissance in the direction of Vasylivka – Berestove. Conducted assault operations in the Vovchoyarivka – Spirne and Mykolaivka – Spirne directions. Suffered significant losses and withdrew.

In the Avdiivka, Kurakhivka, Novopavlivka, and Zaporizhzhia directions, in order to restrain the actions of our units, the enemy carried out artillery shelling of the areas of the settlements of Avdiivka, Pisky, Novomykhailivka, Vremivka, Hulyaipole, Charivne. Airstrikes near Kamianka, Avdiivka and Shevchenko.

In the South Buh direction, the enemy is concentrating its efforts on preventing the advance of units of the Defense Forces on probable offensive lines. Takes measures for the logistical support of the troops and improves the engineering equipment of the positions.

The aggressor continues to launch missile attacks on military and civilian infrastructure facilities in the Mykolaiv direction with the aim of reducing the offensive capabilities of our troops.

We believe in the Armed Forces of Ukraine! Together to victory!

Glory to Ukraine!
Here is today's assessment from Britain's MOD.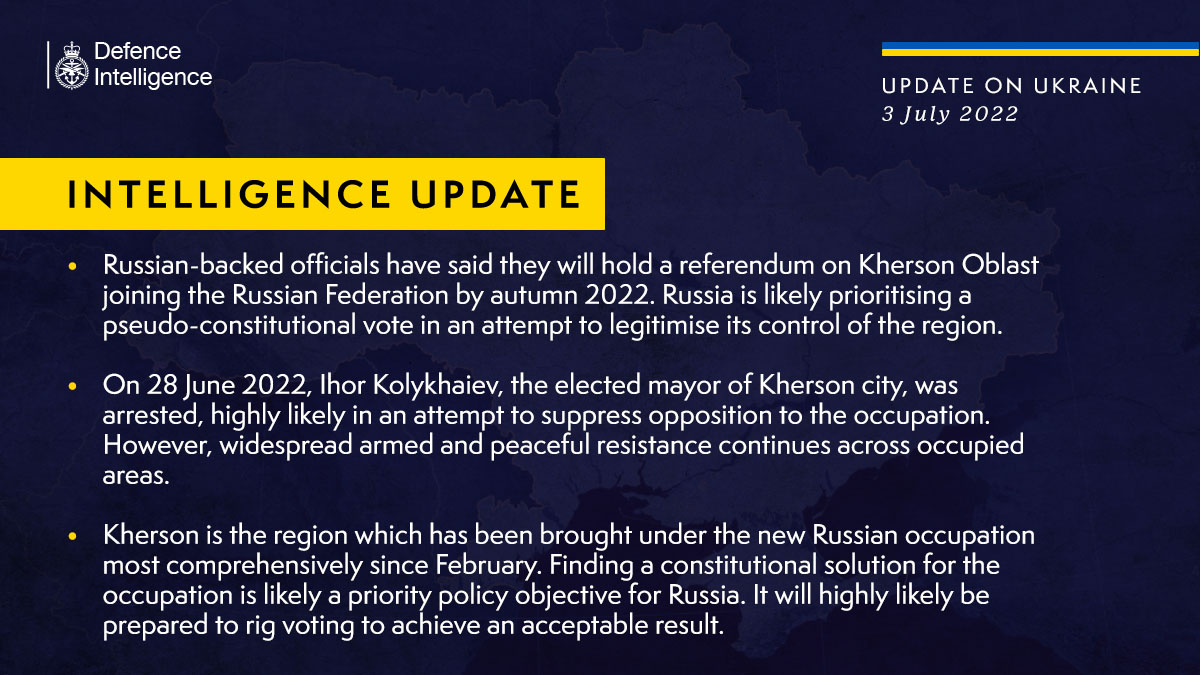 Britian's MOD did not post an updated map for today.
I want to highlight this thread by The Kyiv Independent's defense correspondent Illia Ponomarenko:
It is already using pretty much all conventional weaponry it can deploy, including ballistic missiles and strategic bombers. It has committed pretty much all of its combat-capable manpower available for foreign operations.

— Illia Ponomarenko 🇺🇦 (@IAPonomarenko) July 3, 2022
And it runs low on reserves and manpower in general as operations in Ukraine are extremely slow and costly. The shock of the cringe-krieg of February and March is over. Much of its most combat-capable formations, including airborne and naval infantry, have been…

…severely depleted in the failed February offensive. The Battle of Donbas goes on for over 70 days now. And Severodonetsk and Lysychansk are what Russia has managed to achieve amid immense effort, losses, and the commitment of nearly 45% of its forces in Ukraine…

…including collaborationist forces in occupied Donbas, which is subject to relentless general mobilization due to a severe lack of manpower. In Russia, they continuously have problems generating high-quality forces with its "covert mobilization."

That's why their advances are so extremely slow, costly, and painful. +0.3% to occupied Ukrainian territories through June should tell you a lot about Russia's military might in 2022. And that's at expense of other axes in the south.

Even in Donbas, they have failed to achieve their main objective and had to set much more narrow goals. They celebrated the taking of Toshkivka as if they had seized Dnipro. In some aspects, such as the use of UAVs, they run far behind the Ukrainian military.

They'd defeat the Ukrainian military and occupy most of Ukraine if they could, but all they can is to be smashing their faces against Severodonetsk for three months until they raze it to the ground and occupy the dead ashes.

It's been the 5th month, but Russia has not even managed to impose full supremacy in the air, and its sustains losses in the sea. It has lost at least 800 tanks — which corresponds to the armored force of the UK, France, Germany, and Italy combined.

It is unlikely to be able to take the whole of Donbas, let alone the whole of Ukraine, given the weak battle performance Russia is demonstrating. In the present condition, it has zero chances in a conventional war with NATO. Lots of myths have been busted here.

We've been hearing this "let's not provoke Putin" for months. But then the West started sending Ukraine tank killers, then advanced artillery, then MLRSs, then air defense. Guess what — no "escalation" followed. What followed…

…was Ukrainian military getting stronger and more capable of putting a real end to this war end sooner. The only sort of "escalation" Russia is capable of is firing hordes of missiles against Ukrainian civilians as Ukraine's military smashes Russian ammo depots with new M142s.

And don't get me started on scary nukes and the global holocaust — those guys in the Kremlin are very much in love with luxury, money, and being alive. And they are afraid of declaring official mobilization and calling this a war, let alone hitting the red button.
At the rate of advance seen in June (+0.3% of Ukraine's territory) it would take Russia nearly 22 years to completely seize the rest of the country (80% now) It's just for you to understand their results compared to their goals at this point.
I think this is an excellent analysis of what has happened so far.
Helsingin Sonomat, a major Finnish subscription newspaper, has details on how much ammunition Russia is burning through to achieve their very limited gains so far:
According to the General Staff of the Armed Forces of Ukraine, Russia exported 20 rail carloads of artillery ammunition from Belarus to the Russian side last week, reports the news agency Ukrinform . According to the news agency, the train was heading towards the city of Belgorod, and the ammunition was intended for the front in eastern Ukraine.

But is 20 train cars a lot?

Artillery ammunition is heavy, so instead of volume, it is their weight that matters in the cargo. The 152-millimeter grenades used by the Russians typically weigh about 40 kilograms when fired, the 122-millimeter ones only half that.

With an average weight of thirty kilograms, about 2,500 rounds of ammunition would go into a 70-ton train car, if smaller and older ammunition were also included. There would thus be around 50,000 pieces of ammunition in a hose of 20 wagons.

Ukraine's Deputy Defense Minister Hanna Maljar estimated in last Sunday's The Washington Post that Russia fires more than 60,000 artillery shells in Ukraine every day, Ukraine only a tenth of this.

If Maljar's assessment is even close to being correct, the use of artillery in Ukraine is completely pointless. The war is being fought not only in the east but also on the southern fronts, but most of the fighting is concentrated on a few targets of intense fire in the Donbas region in eastern Ukraine.

The largest artillery battle in the Nordic countries took place at the end of the Continuation War in Tali-Ihantala. The battle lasted fifteen days and as a result, Finland managed to stop the advance of the Soviet army.

On July 3, 1944, the Finnish artillery fired more than 12,000 rounds on the hottest day. According to Finnish accounts, the Soviet Union's heaviest day of firing was June 28, 1944, when the Red Army's tubes fired 14,000 rounds at Finnish positions.

The huge consumption of artillery ammunition has completely confused the world ammunition market. Brokers are competing for ammunition, and Russia is trying to prevent the delivery of ammunition to Ukraine as much as it can.

The events related to the ammunition also show that Russia has been preparing for the ongoing war years ago.
More at the link, but you'll need to use a translation tool.
The Washington Post has the details on just how Russia was preparing for war regarding ammunition: sabotaging and destroying Ukraine's stocks:
KYIV, Ukraine — Ukraine is running out of shells for the majority of its artillery in part because of a clandestine Russian campaign of bullying and sabotage over the past eight years, including bombings of key munitions depots across Eastern Europe that officials have linked to Moscow, according to Ukrainian government officials and military analysts.

Fighting in eastern and southern Ukraine is now almost exclusively a near-constant exchange of artillery, and Ukraine's shortage of shells has exacerbated what was already a mismatch on the battlefield against a Russian military with more weapons. Russia is firing more than 60,000 shells per day — 10 times more than the Ukrainians, Deputy Defense Minister Hanna Malyar told The Washington Post.

Most of Ukraine's artillery pieces date back to the Soviet Union, meaning they rely on the same 122mm- and 152mm-caliber rounds that Russia uses. But outside of Russia, very little supply exists — in large part because Russia spent years targeting Ukrainian and other Eastern European ammunition storage facilities and suppliers before launching its full-scale invasion of Ukraine in late February. Russia has also taken other steps to acquire the ammunition or otherwise prevent its sale to Ukraine.

"Even if everyone gives us this ammunition, it will still not be enough," Malyar said, adding that Ukraine uses more of the 152mm shells than are produced globally in one day.

A sort of shadow war is taking place for what few 152mm shells are available on the global market. A U.S. citizen helping to broker weapons transfers to Ukraine said he recently approached an Eastern European country to negotiate a purchase of artillery rounds. Officials in that country said they couldn't make a deal, the man said, because the Russians had already warned that they would "kill them if they sold anything to the Ukrainians."

The arms broker was interviewed on the condition of anonymity to speak frankly.

The countries that still have stocks of 152mm rounds are largely former Soviet republics, many of which are hesitant to sell to Ukraine because they maintain close ties with Russia. Some African and Middle Eastern countries, which have received weapons and ammunition from Russia over the years, also have stocks of those shells. A few former Warsaw Pact countries have the capacity to manufacture the shells but not at the scale and speed Ukraine needs on the battlefield.

The arms broker said he has had to make some weapons transfers appear as if they traveled through an unrelated country to obscure the origin of the purchase. In other cases, Ukraine thought it had a deal done, but then a buyer working on behalf of Russia swooped in at the last minute and aggressively outbid, he said.

Malyar said that "the Russians are working very hard to ensure that we can't sign contracts for this — and then if we sign a contract, to prevent us from getting the shells delivered here."

Russia has long known that in a drawn-out war of attrition against Ukraine, Kyiv would risk running out of ammunition, military analysts said. Ukraine knew it was a weakness, too, but the situation didn't become dire until Russian troops and tanks rolled across its northern, eastern and southern borders on Feb. 24. The first round of airstrikes early that morning also targeted Ukrainian ammunition stocks.

"There were some concerns, and there were constant discussions that we need to produce the ammunition ourselves," said Andriy Zagorodnyuk, a former Ukrainian defense minister.

"But even if the Ukrainian government started manufacturing, the facility would've been destroyed by Russians on Day 1," he added.

In 2014, after Russia first invaded Ukraine and fueled a separatist war in the country's east, members of the elite Russian military intelligence unit 29155 sabotaged ammunition stored at depots in the Czech Republic, according to Czech authorities.

The following year, according to Bellingcat, a Britain-based investigative organization, members of the same unit used a nerve agent to poison a Bulgarian weapons executive, who told the New York Times he had been storing ammunition at the Czech facilities and had sold arms to Ukraine.

Russian saboteurs are also suspected of causing four explosions at Bulgarian arms depots from 2011 to 2020, according to Bulgarian prosecutors, who have said Moscow was aiming to disrupt supplies to Ukraine and Georgia.

Ukrainian officials suspect Russian and separatist saboteurs extended the effort inside Ukraine in recent years, leading to a series of explosions at ammunition storage facilities.

Blasts in 2017 at two big Ukrainian depots, which together had stored 221 metric tons of ammunition, dealt a massive setback to Ukrainian forces, sapping them of critical supplies that would be difficult and expensive to replace.

The secretary of Ukraine's National Security and Defense Council at the time, Oleksandr Turchynov, said the two blasts in March and September 2017 ruined "an enormous amount of ammunition" and represented the biggest blow to Ukraine's defense capability since the start of the conflict with Russia.

An explosion the following year at a depot in the Chernihiv region storing another 88,000 metric tons of ammunition was another setback for the Ukrainian arsenal.
Much, much more at the link. But this reporting, from 24 June at The Washington Post and from today at The Helsingin Sonomat provide important context to President Zelenskyy's, Defense Minister Reznikoff's, and other Ukrainian officials almost frantic appeals for more ammunition, as well as NATO standards weapons systems and ammunition to replace them.
The Washington Post also has recent reporting on the utility and effectiveness of the NATO standards weapons systems and ammunition that Ukraine has recently brought online:
EASTERN UKRAINE — The premier weapon in Ukraine's arsenal drove down a dirt road not marked on any maps, along a sunflower field, before its military minders parked it between trees — the branches shielding it from the Russian drones that are no doubt hunting for it.

The M142 High Mobility Artillery Rocket System, commonly known as HIMARS, is one of four that Ukrainians received last month from the United States as part of a $700 million military aid package. The soldiers assigned to this one already adorned the inside with a picture of a scantily clad woman, an air freshener and rosary beads. The outside has three small black skulls stenciled on it — one for every target successfully hit.

"We actually have six," said this system's chief, whose call sign is Kuzya. "We just haven't had a chance to add the other three yet."

After public frustration over Western delays in transferring promised heavy weaponry, specifically multiple-launch rocket systems such as the HIMARS, the Ukrainians have quickly put their new hardware to work more than four months after Russia launched its full-scale invasion. Kuzya and his comrades said their targets so far have focused on Russian command posts — warehouses where enemy officers and weaponry were stationed.

Ukrainian officials say the new Western materiel is already making a difference on the battlefield — a testament to the importance of continued security assistance and the painful cost of slow-moving deliveries as the Russian military slowly expands its control in Ukraine's eastern Donbas region. Artillery strikes from French self-propelled howitzers stationed in the port city of Odessa reportedly forced the Russians to withdraw Thursday from the strategically important Snake Island in the Black Sea.

The Biden administration promised to send Ukraine four more HIMARS as part of an additional $450 million in aid announced last week. All four were prepositioned in Europe, and training on those systems has already begun with the Ukrainian troops who will use them, according to a Pentagon spokesman.

"What we used before was a lot more worrisome," said the four-person team's gunner, whose role is to input the target's coordinates. His call sign is Moroz, which translates to "frost."

The HIMARS brings more peace of mind, the soldiers said. With their old equipment, they avoided rocket trajectories that passed through any population settlements, limiting them to only shooting through fields and forests, to avoid potentially harming civilians, Moroz said.

And now?

"I don't have any doubts about what we'll hit," Moroz said. "I know the rocket will hit its target because it's navigated by satellite."

"We were also surprised that such a high-precision weapon could shoot so quietly," Kuzya said.
Much, much more at the link.
I think that's enough for tonight.
Your daily Patron!
I found the link in case you want to bid on Patron's t-shirt. That's the one we featured the other night:
👕🐶 The Dog #Patron puts autographed T-shirt up for auction

🐕🐈 Patron said he originally hoped the auction would raise money to buy a boat for his fellow deminers. He changed his mind after seeing a post about animals affected by the war.#WeAreFromUa#dog pic.twitter.com/YjlZr09xS2

— U24 (@u24_news) July 3, 2022
If you want to bid on it, go to this link. Here's the description:
Patron's T-shirt, the most famous sapper dog in the world

The Patron is a Ukrainian explosive sniffer dog, a Jack Russell Terrier, the mascot of a detachment of deminers engaged in demining areas in the Chernihiv region. Since the start of the war with the Russian occupiers, he has helped detect dozens of explosive devices abandoned by invaders and become the world's most famous dog.

During the war, the President of Ukraine Volodymyr Zelensky awarded Patron a medal "For Dedicated Service." At the 75th Cannes Film Festival, a sapper dog received a "PalmDogManitarian" for the connection between humanity and dogs.

Patron donates his only T-shirt to help rescue dogs and cats with UAanimals and provide his four-legged friends with necessary food and treatment.

Lot is a unique T-shirt created in a single copy with the Wanderlust brand for the official merch Patron. The sapper dog left his autograph on his T-shirt.
There is a link below the description I copied and pasted that will take you to the actual auction page, which is set for 8 July. In case you're interested in placing a bid.
And here's a video from Patron's official TikTok page:
Patron is clearly trying to free his friend from the cone of shame!
Open thread!