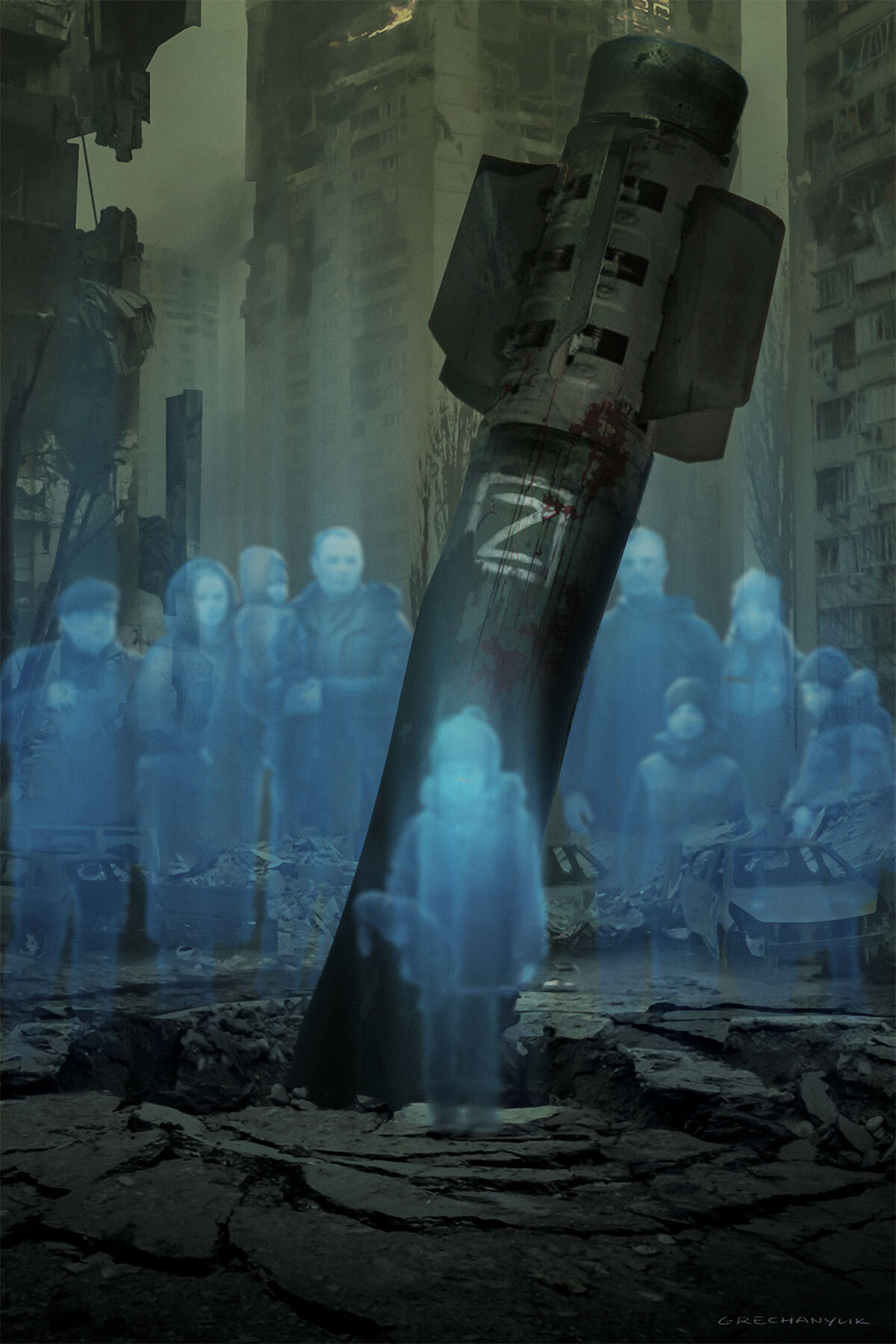 Just a quick note. My comment last night explaining why the number of comments and the amount of commenters had dropped off on these update posts since we came back online was not directed at any specific person. Nor was it an attempt to shame or pressure anyone into commenting more. I appreciate all the kind words and everyone is very welcome for the posts. I know that you all wish as much as I do that they didn't have to be done. I also want to make something else clear: not commenting on any particular post is not an issue. There is a lot going on and not just in Ukraine. There are things that I cannot cover – both the Saudi war against the Houthis and the famine the Saudis have created as a result in Yemen, the ongoing acts of domestic terrorism via mass shootings in the US, etc – because right now and for the foreseeable future I have the time to do the war update posts and that's it. But all this other terrible stuff is going on in other places. For those of us in the US, there are terrible things going on at home, just as there are in other places where we have commenters and readers. So not commenting or pacing yourselves and only commenting periodically is perfectly understandable.
To the update!
We begin with President Zelenskyy's address from earlier this evening. Video below, English transcript after the jump (emphasis mine):
Ukrainians!

All our defenders!

On the night of July 5, an air alert was announced over almost the entire territory of our country. Before that, there has been no air alert in the capital and in some regions for some time, and some people even felt particularly anxious because of such unusual silence. They were overthinking, dreading, looking for some kind of explanation – as if the occupiers were preparing for something… Actually, you shouldn't overthink. You should not look for logic in the actions of terrorists. The Russian army does not take any breaks. It has one task – to take people's lives, to intimidate people – so that even a few days without an air alarm already feel like part of the terror. And this evening, Kyiv and again almost the whole of Ukraine heard the air alarm. As of now, there are reports of strikes at the Khmelnytskyi region – victims, wounded are now being specified.

Our task is to hold on, to take care of ourselves, including our emotions, to help the country's defense as much as possible, to protect the state, as much as it will be necessary for our victory.

The occupiers again hit the Sumy region, Mykolaiv and the region, the Dnipropetrovsk region. Some of the missiles were shot down by our air defense forces. And we have not reduced and will not reduce our diplomatic activity for a single day to obtain modern anti-missile systems for Ukraine in sufficient quantity. 

This is a maximum task for our state – to provide basic security for Ukrainians, basic protection against missile attacks already this year. But the fulfillment of this task depends not only on us, but also on the understanding of our fundamental needs by our partners.

I spoke today with British Prime Minister Boris Johnson. I thanked him for increasing security assistance to our nation by £100 million more, on top of the £1 billion defense support package announced recently. This is a very tangible aid for us.

We also discussed with Boris the system of security guarantees for Ukraine, which we are developing, which should work in the long term for our people.

Together with the Presidents of Moldova and Greece I took part in the format of a special conference of The Economist. This is already the 26th such annual event, and this year Ukraine and security were, of course, the main words at it. Why do we need it? Our state needs certainty with a safe space right now. We are working very actively to ensure that all our partners both in Europe and on other continents understand our vision of security guarantees.

Today, the results of two months of work of the United24 state charitable platform were summed up. Over this time, thanks to the participation of people from dozens of countries, we managed to collect more than two billion hryvnias for the needs of Ukraine. This is not only help to our defenders, but also contributions to demining and humanitarian needs.

I personally thanked Liev Schreiber, a very famous actor, for joining United24 as an ambassador. He is a co-founder of the BlueCheck charitable organization, which financed programs for psychological support and evacuation of more than twenty thousand orphans from boarding schools and orphanages in the Kharkiv, Dnipropetrovsk, Chernihiv, Odesa regions. Liev's organization also helps families of IDPs in Lviv. Now he, together with Andriy Shevchenko and Elina Svitolina, will work in the humanitarian direction.

And one more thing is very important. Today there were a lot of disputes in society regarding the decision of the General Staff of the Armed Forces of Ukraine to approve the Procedure for obtaining certain permits for those liable for military service, conscripts and reservists. I see that there are different assessments of such a decision, there is misunderstanding and even indignation in society. I instructed the Minister of Defense, the Chief of the General Staff, the Commander-in-Chief of the Armed Forces to report all the details to me during tomorrow's regular meeting of the Staff of the Supreme Commander-in-Chief as one of the items on the agenda. I promise the people to figure it out.

And I ask the General Staff not to make such decisions without me in the future.

Glory to Ukraine!
Radio Free Europe/Radio Liberty has more details and footage from the attack on Slovyansk:
Russian forces struck a market and a residential area in the eastern Ukrainian city of Slovyansk on July 5. Ukrainian officials said at least two people were killed and seven others were injured. (WARNING: Viewers may find the content of this video disturbing.) pic.twitter.com/9AN4DatrxX

— Radio Free Europe/Radio Liberty (@RFERL) July 5, 2022
Here's today's operational update from Ukraine's MOD (emphasis mine):
The operational update regarding the russian invasion on 18.00 on July 05, 2022

The one hundred thirty second (132) day of the heroic resistance of the Ukrainian people to a russian military invasion continues.

russain aggressor continues to launch missile attacks on military and civilian objects on the territory of Ukraine.

In the Volyn and Polissya directions, no signs of the formation of offensive groups of the enemy were detected, at the same time, the threat of missile and air strikes from the territory of the republic of belarus continues. According to the available information, the control and alert system is being checked in the armed forces of this country.

In the Siversky direction, the enemy continues to provide increased protection of the section of the Ukrainian-russian border. In addition, the enemy fired at our positions near the settlement of Mkhy and carried out an airstrike near Esmani.

In the Kharkiv direction, the enemy is defending on previously captured lines. He used tanks, mortars, barrel and jet artillery for shelling the areas of the settlements of Udy, Dementiyivka, Nove, Ruski Tyshky, Tsyrkuny, Kutuzivka, Bazalivka, Pryshyb, Shevelivka, and Protopopivka. He led an assault near Sosnivka, had no success, withdrew. Conducted an airstrike in the Kharkiv area.

In the Slovyansk direction, the enemy is trying to improve the tactical position of his units. Artillery shelling was recorded near Dibrovny, Dolynaya and Adamivka. Our soldiers successfully repelled enemy assaults in the Krasnopil region.

In the Donetsk region, the main efforts of the enemy are concentrated on taking control of the Bakhmut – Lysychansk road and attempts to seize the settlement of Bilohorivka.

In the Kramatorsk direction, the enemy fired at civilian infrastructure in the Kryvya Luka and Serebryanka districts. Delivered a missile and air strike near Siversk. Fighting continues in the Bilohorivka area.

In the Bakhmut direction, the enemy shelled our troops with mortars, barrel and rocket artillery in the areas of Kodema, Pokrovske, Zaytseve, Zalizne and Novoselivka settlements.

With the support of artillery and operational-tactical aviation, the occupiers carried out assaults in the areas of Spirne and Vershina settlements, the fighting continues.

Artillery shelling continues along the contact line in Avdiyivka, Kurakhivka, Novopavlivka and Zaporizhzhia. The enemy carried out airstrikes on the positions of the Defense Forces in the Avdiivka area.

In the South Buh region, the enemy carried out systematic shelling of civilian and military infrastructure from barrel and rocket artillery in the areas of the settlements of Osokorivka, Dobryanka, Potemkine, Ivanivka, Bereznehuvate, Partyzanske, Chervona Dolyna, Kiselivka, and Myrne. There remains a further threat of missile strikes on the region's critical infrastructure.

Our units continue to successfully carry out missile and artillery fire missions in the designated directions. It is becoming more and more difficult for the enemy to replenish units suffering losses as a result of waging war on the territory of Ukraine.

We believe in the Armed Forces of Ukraine! Together to victory!

Glory to Ukraine!
Well that all sounds grim…
The reality, however, is that things are continuing how they've been going: the Russians bombarding anything and everything they can while making almost no progress on the ground while the Ukrainians continue to defend where they can, push back ever more effectively as the new NATO standard weapons come online, and continue their under-reported by the news media counterattack in Kherson Oblast.
The Ukrainians have also been utilizing their new artillery to reach out and touch a number of Russian ammo depots in Russian occupied Ukraine. Here's just one example:
2/3 The depot was there for 8 years. Did they think Ukraine will not strike it just because it's located in the residential area? Here's the OTG video: pic.twitter.com/qMyd2y9rpp

— Mark Krutov (@kromark) July 5, 2022
Here's today's assessment from the British MOD: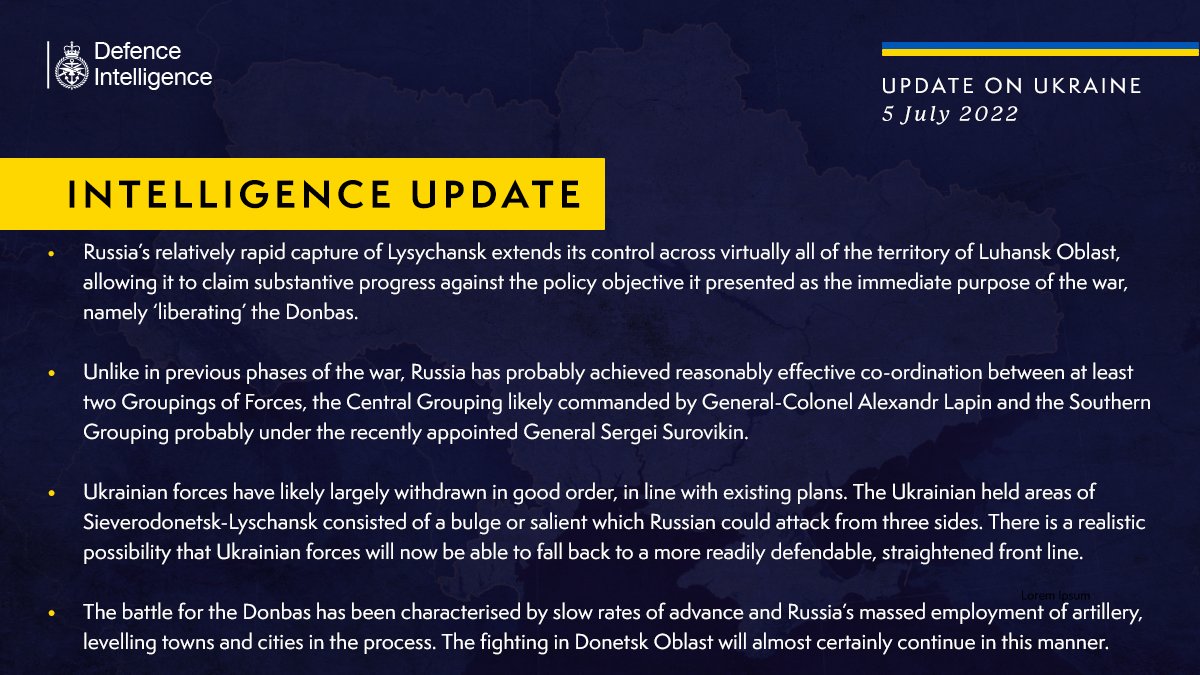 And here's their updated map for today: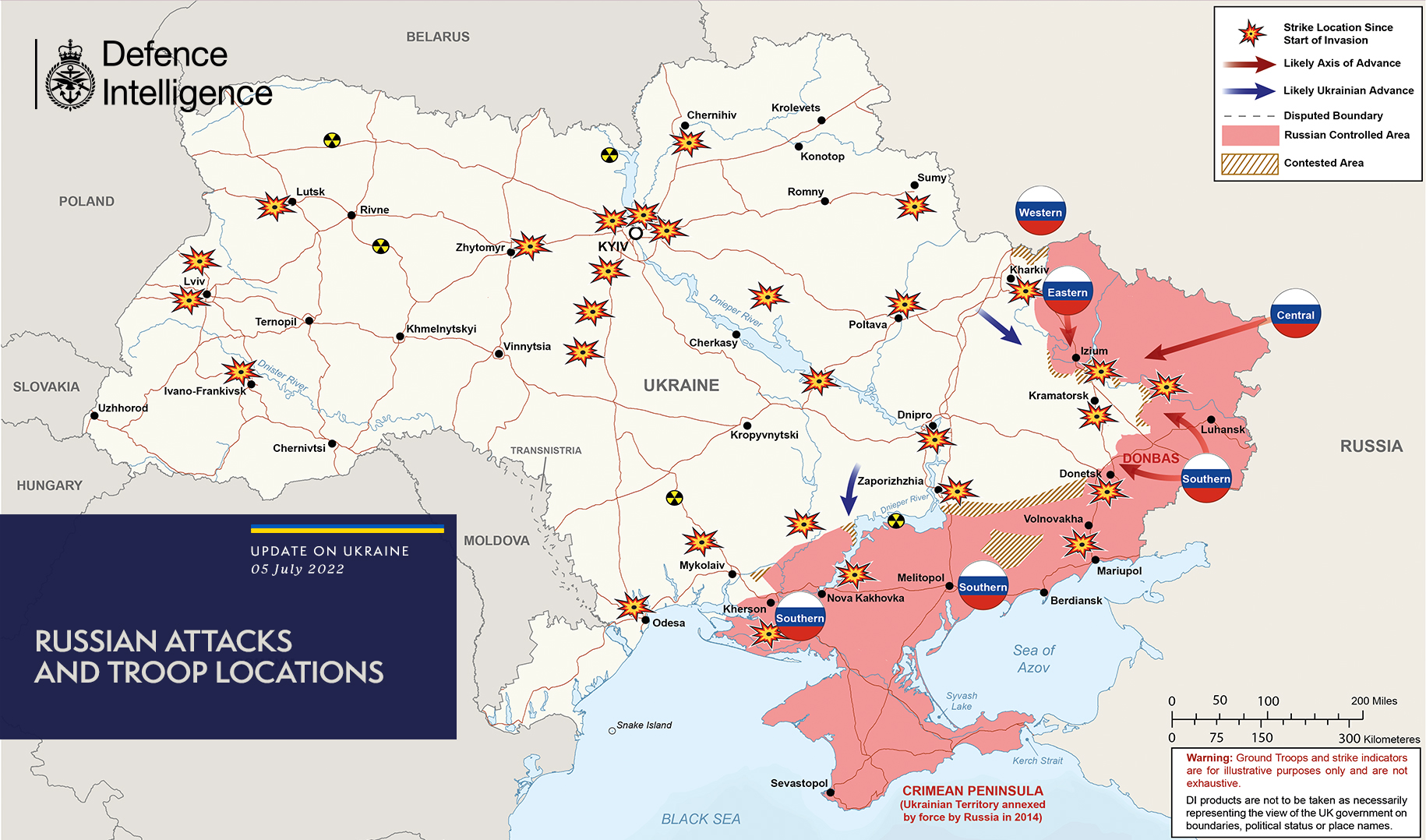 The biggest amount of change is around the collapsing salient in the east.
Here are former NAVDEVGRU Squadron Commander Chuck Pfarrer's updated maps with analysis for the battle in and around Lysychansk from 4 and 5 July:
LYSYCHANSK AXIS / 1700 UTC 4 JUL / UKR forces have conducted an orderly retrograde maneuver from the Lysychansk urban area, successfully thwarting RU units surrounding them while in motion at Vovchoyarska and Vovchoirvika. New defensive position at Siversk. pic.twitter.com/EEgKDPOnKN

— Chuck Pfarrer (@ChuckPfarrer) July 4, 2022
KRAMATORSK AXIS / 2250 UTC 5 JULY / Note new map projection. Updated battle-space topo map is provided. Please zoom in to study terrain; high ground and watercourses provide enhanced defensive opportunities for UKR. These aproximate positions assessed as stable for next 24 hrs. pic.twitter.com/4B42GwsT6E

— Chuck Pfarrer (@ChuckPfarrer) July 5, 2022
There was no DOD background briefing today. Most likely because everyone is getting caught up after the long weekend.
Over the weekend, Turkey seized a Russian ship carrying stolen Ukrainian grain. The Guardian has the details:
A Russian-flagged ship carrying thousands of tonnes of grain is being held and investigated by Turkish authorities in the Black Sea port of Karasu over claims its cargo was stolen from Ukraine.

Turkish customs officials acted after Kyiv claimed the Zhibek Zholy was illegally transporting 7,000 tonnes of grain out of Russian-occupied Berdiansk, a Ukrainian port in the south-east of the country.

Officials in Karasu said the ship was waiting off port while inquiries were undertaken into the provenance of the shipment.

Russia's foreign minister, Sergei Lavrov, confirmed that the ship was Russian-flagged, but appeared to muddy the waters while claiming the Kremlin was seeking clarity on Monday.

"The ship really is Russian-flagged, but I think it belongs to Kazakhstan and the cargo was being carried on a contract between Estonia and Turkey," Lavrov told reporters.

Kyiv has accused Russia of stealing grain from occupied Ukrainian territory to sell on the international markets. The country's grain exports are responsible for almost 15% of the world's total.

The case of the Zhibek Zholy has brought claims of theft into sharp focus and put the Turkish government in a sensitive position as it continues to seek a mediating role between Moscow and Kyiv over the issue of global food supply.

The voyage of the Zhibek Zholy had been proudly announced by the Moscow-appointed head of the occupied Zaporizhzhia region, where the port of Berdiansk lies, as the "first commercial ship" to take supplies out of Russian-controlled ports since the war began.

The office of Ukraine's prosecutor general subsequently wrote to Turkey's justice ministry on 30 June, claiming the Zhibek Zholy was involved in the "illegal export of Ukrainian grain" and that it was headed to Karasu.

Turkey was asked to "conduct an inspection of this sea vessel, seize samples of grain for forensic examination, demand information on the location of such grain".

Speaking on Ukrainian national television on Sunday, the country's ambassador to Turkey, Vasyl Bodnar, had said he hoped the grain would be confiscated.

He said: "We have full cooperation. The ship is currently standing at the entrance to the port. It has been detained by the customs authorities of Turkey."

The difficulty of identifying the origins of the grain remains real, however. The Russian-appointed administrations in occupied territories also claim that they are working in partnership with local farmers to release grain into the global market.
More at the link.
This is an interesting development as Turkey had been trying to serve as a neutral third party mediator between Ukraine and Russia regarding reopening the Black Sea so that Ukraine could export grain. While I'm sure Ukraine is thrilled with Turkey's actions, this probably puts an end to Turkey's mediation efforts.
Earlier today it was announced that Iran has agreed to buy grain from Russia. Stolen grain that comes from the Ukrainian territories that Russia is occupying. Reuters has the details:
(Reuters) – Russian-installed authorities in the southeastern Zaporizhzhia region of Ukraine, partly under Russian control, said on Tuesday that an agreement had been reached to sell grain abroad, mainly to the Middle East, Russian state news agency TASS said.

Ukraine has accused Russia, the world's largest wheat exporter, of stealing grain from territories that Russia's army has seized. Moscow denies this. The war has disrupted Ukraine's grain exports via the Black Sea.

TASS cited Yevgeny Balitsky, the head of the Russian-installed administration of the Zaporizhzhia region, as saying the planned deals included sales to Iraq, Iran and Saudi Arabia.

He said there was a contract to supply 150,000 tonnes of grain to Iran, adding that Russian agricultural traders and state companies were buying grain from the region's farmers.

Reuters could not verify this statement.

The prices are not bad at the moment," Balitsky told TASS.
I've seen other reporting indicating that Iraq and Saudi Arabia have also reached an agreement to buy this stolen grain. Which, once again, demonstrates that decades of American foreign and national security policy decisions need to be completely reexamined from top to bottom and then significantly revised!
I want to draw everyone's attention to this reporting by thread from Christopher Miller:
I spoke today with a long-time Ukrainian soldier & contact who's been in Donbas since 2014; he's now in a leadership role. He was wounded by 82mm mortar days ago & hospitalized. 2 pieces of shrapnel remain stuck in him. He confirmed Ukrainian forces are suffering huge casualties.

— Christopher Miller (@ChristopherJM) July 4, 2022
Three weeks ago, he had 60 soldiers in his unit north of Popasna. Today he has 20; 40 have been KIA or WIA; 3 KIA last week. They were nearly caught in the kettle as Russian forces captured Severo & Lysychansk; they've been pushed 30+ miles east from their original positions.

They haven't gotten any new Western weapons or ammo & rely on Ukraine's Soviet-era stockpile which is running dangerously low. But there's been some success — they shot down a Russian Ka-52 with an Igla 2 weeks ago. But another returned to shoot up their position the next day.

He said Russian tanks & artillery are the biggest problems facing them; the number of tanks & artillery barrages hitting them is crazy & the amount of Western aid being given right now is not going to be enough to turn the tide in Ukraine's favor. "We need more, more, more."

He said morale is falling and the loss of Luhansk Oblast has been demoralizing. His company has been at the frontline in the Donbas since well before Feb. 24 and not had a break. Only the wounded get a break, he said.
Slava Malamud brings us the story of the father of one of the Russian seamen who died on the Moskva:
Dmitry is beside himself with grief. He is confused and angry. The Ministry of Defense has told him the entire crew of the Moskva has been evacuated after a fire.
"Blatant and cynical lies!" he rages. His son was a conscript, he wasn't supposed to take part in the fighting…

— Slava Malamud 🇺🇦 (@SlavaMalamud) July 5, 2022
His son, Yegor, is missing. His commanding officers are alive and aren't willing to tell him what happened. He calls everyone scum, he begs for any info on Yegor. One commenter offers to help spread the word. "But do you support the special operation?", they ask. "I do", he says.

And Dmitry does. Before Yegor went missing, dad's page was full of Z symbols. His current rage is personal, not directed at Putin or his war. Ukrainian commenters pay a visit, too. They gleefully tell him where his son is now and what kind of fish he is feeding.

Dmitry calls them animals, hopes for them to feel Mother Russia's mighty wrath. Soon, though, he finally finds the truth. Yegor is dead. The Moskva was sunk. He is to recieve 7 million rubles in compensation. His mental health is clearly gone at this point.

He follows the news and grows increasingly cynical. "They say Russia has made another "act of goodwill" and left Snake Island. Is this true? If so, they've betrayed our sons once again. Lowlifes, you've traded our guys for concessions. Jackals, I despise you!"

Does he support the war and rages at the lack of success? Is he furious that the war even started? Who can tell. Dmitry is an angry, grieving man. He clearly doesn't give a shit about what can happen to him. And then, this. His wife is missing. She went shopping and disappeared.

Her phone doesn't answer, all his accounts are blocked, he has no idea what happened. And then, he does. She has stolen all the compensation money and all the savings and ran away. He is now all alone, with his rage. And now, the final act… "No more strength to endure the lies"

"I have understood it all. I knew it long ago, but had no courage to admit that this is my fault. I supported the war that should have never been started and I have paid the heaviest price. My family is gone. There is only one correct choice and I have made it…"

"To all those who follow my fate: I am no longer in Russia. I have left for a third nation and am proceeding to Ukraine, where I will join the Free Russia Legion. They are waiting for me. Finally, all has fallen in its place." Dmitry is off to fight against Russia.

A loyal pro-Putin father becomes pro-Ukrainian fighter with a definite death wish. A wife and mother becomes a thief and a runaway. A teenage boy becomes a corpse. Putin's Russia, in all its glory. Revel at it.
Do click across if you want to see the screengrabs in Russian that he's translating from.
That's enough for tonight.
Your daily Patron!
Me 6 months ago:
⁃Who can admire animals in human clothing? 🤔

Now when I wear an embroidered shirt:
⁃Wow! Who is that cute dog 😝#patron #patrondog #jackrusselterrier #dogsoftwitter pic.twitter.com/xEJI7EykIK

— Patron (@PatronDsns) July 5, 2022
Somebody is going to need to tag @darth in on this!
Here's a new video from Patron's official TikTok page:
Open thread!