Just found this (yes, the hellsite that may yet cost Musk a bundle has its uses) and had to stop everything else to listen and look:
ETA: This just turned up w. an email alert. It's a piece about Mitchell's set at the Newport Folk Festival yesterday, with videos of a number of other songs. Enjoy!
Joni Mitchell released the Clouds album–her second–in 1969.  I was eleven (and that was a very tough year in our house for other reasons) so I don't think I came across it for a couple or three more years.  But one of my older sibs picked it up, and one afternoon I grabbed it and took it to our basement kinder-pen…and the whole record just kicked my ass.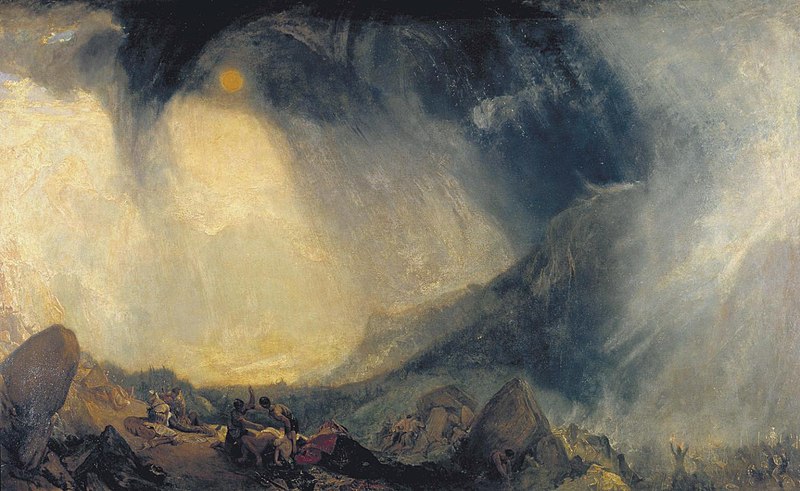 The song "Clouds" itself was fun, though not my favorite. At 14, I was sure I would do things so much better than the character in the song had…surely I would never let a love or a life go by with such regrets…
Well–I'm lucky as hell in so many ways (and seriously unlucky in others; see that tough 1969…) but in my mid sixties I gotta say the song has a different edge than it did half a century ago.
And watching Joni sing, with all the obvious limitations and struggle she has just with sound production…and yet, OMG, how she manages to inhabit the song? Well, I'm just going to say that hers is a performance that I found very powerful indeed.
Damn. It's getting dusty again…
We all have soundtracks of our lives. They kick in when we don't expect, in ways that we could not have anticipated.
That's my afternoon. How's yours?
Anyway–a mid-afternoon* break for y'all. Talk about whatever.
Image: J. W. M. Turner, Hannibal Crossing the Alps, 1810-1812.