Advisers to the U.S. Centers for Disease Control and Prevention on Thursday voted to recommend use of COVID-19 booster shots redesigned to target the BA.4 and BA.5 Omicron subvariants of the coronavirus for people aged 12 years and older. https://t.co/y0zKkJfXed

— Reuters Health (@Reuters_Health) September 2, 2022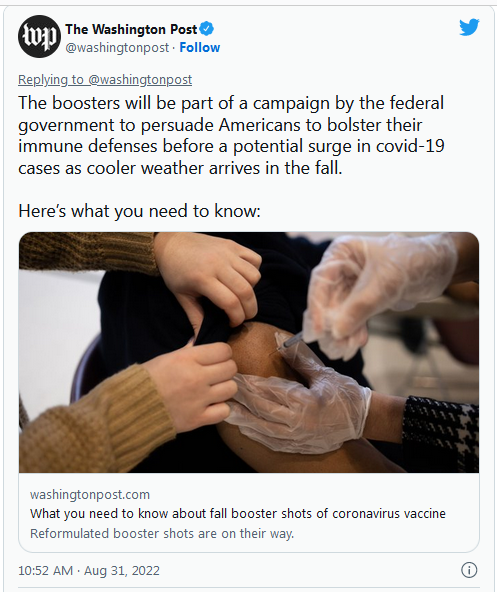 No paywall:
… Where can I get one and how much will it cost?
The new boosters, which are intended as single shots, will be available at the same places where the previous boosters and vaccines have been available — at doctors offices, hospitals, pharmacies and community health clinics.

Like the previous coronavirus shots, the updated boosters have been purchased by the federal government and will be free to consumers.

The booster takes two weeks to take full effect and can be administered at the same time as the annual flu shot, officials said. The CDC suggests that young men who get the monkeypox vaccine, called Jynneos, might want to wait for four weeks before getting the updated booster. That reduces the risk of inflammation of the heart muscle, a rare complication of the mRNA coronavirus shots that can affect young men…

What are the side effects of the boosters?
Side effects are not expected to differ from those associated with the current vaccine, which include redness and swelling at the vaccine site, as well as occasional fatigue, headache and muscle soreness, according to the CDC. More serious reactions are rare.
U.S. health advisers on Thursday endorsed new COVID-19 boosters that target today's most common omicron strains, saying if enough people roll up their sleeves, the updated shots could blunt a winter surge. https://t.co/OL179vrwhF

— The Associated Press (@AP) September 1, 2022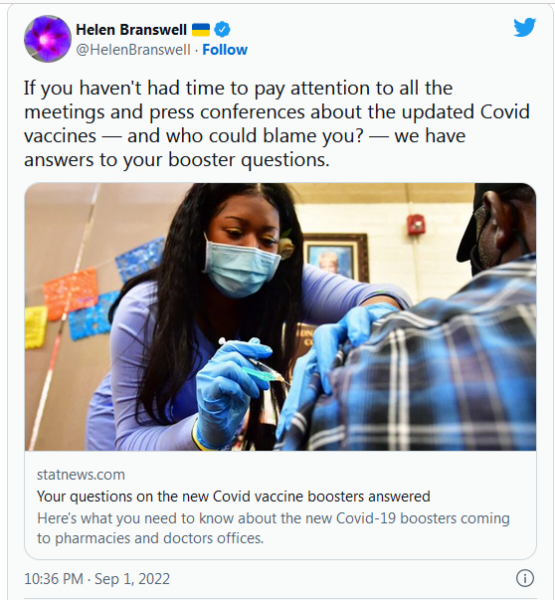 … Who is eligible for the new boosters?

The Pfizer-BioNTech booster was authorized for people 12 years of age and older. The Moderna booster was authorized for people 18 and older.

People who are fully vaccinated against Covid — those who've had a primary series — and people who've had a primary series plus one or two previous boosters are eligible to get one of these new shots…

Why can't I get one of the updated boosters if I haven't been previously vaccinated? Aren't they more on target than the original vaccines?

Hopefully, yes. But these boosters come in booster-sized doses. Think: smaller. They contain less vaccine than the primary series, perhaps not enough to elicit good protection, if you've never been vaccinated against Covid before.

The original Pfizer vaccine contained 30 micrograms (mcg) of antigen, given in two doses, i.e. 60 mcg in total. The original Pfizer boosters also contained 30 mcg. While the updated boosters contain the same amount of antigen, they're designed to protect against two different versions of Covid. So 15 mcg target the original strain of the SARS-CoV-2 virus and 15 mcg target the Omicron sub-variants BA.4 and BA.5.

With the Moderna vaccine, the primary series was two doses, each containing 100 mcg of antigen. So 200 mcg in total. The original Moderna booster shot was 50 mcg. The bivalent booster also contains 50 mcg, but as with the Pfizer vaccine, that amount of antigen is divided equally between vaccine that targets the original SARS-2 strain and vaccine that targets BA.4/BA.5…

If I had Covid this summer, when can I get the new booster?

First of all, if you currently have Covid, the CDC says that "at a minimum" you should wait until you've recovered to get a shot…

If you had Covid but didn't develop multi-inflammatory syndrome, the CDC suggests you could consider waiting up to three months before getting the booster. But it also notes in your calculations about how to time your booster, you might want to take into consideration personal factors, such as how high your risk is of having severe disease should you become infected, and how much transmission is going on where you live.

How long do I have to wait after previous Covid vaccinations to get the updated booster?

You need to wait at least two months after having had the final dose in your primary series and the same length of time after having had a booster before getting one of the updated boosters.

I'm immunocompromised and I've already had five doses of Covid vaccine. Am I eligible to get another shot now?

Yes, as long as it's been at least two months since your most recent Covid booster…

I've had four doses of Covid vaccine and my CDC card is full. What happens now?

This one is simple. You'll get a second card when you get your next booster.

The CDC has told vaccine providers that if they are vaccinating someone whose Covid vaccine record card is full, they should fill in a second card for the individual. People getting a second card should take and store pictures of both cards, and staple the two together.
Much more info at the link — worth reading the whole thing!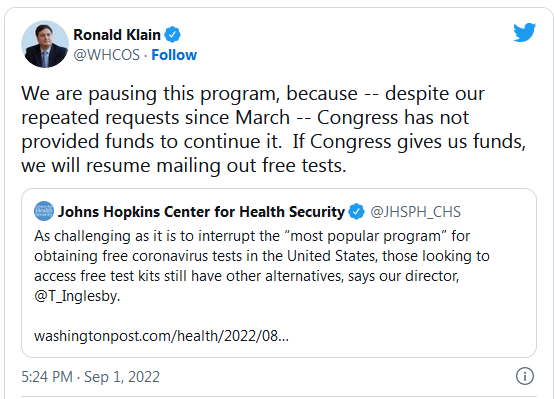 (link)
The good news: Covid deaths are near all-time lows.
The bad news: Nearly 500 a day still die in the U.S. https://t.co/gKV9IKkJQY

— Gregory Zuckerman (@GZuckerman) September 1, 2022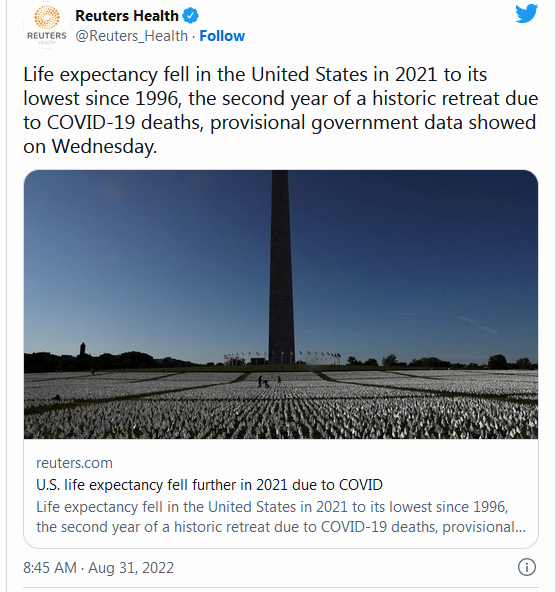 (link)
======
Last 12 months… pic.twitter.com/rk4bWpb7pU

— JusDayDa (@JusDayDa) August 30, 2022
The Guardian: #China places millions into #COVID lockdown again as economy continues to struggle
Key cities of #Shenzhen, #Guangzhou & #Dalian are under curbs again, amid protests and data showing factory slowdown https://t.co/usdKoIR5Hz

— Patricia M Thornton (@PM_Thornton) September 1, 2022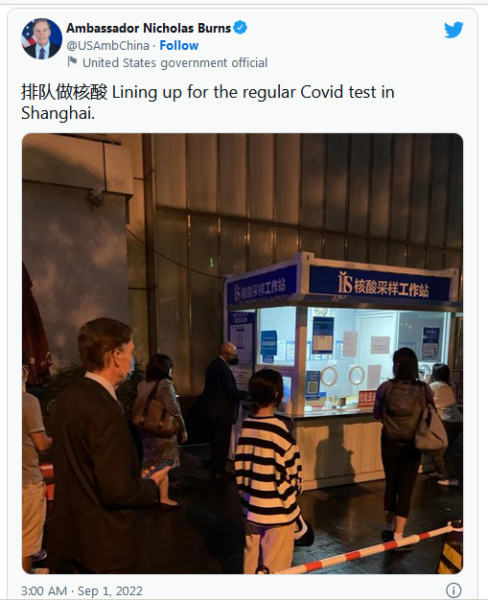 (link)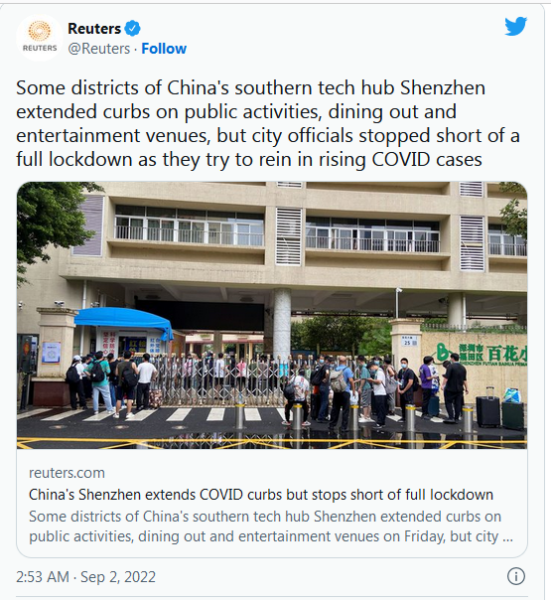 (link)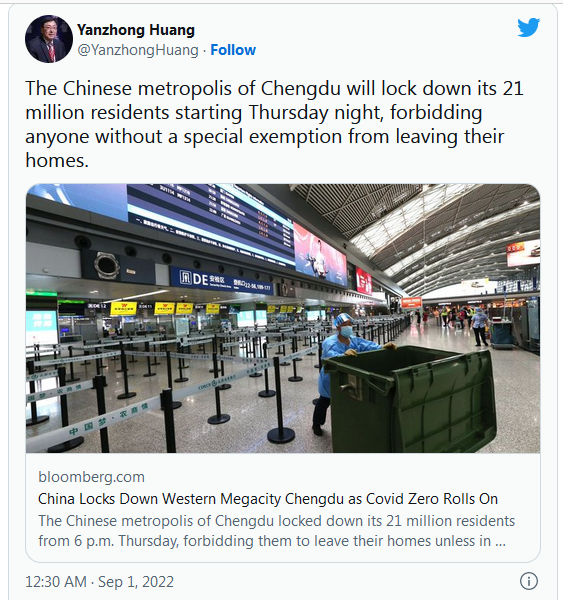 The Chinese metropolis of Chengdu locked down its 21 million residents to contain a Covid-19 outbreak, a seismic move in the country's vast Western region that has largely been untouched by the virus.

The capital of Sichuan province, Chengdu is the biggest city to shut down since Shanghai's bruising two-month lockdown earlier this year. The move — which will upend the lives of millions of people and businesses, with repercussions for China's economy and beyond — shows the country's commitment to the Covid Zero approach espoused by President Xi Jinping, despite the disruption it's causing.

The lockdown of Chengdu Thursday came after 157 new cases were reported. The city, which accounts for about 1.7% of China's gross domestic product, is home to numerous technology companies and automakers. Foxconn Technology Group, the world's largest assembler of Apple Inc.'s iPhones, is moving to a closed-loop manufacturing system for the iPads it makes there, according to a person familiar with the decision, while Volvo Car AB suspended work at its factory.

Chengdu is also a popular tourist destination, famed for its giant panda sanctuary…

The entire city will undergo four days of mass testing starting Thursday evening. The extent of the economic dislocation depends on the duration of the lockdown, which city officials haven't yet disclosed. Some places in China have imposed snap closures lasting a few days or even just hours, while others extended isolation rules until their outbreaks were fully under control…

Due to extremely hot weather in the city, frequent contact among people in indoor entertainment venues including water parks led to increased transmission of the virus, Yang Xiaoguang, head of Chengdu's health commission, told reporters on Tuesday.

Chengdu postponed the start of the school year on Wednesday, as did multiple cities across China, citing the need to prevent virus transmission.
Some 21 million people have been ordered to stay home in the southwestern Chinese city of Chengdu following a spike in COVID-19 cases. Flights have been suspended to and from the city that is a major transit hub in Sichuan province. https://t.co/cRQvTWBPqw

— The Associated Press (@AP) September 1, 2022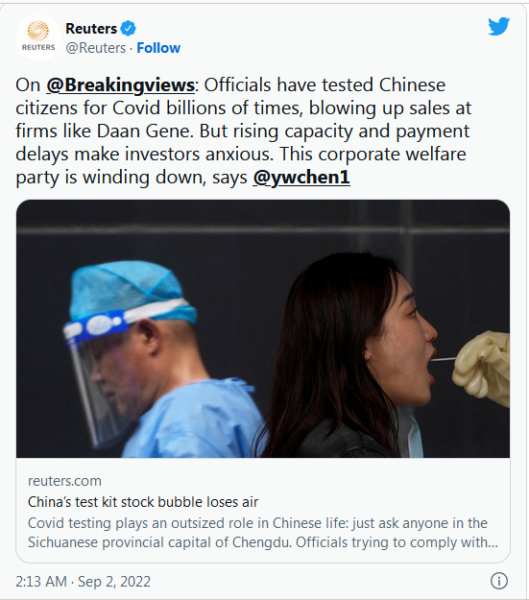 (link)
China is putting millions of people into lockdown again as cases tick up from Shenzhen and Guangzhou in the south, to the northern port city of Dalian. The closures come as Beijing struggles to keep the economy afloat. Will China Ever Be Post-Pandemic? https://t.co/DuluDUIgps

— Majority Post (@majority_post) August 31, 2022
With 6,168 new #coronavirus infections being reported in a day, India's tally of COVID-19 cases rose to 4,44,42,507, while the active cases declined to 59,210, according to the Union Health Ministry data updated on Friday.https://t.co/RpAANe9mTs

— The Hindu (@the_hindu) September 2, 2022
Good to see for Japan
Start of BA.5 wave descent for fatalities @OurWorldInData
Japan has one of, if not the, lowest cumulative (and excess) mortality rates of large population countries in the world with rigorous tracking pic.twitter.com/W1GR7Jdmtp

— Eric Topol (@EricTopol) August 31, 2022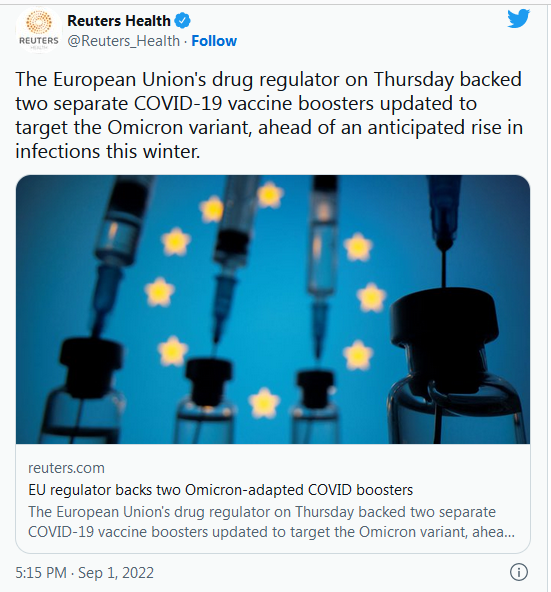 (link)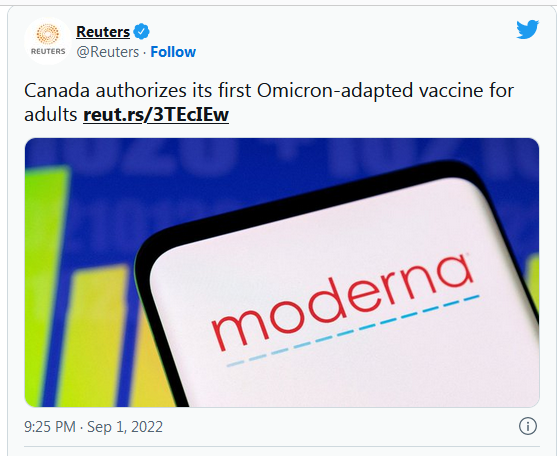 ======
Gorgeous! (If I were leaving home more than two or three times a month, I'd be tempted… )
PPE FASHIONS! Check out this fabulous custom-designed mask from @nickelpin—I am OBSESSED 😍 pic.twitter.com/hJcesuBw9L

— Leta McCollough Seletzky, JD (@LaSeletzky) September 1, 2022
======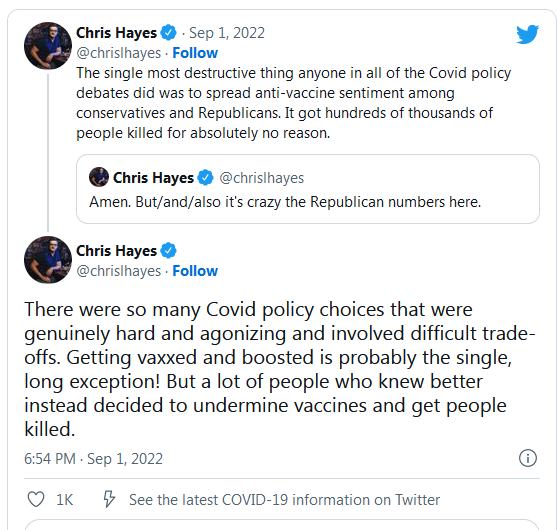 (link)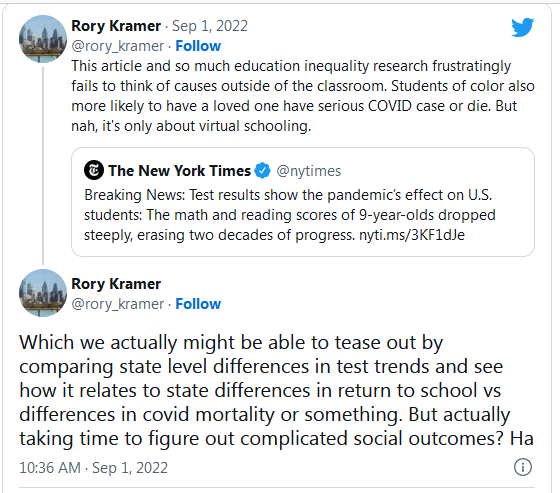 (link)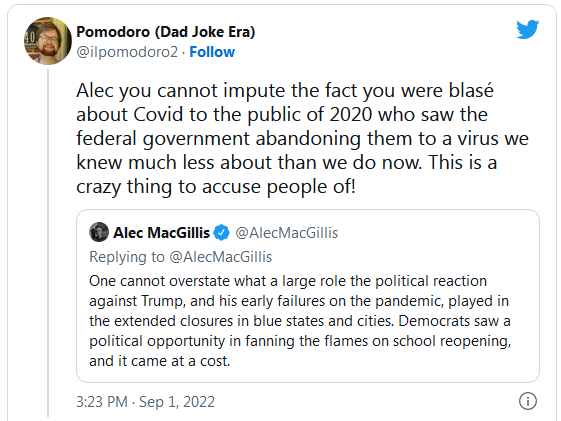 (link)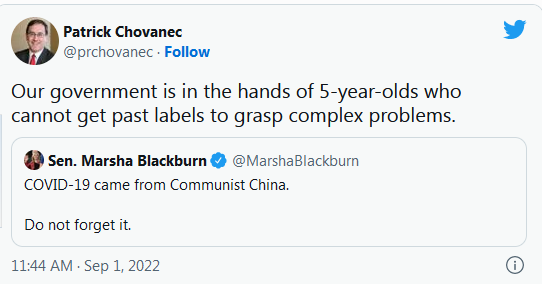 Reader Interactions