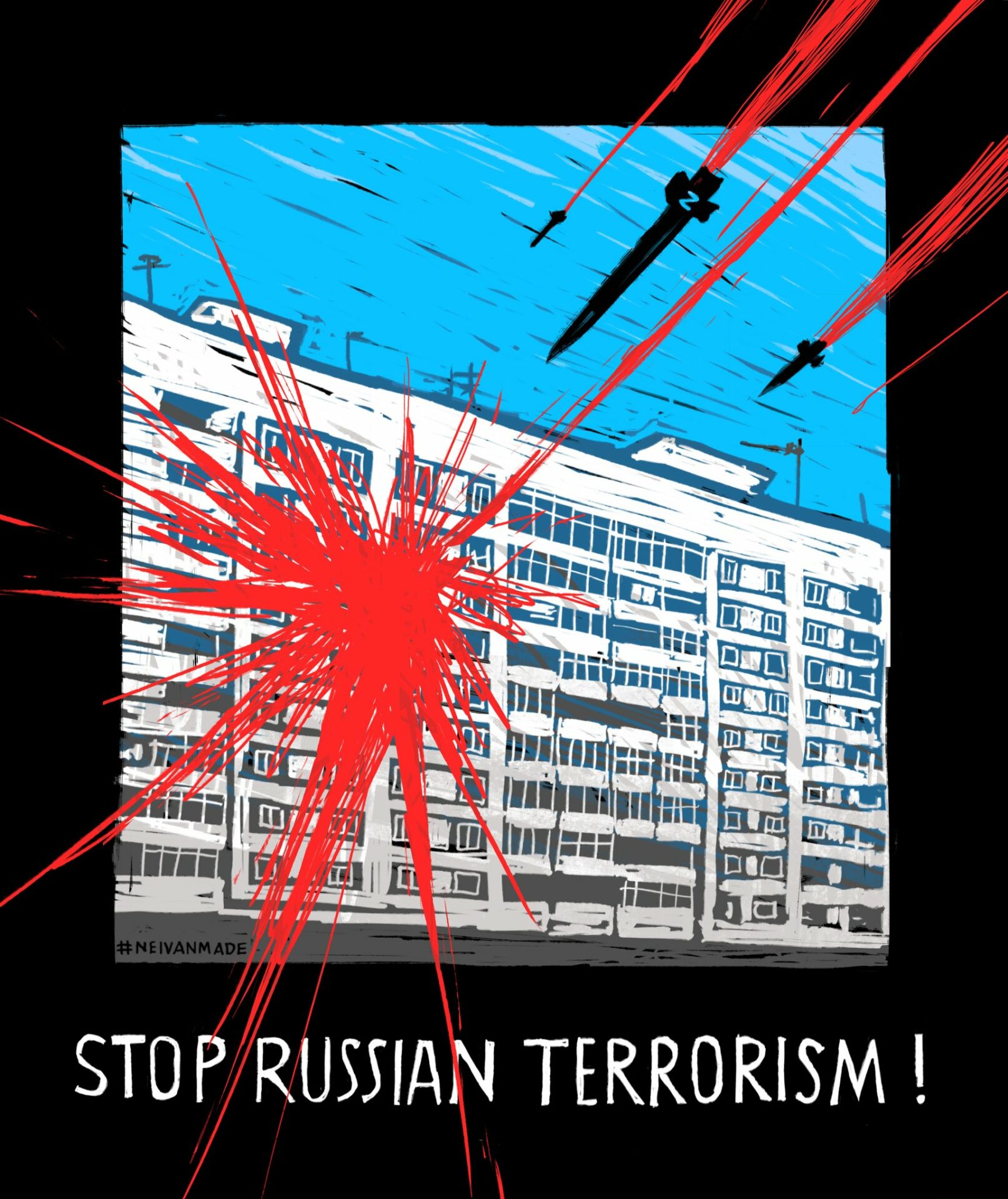 (Image by NEIVANMADE)
A brief housekeeping note: Gingko, I did see your comment this morning. Thank you for the kind words. You are most welcome.
Kramatorsk. September 2nd, 4:30 pm. After another shelling of the city by russian terrorists. pic.twitter.com/QP8u4Gw8w2

— Defense of Ukraine (@DefenceU) September 2, 2023
Meanwhile in Kramatorsk.
Today.
Unbelievable. pic.twitter.com/2JYsYUIiUt

— Illia Ponomarenko 🇺🇦 (@IAPonomarenko) September 2, 2023
This Saturday evening, Russia found some more military targets in Kramatorsk pic.twitter.com/TNz3vjOMry

— Maria Avdeeva (@maria_avdv) September 2, 2023
Here is President Zelenskyy's address from earlier today. Video below, English transcript after the jump.
This Saturday, three cities that are indispensable part of Ukraine celebrating their day – address by President Volodymyr Zelenskyy

2 September 2023 – 20:57

Dear Ukrainians, I wish you good health!

This Saturday, three cities are celebrating their day. The cities that are indispensable part of Ukraine.

Odesa. Our support in the south, on the Black Sea. A city that, together with Ukraine, has and will always have global significance. A port on which the lives of various nations depend – from Ukrainian exports through the Great Odesa. A city of culture that knows how to be interesting to everyone and respects everyone.

We have defended Odesa from destruction. Because the Russian regime is incapable of bringing anything other than degradation. And we will return security to Odesa. Odesa has always been a place where you feel lightness and happiness. Odesa will remain this way. Congratulations on your Day!

Sumy. Our outpost in the northeast. Every year, on the second Saturday of September, it celebrates its day. And it will always celebrate it as a free, Ukrainian city.

During these times – the times of war – unfortunately, we often receive reports of Russian terror from Sumy. About shelling, missiles, and bombs. About constant attempts by Russian sabotage groups to infiltrate the region.

"But despite everything, Sumy region is alive. Sumy is alive and gives strength to the entire region. And when I was in the city, I felt that there is faith there. Faith that evil will not prevail. Faith in people. Faith in Ukraine. Faith that we will definitely get through this time. And we will win. It will be so. Sumy, congratulations!

And the third city – Lysychansk. A city that Ukraine still needs to reclaim along with the entire Luhansk region.

Today, no one can specify a date when the city will be free again. But everyone who fights and works for Ukraine is doing everything possible so that our cities and villages currently under occupation can once again experience normal and free life.

Lysychansk has always been one of the pillars of the east of our state, one of the key cities. A proud city! It will remain so. A city that knows how to work and is rightfully proud of its achievements. Together with Ukraine, it's all possible. With our strength, unity, and our ability to take care of each other – all cities together, all villages, all people.

And one more thing worth mentioning.

Undoubtedly, we will defend Ukraine and restore freedom to all our land. Each of us feels that this will be a Ukraine with different rules. The borders are the same. Democracy is probably just as turbulent. Freedom is one of the greatest in Europe, as always.

But without a doubt, there will be no more decades-long 'business as usual' for those who plundered Ukraine and put themselves above the law and any rules. And I thank the Ukrainian law enforcement for their determination to bring every case stalled for decades to a just conclusion. The law must work. It is so. It will be so.

Glory to Ukraine!
The remnants of a KAB-500 aviation bomb that russian terrorists drop on frontline villages and cities. They maim and kill peaceful residents every day. Fortunately, this one did not explode completely.

📷 32nd Mechanized Brigade pic.twitter.com/JN92I2cUG7

— Defense of Ukraine (@DefenceU) September 2, 2023
Bakhmut:
A morning clash at Bakhmut pic.twitter.com/DjLIuRjIC1

— Illia Ponomarenko 🇺🇦 (@IAPonomarenko) September 2, 2023
Svatove, Luhansk, Oblast:
The Ukrainian intelligence and special forces discovered and destroyed the target detection station 9S18 'Kupol,' the SAM launcher 9K37, and the 'Buk' SAM system on August 30 near Svatove, Luhansk Oblast.

🎥 @DI_Ukraine pic.twitter.com/rzK51ITbxa

— Defense of Ukraine (@DefenceU) September 2, 2023
Kharkiv:
These are classrooms in metro stations of Kharkiv where kids are going to study next year. The full study starts Sept 4. #StandWithUkraine pic.twitter.com/y7KeZf8cqs

— Iuliia Mendel (@IuliiaMendel) September 2, 2023
Zaporizhzhia, Oblast:
A video specially for those who wonder why the counter-offensive isn't going 'fast enough' and talk about it like it is a videogame.

This is how densely mined the area's in the Zaporizhzia region are. pic.twitter.com/hqWq9k97JG

— NOELREPORTS 🇪🇺 🇺🇦 (@NOELreports) September 2, 2023
The 47th Magura Brigade destroys Russian fortifications in the Zaporizhzia direction. pic.twitter.com/ZkyiUqXeLv

— NOELREPORTS 🇪🇺 🇺🇦 (@NOELreports) September 2, 2023
Tatarigami got his hands on another Russian manual and has provided analysis by twitter thread. First tweet from the thread, the rest from the Thread Reader App:
Recently, the Russians released a manual outlining tactics to counter Ukrainian assaults. This guide draws from recent encounters with the 23rd Mechanized Brigade in June and July 2023, particularly during their liberation of Novodarivka and Levadne. 🧵Thread: pic.twitter.com/RFmv3hqjci

— Tatarigami_UA (@Tatarigami_UA) August 31, 2023
2/ 

It's crucial to note that the Russians are presenting their perspective on Ukrainian units and their actions, based on their experience with a single Ukrainian mechanized brigade. This viewpoint should be carefully weighed before extrapolating it to the whole frontline. 

3/ Russians describe the following configuration used by Ukrainian units:

Assault teams comprise 20 members, divided into four subgroups of five. Two groups are assault subgroups. The third serves as a consolidation subgroup. The fourth functions as a reserve subgroup.

4/ 

Each 'team of five' must include a machine gunner and a radio operator. The number of grenade launcher operators is determined based on the situation. The recommended intervals and distance between soldiers are 7 meters

5/ Primary functions of the assault subgroups (fives):

– 1st assault subgroup: advances forward covertly and engages with the enemy, contains the enemy upon detection, and secures positions once the task is accomplished;

6/

– 2nd assault maintains visual distance with the 1st group, reports passage of the first group's to others, and after 1st "five" initiates firefight, the subgroup performs flank maneuver or rear approach; If the first group retreats, it covers it;

7/

– 3rd (consolidation) subgroup maintains a distance of 50-150m from the 2nd subgroup, aiming to set up positions to consolidate gains. If initial assault fails, they dig in, to facilitate reinforcement for further assault or to cover the retreat of the leading groups;

8/

– The 4th (reserve) subgroup remains within 300m from the 3rd subgroup and forms a hypothetical rear for supply, evacuation, and fire support groups. Ready to serve as reserve, if advance succeeds – it exploit gains, if enemy reserves approach, it moves out to counter them.

9/

The russians underline the successes of this tactic, acknowledging its contribution to capturing russian positions. In response, they stress the efficacy of employing anti-personnel mines, citing the near-impossibility of clearing all mines in such scenarios.

10/ 

They also recommend establishing deceptive positions that appear genuine, intermittently engaging in fire from these false locations, and simulating activity there. They advise occasional communication device use from these positions. 

11/ 

Russians note that units traveling by foot, particularly those carrying heavy equipment like AGS or mortars, experience rapid physical exhaustion. However, they don't elaborate on how this vulnerability can exploited. 

12/ 

In summary, I'd like to highlight that their Anticipation-Action-Reflection time has notably shortened. This enables them to grasp and adjust to our tactics much faster compared to the past, when it used to take russians months to adapt 

13/ 

Simultaneously, they didn't present an innovative approach to counter these tactics, apart from referencing already employed methods like deploying false positions and mines. 

14/ 

As the war continues, we see fewer large formations and increasing use of small tactical units, which present less visible targets compared to mechanized units. The latter have become frequent targets for FPV drones, ATGM teams and AT mines. 
Reuters brings us details of an allied naval exercise in the Baltic Sea.
BERLIN, Sept 1 (Reuters) – Major naval drills about to start in the Baltic Sea involving some 30 ships and more than 3,000 Western service members will for the first time practice how to respond to a Russian assault in the region, Germany's navy chief said on Friday.

"We are sending a clear message of vigilance to Russia: Not on our watch," Vice-Admiral Jan Christian Kaack told reporters in Berlin. "Credible deterrence must include the ability to attack."

The two-week Northern Coasts exercise, set to start Sep 9, will see troops from all NATO countries on the Baltic Sea, plus soon-to-be member Sweden and non-Baltic allies the U.S., Canada, the Netherlands, Belgium and France, train side by side. They will practise amphibious operations and strikes from sea to land.

The U.S. navy will send the Mesa Verde into the drills, Kaack said, a ship of more than 200 metres (656 ft) length, designed to transport and land some 800 marines in an amphibious assault.

Securing the sea routes through the Baltic Sea is another focus of the exercise that will take place off the coasts of Latvia and Estonia.

"Finland and the Baltic states depend to almost 100% on the maritime supply routes through the Baltic Sea," Kaack noted.

"Should the Suwalki Gap be blocked – and this can be done easily as there are only two roads and one railroad line – then we are left with the sea routes only, and that's where we will then have to make our way through."

The Suwalki Gap, a narrow land corridor of some 65 kilometres (40 miles), is the only connection linking the Baltic states to Poland and NATO's main territory in Europe.

It will be the first exercise of this size that the German navy, the biggest navy on the Baltic Sea according to Kaack, will command from its new maritime headquarters in Rostock which just reached operational readiness.

Germany aims to provide the facility to NATO as a regional maritime headquarters, capable of leading the alliance's operations in the Baltic Sea in case of a conflict.

"Our notification is on the way to SACEUR," Kaack said, referring to NATO's supreme allied commander, adding he expected a positive response by the alliance soon, thus beating Germany's competitor Poland to the task.

Finland joined NATO this year, and Sweden's application to join is expected to be approved soon, both moves coming in response to Russia's invasion of Ukraine. This has radically altered the strategic posture along the Baltic Sea, where much of the coast had belonged to neutral states since Napoleonic times; apart from Russia's own small stretches of coast, the entire seashore will soon belong to NATO members.
I'm sure this will go over well in Moscow and that we'll see a measured, even response from Putin.
I actually managed to type that with a straight face.
Commenter Prescott Cactus sent me this article from Stars & Stripes regarding F-16 training for Ukrainian pilots:
STUTTGART, Germany — A new training center for F-16 pilots will be launched in Romania, which could eventually host Ukrainian aviators learning to fly the American warplane, officials said this week.

The initiative, which has been in the works for several months, is a joint effort between Lockheed Martin and the governments of Romania and the Netherlands. An opening date hasn't been announced.

The center will be located at a Romanian base in Borcea, about 50 miles west of the Black Sea air base at Mihail Kogalniceanu that serves as a hub for U.S. forces in Romania.

"We will train pilots from Ukraine, provided they express their wish," Romanian Defense Minister Angel Tilvar said Friday.

Still, any training of Ukrainian troops on the base will take time, Tilvar told the Defense Romania news outlet. In the meantime, the training of Romanian pilots will be the top priority, he said.

OJ Sanchez, a Lockheed vice president, said the center will initially focus on ensuring the effectiveness of Romanians flying the F-16, but eventually other nations will be incorporated.

"Once details are finalized, we are confident the training center will ultimately benefit Romania and other regional F-16 operators, including potentially Ukraine," Sanchez said in a statement Thursday.
More at the link!
That's enough for tonight.
Your daily Patron!
There are no new Patron tweets or videos posted today. So here's some adjacent material from the Ukrainian Army Cats & Dogs account:
Not Patron pic.twitter.com/IgSfhQ8uPu

— UkrARMY cats & dogs (@UAarmy_animals) August 29, 2023
How to explain to cats that the mask was not pulled for them? pic.twitter.com/etrzkJ2J48

— UkrARMY cats & dogs (@UAarmy_animals) August 30, 2023
Important meeting pic.twitter.com/rPurNFLX3F

— UkrARMY cats & dogs (@UAarmy_animals) August 25, 2023
Night vision cat ☺️ pic.twitter.com/PXvb2uy8rM

— UkrARMY cats & dogs (@UAarmy_animals) August 30, 2023
— UkrARMY cats & dogs (@UAarmy_animals) August 25, 2023
Time to sleep pic.twitter.com/GdVmbYc8Io

— UkrARMY cats & dogs (@UAarmy_animals) August 28, 2023
Open thread!