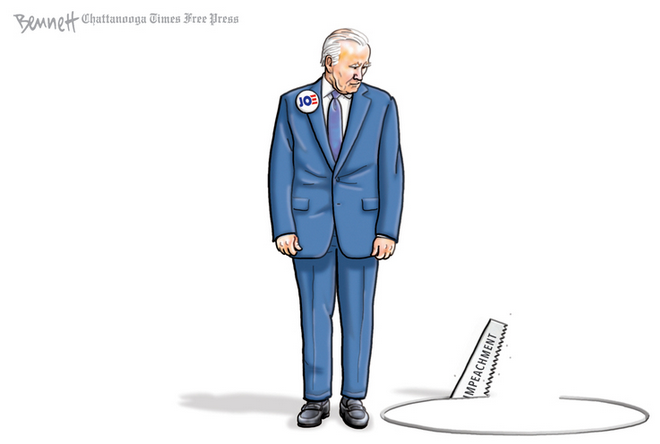 (Clay Bennett via GoComics.com)

The following is from Mr. Charles P. Pierce's Saturday newsletter, which is subscriber-only, so I'm not sure the link will work. Nevertheless, it's a lovely essay — "President Biden's Brass Ones":
… The president was uninterested in doing his job, spending most of his time in the residence watching movies on television. Staffers were initialing documents on his behalf. The aide on the scouting mission wrote up a report for the people who'd dispatched him. The first item on his proposed to-do list was that the new COS consider the possibility of removing the president under the terms of the 25th Amendment to the Constitution. It might be, the aide said, the only way to safeguard the national interest. He was deadly serious.

This account comes from Landslide, a book written by Jane Mayer and Doyle McManus. The year was 1987. The president under discussion was Ronald Reagan, entering the seventh of his eight years in the White House. The new chief of staff was Howard Baker, the former Republican senator from Tennessee who, as a member of the Senate Watergate Committee, had asked the crucial question, "What did the president know and when did he know it?" Now, a cruel variation of Baker's famous inquiry sped around Washington,

"What did the president know and when did he forget it?"…

Last week, David Ignatius, a career sobersides writing in the Washington Post, wrote that the president should step away from re-election.

Biden would carry two big liabilities into a 2024 campaign. He would be 82 when he began a second term. According to a recent Associated Press-NORC poll, 77 percent of the public, including 69 percent of Democrats, think he's too old to be effective for four more years. Biden's age isn't just a Fox News trope; it's been the subject of dinner-table conversations across America this summer. Because of their concerns about Biden's age, voters would sensibly focus on his presumptive running mate, Harris. She is less popular than Biden, with a 39.5 percent approval rating, according to polling website FiveThirtyEight. Harris has many laudable qualities, but the simple fact is that she has failed to gain traction in the country or even within her own party.

Suffice it to say, the "controversy" over the president's age, largely ginned up among his conservative opponents, is not going to go into eclipse the way Reagan's possible incapacity did. It's too politically useful, both as a way to undermine confidence in the president and as a bludgeon to be used on vice-president Harris, about whom the elite political media has had doubts since the day she was selected. In pure political terms, Ignatius' idea is flatly bizarre. While the Republicans are unable and unwilling to cut loose from a 77-year old alleged criminal given to unhinged screeds so unmoored from reality that they are a danger to commercial air traffic, the Democrats should voluntarily decapitate their national leadership and launch a noisy, uncontrollable primary contest of their own? This is a recipe for political suicide, or for a second Trump administration, which is pretty much the same thing.

In fact, I have never seen a politician who loves even the goofier aspects of his work than this one does. In 2012, he rescued Obama from the latter's dismal performance in his first debate against Mitt Romney because he dismantled Republican vice-presidential candidate Paul Ryan with a barbed affability, He took Ryan apart because it seemed like he was having fun doing so. He used the same technique against the former president * in 2020, but there was more weight to the tactic that year. And my guess is that it will have to carry even more this time around.

It is a terrible bind he's in, and I don't envy him. He should be looking back on a long and distinguished career. His full-time job should be Grandfather in Chief. He should be the national equivalent of Irish president Michael D. Higgins, a keeper of the American traditions and the national stout fellow. But that isn't the deal he made for himself. In 2019, he put himself forward for more than that because he saw what a danger the incumbent was to everything in which he believed.
This took some brass ones. So did staying in the race after the early primaries when he looked like a pile of smoking meat by the side of an Iowa highway. He's faced down all the furies of modern Republicanism without looking like a cutthroat. Looked at from that angle, his has been the most consequential Democratic presidency since before LBJ got lost in Indochina. Looked at from another, however, that looks like a mission accomplished. That's what Ignatius was getting at, and it is not an inconsiderable argument. But it's also completely moot. The president is going to be the Democratic candidate for the office he now holds, and he knows how old he is. Old enough may be the best answer he has.
This absolutely never gets old.

There is factional war *within* Republican party. McCarthy can't get members to agree.

And thus we have "Congress falters," "intense partisanship," and "shutdown looms." GOP mentioned about 8 grafs in.

I think they are just trolling us now. pic.twitter.com/Q9jYiEWhOt

— James Fallows (@JamesFallows) September 16, 2023
At least John R. Parkinson was shamed into deleting his latest tweet…
Depraved bastard @jparkABC deleted his post where he proudly harasses Joe Biden by screaming at him in the cemetery where his wife and children are buried, demanding he answer a question he'd already answered.

This is what @abcnews and @Disney choose to represent them. pic.twitter.com/JQdfYNvax2

— Democrats in Array 🏳️‍🌈 (@DemsInArray) September 17, 2023