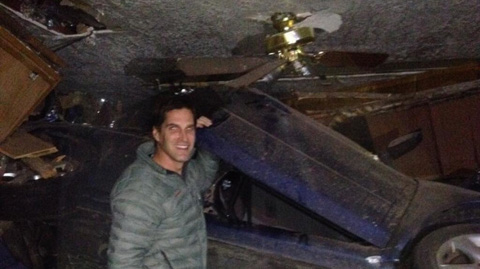 Okay, you're driving down the highway and see a car that has crashed into someone's house. What do you do? Stop and help? Make sure everyone's okay? Then go on your merry way?
If you're one of the privileged princelings pooped out by Mrs. Mitt, you apparently also ask someone at the scene to take a picture of your grinning, devil-eyed mug next to the crash vehicle then tweet a self-aggrandizing account of your own heroism:
Was first on scene to big accident, see pic of car in the house. I lifted 4 people out to safety. All ok. Thankful.
According to the cops, none of the car's four occupants were injured, and the homeowner was also okay:
"When our officers arrived, the driver of the car was getting out of the car," Hoyal told TPM. "Romney was on the scene and was there in the house with these individuals. Our officers and Romney helped get these individuals outside and to medical attention."

Hoyal said the four passengers did not need to be taken to the hospital and were "checked at the scene and released."
Does it sound a bit like the cops were puncturing Romney's initial account, taking pains to emphasize that Romney didn't "lift four people out to safety" in a single bound, all by himself? Maybe Utah is as sick of the Romneys as the rest of us. But given his parentage, perhaps it's not surprising that young Romney has an inflated sense of his own centrality to events.
The Romneys seem to inhabit a reverse Walter Mitty universe, living fantastically privileged lives where all the skids are greased, all the jobs are hobbies and failure is literally not an option but yet somehow imagining themselves as courageous achievers. On what other planet would you expect to be lionized for lavishing billions of federal dollars to "rescue" the SLC Olympic Games or have your $70K tax write-off dancing horse considered a therapy appliance?