…comes from Thomas Edsall at The New York Times
He answers his question "Why Trump Now?" by looking at the material reasons for working-class white disaffection, not just with the post-civil-rights Democratic Party, but with the cabal to whom that group turned in increasing numbers from 1968 forward.  He writes:
The share of the gross national product going to labor as opposed to the share going to capital fell from 68.8 percent in 1970 to 60.7 percent by 2013, according to Loukas Karabarbounis, an economics professor at the University of Chicago's Booth School of Business.

Even more devastating, the number of manufacturing jobs dropped by 36 percent, from 19.3 million in 1979 to 12.3 million in 2015, while the population increased by 43 percent, from 225 million to 321 million.

The postwar boom, when measured by the purchasing power of the average paycheck, continued into the early 1970s and then abruptly stopped (see the accompanying chart).

In other words, the economic basis for voter anger has been building over forty years. Starting in 2000, two related developments added to worsening conditions for the middle and working classes…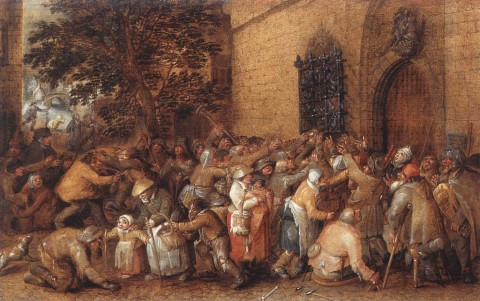 If you're too busy the TL:DR of those two developments are the interrelated facts that from the year 2ooo, upward mobility reversed itself, with more people falling into the middle class and poverty and fewer making it up the ladder — and the impact of China and its increasing integration into a world-wide free-trade regimen.  Edsall's reporting on the China development — with its accompanying misreading by free-trade elites — is particularly sharp.
Add to that, as Edsall does, the TARP bailout after the elite-engineered collapse of 2007-8 and the Citizens United decision and you have specific and plausible reasons for Republican working class voters (and everyone else, of course) to see their chosen political leaders as shills and swindlers:
By opening the door to the creation of SuperPACs and giving Wall Street and other major financial sectors new ways to buy political outcomes, the courts gave the impression, to say the least, that they favored establishment interests over those of the less well off.
Edsall's conclusion?
The tragedy of the 2016 campaign is that Trump has mobilized a constituency with legitimate grievances on a fool's errand.
The crux for this year is exactly that:  Lots of Americans have been screwed — systematically, with comprehensive effect — for decades.  The material losses they – we — have suffered are real.  The responses Trump offers, such as they are, may be hopelessly at odds with any actual redress of those wrongs.  But any campaign (are you listening, Hillary?) that ignores the fact that two generations of Americans now have seen the basic expectations of life reversed is going to have hard time winning, just by pointing out that Trump's bloviating won't help either.
Image: David Vinckbooms, Distribution of Loaves to the Poor, first half of the 17th century.