Here's a photo of a Trump effigy constructed of Cheetos (with Cocoa Puff eyes) submitted by valued commenter La Passionara from the St. Louis March for Truth: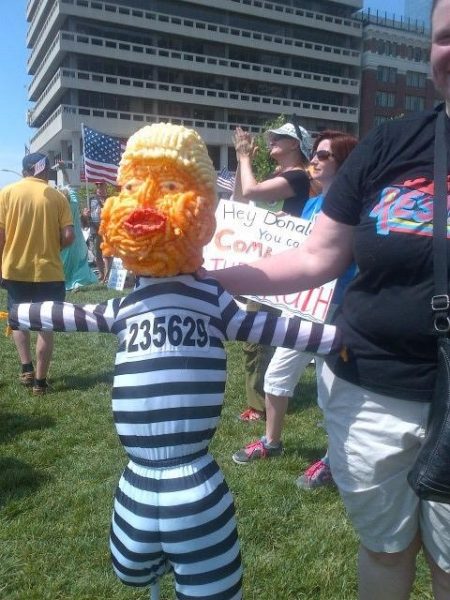 Well done, snack food sculptor!
Speaking of Cheato, Michelle Goldberg at Slate has an excellent counterpoint to the avalanche of stories on the most interesting voters who ever drew breath, judging by media coverage volume: white people in flyover country who voted for a white Republican who gave voice to white identity politics. A longish excerpt — with a hearty encouragement to click through and read the whole thing:
Lately I've seen several articles by both centrist and center-right pundits, none of them friends of Donald Trump, warning that we should be wary of removing the president from office because it will anger his already very angry supporters.

"To overturn the results of an election is bound to alienate most, if not all, of the voters whose winner was repudiated—and perhaps many on the other side who recognize that, under different circumstances, the same might happen to them," writes Robert Samuelson in the Washington Post…

Somehow there seems to be a lot less concern about the psychic shock inflicted upon the people who voted against Trump, who now know that his victory was assisted by a Russian intelligence operation and who watch, aghast, as Trump does everything he can to reward Russia for its help. Few pundits seem worried about Clinton voters' trust in the rule of law when Trump blatantly ignores the Constitution's Emoluments Clause… Indeed, polls show that between 43 percent and 48 percent of voters want Trump impeached. That's a lot of alienated people! Shouldn't we be anxious about their faith in our government's legitimacy?

[snip]

The reason we don't worry much about furious Clinton supporters is that no one's afraid of them. They're disproportionately female and don't parade around with firearms or gather in torch-bearing mobs. They're not going to blow up a federal building. The right-wing pundit Erick Erickson even argues that liberals must not really believe what they say about the Trump regime because they haven't started an armed rebellion: "If the left really does believe the Republican Party is a criminal enterprise in league with the Russians, they're either moral cowards without conviction in their beliefs or about to take up arms to defend their country." Implicit in this—as well as in all the hand-wringing about what the pro-Trump minority might do if they're thwarted—is the idea that only people capable of violence need be taken seriously. That, in and of itself, is a sign of a political culture in crisis…

Already, Republicans are trying to normalize the idea that even if collusion between Trump and Russia is found, it doesn't discredit the administration. If they succeed—if any sort of collaboration between the Trump campaign and Russian intelligence is found but doesn't end his presidency—it will be a betrayal of the American voting public. You think impeachment threatens America's civic fabric? Try telling the majority of American citizens that even if their hated rulers are revealed as traitors, there's nothing they can do about it.
Emphasis mine. We've discussed the fraying of our national institutions for months with wonder and horror. Speaking for myself only, I'm still hopeful we can turn this thing around without violence — either by getting to the bottom of the Trump-Russia story and ejecting that band of corrupt scumbags from the White House and/or a wave election in 2018 that paralyzes them until they're run out of town by more conventional means.
That said, the damage to the country will be serious, long-term and perhaps even permanent. And that would be true even if Trump and his scheming, corrupt entourage were turned out in disgrace tomorrow and the GOP damaged for generations. Goldberg is right to identify the present time as a political culture in crisis. We're going to have to stay strong and stay focused. That's what patriots do.