This ain't back in the day: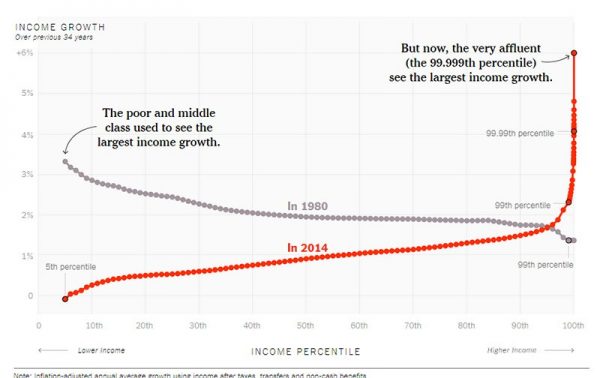 Many Americans can't remember anything other than an economy with skyrocketing inequality, in which living standards for most Americans are stagnating and the rich are pulling away. It feels inevitable.

But it's not.

A well-known team of inequality researchers — Thomas Piketty, Emmanuel Saez and Gabriel Zucman — has been getting some attention recently for a chart it produced. It shows the change in income between 1980 and 2014 for every point on the distribution, and it neatly summarizes the recent soaring of inequality.
It's been 40 years since the right wing long game to destroy the middle class and the poor began, and they are winning. Unprecedented propaganda efforts have coal miners slapping "Friends of Coal" bumper stickers on their cars, broken workers are chanting "right to work" as they struggle to crush the unions that would and once did protect them, and the courts have been stocked with corporate friendly judges. In my state, literally. There are things we can do about it (if we band together and chip away at the GOP stranglehold in Washington):
The problem is that wealth and capital income are not distributed evenly. In 2014, the average wealth of the bottom half was $349. For the top one percent, it was over $16 million.

Rich people in our society don't just have high capital income levels. They also have high capital income shares. That is, a large portion of the income collected at the top of our society comes from capital rather than from labor. In 2014, just 5.1 percent of the bottom half's income came from capital. For the top one percent, around 58.9 percent of income came from capital.

It is worth emphasizing just how much income at the top of society comes from passive ownership of investments rather than from working. The top 0.01 percent of individuals in society have an average income of $28 million. Three-fourths of that income, or $21 million, came from capital in 2014.

If we want to get serious about creating a fair and egalitarian society, we must confront capital directly. Wage levels are important. Benefit levels are important. But getting those things right will not be enough so long as nearly one-third of the national income flows out passively to a handful of people at the top of society.

Current liberal efforts to tackle wealth inequality are woefully inadequate. Policies aimed at building the assets of low-income families, the typical approach to this issue, rarely succeed on their own terms and, even if they did succeed, would only be an insignificant drop in the bucket. For wealth and capital income to become more fairly distributed throughout society, the ownership of existing assets must be reordered towards that end.
But, as we know, the perfect was the enemy of the good in the last election, and we have this:
Different policies could produce a different outcome. My list would start with a tax code that does less to favor the affluent, a better-functioning education system, more bargaining power for workers and less tolerance for corporate consolidation.

Remarkably, President Trump and the Republican leaders in Congress are trying to go in the other direction. They spent months trying to take away health insurance from millions of middle-class and poor families. Their initial tax-reform plans would reduce taxes for the rich much more than for everyone else. And they want to cut spending on schools, even though education is the single best way to improve middle-class living standards over the long term.

Most Americans would look at these charts and conclude that inequality is out of control. The president, on the other hand, seems to think that inequality isn't big enough.
I don't know what it is going to take to unite "the left"- whatever that means anymore. Hell, I don't even know what to call myself anymore because I support single payer, higher tax rates, higher capital gains, decriminalization, demilitarization, reinstatement of the draft, am pro-choice, etc., ad nauseum, but because I voted for Hillary I'm apparently a neoliberal. At any rate, I thought the election of Trump would unify "the left," but it has apparently made us more fractious than ever. But we need to get our shit together, because things done changed.