Here's a screenshot of a fascinating exchange between a trio of ammosexuals, one of whom is an NRA board member, on a gun nut message board. The source of the screen shot is Shannon Watts (founder of gun law reform group "Moms Demand Action"), who posted it on Twitter here.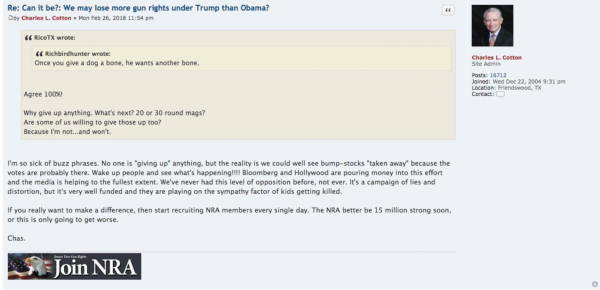 Here's what it says, in case you're having trouble making out the text on the image:
Re: Can it be? We may lose more gun rights under Trump than Obama?

Richbirdhunter: Once you give a dog a bone, he wants another bone.

RicoTX: Why give up anything? What's next? 20 or 30 round mags? Are some of us willing to give those up too? Because I'm not…and won't.

[NRA board member] Charles Cotton: I'm so sick of buzz phrases. No one is "giving up" anything, but the reality is we could well see bump-stocks "taken away" because the votes are probably there. Wake up people and see what's happening!!!! Bloomberg and Hollywood are pouring money into this effort and the media is helping to the fullest extent. We've never had this level of opposition before, not ever. It's a campaign of lies and distortion, but it's very well funded, and they are playing on the sympathy factor of kids getting killed.

If you really want to make a difference, then start recruiting NRA members every single day. The NRA better be 15 million strong soon, or this is only going to get worse.

Chas.
This is how bullies sound when they're running scared, and credit goes to the Parkland high school kids and others who've said enough is enough. Public opinion is turning against these gun-humping extremists, and they know it.
We now know that Wayne LaPierre had a lunch meeting with Trump at Mara-Go-Fuck-Yourself this weekend. Bet ol' Wayne sounded as panicky as Cotton does above. And we now know why Trump went to such lengths yesterday to emphasize that the NRA is "on our side" when addressing the governor's group.
What we see here, fellow citizens, is how a seemingly insurmountable hold on power starts to crumble. But they aren't going to quit, so we can't either. Change isn't possible…until it happens. Let's keep the pressure on!