Before we get to today's unpleasantness, here's a downy woodpecker drumming in our bamboo stand this morning: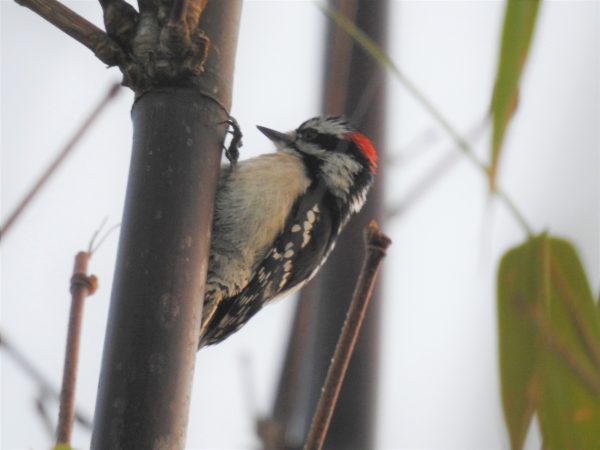 As I mentioned on Twitter earlier, downy woodpeckers are the smallest woodpecker species in North America, and their eggs are about the size of jelly beans. Isn't that cool?
Stop reading here if you'd like to hold onto pleasant Sunday morning thoughts.
Still with me? Okay. Before yesterday, Trump had never tweeted the name "Mueller." He's tweeted it twice in the past 14 hours:
The Mueller probe should never have been started in that there was no collusion and there was no crime. It was based on fraudulent activities and a Fake Dossier paid for by Crooked Hillary and the DNC, and improperly used in FISA COURT for surveillance of my campaign. WITCH HUNT!

— Donald J. Trump (@realDonaldTrump) March 18, 2018
Every single sentence in that tweet is a lie. More lies and paranoia this morning:
Why does the Mueller team have 13 hardened Democrats, some big Crooked Hillary supporters, and Zero Republicans? Another Dem recently added…does anyone think this is fair? And yet, there is NO COLLUSION!

— Donald J. Trump (@realDonaldTrump) March 18, 2018
I'm gonna disagree with Doug's post from last night a little here:
The elections in November are the only thing that matters. All this bullshit about norms and so on is a waste of time.
I agree that the upcoming elections are the most consequential of our lifetimes. That was true in 2016 too, but that outcome makes this midterm even more important, for obvious reasons. But I also believe dismay about norms being folded, spindled and mutilated daily before our eyes is not only warranted but essential, if channeled into energy to stop this slide into authoritarianism. Voting is one form of expressing that energy — the most important, arguably.
But so is speaking up at every opportunity and resisting this madness on a daily basis. And, in the event Mueller is fired, which I believe will happen soon, public demonstrations to protest the breaking of that norm must follow. Here's a link I shared yesterday to find a local protest. Me, I think I'll head to DC, and I hope tens of thousands join me.