Even for a grandiose pathological liar like Trump, this is getting out over one's skis: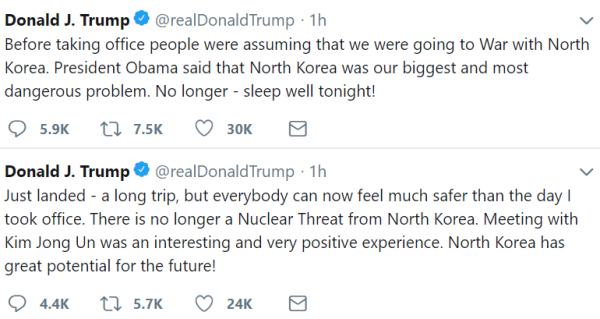 Weird…I don't remember worrying about nuclear war with North Korea all that much until the North Koreans seemed to acquire intercontinental delivery capabilities on Trump's watch and then Trump made bellicose threats.
It's like Cheryl said yesterday — Trump makes the prospect of catastrophe more likely and then claims credit for people's relief when it doesn't immediately come to pass. Classic abuser technique.
Of course, the present Kim and his father before him committed to ending the country's nuclear program multiple times, so it's beyond foolish for Trump to take this premature victory lap. And since his sole focus is on notching a "win" for himself, he's ceding even more power to Kim by talking about it as if it were a fait accompli.
We're going to be taken to the cleaners as a country by every other nation on earth until this narcissistic fool is turned out of office. They'll all run circles around Trump because he's such an easily manipulated dope.