Trump was crowing on Twitter earlier about the Trump signs waved at the Netanyahu victory rally: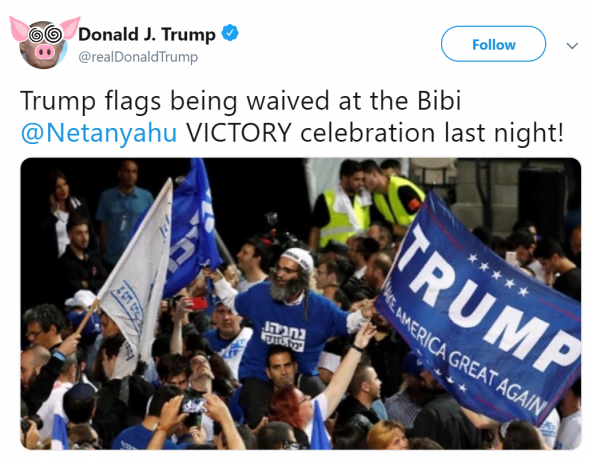 It's natural that Trump and Netanyahu have an affinity for one another. They're both crooks and bigots who are taking their respective countries to dark places.
The signage is no surprise either; fanatics all over the world have adopted MAGA-wear to express their blinkered hatred and stupidity — it's the new Stars and Bars.
The jury is still out on how Trumpism will end for America; I am hopeful we can beat back the kakistocracy starting next year, though it'll be a heavy lift, and we'll have the millstone of stupid that is the collective weight of Trump voters around our necks for generations to come.
But I don't see how this ends well for Israel. U.S. support for Israel has been a bipartisan priority for decades, and so far, most Democratic Party pols are maintaining that unity despite Netanyahu's outrageous interference in our political affairs, including openly siding with Republicans to oppose President Obama.
Democrats' unwavering support may change as rank-and-file party member sentiment changes and pols respond to that. Can't speak for y'all, but my sentiment has damn sure changed over the past several years. I used to feel as neutral toward Israel as I feel toward, say, Luxembourg. Now I don't want a dime of my tax money spent to prop up that country's corrupt and hostile (toward MY interests) government.
Netanyahu has placed all his chips on red. If America manages to pull out of this nose-dive, that may turn out to be a very bad bet indeed.