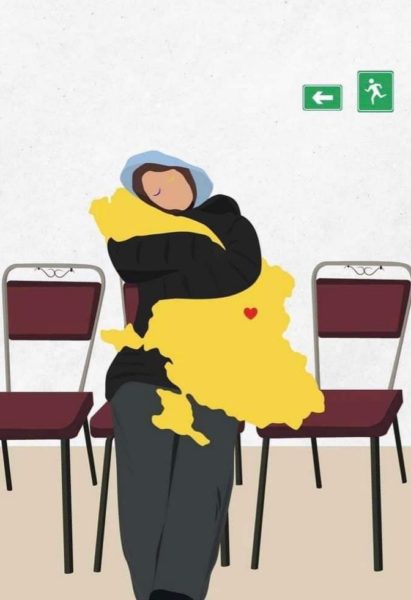 (Ukraine Will Prevail by Oleksandra Olishevska; found here)
I want to start tonight with an excerpt from President Zelenskyy's speech to the NATO senior leaders yesterday. It's only about 3 and a half minutes long, but it really gets good at the 1:25 second mark when Zelenskyy goes up one side of Viktor Orban and down the other!
Zelensky doing what -in my dreams- should be the role of the President of Council and Commission.

There was one who used to do it in private.

The days of member states hiding their sovereign decisions and blaming Brussels may be coming to an end. pic.twitter.com/iZckTN7b92

— Pablo Pérez (@PabloPerezA) March 25, 2022
I'm pretty sure they still haven't found all the pieces of Viktor Orban yet, let alone reassembled them!
Much more after the jump!
The Chief of the Main Operational Directorate of Russia's General Staff Colonel-General Sergei Rudskoy gave a briefing today about Russia's ongoing reinvasion of Ukraine. And it was a doozy!
March 25. Interfax-Russia.ru – The possibility of storming the cities blocked by the Russian military in Ukraine is not ruled out, but the main goal is the complete liberation of Donbass, said Sergey Rudskoy, head of the Main Operational Directorate (GOU) of the General Staff of the RF Armed Forces. "Initially, we did not plan to storm them in order to prevent destruction and minimize losses among personnel and civilians," Rudskoy said at a briefing on Friday. "Although we do not rule out such a possibility, however, as individual groupings complete the tasks set, and they are successfully solved, our forces and means will be concentrated on the main thing – the complete liberation of Donbass," said the head of the General Staff.

According to him, a month after the start of the special operation in Ukraine, the Russian military blocked Kyiv, gained full control over Kherson and most of the Zaporozhye region. "Offensive actions of the Armed Forces of the Russian Federation are carried out in various directions. As a result, Kyiv, Kharkov, Chernihiv, Sumy and Nikolaev are blocked by Russian troops. Kherson and most of the Zaporozhye region are under full control," Rudskoy said.

He clarified that the blockade of Ukrainian cities is carried out "with the aim of causing such damage to military infrastructure, equipment, personnel of the Armed Forces of Ukraine, the results of which allow not only to tie down their forces and do not give them the opportunity to strengthen their grouping in the Donbas, but also will not allow them to do this until complete liberation by the Russian army of the territories of the DNR and LNR". Rudskoy also said that the Russian military had defeated 16 major military airfields in Ukraine.

16 main military airfields from which combat sorties of the Armed Forces of Ukraine were carried out were defeated," he said. "39 storage bases and arsenals were destroyed, which contained up to 70% of all stocks of military equipment, materiel and fuel, as well as more than 1 million 54 thousand tons of ammunition," said the head of the General Staff. He also stressed that the Russian military had gained dominance in the skies over Ukraine in two days.

"The tasks are being carried out taking into account minimizing losses among personnel and minimizing damage to the civilian population. With the start of a special military operation, air supremacy was won within the first two days," Rudskoy said.
Rudskoy's briefing is all over the place. A lot of this is clearly intended as propaganda for domestic Russian consumption to continue to push the bullshit story that everything is going exceedingly well for the Russian military in Ukraine. Given that, until we see a change in actual Russian behavior in the battlespace, my professional assessment is that we can discount the Phase 1 is over and we're starting Phase 2, which is consolidating our successes in eastern and southern Ukraine talk. As we've discussed a number of times, what Rudskoy is describing as Phase 2 was what most people expected Phase 1 to actually be. Even as a lot of those folks were discounting the likelihood that there would even be a Phase 1 because they thought Putin was just posturing.
Does what Rudskoy briefed today make theater strategic sense? Definitely. I'm just not sure that this is anything other than propaganda for a domestic audience with a secondary intent of being a maskirovka for everyone outside of Russia in the attempt to have elites and notables that want the war to end to pressure Ukraine to cut a deal with Putin. I've spent the past month watching far too many of the same people who were completely convinced that Putin wouldn't reinvade and that the way to ensure that was for Ukraine to preemptively surrender by giving Putin what he wants – dropping Ukrainian claims to the Russian occupied territories of Crimea, Donetsk, and Luhansk; as well as Ukrainain demilitarization; abandonment of pursuing NATO membership; and consideration of abandoning pursuit of EU membership – immediately pivot to Ukraine has to give Putin a way to save face and create a diplomatic off ramp for him. This briefing is going to be catnip for that crowd. Ukraine should ignore it and continue to do what they're doing: seek to inflict so much pain on the Russian military as to achieve a successful battlefield termination that sets the conditions to secure the peace post conflict termination.
Especially as Russia has moved fresh troops into Belarus to backfill it's assault force staging them for entry into Ukraine and has sortied three ships, which have transited the Kerch Strait into the Sea of Azov, to replace the ones sunk or damaged yesterday. We now have confirmation that one Alligator class ship, the Orsk, was sunk and two other Russian Navy ships were damaged, moved out of the Port of Berdyansk, and are likely limping back to their home port for repairs. The Pentagon has now confirmed that Russia has pulled troops from the territories it is occupying in Georgia and they are on their way to Ukraine.
Ukraine's position on negotiations have not changed and Dmytro Kuleba, Ukraine's Minister of Foreign Affairs, once again clearly stated them today:
No consensus in negotiations yet. Ukraine's position is clear: ceasefire, security guarantees, no compromises on territorial integrity. But Russia sticks to ultimatums. To stimulate a more constructive approach we need two things: more sanctions and more military aid for Ukraine.
I'll give President Macron credit, he is convinced that he can negotiate an end to Putin's reinvasion of Ukraine by being in almost daily contact with Putin. Pretty much every readout of those contacts go something like (I'm paraphrasing here): "President Macron had a call with President Putin, President Putin provided him with a lengthy explanation of the "special operation". President Macron does not believe President Putin is negotiating in good faith." Today, President Macron announced that the French, the Turks, and the Greeks are planning an exceptional humanitarian mission to evacuate civilians from Mariupol. And that President Macron would be discussing it with President Putin within two to three days. Here is a verbatim translation via tweet thread:
[Thread] Here is the exact and complete verbatim of what President Macron said tonight about this humanitarian operation for

#Mariupol

: "I have a special thought for the inhabitants of Mariupol who are experiencing one of the greatest tragedies."

"That is why we decided yesterday to launch an exceptional humanitarian operation, which I will have the opportunity to discuss with President Putin in the coming hours."

"We are going to launch a humanitarian operation, in conjunction with Turkey and Greece, to evacuate all those who wish to leave Mariupol. My team was able to have the mayor of Mariupol a few hours ago to organize this with him."

"We will organize things in the best possible conditions. This city of more than 450,000 inhabitants now has only 150,000 inhabitants living there in dramatic situations. We must obtain a cessation of hostilities there and act on the humanitarian level."

In response to another press question: "We already had discussions with the mayor of Mariupol and the Ukrainian authorities in full transparency with President Zelensky. We will then negotiate with the Russian side."

"I hope to involve the maximum number of stakeholders in this operation. The sooner, the better. We are putting ourselves in a position to do so in the next few days".

"On this basis, I will have a new discussion with President Putin within 48-72 hours at the latest to work out the details and secure the terms [of the operation]. This is one of the most urgent points and our duty." [End]
President Macron is the most optimistic person on the planet, the most naive person on the planet, and/or the absolutely STUPIDEST person on the planet if he thinks this is going to work. He's wasted a month's worth of his time trying to get Putin to stop doing what Putin is doing and all Putin does is lecture him about the alternate history and mythology Putin has accepted as reality and make unrealistic demands that he expects Macron to convey to the Ukrainians. As much as this humanitarian operation is needed, there is no way in hell it is going to happen. And if, by some remote chance it does, Russia is going to do what it always does, what it has consistently done in Ukraine, what it has done in Syria: attack the humanitarian relief efforts. Putin doesn't look at humanitarian relief operations as something covered by the Geneva Conventions he looks at them as targets!
Here's the remarks of Putin's chief negotiator, they are not the statements of someone negotiating in good faith and/or empowered to do so:
Putin's chief negotiator Vladimir Medinsky and foreign intelligence chief Sergei Naryshkin just made fiery speeches to rally Russians around the Ukraine war.

Their rhetoric provided an alarming window into Russia's totalitarian tilt. Some more details /1

— Samuel Ramani (@SamRamani2) March 24, 2022
The overarching theme was that Russia is facing an existential crisis Medinsky said it bluntly: "Russia's very existence is at stake today" This appeals to long-standing conspiracies about Western efforts to dismember Russia, which gained popularity in the late 1990s /2

In a striking parallel to Soviet-era allegations of "revisionism," deviations from the Kremlin's version of Russian history were described as acts of treason Medinsky accused those who "vilify Russian history in works of culture" are "worse than traitors" /3

Themes from Putin's recent "scum and traitors" speech were also invoked, as warnings of fifth columns inside Russia abounded Medinsky stated that he was unable to completely purge traitors from the Ministry of Culture. This opens the door for more crackdowns /4

Russia was also presented as a country that was under attack from hostile ideologies Naryshkin warned that Russia was in a struggle against "totalitarian liberal regimes supported by the West" Anti-war protests will no doubt be framed as unpatriotic stooges of the West /5

Naryshkin also justified military force as an acceptable means of preserving Russia's great power status Naryshkin praised those who chose military service to prevent the West from consigning Russia to the "sidelines of world history" /6

The Kremlin is justifying the Ukraine war to its own people by linking it to patriotic values (conservatism and illiberalism) and imperial nostalgia, and creating a siege mentality History shows that this will keep Putin's base intact and lead to a new wave of repression /7
For some reason I cannot fathom, other than cowardice, the International Committee of the Red Cross, which pulled its personnel out of Ukraine because it was too risky, is facilitating Russia's attempts to relocate Ukrainians from Mariupol and other parts of eastern and southern Ukraine in Rostov on Don in Russia. The UN has also identified, via satellite imagery, mass graves in Mariupol.
GENEVA, March 25 (Reuters) – The head of the U.N. human rights team in Ukraine said on Friday that monitors had received more information about mass graves in the besieged port city of Mariupol, including one that appeared to hold 200 bodies.

"We have got increasing information on mass graves that are there," Matilda Bogner told journalists by video link from Ukraine, saying some of the evidence came from satellite images.
The Russians are not negotiating in good faith. People need to stop deluding themselves that Ukraine can negotiate its way out of this war.
Here's video from inside the Mariupol Drama House shortly after the attack last week:
Another video from the theatre showing the collapsed part of the building: pic.twitter.com/FXwtoVJJ9h

— Eliot Higgins (@EliotHiggins) March 25, 2022
Грати published the testimonies of woman who was forcibly taken to Russia from Mariupol. She also provided the drawings of a girl who drew them in a bomb shelter. On the last picture there is only a few words: "I'm terribly scared. I'm terribly scared. I'm very very scared". pic.twitter.com/4LIMJWcl3R

— Oleksandra Matviichuk (@avalaina) March 25, 2022
We also now have an official estimate of the number of Ukrainians killed when the Drama House was bombed. 300 hundred were in the building at the time.
Melitipol:
The mayor of Melitopol spoke on ?? TV about a looming humanitarian crisis in the city, with food and medicine running out. Humanitarian aid was sent this morning from Zaporizhzhia but held up in Russian checkpoints for 8h… /1https://t.co/dgMgBlByz8

— Mattia Nelles (@mattia_n) March 24, 2022
The aid is now on the way to Melitopol but the mayor in exile fears that it might be plundered by Russian occupation forces. The mayor said that the Russian military was "behaving horribly" in the city, kidnapping people and conducting illegal searches of businessmen. /2

Fedorov also spoke about attempts by the Russians to force teachers to start teaching Russian in schools. After the local education department refused to cooperate with them, they, according to the mayor, began to put direct pressure on schools. /3

The mayor said that before the invasion there were Russian schools and classes in Russian in local schools. Fedorov stressed that before the Russian invasion, most Melitopol residents spoke Russian and were not oppressed because of it. /end

This morning, a humanitarian convoy consisting of trucks & buses reached the occupied city of Melitopol. It unloaded food, medicine, personal hygiene products. In a video the mayor Fedorov said that on the way back, buses will take out up to 350 residents
Kharkiv:
Russians fired on the Nova Poshta postal department in Kharkiv, where Kharkiv residents were receiving humanitarian aid. Here the video of a rocket hitting a crowd of civilians in line#RussiansWarCrimes pic.twitter.com/BvszqcI0s1

— Oleksandra Matviichuk (@avalaina) March 25, 2022
They live in fear, but hold together and try to support each other in any possible way. Here, children who are hiding in the #Kharkiv subway from Russian bombs are dancing and laughing with animators. pic.twitter.com/O6dWo6ArVa

— voicesofchildren (@voices_org_ua) March 25, 2022
Chernihiv:
A dramatic Sky News report from sieged town of Chernihiv in Northern Ukraine: shelling and escape of the filming crew, short interview with a wounded driver. And his final phrase before he leaves for hospital.

Worth watching. But graphic.

— Kyrylo Loukerenko (@K_Loukerenko) March 25, 2022
Here's some visual evidence that Russia is using white phosphorus bombs in Ukraine just as they did in Syria.
The moment when a Ukrainian soldier you know posts on his social media a photo of a Russian phosphorus bomb attack he just witnessed from his position…? pic.twitter.com/Oh1FU9Fkuf

— Olga Tokariuk (@olgatokariuk) March 25, 2022
This is a long thread with lots of pictures and some videos documenting Russian war crimes in Ukraine. Click through to see the rest of the tweets with images and video:
As of March 25, our team has documented at least 66 cases of attacks on healthcare infrastructure in Ukraine. As a result, at least 66 healthcare facilities have already been damaged. Six hospitals were destroyed. pic.twitter.com/Z0ovV4XvZn

— Mary Kravchenko ?? (@sea_inside3) March 25, 2022
You're daily bayraktar:
New footage released of Ukrainian Bayraktar TB2 drones directing Artillery/MRLS fire and conducting strikes against Russian targets.#Russia #ukraine pic.twitter.com/cSqmXYXscP

— BlueSauron?️ (@Blue_Sauron) March 23, 2022
Open thread!