Here are some odds and ends for your consideration.
Little Big Man
Our pup Pete is a hefty micro-dog! Since he's growing fast, I have to take him to the vet monthly for weigh-in so we can give him the right heartworm/flea prevention med dose. As of today, he weighs damn near as much as Badger now, and he's only five months old. Big trouble for poor little Badger boy, who better whip the young upstart's ass while he still can!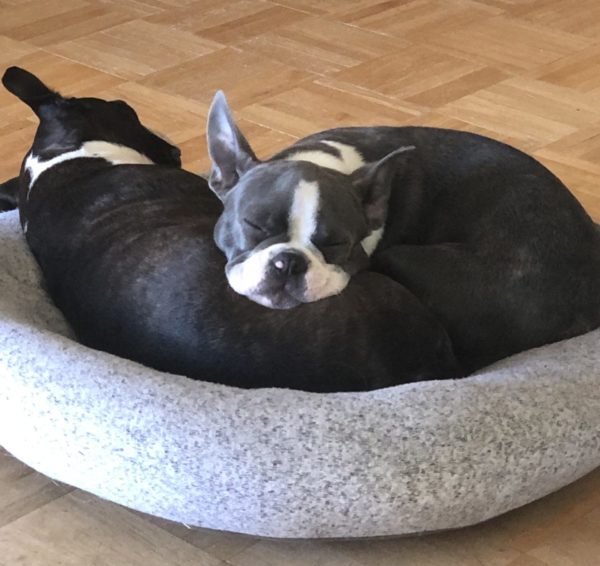 Ugly Pig Man
Yesterday, in an interview with disgraced ex-The Hill staffer John Solomon, Trump again attempted to drag the head of a hostile foreign state into a domestic political feud. Adam alluded to this in last night's war update post, but I think it deserves more attention, for "bearing witness" purposes if nothing else (TPM):
"As long as Putin now is not exactly a fan of our country, let him explain — because Chris Wallace wouldn't let me ask the question — why did the mayor of Moscow's wife give the Bidens, both of them, three and a half million dollars? I would think Putin would know the answer to that. I think he should release it. I think we should know the answer. Now, you won't get the answer from Ukraine. I think Putin, now, would be willing to probably give that answer. I'm sure he knows."
To recap, on Tuesday, the former U.S. president asked a foreign dictator — who is actively committing war crimes against civilians in a country that is allied with the U.S. — to produce political dirt on the current U.S. president. The mind. It reels.
Education Plan vs Florida Man
Education Secretary Miguel Cardona is a breath of fresh air after the horrid Betsy DeVos – and a huge improvement so far over the Obama admin's Arne Duncan too. WaPo reports that next month, the department will publish new Title IX rules that protect trans students from the cruel school sports ban policies championed by ambitious red state governors.
Speaking of red state presidential aspirants, Florida's meathead governor is having delusions of grandeur. Florida Politics quotes DeSantis comparing Biden to himself in a Fox News segment:
"The contrast between a doddering, quasi-senile President who has to have his press team clean up his remarks after every time he opens his mouth, versus somebody like me who's out there — I'm very direct, I mean what I say, I lead, and I get things done," DeSantis said. "They understand that people view Florida as really being the leader of our country in many respects. We're really leading the free world."
Reader, we in Florida are NOT leading the country, and we are not leading free world, except perhaps in the production of bizarre news filler items about scary reptiles emerging from residential toilets. DeSantis referred to Biden as "Brandon" several times during the interview because that never gets old. Please, fellow Democrats, I'm begging you. When the time comes, help us FL Democrats punt this evil, smarmy motherfucker into the sun. Trust me, it'll be to everyone's benefit.
That's it — that's the post. Open thread!