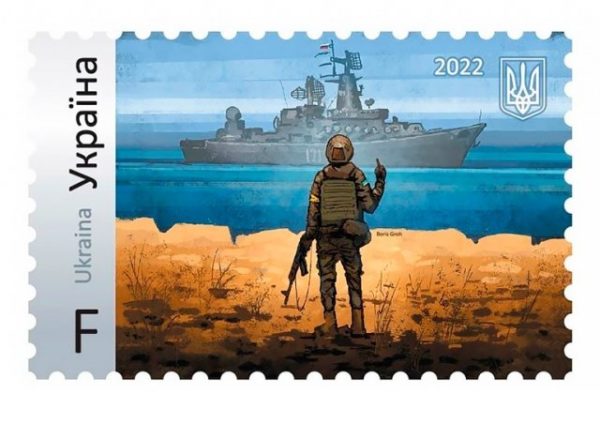 (Image is the new Ukrainian postage stamp, I found it here)
Let's start once again in Mariupol. Shortly after last night's post was published, reports began to come in that the 36th Marine Brigade had broken out of its defensive pocket and had linked up with the Azov Regiment. I tracked the info back to a site I'd never seen and decided to just sit on it rather than update because I wanted to see a legitimate recognized source report it. Here's one of The Kyiv Independent's reporters confirming it:
The most important news from today is that the marines from the 36th Marine Brigade, low on ammunition, were able to breach enemy lines and connect with the Azov Regiment in Mariupol.

I think about them every day.

— Oleksiy Sorokin (@mrsorokaa) April 13, 2022
Additionally, the Georgian Legion, which is fighting for Ukraine as part of their military, is also still intact and engaging the Russians near Mariupol. From The Globe and Mail:
Russia has claimed that more than 1,000 Ukrainian marines have surrendered in the southern city of Mariupol, but there were competing views about whether the devastating seven-week battle for control of the strategic port on the Sea of Azov was continuing.

Ukraine did not confirm the surrender Wednesday and said that two units of its forces still in the city had instead managed to link up. Mamuka Mamulashvili, the commander of the Georgian Legion, a battalion of volunteer fighters, told The Globe and Mail that his unit had troops "near Mariupol" who were still fighting.

Mr. Mamulashvili said he also had friends among the Ukrainian forces holed up in the massive Azovstal steel factory. He said he had spoken to them in recent days and did not believe they would have surrendered.

"I would know," he said when asked whether the battle for Mariupol had ended, though he would not discuss the number of fighters who were still holding out. "They have not surrendered. There are still Ukrainian army forces and Georgians there."

The head of Ukraine's GUR military intelligence agency told The Globe that efforts to resupply the remaining Ukrainian troops in Mariupol were difficult but continuing.

"The situation in Mariupol is the most complicated situation in Ukraine right now, Major-General Kyrylo Budanov said. "Every resupply of the forces which are defending Mariupol is a special operation which demonstrates the heroism of our warriors."

Kremlin-controlled media have also accused the Georgian Legion of war crimes after a video surfaced last month showing the roadside execution of at least one Russian soldier who was injured and whose hands were tied. Mr. Mamulashvili said Wednesday that the fighters in the video – at least one of whom has been identified as Georgian – were not members of his unit.

He said the Georgian Legion – which consists of about 700 troops from Georgia, along with some other international volunteers – was, like the regular Ukrainian army, redirecting forces previously deployed around Kyiv south, toward Mariupol, now that Russia had withdrawn its army from around the capital. He said Mariupol could still be liberated from Russian control.

"It is possible – and we will do it."
Much more at the link!
In other important news from the south of Ukraine, Russia's Black Sea flagship, the Moskva, got itself blowed up real good!
A Russian source is saying the Moskva has sunk and that the explosion was from a Ukrainian Neptun missile strike. Apparently, Ukraine flew a TB2 UCAV to distract the ship while it was targeted by the Neptun. The ship rolled onto its side after the strike.https://t.co/lACtPPJYVF

— Rob Lee (@RALee85) April 14, 2022
You may recall that it was the Moskva that called for the surrender of the Ukrainian Border Service officers on Snake Island who replied that it was to "Go fuck yourself!" Well it did! The Moskva had a crew of 510, there's no word on how many Russian sailors may have survived, but this was a huge win for the Ukrainians.
Much more after the jump!
The Ukrainian underground seems to have been busy in Melitipol!
"Unknown patriots" from a likely underground resistance movement killed 70 Russian troops, incl Kadyrovites, in occupied Melitopol (Zaporizhzhia Obl) btw 20 Mar-12 Apr: ?? Intelligence

They were killed by knives/guns during night patrolshttps://t.co/UG10s8OPLb

— Euromaidan Press (@EuromaidanPress) April 14, 2022
Here is President Zelenskyy's most recent video and appeal:
Without additional weaponry, this war will become an endless bloodbath, spreading misery, suffering, and destruction. Mariupol, Bucha, Kramatorsk – the list will be continued. Nobody will stop Russia except Ukraine with Heavy Weapons. #ArmUkraineNow pic.twitter.com/miSOL5zvuA

— Володимир Зеленський (@ZelenskyyUa) April 13, 2022
He had a very productive phone conversation with President Biden today. Here's President Biden's statement regarding the call:
Statement by President JoeBiden on Call with President Zelenskyy and Additional Security Assistance toUkraine

I just spoke with President Zelenskyy and shared with him that my Administration is authorizing an additional $800 million in weapons, ammunition, and other security assistance to Ukraine. The Ukrainian military has used the weapons we are providing to devastating effect. As Russia prepares to intensify its attack in the Donbas region, the United States will continue to provide Ukraine with the capabilities to defend itself.This new package of assistance will contain many of the highly effective weapons systems we have already provided and new capabilities tailored to the wider assault we expect Russia to launch in eastern Ukraine. These new capabilities include artillery systems, artillery rounds, and armored personnel carriers. I have also approved the transfer of additional helicopters. In addition, we continue to facilitate the transfer of significant capabilities from our Allies and partners around the world.The steady supply of weapons the United States and its Allies and partners have provided to Ukraine has been critical in sustaining its fight against the Russian invasion. It has helped ensure that Putin failed in his initial war aims to conquer and control Ukraine. We cannot rest now. As I assured President Zelenskyy, the American people will continue to stand with the brave Ukrainian people in their fight for freedom.
There was a lot of confusion this morning about whether the US would or would not be sending Soviet era leftover Mi 17 helicopters to Ukraine. There was an announcement that the US would be sending them, then there was an announcement that the US would not and people started complaining about how bad this made the administration's strategic communication look. Below is the explanation for what happened.
NEW: Another US official adds more context –> The helos were initially part of the package. But Kyiv said to take them out because they wanted to inspect them to ensure they'd be useful for their purposes.

But on the call Z said he wanted them, so the helos were put back in.

— Alex Ward (@alexbward) April 13, 2022
Too much of this stuff is being done in public!
The US is considering sending a top level administration official to Kyiv to meet with President Zelenskyy. From Politico:
The Biden administration is holding internal discussions about sending a high-level official to Kyiv to show further support to Ukraine, two U.S. officials told POLITICO.

No decision on the potential visit has yet been made as deliberations continue inside the White House. President Joe Biden and Vice President Kamala Harris remain candidates to represent the U.S. in the Ukrainian capital, though it's far more likely that a Cabinet member like Secretary of State Antony Blinken or Defense Secretary Lloyd Austin will go, the officials said.

Both Biden and Harris have recently traveled to Poland, a frontline NATO country that borders Ukraine.

A U.S. official visiting Kyiv would be the latest in a parade of Western figures meeting Ukrainian President Volodymyr Zelenskyy. In recent weeks, European Commission President Ursula von der Leyen and British Prime Minister Boris Johnson made the trip, while the leaders of Estonia, Latvia, Lithuania and Poland met Wednesday with Zelenskyy in the capital.

If the administration decides to send someone to Kyiv, it is understood that there won't be an announcement in advance, due to security reasons. The timing of any potential trip is uncertain and officials cautioned that it may not happen at all due to the fluid nature of the war.

The trip would be highly symbolic for both Washington and Kyiv. The U.S. would affirm its commitment to Ukraine's resistance against Russia's invasion, while Ukraine would get to host a top American official in the capital, just weeks after forcing Russian troops to retreat.
More at the link.
Here is the British MOD's assessment for today: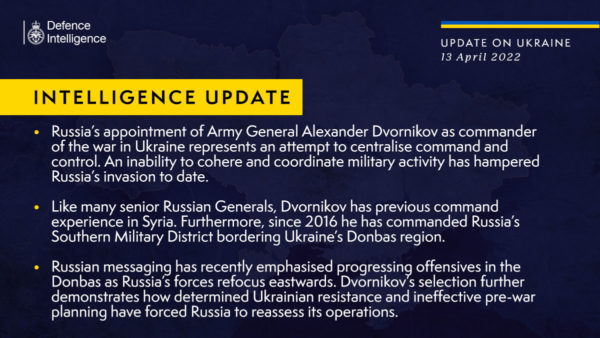 And here is the British MOD's updated map for today: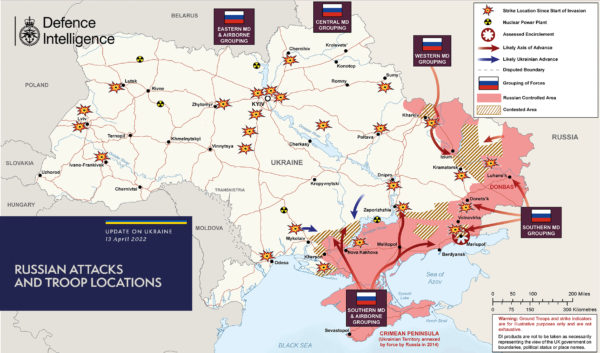 There's still not a lot of new movement. We're in the hurry up and wait stage as both sides prepare for the Donbas campaign.
Here's an interesting analysis from Professor Sun Zhe, who is currently at Columbia University's CIPA. This is a machine translation using Apple's translation protocols Commenter YY_Sima_Qian provided a link to a proper translation in comment #6:
The Russian-Ukrainian war has brought human society to a critical moment of historical turning point. Considering the special background of the debate about "system contest" triggered by global epidemic prevention, what kind of strategic judgments and policy choices China makes is related to the national destiny and the "destiny of mankind". the future of the community.

Domestic strategic scholars often use the phrase "Those who do not seek the overall situation are not enough to seek a region, and those who do not seek the world are not enough for a certain time" to talk about international changes. I think the current Russian-Ukrainian conflict has at least four direct impacts on the global pattern:

First, the judgment of "rising in the east and falling in the west", which was popular in China in the past few years, is basically invalid. This is mainly to say that developing countries did not "rise of the pack" as described in "The Post-American World", or that a few countries failed to embark on the track of sustainable development after rising. On the contrary, like Countries such as Russia, South Africa, and Brazil have declined in national strength in recent years, and developing countries are less willing to cooperate collectively, and their overall influence is constantly weakening. Leaving aside the original cause of the Russian-Ukrainian war, the final result of this war is, from a high probability, huge "Venezuelaization" and "sunk costs" of the Russian economy. On the other hand, developed countries represented by the United States have adjusted their diplomatic rhythm extremely quickly, showing great "strategic sympathy and strategic resonance ability" for Ukraine. The ideology of pro-Russian and Ukrainian ideology draws a line, the new strategic pattern of the world is roughly "the dust has settled", and the political and economic coordinates and development potential of different national groups in the "big chess game" are gradually becoming clear.

Second, due to the dual impact of the Russian-Ukrainian war and the epidemic, the global trend of "economic disconnection" is more obvious. This is mainly to say that adverse forces such as fragmentation of the global market, restrictions on cross-border and cross-border investment, and increased resistance to technology transfer will delay or even put on hold the already difficult process of economic globalization. Originally, when the United States and some developed countries formulate policies such as climate change, investment, and the digital economy, they have begun to emphasize labor rights, environmental protection, and the free flow of data and other values, forming "value barriers" to some extent. Let the role of the value factor in world economic relations become more prominent, and the economic "value barriers" that "take Russia as the boundary" will not only not disappear, but also the all-round and high-intensity sanctions against Russia will further aggravate international energy and capital. and market differentiation and contraction.

Third, the global "governance deficit" leads to a "peace deficit", which is mainly reflected in the state organizations formed after World War II and the existing global cooperation mechanism, which not only failed to help developing countries implement more effective internal governance, but also failed to prevent local wars and The outbreak of regional conflicts, even during wars, has caused huge controversy over the principles and rules of international humanitarian intervention. How to abandon the old thinking of zero-sum game during the Cold War, abandon the law of the jungle of the law of the jungle, and seek peace through cooperation, and the concept of joint consultation and joint construction of global peace governance is still a huge challenge to the operation of the future international system. The biggest enlightenment of the Russia-Ukraine conflict to the world is that in order to achieve long-term world peace, all countries must insist on resolving disputes by peaceful means, oppose the willful use of force or threat of force, oppose provoking troubles and intensifying conflicts for selfishness, and oppose beggar-thy-neighbor, beggar-thy-neighbor, Benefit others. Regrettably, the performance of the United Nations in this regard has been disappointing, and coordination among major powers has been characterized by inefficiency or even failure, and people must rethink how to build a more effective collective security mechanism.

Fourth, the most controversial outcome of the Russian-Ukrainian war may be that the role of China and the United States has become more prominent, and Russia's influence on the global political stage has declined, and Russia has gradually been eliminated in the competition for great powers. Some American scholars have used terms such as "neither enemy nor friend" and "hostile partner" to describe the strategic competition between China and the United States. Although it is not completely accurate, the competition between China and the United States in "all areas" and "all regions" will indeed dominate global politics. Different combinations of power. In the process of "confrontation, cooperation and competition" between China and the United States, some countries that were originally in the "middle zone" have re-aligned or "returned to the team". On the other hand, while emphasizing strategic autonomy and unwilling to become a victim of the game of great powers, most countries have great concerns about whether to strengthen friendly cooperation with China. The U.S.'s efforts to win over its allies and point at China and Russia will undoubtedly have different impacts on the foreign policy choices of countries around the world.

It is worth mentioning that the "bipartisan consensus" formed by the U.S. government and opposition, that is, China's peaceful development also poses a substantial challenge to the United States, is actually an "inner demon" of the United States toward China. "It is easy to overcome the city, but difficult to attack the heart." Whether China and the United States can handle each other's relations well, "it is a question of the century that both countries must answer." It should be said that the strategic competition between China and the United States is long-term, and the idea of ​​deciding whether to win or lose by means of a "decisive battle" in the short term has no historical and realistic basis. Both China and the United States are conducting difficult national explorations in their own countries, so the basis of the competition between the two countries is actually in the handling of their respective domestic affairs. From this perspective, the real "great exploration lies in the innermost exploration".
Here's an interesting thread about the socio-economic drivers of the demographics of the Russian military (she posts some pictures of Russian soldiers, I'm not embedding them below, you can click across on the first tweet in the thread and see them if you like):
What do we know about background and social position of #Russian soldiers, who are deployed in #Ukraine? BBC analysed publicly available info about 1083 Russian servicemen, who were killed in action. Here are some tendencies were found out. Thread

— Olga Ivshina (@oivshina) April 12, 2022
Regions that reported the highest number of the losses are so called depressed or semi depressed, ie areas with high unemployment and a low standard of living. In Dagestan (93 reported deaths) or Buryatia (53 rep. deaths) it's very hard to find a job (let alone well paid job)

In

#Dagestan

unemployment rate is 15% (compared to average 4% in

#Russia

), average salary – 400 USD. If one joins army as private they can around 500 USD, but army also provide them food, uniform and a place to live. So a bigger part of the salary remains in your pocket

During "special operations" salary of a private infantryman of Russian army can reach 2.200 USD because of bonuses. Or even 2.600 USD if you are a sergeant or corporal. This is huge money for those living in the regions

20% of officially confirmed losses come from 10 Russia's depressed regions (plus Dagestan). If we add numbers from semi-depressed regions – it will be roughly 80% of all losses reported by Russian official sources (ie local officials, media and schools).

Striking example – there are zero(!) reports about military casualties from Moscow. Even Ukrainian sources never mentioned anyone from Moscow city, who was captured or killed in Ukraine.

It can have 2 explanations: 1) there are very few military units in Moscow itself 2) people from the capital don't join military that often. But people from Russian regions do. Many males from small towns and villages see army as the only social lift available

Russian army is an important employer for people from places where it is almost impossible to earn money. "Joining the army gives them a stable salary and sense security" – experts told BBC.

This is Mikhail Garmaev from Siberia. He finished school,went to college, dropped out, joined the army (as a conscript).Then returned home, got a job(installing alarm systems).But soon he returned to army (becoming a prof soldier. On March 6 he was killed near Kiev. Typical story

And there are many similar stories if you read biographies of Russian servicemen killed in Ukraine (especially non-officers). Young males in Russian regions study, then try and fail to find a stable job that will allow them to provide for their families. What is left? the Army

Coffins with Russian soldiers KIA in

#Ukraine

started coming to other countries of the former USSR. We know at least about 2 funerals in

#Kyrgyzstan

, 2 in

#Tajikistan

and 1 in breakaway region of South Ossetia (part of Georgia controlled by Russia since 2008)

All of them were technically citizens of Russia, who joined the Army. Egemberdi Dorboev lived in Siberia with his mother. He joined the Army in November. 4 months later he was deployed to Ukraine and killed in action

In early 2000s people from some post-Soviet countries aspired to join the Russian army, because it was a quick way to obtain Russian citizenship. Now there is no such path officially. But some loopholes remain. And again army is almost only social lift accessible for them

"Those migrants who didn't get good education and didn't find a better job in Russia find army career quite attractive. And strong propaganda adds to it"- explains human rights activist Svetlana Gannushkina.

With all that in mind – some aspects of Russian soldiers' behaviour in Ukraine look not surprising at all. END

<<
Since we've spent a fair amount of time focusing on the south of Ukraine lately, here's an interesting article in The New Yorker about the preparations being undertaken in Odesa in advance of the Donbas campaign.
The Ukrainian port city of Odesa sits atop a labyrinth of catacombs—technically, limestone quarries—which constitute perhaps the world's largest network of urban tunnels, extending ten stories deep and tracing some fifteen hundred miles beneath the streets. Ever since the nineteenth century, as stonecutters mined the passages to build the city, locals have regarded these voids as a realm of mystery and peril. They have been a setting for both banditry—traffickers smuggled stolen goods through the quarries; fugitives dodged pursuers in the darkness—and heroism. During the Second World War, when the city was placed under siege by the Nazis, Soviet rebels used the tunnels as a secret headquarters. These days, a mysterious crack may open in the sidewalk, and Odesans will experience a sudden awareness of the hollows beneath their feet. But very few ever venture beneath the surface.

Roman Mauser, a thirty-one-year-old electrical engineer from Odesa, began exploring the catacombs as a teen-ager, climbing down metal hatches in the street and spending hours wandering the passageways by headlamp. He discovered a world of forgotten infrastructure: drainage systems, moldering command centers, Soviet bomb shelters. Alongside a team of fellow-explorers, he opened a tour business where he guided people through the catacombs. On YouTube, he launched a channel on which he documented his expeditions. Episodes include a journey through a lattice of drain pipes and an investigation of mysterious inscriptions recorded on catacomb walls.

In early March, as the Russian navy amassed a flotilla of warships in Odesa's harbor, Mauser's hobby became a wartime enterprise. Residents had become alarmed by the city's critical shortage of functional air-raid shelters. When Russian fighters dropped bombs on Kyiv, thousands of residents took cover in the city's metro system. Odesa does not have a metro. Russia was poised to lob cruise missiles into the city; in the event of a heavy assault, Odesans would need someplace to wait out the bombardment. Throughout the city, military-age citizens were volunteering to man checkpoints and build barricades. Mauser, round-faced and bespectacled, with a poet's bearing, joined dozens of civilian explorers in an effort to bolster Odesa's underground defenses.

On one of his first missions, he trekked with a band of men through a warren of limestone tunnels beneath the historic neighborhood of Moldavanka. Sweeping their flashlight beams through the dark, the group arrived at the door of an old bomb shelter. Peering inside, they found rusted walls, piles of rubble, and puddles of stagnant water. The shelter had been built just after the Second World War, when Ukraine was part of the Soviet Union; nearly a hundred feet beneath street level, it could protect hundreds of occupants from even the most forceful air strike.

Mauser and the others worked for days. They cleared debris, painted walls, installed makeshift benches and cots, and stockpiled water. Mauser ran electrical cables through the passageways and rigged lights along the ceiling. Up on street level, the explorers met with residents from the neighborhood and instructed them on how to take cover. For most Odesans, Mauser told me, the catacombs had always been a distant, almost imaginary place; now the tunnels were entering the city's consciousness in the most urgent way. "We need to prepare people," he said. "In any attack on our city, the catacombs can save us."
Much, much more at the link!
Remind me not to piss off any Ukrainian women. Behold Mara, the Ukrainian goddess of death and rebirth of nature as winter gives way to spring!
Warning!!!! Simulated violence and bloodshed!!!!!
Орки біснують від цього відео ?? pic.twitter.com/RhhE8ksjju

— Pilot SamolyotОFF ?? (@pilotmsv) April 10, 2022
We'll finish with your semi-daily Chef Andres!
By end of the week we @WCKitchen will pass 10 million meals served in Ukraine & other countries—and 6 million pounds of food distributed! This is only possible because of our amazing local teams, 1000s of volunteers & YOU continuing to support #ChefsForUkraine ?? Thank you!! ?? https://t.co/pFlIJh0JiQ pic.twitter.com/lrKOD8o82Y

— José Andrés (@chefjoseandres) April 13, 2022
Adapting to the situation & need…This is the @WCKitchen way! We also have dehydrated food packs freshly made locally that you just add hot water to…perfect for evacuation trains & bomb shelters. We will keep moving quick to help feed the people of Ukraine! https://t.co/Jb8zXFr5SL

— José Andrés (@chefjoseandres) April 13, 2022
Open thread!