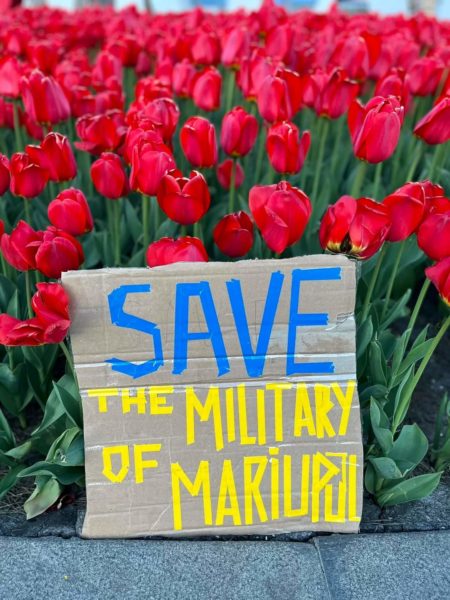 (Photo found here, photo by Maria Korenyuk)
The air raid alerts are up across pretty much all of Ukraine!
⚡️Air raid alerts go off across Ukraine.

Sirens have sounded in Kyiv, as well as in Donetsk, Khmelnytsky, Cherkasy, Chernihiv, Kyiv, Zhytomyr, Ivano-Frankivsk, Kirovohrad, Vinnytsia, Volyn, Chernivtsi, Zakarpattia, Rivne, Lviv, Ternopil and Odesa oblasts.

— The Kyiv Independent (@KyivIndependent) May 7, 2022
Here's President Zelenskyy's address to Ukraine from earlier this evening. Video immediately below, transcript with my emphasis after the jump.
Ukrainians!

Our defenders!

Last night, the Russian army fired a missile to destroy the Hryhorii Skovoroda Museum in the Kharkiv region. A missile. To destroy the museum. Museum of the philosopher and poet who lived in the XVIII century. Who taught people what a true Christian attitude to life is and how a person can get to know himself. Well, it seems that this is a terrible danger for modern Russia – museums, the Christian attitude to life and people's self-knowledge.

Every day of this war, the Russian army does something that is beyond words. But every next day it does something that makes you feel it in a new way.

Targeted missile strikes at museums – this is not even every terrorist can think of. But such an army is fighting against us. This is what they want to bring to other European countries.

As of May 7, the Russian army destroyed or damaged nearly 200 cultural heritage sites already.

Today, the invaders launched a missile strike at Odesa. At a city where almost every street has something memorable, something historical. But for the Russian army, it doesn't matter. They would only kill and destroy. Odesa? Kharkiv region? Donbas? They do not care.

Only the Armed Forces of Ukraine and the resistance of our people can stop this inhuman invasion. It's barbarism that has missiles, but has nothing to do with people.

Such actions of the Russian occupiers, especially on the eve of the Day of Remembrance of all victims of World War II and the Day of Victory over Nazism, should remind every state and every nation that it is impossible to defeat evil once and for all.

Unfortunately, evil tends to return when people disrespect other people's rights, disregard the law and destroy culture. This is exactly what happened to the Russian state. That is why we all have to defend ourselves now. Defend our people, our cities and even our museums, which are becoming targets for Russian missile strikes.

I am grateful to the teams of the International Committee of the Red Cross and the United Nations for helping us carry out the first phase of the Azovstal evacuation mission. More than 300 people were saved – women and children. Virtually, we evacuated civilians from Azovstal.

And we are now preparing the second stage of the evacuation mission – the wounded and medics. Of course, if everyone fulfills the agreements. Of course, if there are no lies.

Of course, we are also working to evacuate our military. All heroes who defend Mariupol. This is extremely difficult. But it is important. I'm sure everyone understands the root cause of this complication, as well as where the cause is located. But we do not lose hope. We do not stop. Every day we are looking for a diplomatic option that can work out.

Tomorrow, our team is preparing the further work of humanitarian corridors for all residents of Mariupol and surrounding settlements.

I held a meeting today on the activities of the executive branch. The main issues are economic. In particular, on providing Ukrainians with fuel. On overcoming the fuel shortage that arose after Russian missiles destroyed our Kremenchuk plant and oil depots across the country.

I heard reports on what is being done specifically to organize the supply of sufficient gasoline and other fuel types to Ukraine. The key task for government officials is to speed up the transportation of fuel from European ports to our consumers. The volume of such transportation should increase daily.

I also heard a report from the Minister of Finance on the execution of the state budget.

We are doing everything to ensure that the state fulfills all its social obligations despite the budget deficit and the deliberate destruction of our economy by the Russian army.

The preparation of the Post-War Recovery Plan was also discussed. This is a very large-scale task. But I have no doubt that we will implement it.

Today I was in Borodyanka, Kyiv region. Which is gradually returning to normal life.

Head of the President's Office Andriy Yermak together with Minister of Infrastructure Oleksandr Kubrakov inspected the restored railway bridge over the Irpin River – it is already open for transport. Today we can say that the cities and communities of the Kyiv region liberated from the occupiers are provided with normal transport connections.

I also traditionally signed decrees in the evening to award our defenders.

216 servicemen of the Armed Forces of Ukraine were awarded state awards. The title of Hero of Ukraine was awarded to Colonel Oleh Irodiyovych Hehechkora (posthumously), Commander of the helicopter squadron of the 11th separate brigade of the army aviation of the Ground Forces of the Armed Forces of Ukraine.

Eternal glory to all who stood up for our state!

Eternal memory to everyone who gave life for Ukraine!

Glory to Ukraine!
Here is today's operational update from Ukraine's MOD (emphasis mine):
The operational update regarding the russian invasion on 18.00 on May 7, 2022

The seventy-third day of the heroic resistance of the Ukrainian people to a russian military invasion continues.

russian enemy continues to conduct full-scale armed aggression against Ukraine.

russian enemy does not stop conducting offensive operations in the Eastern Operational Zone in order to establish full control over the territory of Donetsk and Luhansk oblasts and maintain the land corridor between these territories and the occupied Crimea.

In the Volyn and Polissya directions, russian enemy did not take active action. Certain units of the Armed Forces of the republic of belarus continue to perform tasks to cover the section of the Ukrainian-belarusian border in Brest and Gomel regions. There is still a threat of rocket-bomb attacks on the infrastructure of Ukraine from the territory of the republic of belarus.

In the Seversky direction, certain units of the armed forces of the russian federation continue to carry out tasks to cover the Ukrainian-russian border in the Bryansk and Kursk regions. In the border areas of the Kursk region engineering equipment of positions proceeds.

In the Slobozhansky direction, russian enemy focused its main efforts on preventing further advance of our troops in the direction of the state border of Ukraine. russian enemy strengthened the groups of troops of the 20th Combined Arms Army and the 1st Tank Army of the Western Military District at the expense of reserve units. It carried out artillery shelling in the areas of Prudyanka and Slatyne.

As a result of the offensive of units of the Armed Forces of Ukraine, russian enemy lost control over the settlement of Tsyrkuny.

russian enemy tried to launch an offensive in the direction of the settlement of Vernopilla, was unsuccessful, suffered losses and retreated.

In the Donetsk direction, russia enemy concentrated its main efforts on taking full control of Rubizhne and preparing for the offensive on the settlements of Lyman and Severodonetsk.

russian enemy continued artillery shelling and rocket-bomb attacks with the use of operational and tactical aircraft in some areas. Also, russian enemy tried to take control of the settlement of Alexandrovka, was unsuccessful.

In the Mariupol direction, russian enemy continues to block units of the Defense Forces in the area of the Azovstal plant. With the support of artillery and tank fire it conducts assault operations.

russian enemy did not conduct active hostilities in the Novopavlovsk and Zaporizhzhia areas.

With the support of the air force, he tried to conduct offensive operations in the direction of the settlement of Poltavka in the Zaporizhia region, suffered casualties, and retreated to his former positions.

The units of the Defense Forces of Ukraine in the area of the settlement of Polohy, Zaporizhzhia oblast, successfully inflicted fire damage on russian enemy, destroying some of its weapons and military equipment. russian enemy personnel left their positions.

In the South Buh direction, russian enemy is defending and launching missile strikes on military and civilian infrastructure. It did not conduct offensive operations in the Kryvyi Rih direction. It shelled units of Ukrainian troops with mortars and artillery.

russian occupiers suffered significant losses in battles with units of the Defense Forces of Ukraine. Thus, more than 100 wounded servicemen of the airborne troops of the Armed Forces of the russian federation were found in the village of Burchak.

We keep the line! We believe in the Armed Forces of Ukraine! Together to victory!

Glory to Ukraine!
Here's today's assessment from Britain's MOD: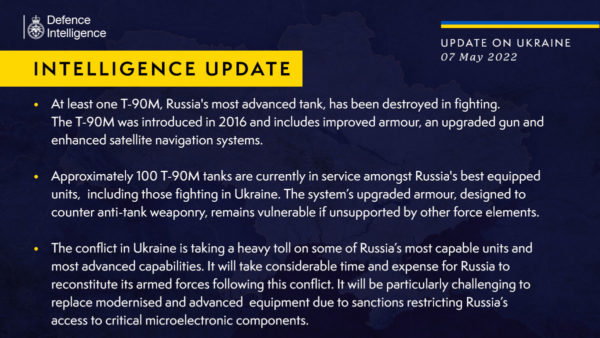 This is the video of the T-90M that the Ukrainians destroyed:
Video of that first T-90M tank combat loss. https://t.co/eNtCSumrJm pic.twitter.com/4rHebjPL6U

— Rob Lee (@RALee85) May 7, 2022
And here's the British MOD's updated map for today: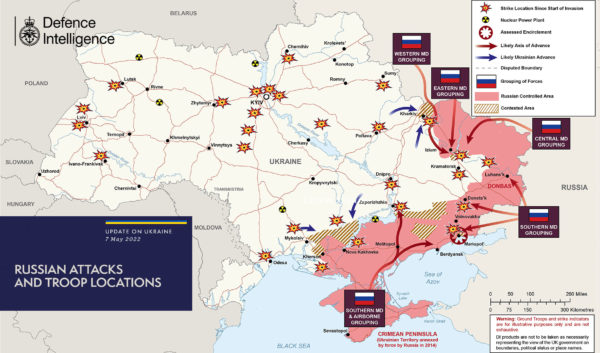 As you can see the main areas of attack in the east and south haven't changed much. What has changed are the areas that the Russians control as the Ukrainians hold against their attacks and/or push them back towards the border.
There was neither a DOD backgrounder briefing today, nor was there a formal press conference with the Pentagon spokesperson. Instead, here are the remarks of Director of Central Intelligence (DCI) Burns at the Financial Times conference:
CIA Director William Burns says the US intelligence community had begun to assemble a "detailed and disturbing picture" of Putin's plans for a new major invasion of Ukraine in the early fall of 2021; Putin appeared at the time uncommitted but "defiantly leaning" toward aggression https://t.co/KNykAwuaYr

— Olivia Gazis (@Olivia_Gazis) May 7, 2022
Burns: The second phase of Putin's war – concentrated in the Donbas, east and south – is "at least as risky" and perhaps "even riskier" than the first phase of the conflict

CIA Director William Burns: Vladimir Putin is "in a frame of mind in which he doesn't believe he can afford to lose; so the stakes are quite high in this phase." "…I think he's convinced right now that doubling down still will enable him to make progress."

"I absolutely agree it is irresponsible, it's very risky, it's dangerous when people talk too much. Whether it's leaking in private or talking in public about specific intelligence issues," Burns says of recent reports on how U.S. intel may have assisted Ukraine in lethal strikes

Burns: "It's a big mistake to underestimate the significant intelligence capabilities that the Ukrainians themselves have. This is their country. They have a lot more information than we do and a lot more intelligence than we in the U.S. and amongst our allies do."

Burns: "It was Putin's biggest mistake in planning for this invasion and then in launching it to underestimate the Ukrainians. And I think it's equally a mistake for any of us to underestimate what their bring to the table in intelligence terms in defending their own country."

"We don't see, as an intelligence community, practical evidence at this point of Russian planning for deployment or even potential use of tactical nuclear weapons," Burns says, adding, given past saber rattling, "we can't take lightly those possibilities"

Burns: "I think Putin has staked a lot on this second phase of what is an incredibly ugly and brutal offensive…trying, I think, to adapt to some of the lessons from the failures of the first phase…" "A lot depends on whether or not he can demonstrate momentum" now

"I would not underestimate..Xi Jinping's commitment to his partnership with Putin's Russia," Burns says, citing their joint statement. "I think that's a reflection of the commitment of both leaderships to a partnership which each sees as useful in competition" with the U.S.

Having said that, Burns adds, the "bitter experience" of the past 10-11 weeks "demonstrates that that friendship actually does have some limits" Xi is "unsettled" by the reputational damage that can come to China by association with the "brutishness" of Russia's aggression

"I think Xi's main focus is on predictability and getting through a major party congress this coming November," Burns says, adding Xi is also wary of what Putin has done to drive Europeans and Americans closer together

Burns: "Chinese leadership is trying to look carefully at what lessons they should draw from Ukraine about their own ambitions & Taiwan" "I don't for a minute think that it's eroded Xi's determination over time to gain control over Taiwan," but it's "affecting their calculation"

Burns: "I suspect [China has] been surprised by Russian military performance. I suspect they've been struck by the ways in which Ukrainians…have resisted. I think they've been struck by the way in which the Transatlantic alliance has come together to impose economic costs"

Burns: I think Chinese leadership is looking carefully at the potential for "serious resistance," including how the U.S. and allies have come together to demonstrate their resistence Those are "sharp lessons that the Chinese leadership is paying careful attention to"

Burns: "Over the long term, China is a rival for the United States with more reach and in more domains than we've ever faced before in our history."

Asked whether any intelligence supports public reports that Vladimir Putin is ill, Burns declines to answer. "Having talked before about how it's not a smart idea to talk in public about intelligence; I'll just return to that. That's not something I have much to offer on."

Burns: "I think it is likely to remain pretty rare — the exception rather than the rule when an American president chooses to declassify intelligence and employ it in the way that selectively we've done in the run-up to…Putin's war in Ukraine."

U.S. has shared intelligence to give Ukrainians the "best hand that they'll have to play, not just on the battlefield, but ultimately in negotiations as well. And that's a role that we take very seriously," Burns says, concluding the Q&A.
Mariupol:
However, wounded soldiers, who are suffering in absence of basic drugs such as antibiotics, still remain at the Azovstal plant, along with other Ukrainian defenders. Their lives shouldn't be sacrificed, they must be rescued. It's them who've been holding Mariupol for 73 days

— Olga Tokariuk (@olgatokariuk) May 7, 2022
Serhiy Volynskiy,30, the commander of Mykolaiv marines. Here's his latest post: It seems as if I found myself in some hellish reality show, where we are the military, fighting for our lives, using every chance to save, and the whole world is just watching an interesting story! pic.twitter.com/IqjjXrRB1k

— Nika Melkozerova (@NikaMelkozerova) May 7, 2022
"Such scripts are used in movies and TV series. The only difference is that this is not a movie, and we are not fictional characters! This is real life! Pain, suffering, hunger, torment, tears, fear, death – all real!" – Volynsky wrote. He is a year younger than me.

He is right. Whole world can't do anything with fucking Russia. We are all just watching and praising their heroism instead of helping. Today, after 2 months of hell, all civilians were evacuated from AzovStal. But Serhiy, who as many 30 yo, would better play Fifa, stayed there

Kremlin has put us all in an ugly reality show where one moron with a tiny dick dictates the whole world how to live and kills those who do not agree. I hate this world for letting that happen. I hate all the fucking EU and Western idiots who sold their countries to Kremlin.

I wish they would sit there, not our best people. trapped in Azovstal, punished and starved to death, bombed just for daring to defend the existence of their nation against the Frankenstein's monster of a country Russia has become.

We don't want to be "heroic nation that protects democracy and whole Europe from dictatorship". We fucking want to live. Those guys are all 30. wtf!!! full post here:

facebook.com/serjvlk/posts/

They ask for extraction. Please, evacuate them to a third country!. It is daring and dangerous. But Russians would not dare to attack nato countries. They can't handle good military force. how long will we watch people dying online just to turn them bronze after and commemorate
Please save the defenders of #Mariupol #Azovstal! The world needs them alive! @MSF @antonioguterres @UNHumanRights @potus @SecBlinken @Pontifex @RTErdogan @ICRC @EmmanuelMacron @OlafScholz @BorisJohnson #SaveMariupol pic.twitter.com/VFOPTO2Di2

— Olena Halushka (@OlenaHalushka) May 7, 2022
From iNews:
Thousands of Ukrainians have been sent to remote camps up to 5,500 miles from their homes as Vladimir Putin's officials follow Kremlin orders to disperse them across Russia, i can reveal.

They include survivors from the besieged port city of Mariupol, where civilians remain trapped at the Azovstal steel plant as Russian forces make a final push to subdue to city's last defenders.

An investigation by i analysing Russian local news reports has identified 66 camps in a network of former Soviet sanatoriums and other sites in regions including Siberia, the Caucasus, the Arctic Circle and the Far East.

i has also spoken to human rights activists in Russia who developed an underground grassroots network to help Ukrainians who want to leave the camps.

The Russians are taking people into their own homes, buying train tickets, and directing them to other groups who can help them get to the border.

One activist told i: "The state treats them as a labour force, as objects, moving them around without taking care of what they need. The state is unable to look after them. They are vulnerable and need help."

i's investigation marks the first evidence of a major operation to spread them across a country gripped by a historic post-Cold War population decline.

It comes after i exclusively revealed last month that Moscow had ordered towns and cities across the Russian Federation to prepare for the arrival of nearly 100,000 "refugees". Russia now claims it has "evacuated" one million people from the war zone.

Tanya Lokshina, associate director for Europe and Central Asia at Human Rights Watch, told i: "There is ample evidence that thousands of Ukrainians were taken to Russia under duress.

"When people are only given a choice to stay under increasingly heavy shelling or to enter the territory of an occupying power, it constitutes forced transfer under international humanitarian law.

"We are extremely concerned this is happening. People who seek evacuation to safer areas in Ukraine are shuttled off to Russia instead – in some cases to remote areas very far from Ukrainian or European borders.

"They are vulnerable, destitute, often without identification documents and find themselves at the mercy of the occupying power."

The sites identified by i by cross-checking local news reports with Russian mapping websites are known in Russia as Temporary Accommodation Points (TAP). They include dozens of sanatoriums and former children's wilderness camps, at least one "patriotic education" centre and even a former chemical weapons dump.

They stretch across the vast Russian Steppes and across 11 time zones over the Ural Mountains from Belgorod in the west to the remote Kamchatka Peninsula on the edge of the Pacific Ocean and Vladivostok at the end of the Trans-Siberian railroad.

With names that belie the misery being suffered by their occupants after surviving two months of war, they include the Little Prince in Perm, the Santa in Tatarstan, the Friendly Guys in Omsk, the Forest Fairy Tale in Chuvashia, the Blue Lakes in Pskov and the Pine Forest in Ulyanovsk.

i has identified 6,250 people in 38 of the camps, including 621 children. If full, the 66 camps could contain about 10,800 people, including 1,000 children, with more than a third of the camps containing citizens of Mariupol. Some are yet to house Ukrainians despite being prepared by local officials.

With an average of 162 people in each, our analysis suggests Russia could need about 6,000 camps to house the total number of people it claims have crossed the border.

While Ukrainians are able to walk out of the camps, their remoteness and a lack of money, phones or documentation means those wanting to leave the country face an almost impossible task.
Much, much more including maps and pictures at the link! Finding and returning all of these people, especially the younger/youngest children is going to be exceedingly hard work. If you are wondering where the Russians got this idea, they've used it several times before. Both since the Soviet Union fell and while the Soviet Union existed. If it seems very familiar it is not unlike what Stephen Miller organized at the southern border of the US between 2017 and 2020. And very similar to what the NAZIs did, minus the industrial scaled executions.
Bilohorivka, Luhansk:
Russians dropped a bomb on a school in Bilohorivka, Luhansk region, where 90 people were hiding in the basement. According to local governor, only 30 people were rescued from the building. Two bodies were found under the rubble so far, rescue work will resume in the morning pic.twitter.com/A7DaVcRqq6

— Olga Tokariuk (@olgatokariuk) May 7, 2022
Kharkiv:
People have been living in Kharkiv metro for over 50 days now. #ArmUkraineNow pic.twitter.com/hN2HfgWix0

— Olena Tregub (@OTregub) May 6, 2022
This is a long thread with lots of video and pictures about the attack on the Feldman Ecopark – a free to visit zoo and animal rescue – in Kharkiv. Warning: some of the video and imagery is unpleasantly graphic!
Putin's killers murdered a 15 year old kid who was helping to rescue animals from a contested area. Met him moments before the shelling started. pic.twitter.com/d1shf729Ve

— Björn Stritzel (@bjoernstritzel) May 5, 2022
Vovchansk, Kharkiv:
This repeats over again. On May 4, russians fired at the column of cars with civilians,who were evacuating from the occupied town of Vovchansk. The Kharkiv regional prosecution found six damaged vehicles and four bodies which had burned #GenocideOfUkrainians #ArmUkraineNow pic.twitter.com/BFd4uPNvJW

— Olena Halushka (@OlenaHalushka) May 7, 2022
Bucha:
Anna Polonska lost her husband and a 5 months old pregnancy trying to escape from #Bucha. She was severely wounded and now is learning to walk again. Anna intends to tell Bundestag her story to stop #RussianWarCrimes. pic.twitter.com/6ngYfG1IxV

— Anton Gerashchenko (@Gerashchenko_en) May 6, 2022
Mochsun, Bucha:
In the 1st photo Olha, with her dog Vadik, plants potatoes a year before the war

In the 2nd photo, Vadik stands alone near the ruined house where Olha and her husband Oleksandr died. They were killed on the same day due to??bombing on Moshchun village, Bucha district @rubryka pic.twitter.com/BFPUOuGrk6

— Euromaidan Press (@EuromaidanPress) May 7, 2022
Here's the full image that is partially cropped in the tweet above: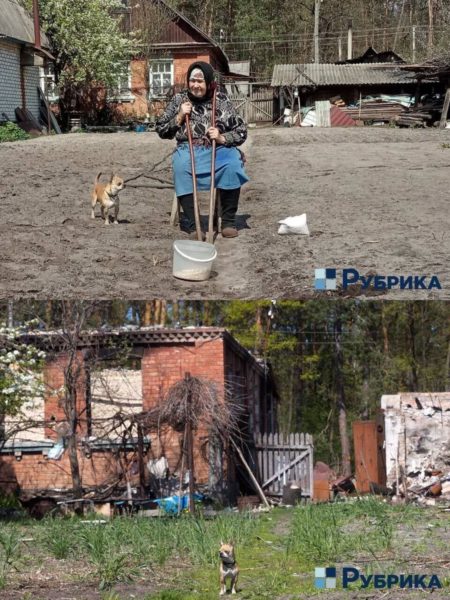 The Russians are circulating a new propaganda video of the woman we all watched on video be evacuated from the Maternity and Children's Hospital in Mariupol. I'm not posting it, but she's clearly reading the text being provided to her under duress.
Snake Island:
Ukrainian Bayraktar TB2 destroyed another Russian ship. This time the landing craft of the "Serna" project. The traditional parade of the russian Black Sea fleet on May 9 this year will be held near Snake Island – at the bottom of the sea. pic.twitter.com/WYEPywmAwX

— Defence of Ukraine (@DefenceU) May 7, 2022
That also counts as your semi daily baykraktar video!
Here's a great thread by Slava Malamud answering Tom Nichols' question in the quoted tweet:
Tom asks the right questions and starts with the right premise.
The premise is: Russia has been incapable of building a free state that values individual rights or indeed of accepting these ideas as foundational values.
The questions are: Why? And WTF?
But there are answers… https://t.co/16mAoMa6I0

— Slava Malamud ?? (@SlavaMalamud) May 7, 2022
The problem is that Russia, for the last 5 and a half centuries, has lived in essentially the same state. Despite all the wars, revolutions and palace coups, despite all the name changes (Muscovy, Tsardom, Empire, USSR, Federation) it has never really changed since the 1470s.

The state build by Ivan III at around that time copied the model of the Mongol Empire. Simply because Ivan had no other model to copy, as Russians were under the Mongol rule for the previous 2+ centuries. That model was a highly centralized, absolutist monarchy…

A state where all the decisions are made centrally, either by a single individual or by an inner circle of elites, provinces have no autonomy, citizens' rights and freedoms are subjugated to the interests of the state, and laws exist only to keep the subjects in line…

… as opposed to providing justice for all. Such a state is extremely rigid, easily mobilized and can withstand great external pressures (which is where all that heroism

@RadioFreeTom

is talking about comes from). But it is doomed to lag behind more progressive nations.

At some points, internal pressure builds up or one of the load-bearing walls of the state (the sanctity of the ruling authority or rigid centralization) is shaken, and the state collapses (see the Time of Troubles, the Revolution, 1991). But its exact copy is built in its place.

The Soviet Union wound up becoming just another extension of Ivan III's (and ultimately Genghis Khan's) model, and post-Soviet Russia, after a disastrously inept attempt to build a Western-style state in the 1990s, snapped right back to it under Putin.

Aiding and abetting all this are several factors: 1) The population is fearful of the unknown and, generally, likes the idea of living in an oppressive state, as long as it's "great." 2) Whatever opposition to it exists, it's usually disorganized, inept and self-destructive.

3) Russia still exists as an empire and as such must maintain imperial status, which is extremely difficult to do with a functioning free and democratic society, particularly one that is not used to freedom and democracy. Imperial ambitions and responsibilities are too demanding.

As for Russia's cultural giants, they generally have two ways to immortality: 1) Becoming the servant of the empire and being bestowed with largesse and love by the authority, 2) Dying a martyr. Many happily choose the second path. Most don't and contribute to status quo.

But even those who are not totally in sync with the authority (Tolstoy was an avowed pacifist, Pushkin was more or less a liberal and Gogol was Ukrainian), are still to some degree addicted to the imperial grandeur. You generally won't see any "giants of Russian thought"…

… rebelling agains the very idea of an empire. They simply have different ideas of how Russia can maximize its "greatness", but they always wish for it to be "great." The fact that the very concept of "great Russia" is born from the Ivan/Genghis model and inseparable from it…

… means that Russians, even its "great thinkers" are forever doomed to wander in circles, from one iteration of the "Mongol model" to the next. If they are ever to be free, they must separate themselves from the idea of being great, of leading other nations, of dominance.

Or be separated from it, by someone. I don't think there is any other way.
Your semi daily Patron:
Glorious Ukrainian deminer Patron taking a nap during an interview pic.twitter.com/8ncF0JKS7R

— Liubov Tsybulska (@TsybulskaLiubov) May 7, 2022
Snoozle time!!!!!
Your semi daily Chef Jose Andres:
Our new @WCKitchen warehouse is up and running in Dnipro in Ukraine! The team is creating 30 pound food bundles for families to cook with…They are distributed across the region—especially to villages near the front lines that don't have reliable access to food! #ChefsForUkraine pic.twitter.com/qzRe2oLDGD

— José Andrés (@chefjoseandres) May 7, 2022
I keep meaning to post this. It is very well done!
where there's a tractor, there's a way pic.twitter.com/CVX7EeF1Zf

— Ukraine / Україна (@Ukraine) May 6, 2022
Open thread!