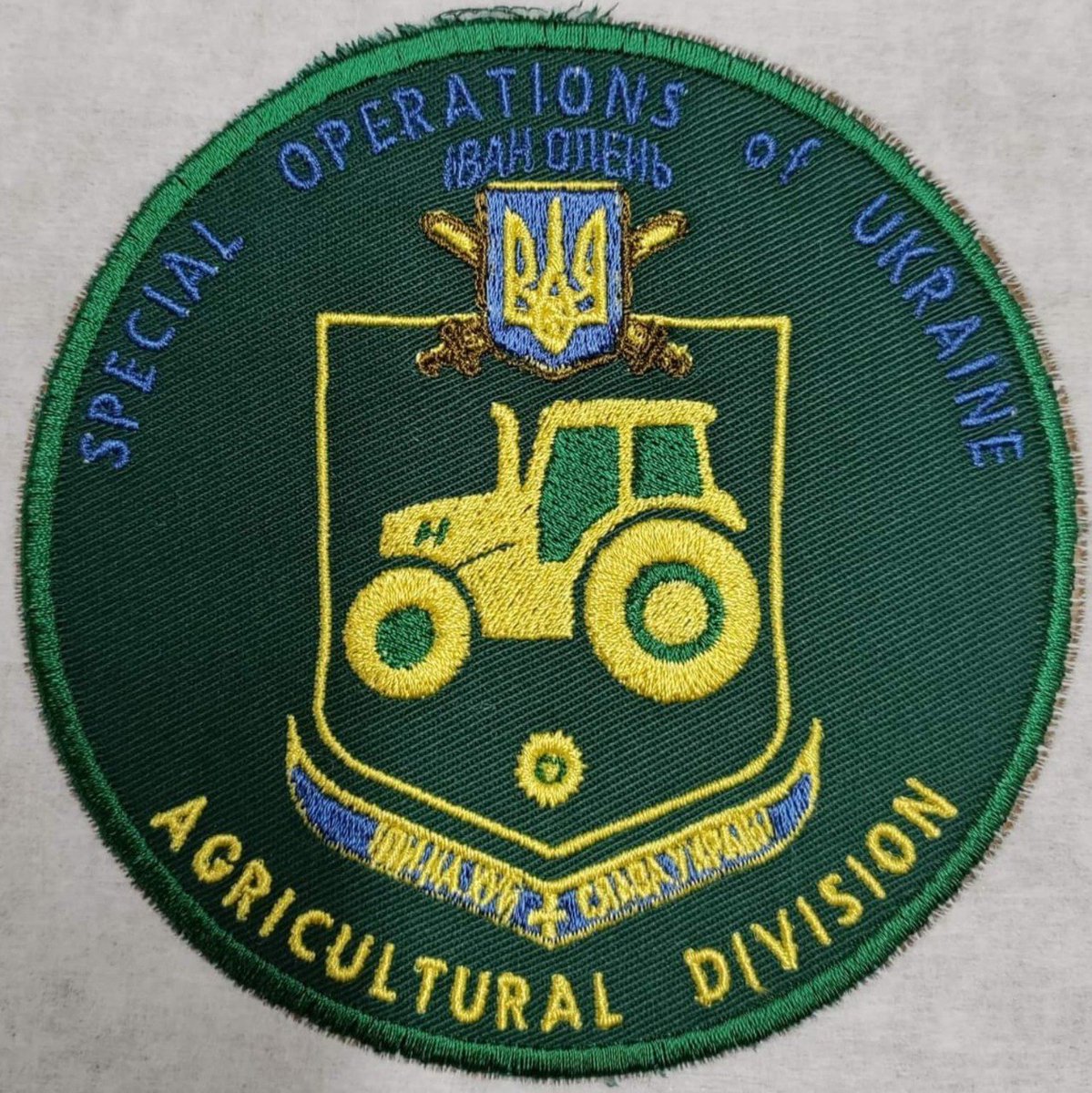 Before we get into the addresses and transcripts, etc, let's take a look at what is going on with the Ukrainian counterattack in Sievierodonetsk.
SEVRODONTESK /2100 UTC 06 JUN/ UKR Gen'l Staff reports RU mounting offensive operation in Vojevodivka industrial area. Line of contact presently conforms to Bohdan Lishina Street. Though heavy fighting continues, UKR forces have maintained positions. (FEBA) assessed as stable. pic.twitter.com/Kh8KPupqzN

— Chuck Pfarrer (@ChuckPfarrer) June 6, 2022
For those that want a bigger image and don't want to click, here it is from Chuck Pfarrer's tweet above: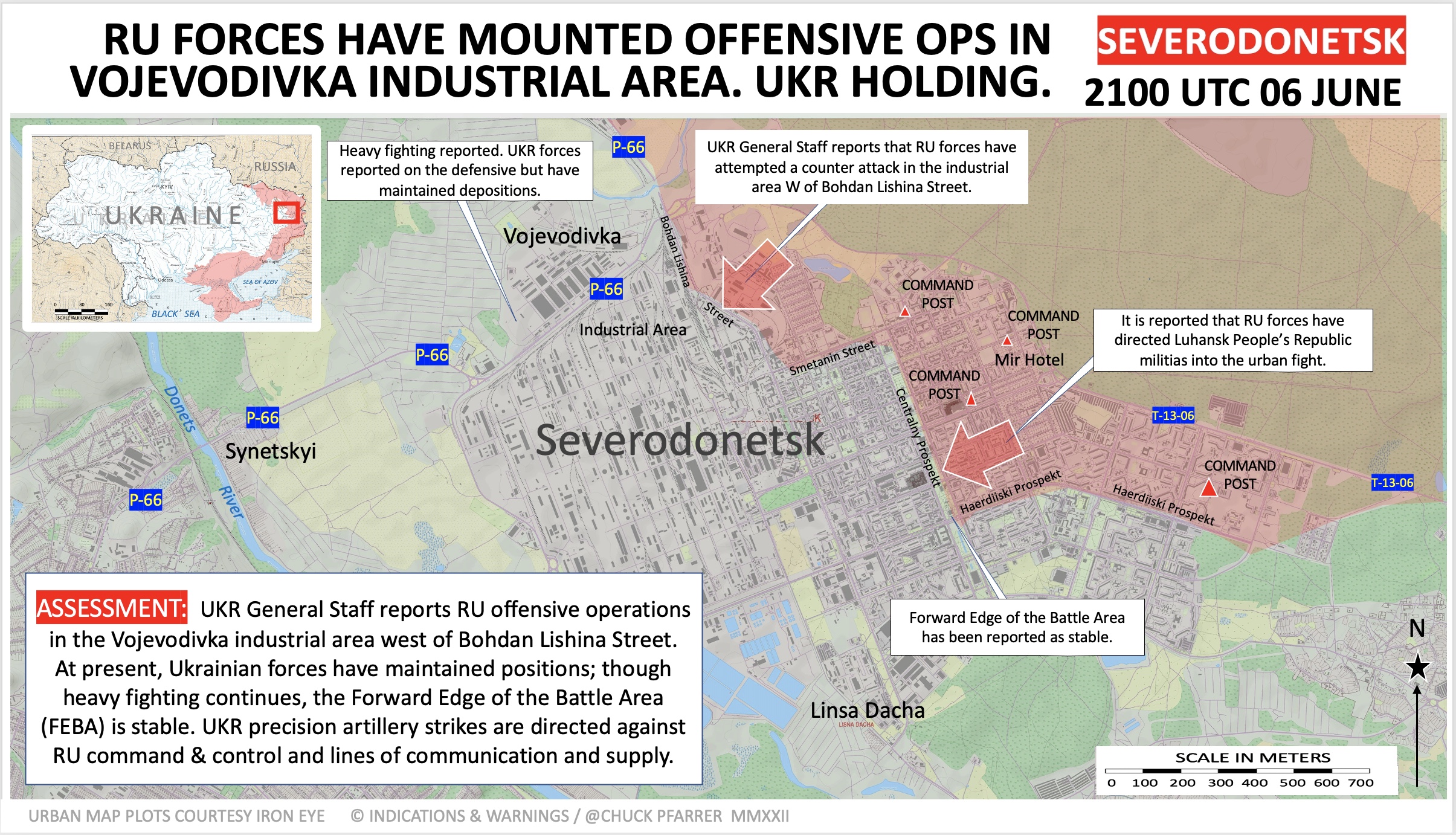 Despite what some people on social media are saying, the lines are relatively stable. The Ukrainians are fighting hard to push the Russians back and out, but right now its an arm wrestling contest.
Here's President Zelenskyy's address from earlier tonight. Video followed by English transcript after the jump (emphasis mine):
Ukrainians!

Good health to you!

Today was a busy day. A day of important communication, important meetings.

I congratulated the journalists on their professional holiday. During the war, the word "holiday" sounds very unnatural, but every year on this day, June 6, greetings are heard for the people on whom, of course, we all depend. On the information they spread. On the speed at which they work.

Of course, we do not celebrate this year. But still, we congratulate them. We still note the contribution of journalists of Ukraine and all those on whom the work of the media depends: cameramen, engineers, editors, photographers, producers and everyone without whom broadcast is impossible and websites will not work. These are the people who keep the information front and to whom I am grateful for this on behalf of all of us, all Ukrainians.

Today I awarded correspondents and media workers who are working on the battlefield now. I also presented awards to the relatives of those whose lives were taken by the war.

32 media workers have been killed since February 24. This list includes different biographies, different personal stories. And not only citizens of Ukraine. Today, during a special ceremony in the President's Office, everyone was remembered. Their memory was honored with a moment of silence.

I spoke today with Prime Minister of the United Kingdom Boris Johnson. I informed him about the situation on the battlefield, about our capabilities and key current dangers, especially in Donbas and in the southern regions of Ukraine. I am grateful to Prime Minister Boris Johnson for fully understanding our needs and for his willingness to provide Ukraine with the weapons we so desperately need to protect the lives of our people.

I also spoke with Polish President Andrzej Duda. Of course, about defense support for Ukraine. This is a mandatory topic for each of my negotiations. And I am grateful to our partners who act quickly and do not postpone their decisions. I am grateful to Poland.

The issue of candidate status for Ukraine was also discussed with Andrzej, which is a key political issue right now. We are waiting for the decision of the European Union on our application in the coming weeks. I believe that this will be a decision not only about Ukraine, but also about the entire European project. About whether it has a future as a really strong union.

I am preparing for a new wave of appeals and communication with the political and expert communities of the world in order to guarantee our state the support we so desperately need. This is a constant process – the maintenance of attention, and it cannot be stopped for a single moment.

And that applies to everyone, really. Every modern person is well aware of how the media works. It is very difficult to keep an eye on one topic for a long time. For the attention to Ukraine, to our struggle for freedom not to decrease, everyone must continue to talk about what is happening. Please share information. Support our needs.

Of course, this primarily applies to journalists. And today, by the way, I want to wish them not to be locked on our internal Ukrainian context. The more we say about Ukraine in the world, the sooner we will be able to end the war and liberate our land.

Of course, this applies to all representatives of the state and Ukrainian politics. Work for our defense – in unity and in full force.

But do not forget that business, culture and ordinary people can also do a lot to keep Ukraine at the top of global attention.

A simple example – today I was presented with postage stamps issued in Spain in support of Ukraine. It may seem that the postage stamp can't change anything. But it is a symbol of the attention to our struggle that millions of people will see.

Creating such symbols, encouraging the creation of such symbols, talking about Ukraine and encouraging talks about Ukraine – this is what will help us in negotiations with representatives of states on specific important assistance that Ukraine needs today.

Our heroes hold their positions in Severodonetsk. Fierce street fights continue in the city. Lysychansk, Slovyansk, Bakhmut, Sviatohirya, Avdiivka, Kurakhove and other directions of Russian strikes are the hottest points of confrontation today.

The Russian army is trying to use additional forces in the Donbas direction, but it is the 103rd day – and the Ukrainian Donbas stands. It stands firmly. We do everything for the defense in the Zaporizhzhia and Mykolaiv directions as well. I am grateful to everyone who endures the strong pressure of the occupiers and defends our state.

17,864 combatants have been awarded state awards of Ukraine since February 24. This number 100% demonstrates the scale of our people's heroism that became the response to Russia's full-scale invasion. I signed a new decree today on awarding our military. 121 warriors were awarded, 32 of them posthumously.

Eternal memory to all who gave their lives for Ukraine!

Eternal glory to all our heroes!

Glory to Ukraine!
Here's today operational update from the Ukrainian MOD (emphasis mine):
The operational update regarding the russian invasion on 18.00 on June 5, 2022

The one hundred and second (102) day of the heroic resistance of the Ukrainian people to a russian military invasion continues.

In the Volyn and Polissya directions, the enemy did not take active action. The main efforts of the units of the Armed Forces of the republic of belarus continue to focus on reconnaissance and engineering equipment positions. During the inspection of combat readiness of units, special attention is paid to the development of tasks to overcome water obstacles and the interaction of airstrikes with the crews of helicopters of army aircraft.

In the Siversky direction, the enemy is intensively guarding areas of the Ukrainian-russian border in the Bryansk and Kursk regions. He carried out mortar shelling of civilian infrastructure near the village of Gremyach, Chernihiv oblast.

In the Slobozhansky direction, the enemy continues to fire on units of the Defense Forces with artillery, rocket-propelled grenade launchers, mortars and tanks. In order to support the offensive, it is rapidly rebuilding transport and railway infrastructure in the temporarily occupied territories. The use of electronic warfare continues to create conditions that make it impossible for UAV units to use UAVs.

In the Kharkiv direction, the enemy conducted an active defense, focusing its efforts on maintaining the occupied borders and border areas north of the city of Kharkiv. In order to increase the stability of the defense conducts engineering and fortification equipment positions and mining approaches to them. To restrain the actions of the Defense Forces, it is conducting intensive artillery and mortar shelling of the positions of our units. In addition, the enemy fired on civilian infrastructure in the areas of the settlements of Tsyrkuny, Ruski and Cherkasy Tyshky, Staryi Saltiv. He fired missiles at the Korotych settlement.

In the Slovyansk direction, the enemy's efforts are focused on continuing the offensive in the direction of the settlement of Slovyansk. The enemy fired on civilian infrastructure in the areas of Chepil, Dibrovne, Virnopillya, Dovhenke and Bohorodychne.

The occupiers tried unsuccessfully to conduct offensive and assault operations in the areas of the settlements of Bohorodychne and Dovhenke.

In the Donetsk direction, the enemy launched air strikes on civilian infrastructure in the areas of Slovyansk and Lysychansk.

In the Lyman direction, with the support of artillery, the enemy resumed the offensive near the village of Svyatogirsk, has significant losses in manpower, weapons and equipment. Conducts assault operations in the direction of the settlement of the Stary Karavan. The fighting continues.

In the Siverodonetsk direction, the enemy fired mortars, artillery and multiple rocket launchers at units of our troops and civilian infrastructure in the settlements of Siverodonetsk, Lysychansk, Toshkivka, and Ustynivka.

In the Bakhmut direction, enemy units shelled the settlements of Komyshuvakha, Mykolayivka, Bilohorivka, Pokrovske, and Dolomitne. The enemy used assault and army aircraft near Bakhmut and Berestov.

The occupiers carried out assault operations in the areas of Bilohorivka and Mykolayivka. The enemy suffered significant losses in manpower and equipment. There is no success, the fighting continues.

In the Avdiivka, Kurakhivka, Novopavlivka and Zaporizhzhia directions, the enemy did not conduct active hostilities. He fired on civilian infrastructure in the settlements of Zaitseve, New York, Toretsk, Krasnohorivka, Marinka, Uspenivka, Orikhiv and Kamyanske. He struck from operational-tactical and army aircraft near Novoselivka, New York, Marinka and Kamyansky.

In the South Buh direction, the occupiers fired on the positions of our troops and tried to wage a counter-battery struggle. In order to clarify the position of our units and correct the fire, we conducted air reconnaissance using UAVs. The enemy used artillery in the areas of the settlements of Mykolyiv, Prybuzke, Luch, Blahodatne, Shyroke and Tokareve.

russian occupiers carried out assaults in the area of ​​the settlement of Bila Krynytsia in order to restore the previously lost position. After the fire, the Defense Forces of Ukraine retreated to their former positions.

The enemy continues to suffer significant losses during hostilities on the territory of Ukraine. In order to replenish units, russian invaders continue forced mobilization measures in the temporarily occupied territories of Donetsk and Luhansk oblasts.

We believe in the Armed Forces of Ukraine! Together to victory!

Glory to Ukraine!
While it isn't covered in today's operational update, I've seen some concern that the Russians have now concentrated enough naval and amphibious forces in the Black Sea as to be able to attempt to mount a landing to try to take Odesa. I think this would be stupid based on what we've seen of Russia's ability to conduct effective operations so far, but Putin badly wants Odesa so who knows.
Here's today's assessment from the British MOD: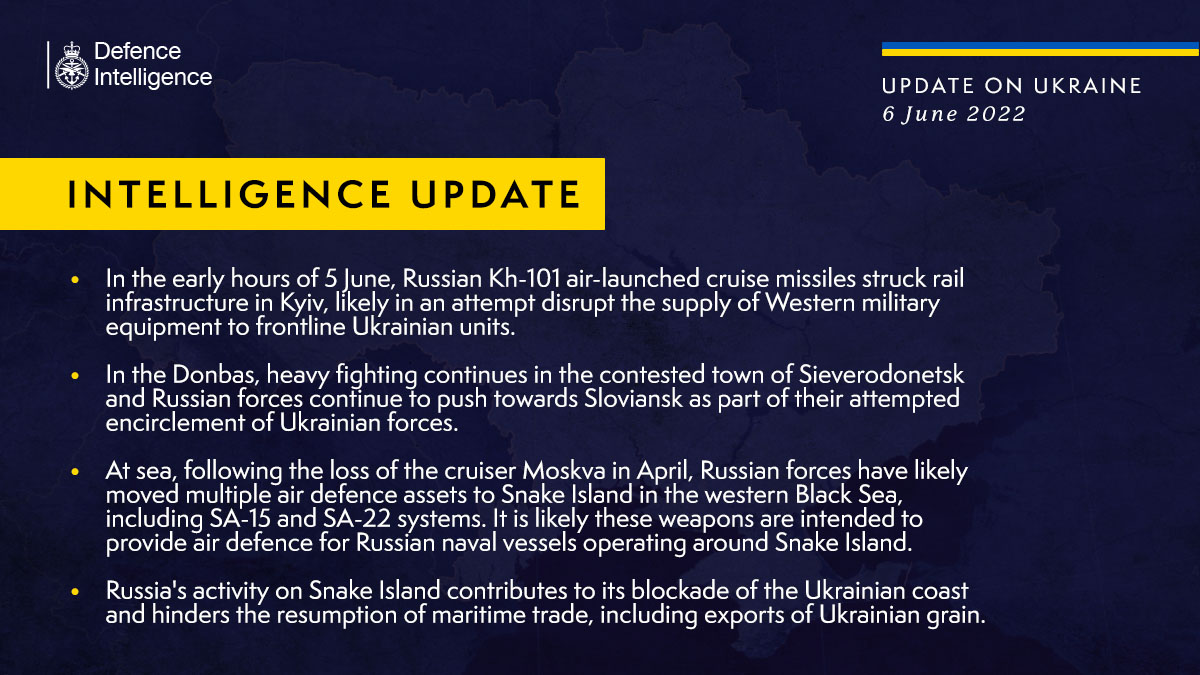 Some of that chatter about concentrating naval and amphibious forces for a potential landing and assault in southern Ukraine is partially based on what the British intel bubbas and bubbetts are reporting in regard to the Russians reinforcing their assets on Snake Island.
And here's their updated map for today: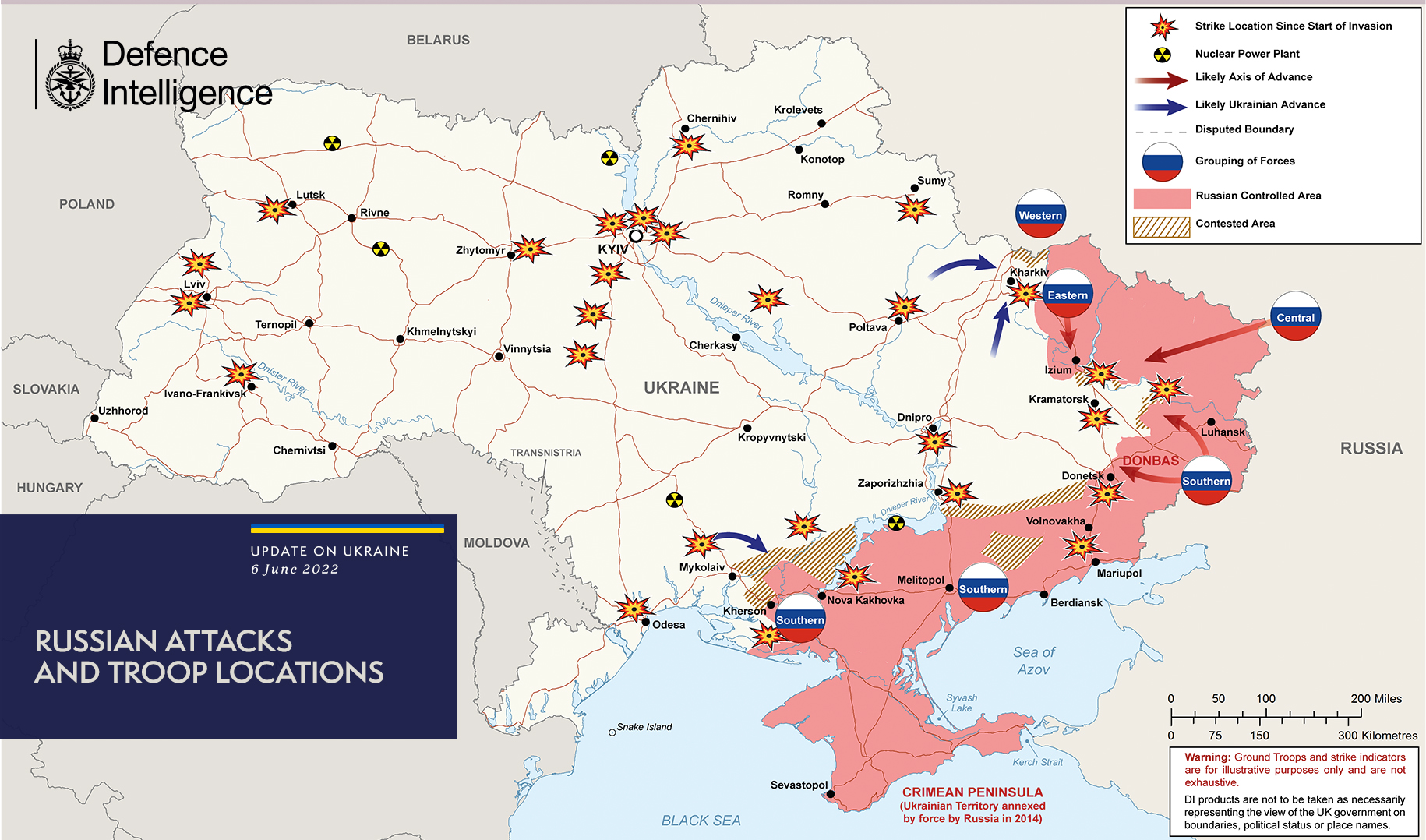 The overall lines of engagement are still fairly stable. No big breakthroughs in either direction. I think we're going to see this continue for a while. Basically things will go on as they are and then something will change and when that happens the change will be quick and noticeable.
There was no DOD backgrounder today. However, GEN Milley drew a through line from the Allied landing on D-Day 78 years ago today and Ukraine's defense against Putin's re-invasion in his remarks at the cemetery in Normandy.
The top Pentagon general said Monday that Ukrainians are "experiencing the same horrors that the French citizenry experienced in World War II at the hands of the Nazi invaders," drawing a direct comparison between Russia's invasion of its neighbor and a conflict fought on the nearby beaches of Normandy 78 years ago.

Army Gen. Mark A. Milley, chairman of the Joint Chiefs of Staff, said the world is "again seeing death and destruction on the European continent." He stood among the snow-white marble headstones of Normandy American Cemetery and Memorial, the final resting place for more than 9,000 U.S. troops killed in action.

Milley commemorated their sacrifices as he and the defense chiefs from countries supporting Ukraine meet this week in the Normandy countryside to discuss how else they may assist Kyiv in fighting off a Russian invasion that has left tens of thousands dead.

"The world has come together in support of the defense of Ukraine against a determined invader," Milley said, speaking a short distance from where U.S. troops came ashore on Omaha and Utah beaches. He said the fight now is about maintaining "the order that was established in 1945 at the conclusion of World War II."

That included the establishment of the NATO military alliance, whose members have rushed weapons and ammunition to the Ukrainian border to help Kyiv fend off Russian forces. Underpinning the world order established after World War II was the principle that "strong countries cannot just invade small countries," Milley said, adding, "That aggression cannot be left to stand."

Milley recalled the German blitz across Europe beginning in the late 1930s and how millions of people were killed in the years to come. He said the world was slow to respond. "Let not those who lay here be the last witnesses to a time when allies came together to defeat tyranny. Let's all band together as allies, partners and friends. Let us continue to stand shoulder to shoulder as an alliance," he said.
GEN Milley expanded on this in his remarks with reporters after his speech.
The United States and its allies will keep providing "significant" support to Ukraine out of respect for the legacy of D-Day soldiers, whose victory over the Nazis helped lead to a new world order and a "better peace," Army Gen. Mark Milley, chairman of the Joint Chiefs of Staff, said Monday.

In an interview with The Associated Press overlooking Omaha Beach in Normandy, Milley said Russia's war on Ukraine undermines the rules established by Allied countries after the end of World War II. He spoke on the 78th anniversary of the D-Day invasion of Allied troops onto the beaches of France, which led to the overthrow of Nazi Germany's occupation.

One fundamental rule of the "global rules-based order" is that "countries cannot attack other countries with their military forces in acts of aggression unless it's an act of pure self-defense," he stressed. "But that's not what's happened here in Ukraine. What's happened here is an open, unambiguous act of aggression."

"It is widely considered to undermine the rules that these dead — here at Omaha Beach and at the cemetery at Colleville-sur-Mer — have died for. They died for something. They died for that order to be put in place so that we would have a better peace," Milley said, speaking at the American Cemetery overlooking the shore in the northwestern French village at Colleville-sur-Mer.

That's why "the nations of Europe, the nations of NATO, are supporting Ukraine with lethal and nonlethal support in order to make sure that that rule set is underwritten and supported," Milley explained.

Asked about whether Ukraine gets enough support, Milley noted "there's a very, very significant battle going on in the Donbas," in reference to Ukraine's heavily contested eastern industrial region bordering Russia. "But Kyiv (the capital) was protected and successfully defended against. The Russians had to shift their forces to the south in the Donbas. And we'll see how this plays out."

"I think that the United States and the allied countries are providing a significant amount of support to Ukraine, and that will continue," he said. He didn't elaborate.

Milley also had strong words about Ukraine at the ceremony at the American Cemetery, attended by over 20 World War II veterans and several thousand spectators.

"Kiev may be 2,000 kilometers away from here, they too, right now, today, are experiencing the same horrors as the French citizens experienced in World War II at the hands of the Nazi invader," Milley said in his speech. "Let's not those only here be the last witnesses to a time when our Allies come together to defeat tyranny."
Before we move on, here's where that through line that GEN Milley made in his remarks today began: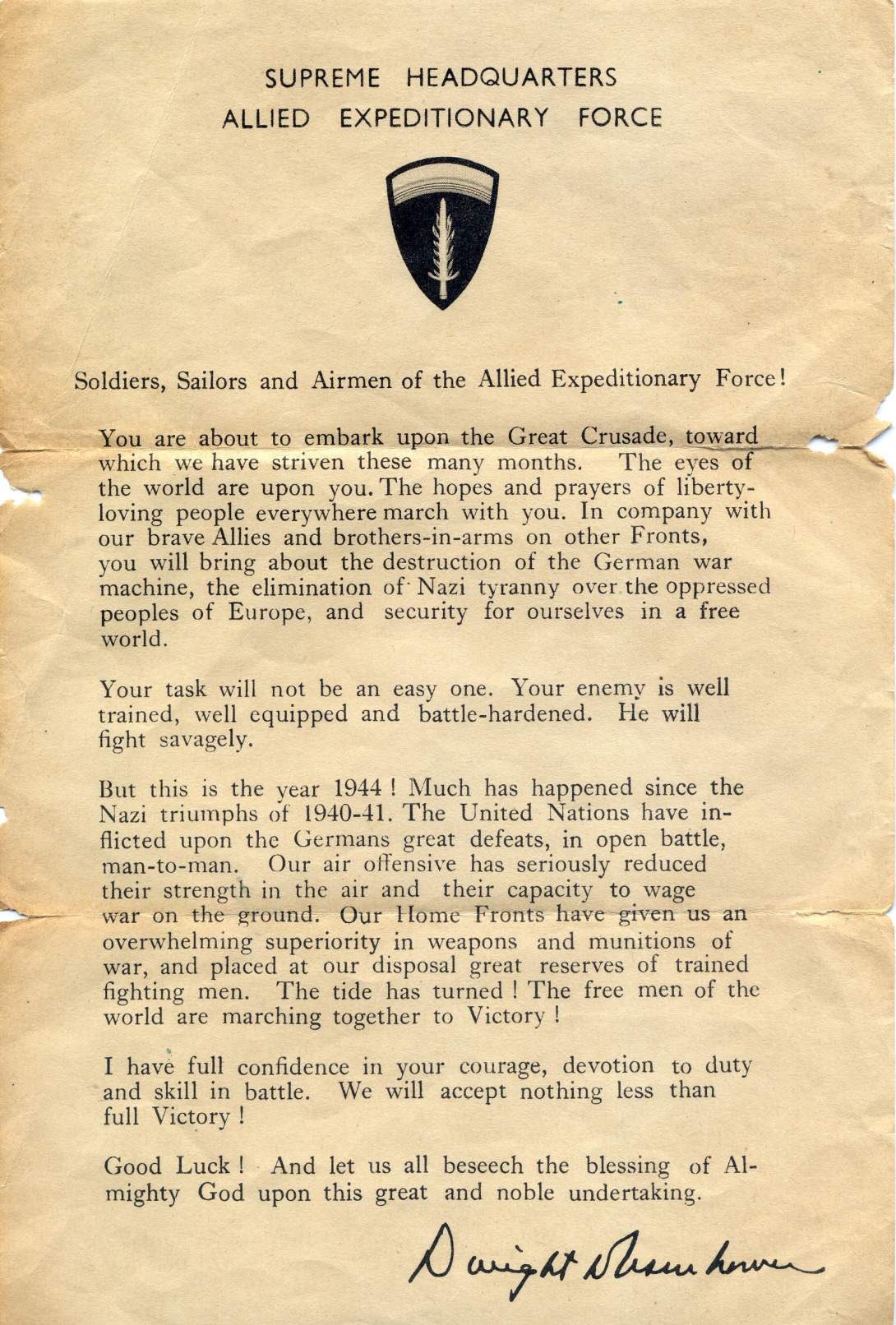 You could change NAZI and German to Putinist and Russian and allies, United Nations, and the world to Ukraine and Ukrainian and every word of Eisenhower's address to the Allied Force would be appropriate for Ukraine's defenders.
Estonian Prime Minister Kaja Kallas made similar through lines in her speech upon being awarded the Grotius Prize in London today:
Ladies and Gentlemen,

I am really honoured to be here today. Actually, it is somewhat unbelievable that I'm receiving this prize, because it is literally the first lesson in law school that you are learning Hugo Grotius. It was also the first exam I ever failed. Had someone said to me back in 1995 that one day you will receive a Hugo Grotius prize, I would have laughed so hard – and so would have my professors. But miracles happen and here I am.

The international rules-based order begins from home. I was a teenager 30 years ago when Estonia climbed out of its totalitarian prison in 1991.

Totalitarianism is fixated on the destruction of individuals and freedom. In autocracy the individual does not matter. The individual does not have any rights.

After restoring independence and freedom following Soviet occupation, Estonia had a very difficult task: to build a free and open society, a parliamentary democracy with the rule of law at its core.

This was not an easy task – re-establishing a democratic relationship between the citizen and the state is nothing you do overnight, and it is nothing you can from books.

We started from zero or even sub-zero as the Soviet Union had normalised corruption, there was no rule of law – collective cause always prevailed over individual rights and liberties. This is best illustrated by the fact that during the Soviet occupation we practically only had criminal law as there was no private property – so there were no laws for safeguarding individual rights.

Autocrats do not care for the people, they only care for their power. Last year's Nobel Peace Prize laureate Dmitri Muratov called this a question between, and I quote, "people for the state, or the state for the people."

Life under Soviet occupation shaped the attitude of our people back then – the state was not ours but theirs – the occupiers', so it was fine to steal from the state.

Establishing market liberalism and parliamentary democracy demanded a turnaround in attitudes and identity – the state was no longer "theirs" but "ours". The assets were no longer "theirs" but "ours". The rights of individuals and the rule of law were placed at the centre of governance. This meant rooting out corruption and building up strong institutions in support of a society and safeguarding individual rights.

I'm a lawyer by profession. Upholding agreed commitments and laws is central to my worldview. This ensures stability at national as well as at international level – in fact the way states treat their own citizens tells a lot about their international behaviour.

Staying true to laws and norms is a question of peaceful co-existence – it should stop countries from conquering their neighbours. It should allow countries to choose their own paths, their own foreign policy orientations, and their own alliances without being threatened by force. It should keep individuals safe and prevent grave human sufferings.

The best way to secure peace and stability is by staying true to the principles and commitments we have made to each other. This should mean that might makes no right and all countries would settle disputes peacefully. That is not the case today.

Russia is the most direct threat to European security right now. In fact, should it get away with its aggression, it would undermine peace and security around the world – if aggression pays off somewhere, it serves as an invitation to use it elsewhere.

That is the reason why we are so committed to helping Ukraine push back Russian aggression. What we are defending is the very idea of freedom, territorial integrity and sovereignty – that is, the right to exist as a country and the right to live free from repressions.

Securing and establishing this very idea was at the core when my own country was born in 1918. The United Kingdom played a key role in our ability to enforce this idea back then.

The decisive moment for the Estonian War of Independence against Soviet Russia over a hundred years ago came when a British naval squadron arrived in Tallinn. The arrival of British ships prevented the landing of the Soviet fleet in Tallinn at a time when the Estonian troops would probably not have been able to resist.

The British Navy in the Gulf of Finland ensured Estonia's maritime security practically throughout the entire War of Independence from 1918 to 1920. And the weapons you sent in the winter and spring of 1919 were of critical importance to the Estonian battlefront. This ensured Estonia 20 years of independence prior to falling under Soviet occupation for 50 years.

You do not need to look hard for parallels with today and the importance of giving support to Ukraine. The United Kingdom plays an essential leadership role in securing these very same principles today.

Ladies and Gentlemen,

We live at a moment when aggression has come right up to Europe´s borders. Coming today from Estonia, I come literally from the frontline of the free world and democracy.

The Kremlin is trying to build another divisive wall in Europe and this time Estonia is lucky enough to be on the right side of it. The same cannot be said for Ukraine.

The rules-based order requires that crimes committed would get investigated, evidence saved and those in breach of laws held accountable. As a lawyer, it is in my DNA to demand justice for every crime committed.

Let us zoom out and have a closer look at what is at stake in Ukraine. We are witnessing Russia´s state-orchestrated calls for genocide.

The Russian killing machine wishes and I cite: "to change the bloody and false consciousness of a part of today's Ukrainians". These are the words of Dmitry Medvedev.

The Kremlin including Putin have made it clear with their statements that their aim is to wipe Ukraine off the world map. "Denazification" is the official Russian label of this policy of destruction of the Ukrainian state and its people.

According to the Genocide Convention, what distinguishes genocide from other international crimes is the "intent to destroy, in whole or in part, [a protected group], as such."

This intent can be attributed to a state through evidence of a general plan – derived also from official statements or assumed from a systematic pattern of atrocities.

And incitement to commit genocide is a distinct crime whether or not genocide really follows.

High-level officials including Putin and state media commentators make propaganda with the clear intent to destroy Ukraine and Ukrainians, in whole or in part. We hear public denials of the existence of Ukrainian identity. And the Kremlin repeatedly invokes "denazification" as one of the main goals of its invasion, describing Ukrainians as subhuman. All those who self-identify as Ukrainian threaten the unity of Russia and are Nazis according to Russian propaganda. A "Nazi" is simply any Ukrainian who resists. All this rhetoric is used to portray Ukrainians as enemies and make them a seemingly legitimate target for destruction.

And it works. What we hear from the battlefields is that Russian soldiers have internalised and are responding to this genocidal campaign. For example, reported statements from soldiers as they're committing atrocities include: threats to rape "every Nazy whore," boasting about "hunting Nazis," saying "we will liberate you from Nazis."

No impunity for war crimes must form a cornerstone of our long-term policies. As the Nuremberg Tribunal historically declared in 1947 – crimes against international law are committed by individuals, not abstract entities. We need to have a very clear understanding – Putin and all those who have committed atrocities must know that their judgment day will come.

For that purpose, 20 years ago, the international community established the International Criminal Court in Hague. Many countries, including Estonia, referred crimes in Ukraine to this Court for investigation. The UK has played a leading role here. It is good that the Prosecutor launched an investigation promptly. Importantly, several countries, including my own, have initiated criminal proceedings also in their national courts, exercising universal jurisdiction. This demonstrates the gravity and scale of war crimes in Ukraine.

We must deliver accountability for war criminals and justice for victims. This would also send out an important message to would-be perpetrators. We should also make sure that aggressor pays reparations – the Kremlin must pay for every road destroyed, every building shelled and every bridge ruined.

And we must make sure that the civilian victims of this war would get compensation – for example via a separate fund for victims. For that, we should use Russian assets and central bank reserves frozen by sanctions.

For holding perpetrators accountable, Ukraine must win back its territories and Russia must fail. We must do all we can to help push back the Russian invasion and end massive war crimes at our doorstep. Otherwise, worse will follow. This is the lesson from our own history.

We must keep in mind that peace does not automatically mean that atrocities will end. Here I am speaking from the experience of many in Central Eastern Europe. For Estonia, peace after the Second World War meant the beginning of repressions. It carried a huge human cost and brought renewed suffering through mass killings, repressions, mass deportations and other crimes against humanity.

My mother was only six months old when she was deported on a cattle-car, along with her mother and grandmother to Siberia while my grandfather was sent to Siberian prison camp.  It was a miracle my family survived but many didn't. While Estonians were deported, Russians were occupying Estonia, trying to erase our culture and language. In 1922 the Russian minority amounted to 3,2% of our population, by the end of Soviet occupation the Russian population had increased to over 30%.

We are now seeing this being repeated in Ukraine in the Russian occupied territories– children being deported en masse to Russia, women raped, men imprisoned. Pictures from Irpin and Bucha, brought the brutality and massiveness of Russian war crimes against civilians to the global limelight. And we don't yet know the full scale of atrocities from Mariupol and elsewhere. And we probably won't know until these areas are liberated by Ukraine – but all signs suggest it will be Bucha many times over.

The experience of half of Europe after the Second World War should remind us that we cannot give anything to the aggressor that it didn't have before – otherwise the aggression will sooner or later return. We have done this mistake several times before – be it in case of Georgia, Crimea or Donbas.

That is why I am worried about premature calls for ceasefire or peace – there are no signs Russia has changed its aims and calculus. Until the Kremlin gives up its goal of conquering new territory in Ukraine, it is difficult to believe in the prospect of any real peace talks. I do not believe in goodwill by an outright aggressor and a cold-blooded war criminal.

Ladies and Gentlemen,

The free world has made many right decisions in support of Ukraine. But we have not been quick enough in implementing them – we need to speed it up.

What Ukraine needs today are arms to fight back aggressor and liberate their territories.

Our policies must be rooted in the understanding that the Russian threat will not go away tomorrow. There should be no return to business as usual with war criminals. In fact, there should be no business at all.

That is why we need to continue isolating the aggressor economically as well as politically.

Economic isolation means we need to dry up Russian war machine by making sure that the Russian troops run out of equipment and the Kremlin runs out of money.

Also, political isolation of an outright aggressor and war criminal is necessary.

We saw a strong judgment by the United Nations General Assembly which adopted with more than two-thirds majority a resolution condemning the Russian invasion and demanded a full withdrawal of Russian troops.

The International Court of Justice ordered Russia to suspend military operations, and the Council of Europe expelled Russia. United Nations member states suspended Russia from its seat at the Human Rights Council.

We have seen unprecedented reaction against the Russian aggression not only by states, but also by private individuals as well as companies. Their actions complement and support those by governments. And they also send out a clear signal of expectation to their governments.

In light of all this, let us review our engagement with Russia in international organisations and ask the following:

Are we really going to keep exchanging often sensitive data within INTERPOL – the International Criminal Police Organization – with obvious war criminal? Does it make sense to debate norms on responsible state behavior in cyber space with a pariah who has thrown out of window not only the Charter of the United Nations, but each and every norm of human decency. By the way even in war, there are rules and Russia has demonstrated its blatant disregard for all of them.

Ladies and Gentlemen,

I often get questions how we can improve relations with Russia. My reply is very frank – we should be courageous enough to admit that if it's necessary for stopping the aggressor, we must be ready to face a long and gruesome war.

There should be no fear of a bad relationship or a non-existent relationship with war criminals.

Ukraine is not the victim of a one-time miscalculation by a madman. We are witnessing a long-planned campaign by the Kremlin to exert control over neighboring countries by brute force, no matter the human cost.  We need patience and long-term persistence with policies to halt this aggression and also to prevent future ones.

Standing up against tyranny has a cost to all of us. Gas might be expensive, but freedom is priceless. It's up to every government to decide how much of the burden its people are ready to carry. But it is equally necessary we get the message through to our people – what is our neighbour's problem today will be our problem tomorrow. We are all in danger when our neighbour's house is on fire.

Hitting the right balance with policy is understandably one of the biggest challenges for democracies and for our freedom today.

We mustn´t get tired. After all, Ukrainians are not tired. Leadership matters. And it is the moral clarity of each and every one of us that helps drive policies to the right direction.

If we fail here, the international rules based order is at stake and no country and no nation can feel safe. We don't think about freedom and world order until they are gone. Let's make our best efforts so that nobody has to experience it.
We're starting to see reporting that Beijing is beginning to be bothered by Putin's re-invasion of Ukraine. From The Washington Post:
Russian officials have raised increasingly frustrated requests for greater support during discussions with Beijing in recent weeks, calling on China to live up to its affirmation of a "no limits" partnership made weeks before the war in Ukraine began. But China's leadership wants to expand assistance for Russia without running afoul of Western sanctions and has set limits on what it will do, according to Chinese and U.S. officials.

Moscow has on at least two occasions pressed Beijing to offer new forms of economic support — exchanges that one Chinese official described as "tense." The officials familiar with the talks spoke on the condition of anonymity because of the matter's sensitivity.

They declined to share specifics of Russia's requests, but one official said it included maintaining "trade commitments" predating the Feb. 24 invasion of Ukraine, and financial and technological support now sanctioned by the United States and other countries.

"China has made clear its position on the situation in Ukraine, and on the illegal sanctions against Russia," said a person in Beijing with direct knowledge of the discussions. "We understand [Moscow's] predicament. But we cannot ignore our own situation in this dialogue. China will always act in the best interest of the Chinese people."

China is in a bind as it seeks to help its most important strategic partner, which started a war that Beijing did not anticipate would now be entering its fourth month, Chinese and U.S. officials said. They said that President Xi Jinping has tasked his closest advisers to come up with ways to help Russia financially but without violating sanctions.

"That has been difficult," said a senior U.S. official. "And it is insufficient from the Russian standpoint."

The U.S. official said that China has tried to find "other opportunities" diplomatically, and through joint military exercises, to bolster Russia. Last week, Russia and China flew strategic bombers over the Sea of Japan and East China Sea while President Biden was in Tokyo, wrapping up his first trip to Asia. It was their first joint military exercise since the invasion of Ukraine and a pointed signal of the growing strategic partnership between Moscow and Beijing.

"What China is trying to do is to be with Russia, signal neutrality publicly and not be compromised financially," the U.S. official said. "Many of those goals are contradictory. It's hard to fulfill them at the same time."
Much more at the link!
Back in February the PRC and Russia issued The Joint Statement of the Russian Federation and the People's Republic of China on the International Relations Entering a New Era and the Global Sustainable Development. When I read it at the time, I thought this was the most important section:
The sides are seeking to advance their work to link the development plans for the Eurasian Economic Union and the Belt and Road Initiative with a view to intensifying practical cooperation between the EAEU and China in various areas and promoting greater interconnectedness between the Asia Pacific and Eurasian regions. The sides reaffirm their focus on building the Greater Eurasian Partnership in parallel and in coordination with the Belt and Road construction to foster the development of regional associations as well as bilateral and multilateral integration processes for the benefit of the peoples on the Eurasian continent.
My key takeaways from this were:
Putin needs Xi much more than Xi needs Putin. This places Xi in the position of becoming Putin's krysha (literally ceiling, means protector in this context) just as Putin has been the krysha for the oligarchs, siloviki, and organized crime bosses (often all the same people).

Xi's strategic approach is the game of go. The Belt and Road Initiative is one big application of go through the use of economic, financial, and legal power in service to intelligence and informational power, all subsumed within diplomatic power. Just the name – Belt and Road – immediately brings to mind the geo-spatial encirclement that is at the heart of the game of go.

Xi, by bringing Putin's EAEU in line with the BRI, has basically done two things.

Xi has captured the the EAEU by encircling/entangling it within the BRI

Xi, by doing so and by backing up Putin, gets access to the influence networks that Putin has developed for influencing the US and EU. The white Christian outreach, the neo-nationalists and separatists, the hard left of democratic socialists, etc. These are networks that are much harder for Xi's people to penetrate and the targets are much harder for Xi's people to cultivate. Guo's success notwithstanding and largely the result of the fact that Bannon can't recognize when someone is running the con on him rather than Bannon running the con on others.
This relationship and how it proceeds will be something to watch as things go forward.
That's enough for today.
Your daily Patron:
Who knows of Patron? A special 'hero' dog helping the emergency services of #Ukraine – here he is modelling the ID tag from the #POVIDOK project – supported by the @Naturewatch_org work here. https://t.co/jbtTVgfuTJ
(Photo – National Emergency Service of Ukraine) pic.twitter.com/2xffdpXN4r

— Hidden-in-Sight 🕵🏼‍♂️ 🇺🇦 (@hi_sight) June 6, 2022
And some Patron video from his TikTok:
Apparently this shows up properly on my iPhone and iPad, but not my MacBook. So if all you're getting is some links and no video embed, try it on your phone or tablet.
Open thread!