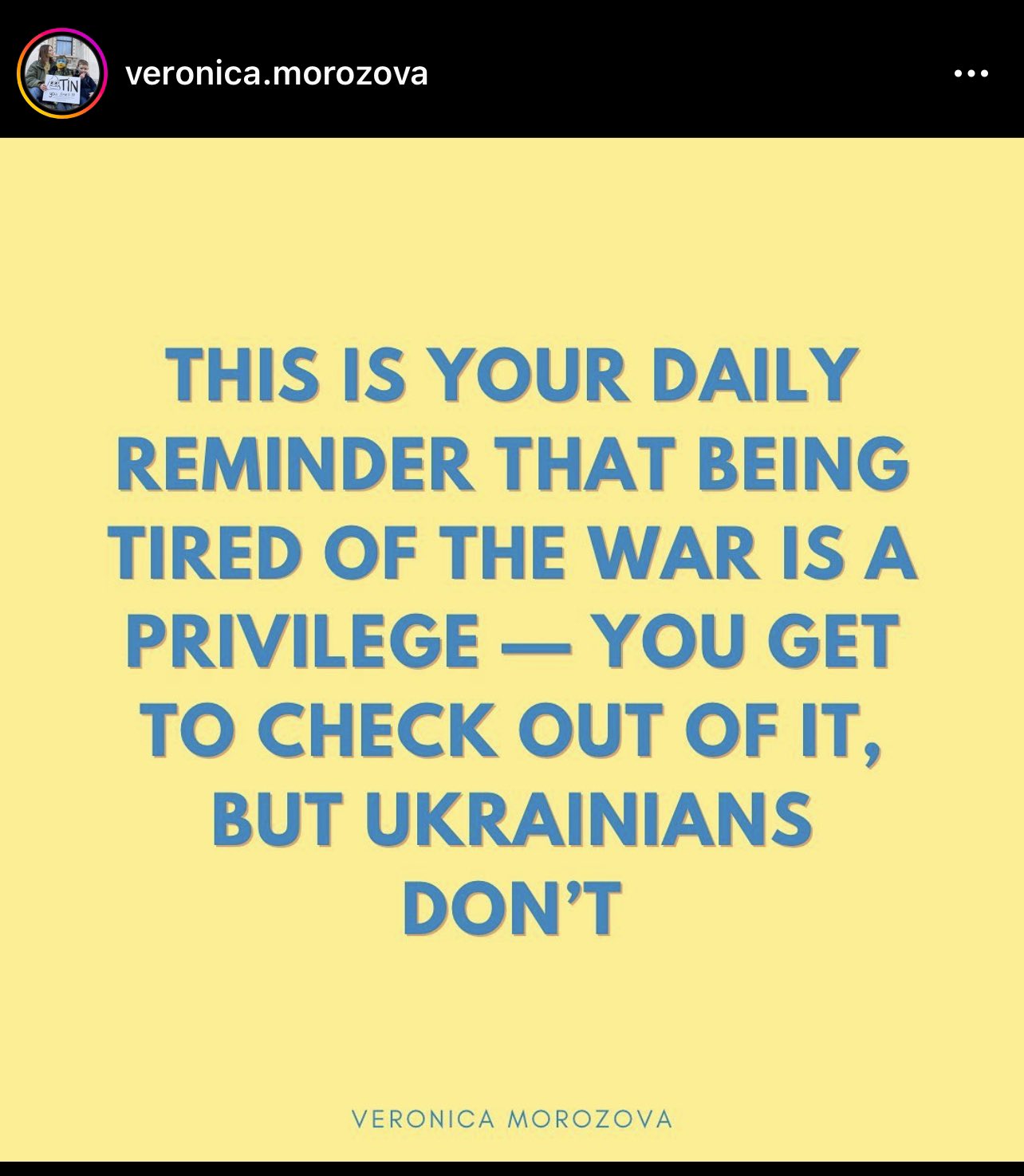 (Image found here, originally posted here)
I'm sure everyone's focus is on the 6 January Select Committee's first televised hearing, so I'm going to try to keep this pretty short tonight.
That said I do want to start with Putin's remarks at a conference for young Russian entrepreneurs today.
Here is the video I am talking about https://t.co/6YP2BVpaLt 2/5

— Elena Chernenko (@ElenaChernenko) June 9, 2022
He is assertive, cool-headed and absolutely self confident. And sure of his mission which he finally stated in plain text: "Peter the Great led the Northern War for 21 years. It would seem that he fought with Sweden, captured land… He didn't capture it, he returned it!" 3/5

Putin goes on: "When Peter the Great laid the new capital in St. Petersburg, none of the European countries recognized this territory as Russian, everyone recognized it as Swedens. But along with Finno-Ugric peoples Slavs lived ther from ancient times". 4/5

And the ending: "The same is true in the western direction, it concerns Narva, his first campaigns. Why did he care to do it? To returned (this land) and strengthen it – that's what he did… Apparently, it also our destiny to return and strengthen." 5/5
There's a couple of things to unpack here. If you click through to the video, or just want to watch the relevant excerpt, which you can find at this tweet, Putin looks well. None of the things that people were pointing to as indicators that he's quite ill are visible in the video from this appearance. Beyond noting it, I have no idea whether that is or is not indicative of anything.
The second thing, which is more important, is just how divorced from actual, factual reality Putin is. Right now his vaunted "second most powerful military in the world" is struggling to hold its lines in Ukraine. He doesn't have the capability – other than, perhaps, Sea and Air Power – to do anything to Sweden or any of these other "western" lands he's referring to. As we've been discussing for over three months now, he's rational, but only within the context of the alternate historical reality he's bought into and expanded on.
Here's President Zelenskyy's address to Ukraine from earlier this evening. Video with subtitles followed by English transcript after the jump.
Ukrainians! 

All our defenders!

I have recently finished a conversation with French President Emmanuel Macron. We talked primarily about defense support. Of course, this is a key topic. I informed Emmanuel about the situation on the frontline, about the possible development of confrontation in the coming days and weeks, about the intentions of the Russian occupiers and about our resistance.

Of course, we talked in detail about Ukraine's European perspective. We are preparing for a response to our application for candidacy.

The issues of security guarantees for Ukraine and for the whole of Europe were also touched upon. I am grateful that we discussed this topic with the President of France. We continue our work.

I also spoke today with the Prime Minister of Montenegro about the path of our countries to the European Union. In fact, we exchanged experience.

We continue very active work in all the countries of the European Union on a daily basis, so that the situation regarding the candidacy for our country is equally perceived there – in the west, in the east, in the north and in the south of the European Union.

Most Europeans support Ukraine's integration. And if Europeans support it, politicians who are still skeptical in some countries should not oppose themselves to the people, society and the very course of European history.

I addressed the participants of the ministerial meeting of the Organization for Economic Cooperation and Development. It is one of the most influential international organizations in the world. They severed ties with Russia. But substantial decisions are also needed – we need concrete pressure on Russia for what it is doing, including the crisis it has provoked in the world food market.

I held a very important meeting with government officials today. Economy, business, jobs. We discussed actions at three levels – what needs to be done right now, what we can do in the near future, no matter how difficult it is, and what we will definitely do after the war.

The first is a program of special grants to support small and medium-sized businesses. What can already provide new jobs and a new tax base.

The second is the development of our security sector in all its aspects. Both now and in the future. It is also a question of jobs, a question of professionalism and technologies. The security sector in Ukraine must become completely different from what it has been all these 30 years. From the state border to every street, to every school, to every infrastructure object – security must be 100% ensured.

And the third aspect is industrial recovery and attracting investment to the state. Localization, industrial parks, support of the state order, attraction of modern technologies to Ukraine. Relevant state programs are being prepared.

There are many discussions in Ukraine today about what the economic policy of the state should be both during the war and when we restore peace. I want to emphasize one detail. And this detail is fundamental. We have to get used to the fact that there can be only two parts of society – those who defend our independence and those who work in a way to ensure that defense. And this is not a question of one or another economic doctrine, not a question of one or another political position. We simply cannot afford to leave the shadow part of economic life in the country.

Of course, I understand that in some of our regions now, any economic activity – official or nonofficial – is a matter of mere survival. But if we talk about the normal, stable and strong life of society, the work of the state, our defense, we must understand: there are those who serve, and there are those who provide with their work those who serve.

So, this is official employment. This is the payment of taxes. This is the maximum expansion of economic opportunities in our country on legal grounds. And this is a complete modernization of state institutions.

Everyone who works in Ukrainian politics, who influences the public debate, should realize that there will be no more shadow in the country.

I am grateful to our communication workers, who today resumed television broadcasting in Kharkiv after the morning shelling literally within a day. Striking at TV centers, destroying communication channels, leaving people in isolation – these are the tactics of the occupiers, which they really cannot do without. Because openness and honesty are also weapons against everything that the Russian state brings.

The frontline situation today is without significant changes. Severodonetsk, Lysychansk and other cities in Donbas, which the occupiers now consider key targets, are holding on. We have a certain positive in the Zaporizhzhia region, where we manage to thwart the plans of the occupiers. We are gradually moving forward in the Kharkiv region, liberating our land. We are keeping defense in the Mykolaiv direction.

I am grateful to all our defenders who made this possible. Thanks to which we have endured 106 days of full-scale war already.

Eternal glory to all who stood up for our state!

Eternal memory to all who died for Ukraine!

Glory to Ukraine!
There is still no new/updated operational update posted at the Ukrainian MOD's site. Nor was there a DOD backgrounder today.
Here's the British MOD's assessment for today: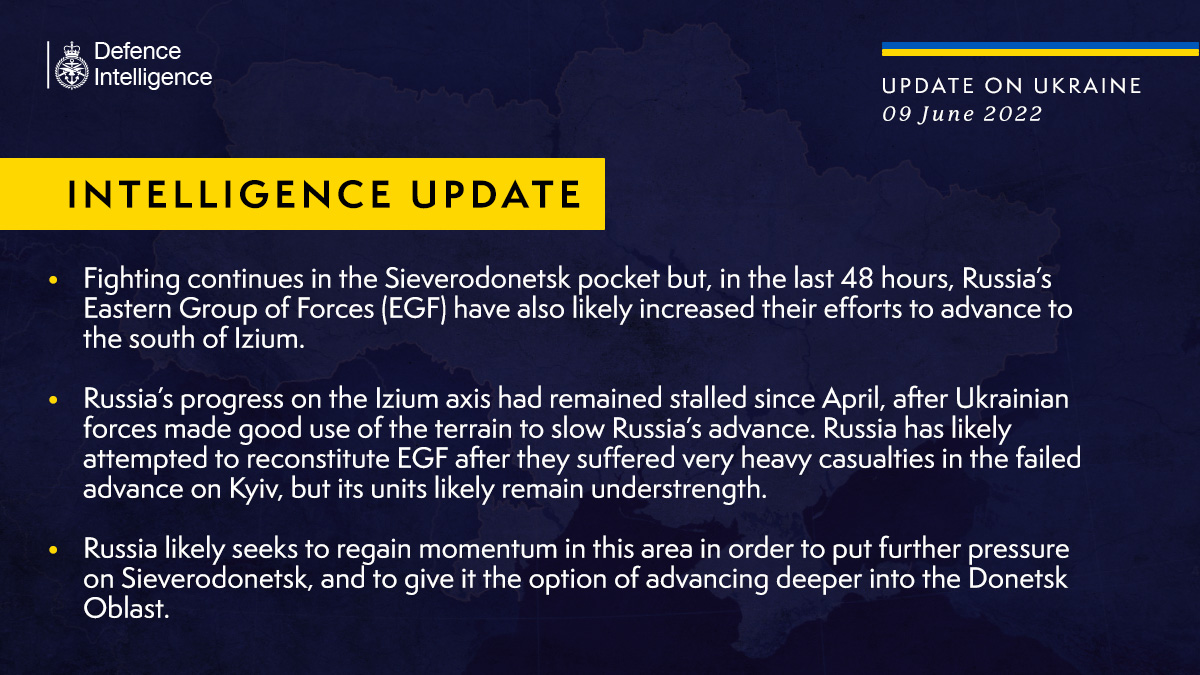 And here's their updated map for today: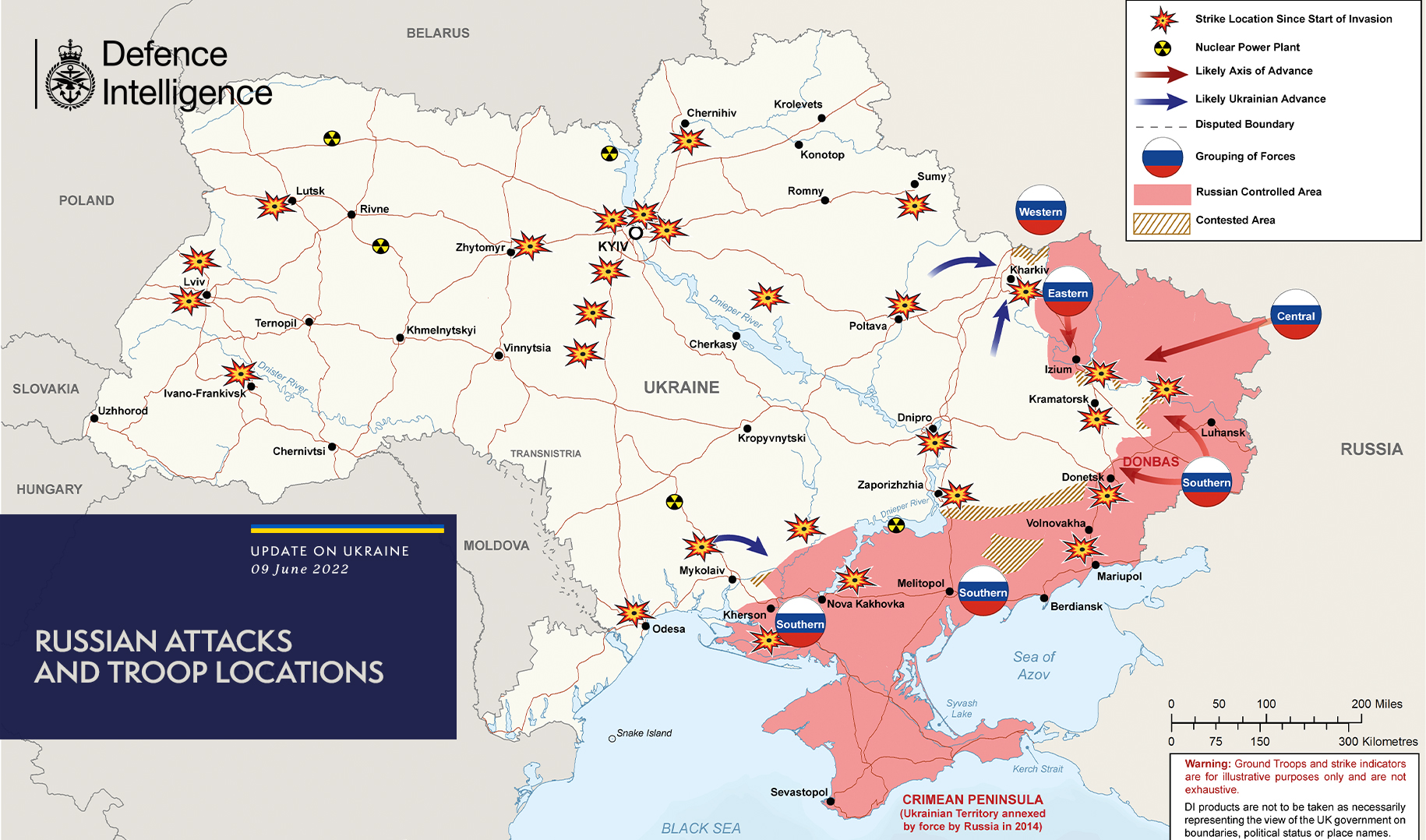 Again, its a battle of attrition and inches right now.
Here is former NAVDEVGRU Chuck Pfarrer's updated map and analysis on the battle of Sievierodonetsk:
SVERODONTESK/ 2145 UTC 09 JUN/ Urban lines of contact remain stable. RU continues heavy shelling. Topographic map shows Russian forces are unlikely to undertake flanking operation north of the urban area. /NOTE: New Map projection/ pic.twitter.com/SlhE8aGBjQ

— Chuck Pfarrer (@ChuckPfarrer) June 9, 2022
And here's an operational update on what is going on in the battle for Sievierodonetsk by Serhei Haday, who is the administrator of the Luhansk regional administration:
russians control most of #Severodonetsk. The industrial zone is under the #Ukrainian army. Fighting continues in the streets. #Lysychansk is under Ukrainian control. Over 90% of the region is temporarily under russian occupation #UkraineRussiaWar video @AFP pic.twitter.com/tByz3X33QM

— Serhiy Hayday (@serhey_hayday) June 9, 2022
At this link you'll find an interesting thread focusing on why the Donbas campaign is a battle of inches and attrition and not one of more open maneuver. The author has too many quote tweets and links for me to post the first tweet and then copy and paste the rest into a quote box. The bottom line is that neither the Ukrainian nor the Russian forces have the capabilities – in personnel or equipment – to open up the conflict and take advantage of the open, flat terrain.
I'm not looking to go back and revisit my analysis from last Saturday – for obvious reasons – but I think it is important to pay attention to the fact that the Russians are counting on what I forecast as one possible domestic American political outcome in order for them to achieve their strategic objectives:
This compilation of clips explains why the Russians think they're winning and don't need to negotiate. Spoiler: they're waiting for the GOP to prevail in midterms and abandon Ukraine. They're also encouraged by our media coverage—especially Tucker Carlson.https://t.co/h05qK1g2fs pic.twitter.com/XBw1G3VTHY

— Julia Davis (@JuliaDavisNews) June 9, 2022
I think that's enough for tonight.
Your daily Patron:
🇺🇦🦮You can't have too much of our #Patron , the rescue dog!
Amazing artwork by the participants of a children's contest launched on June 1st, on occasion of Children Protection Day@SESU_UA #StandWithUkraine #UkrainianArmy #StopRussia pic.twitter.com/LLtkTs2t4p

— U24 (@u24_news) June 10, 2022
Here's video of Patron playing with a stick:
Open thread!