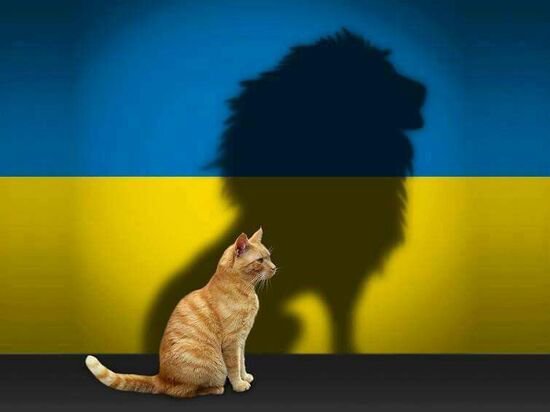 Sorry I'm a bit late with tonight's update. I've been doing a lot of research reading for a project I'm working on, turned off the TV, and was just reading away when I realized that it was 10:30 PM EDT and I hadn't eaten. Nor had I done the update.
Let's start with President Zelenskyy's address to Ukraine from this evening. Video with subtitles below and English transcript after the jump. (emphasis mine)
Ukrainians!

All our defenders!

A brief report on the passing day. By the way, it is the 107th day of our defense already.

Very fierce fighting continues in Donbas. I repeat these names every day: Severodonetsk, Lysychansk, Bakhmut, Slovyansk, many, many others. I repeat them at meetings with the military, with diplomats, talking to representatives of partner countries.

Russia wants to destroy every city in Donbas, "every" is not an exaggeration. Like Volnovakha, like Mariupol. All these ruins in once happy cities, black traces of fires, craters from explosions – this is all that Russia can give to its neighbors, Europe and the world.

This is probably the fastest example of the complete degradation of any state – the path that the Russian state has covered in 107 days.

The Ukrainian troops are doing everything to stop the offensive of the occupiers. As much as possible. As much as the heavy weapons, modern artillery – all that we have asked and continue to ask our partners for – allow them to.

I met in Kyiv with Secretary of State for Defence of the United Kingdom Ben Wallace. We talked exactly about this – how to stop Russian aggression, how to deprive it of offensive potential, what other supplies are needed for our army. The Britons demonstrate true leadership in defense matters.

I also addressed the British university community today and talked to students. I work at all levels so that the world can hear us and know what we need.

There were many questions from students about what our life would be like after this war. About reconstruction, attracting leading experts, about the education system.

Of course, we are preparing for a large-scale restoration of our state. Of course, we have already started reconstruction in the liberated territory. Of course, we will change a lot in our lives after this war. And it is good that the world is interested in details, they want to join, they are thinking how to find opportunities to work for Ukraine after our victory.

But the battles are still going on. And right now, in these very difficult battles, it is being decided when this "after" will come. It is being decided at which frontiers we will finally break the plans of the occupiers. And everyone should remind societies in other countries of this. Of the battles that are going on now. Of the support that is needed now. It depends not only on politicians and diplomats. But also on journalists, activists, entrepreneurs, our displaced persons who are abroad.

Now is the time that all Ukrainians must be one – a nation that is fighting and does not allow the world to divert its attention away from what is happening on the battlefield in Ukraine.

I also addressed the participants of the Copenhagen Democracy Summit today. I spoke, in particular, about the response of the European Union, which we expect for our application for candidacy. I will emphasize again and again: this will be the EU's response not only to Ukraine, but also to its own future – the future of the European project.

I am grateful to the British Government, the World Bank and the Government of Canada for new steps in financial support for Ukraine. The day before, our country received 1.5 billion US dollars: one billion is the World Bank, another 500 million is Britain. Direct budget support. We will use it to pay salaries in the public sector.

Canada, for its part, became the first country to send 1 billion Canadian dollars to our administrative account in the IMF.

The Government of Ukraine has already started implementing the decisions discussed at this week's meetings.

A bill has been approved that will allow customs clearance of cars through the state service in "Diia". The whole process of customs clearance will be fully transparent, convenient and immediately remove all the shadow schemes that were possible in previous years in this area.

I hope that the people's deputies of Ukraine will quickly vote for such a step.

Also today, the government has already presented specific details of new state programs that should provide new jobs and support for business in this very difficult time for all of us. This applies in particular to non-repayable grants for micro-businesses and other special financial support for small and medium-sized enterprises.

Despite all the pressure from Russia, despite all the Russian strikes, we will do everything to revive Ukraine's economy, economic activity.

In the evening I signed two decrees awarding our heroes. In total, 242 combatants were awarded, eight of them posthumously.

Eternal memory to all whose lives were taken by the occupiers!

Eternal glory to everyone who fights for Ukraine!

Glory to Ukraine!
There's still no operational update from Ukraine's MOD posted. At least not in English. There was also not a DOD backgrounder on Ukraine today.
Here's today's British MOD assessment: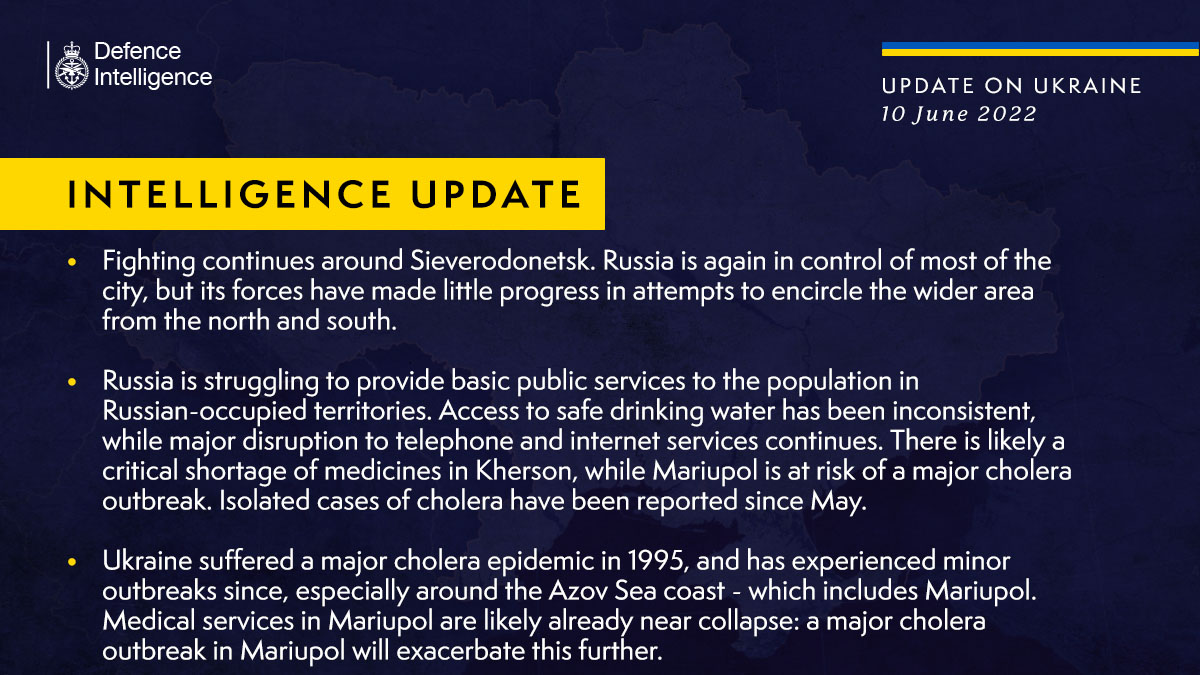 There are two things to note here. The first is the Brit's description of the battle for Sievierodonetsk. They're assessing that Russia has retaken control of most of the city. The second is that they are also assessing a potential cholera epidemic in Marioupol, as well as public health and issues with delivering basic goods and services in Russian occupied territories. Some of this is because Russia doesn't really care to do these things. Some of it is that they can't. The manner in which Russia is fighting it's re-invasion of Ukraine has deliberately destroyed so much infrastructure – hospitals, schools, water treatment facilities, roads, bridges, railways, food storage facilities, government buildings – has made it almost impossible for Russia to properly administer the territory it is illegally occupying even if it wanted to and had the capability to do so. It definitely doesn't have the capability and I expect it also doesn't really want to do it either.
There was no updated British map posted today.
The reality is, however, that in theater strategic level terms (macro level), there's almost no movement being shown. All of the movement is happening at the tactical level (micro level), where there's small amounts of movement by the Ukrainians and the Russians each day.
Here's former NAVDEVGRU Chuck Pfarrer's update map and analysis of the battle for Sievierodonetsk:
SEVERODONETS / 2020 UTC 10 JUN/ Non-UKR sources indicate significant RU advances south of the urban area. Severodonetsk airport reported captured. Urban FEBA stable in heavy fighting. Further RU advances west of airport unlikely. pic.twitter.com/sgd0sYd0iL

— Chuck Pfarrer (@ChuckPfarrer) June 10, 2022
Here's The Kyiv Independent's defense/military correspondent's take on what is going on based on his sources:
The situation is dangerous, but the Ukrainian command is still pretty confident. https://t.co/bSbbvFWt0f

— Illia Ponomarenko 🇺🇦 (@IAPonomarenko) June 10, 2022
The Deputy Director of Ukrainian Military Intelligence, Vadym Skibitsky, gave an interview to The Guardian, which was published this morning. He explains how the Ukrainians understand the Donbas campaign. (emphasis mine)
Ukraine's deputy head of military intelligence has said Ukraine is losing against Russia on the frontlines and is now reliant almost solely on weapons from the west to keep Russia at bay.

"This is an artillery war now," said Vadym Skibitsky, deputy head of Ukraine's military intelligence. The frontlines were now where the future would be decided, he told the Guardian, "and we are losing in terms of artillery".

"Everything now depends on what [the west] gives us," said Skibitsky. "Ukraine has one artillery piece to 10 to 15 Russian artillery pieces. Our western partners have given us about 10% of what they have."

Ukraine is using 5,000 to 6,000 artillery rounds a day, according to Skibitsky. "We have almost used up all of our [artillery] ammunition and are now using 155-calibre Nato standard shells," he said of the ammunition that is fired from artillery pieces.

"Europe is also delivering lower-calibre shells but as Europe runs out, the amount is getting smaller."

Zelenskiy said last week that between 60 and 100 Ukrainian soldiers were dying each day and a further 500 were being injured. Ukraine has kept the total number of its military losses secret.

Soldiers speaking to the Guardian from Ukraine's frontlines this week painted a similar picture.

Skibitsky emphasised the need for the west to supply Ukraine with long-range rocket systems to destroy the Russian artillery pieces from afar. This week the Ukrainian presidential adviser Oleksiy Arestovych told the Guardian that Ukraine needed 60 multiple-rocket launchers – many more than the handful promised so far by the UK and US – to have a chance of defeating Russia.

Ukraine is set to ask the west for a list of weapons and defensive equipment at the contact group meeting with Nato in Brussels on 15 June.

Skibitsky thinks the conflict will remain predominantly an artillery war in the near future and the number of rocket attacks – which can be launched from Russia and have hit civilians – will remain at their current rate.

"We have noticed that Russia is carrying out far fewer rocket attacks and it has used H-22 rockets; they are old 1970s Soviet rockets," said Skibitsky. "This shows that Russia is running low on rockets."

Skibitsky said Russia was unable to produce rockets quickly because of the sanctions and that it had used around 60% of its supplies.
Much, much more at the link!
Yesterday there was reporting alleging that Putin's FSO security detail collects all his bodily waste when he travels and sends it all back to Moscow for processing. While that was something of a news dump, today we got some clarification from Farida Rustomova, who previously reported for BBC Russia and Meduza.
Russian Federal Guard Service (FSO) agents accompanying Vladimir Putin abroad collect the president's urine and fecal matter in bags and deliver them to Moscow in a special suitcase, according to Paris Match. Putin's personal guards are probably doing this to conceal information about the President's possible illnesses.

But perhaps this peculiar system of conspiracy is arranged somewhat differently, and all secret substances are destroyed immediately on the spot. And it was first reported to the world by a rather unexpected source.

In February 2020, the famous American comedy actress Julia Louis-Dreyfus was a guest on The Late Show with Stephen Colbert. She was promoting the newly released Downhill movie starring her. While talking about filming it in Austria, the actress recalled a tour of the Kunsthistorisches Museum in Vienna arranged for the film crew. During this tour the museum staff told Louis-Dreyfus that prior to their visit Russian President Putin had come there. They revealed they had to set up a special private bathroom outside the museum for him to use when he needed to.

And Putin uses the same "porta-potty" as Louis-Dreyfus called it while traveling and on board his plane, museum staff said. "Like we're all that interested in his sh*t!" Louis-Dreyfus joked about this, comparing Putin to Dr Evil. She also added that all the fresh flowers had been removed from the museum's halls for Putin's sake.

An acquaintance of Putin's who has worked with him in the past noted in an old conversation with Faridaily that the practice of taking his toilet to foreign trips has been around for years, and the Russian leader has been doing this since the beginning of his rule. While traveling around Russia, his guards have the option of clearing Putin's used facilities if needed; it is not convenient to do so abroad. At the 2019 Normandy summit in Paris, BBC correspondent Jonah Fisher counted six security guards accompanying Putin to the toilet.
Much, much more at the link! Now everybody go wash your hands!
Your daily Patron!
First up for you gamers out there:
Patron the landmine finder! You can buy STL or painted model on https://t.co/lajKTfewBb and help to support Ukrainian people#scalemodel #warmongers #paintingminiatures #3dprintedmodels #3dprint #SupportUkraine #StayWithUkraine #patrondog #PATRON #Патрон pic.twitter.com/TFVJkPcfeB

— ZealSight | Flying Dreadnought (@ZealSight) June 9, 2022
And a short video from Patron's TikTok:
Open thread!