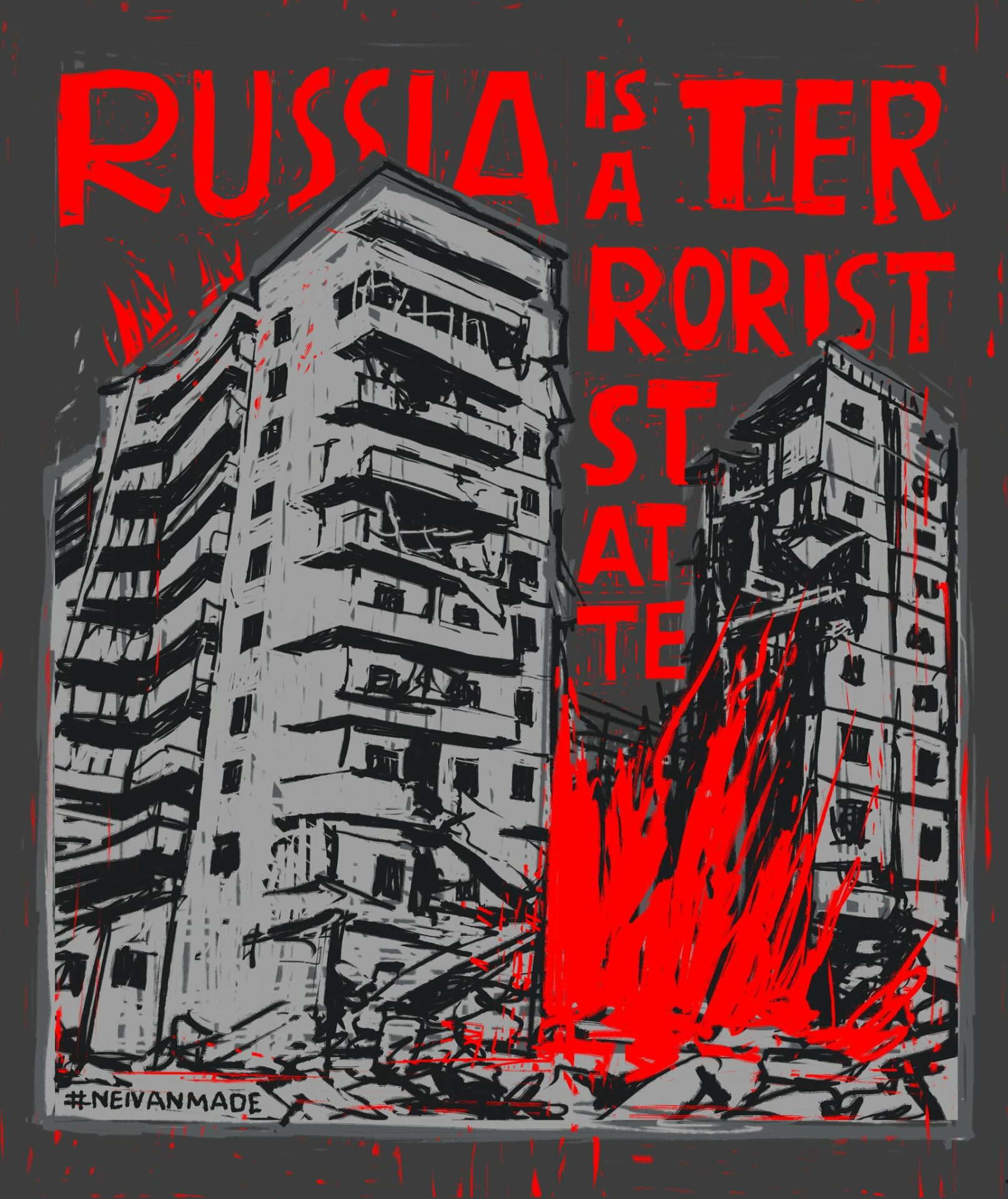 (Image by NEIVANMADE)
❗️SENSITIVE CONTENT

Three killed and three wounded – these are the consequences of a russian missile hitting the residential quarter of Kostiantynivka.

russian army continues to terrorize the civilians of Ukraine. pic.twitter.com/dK53Uxu55F

— Donbas Frontliner (@frontliner_ua) January 28, 2023
Yesterday Zelensky described the fighting at the frontline in eastern Ukraine as "extremely acute." Battles are raging in Bakhmut and Vuhledar. But Russia's firing missiles and artillery across the Donetsk region. One such attack on a residential area, seen below, killed 3 people https://t.co/Rs5y5d2rfJ

— Christopher Miller (@ChristopherJM) January 28, 2023
💔 Nina Kovalenko is crying over the body of her killed son Mykhailo. pic.twitter.com/GHcPOutTsr

— Donbas Frontliner (@frontliner_ua) January 28, 2023
Here is President Zelenskyy's address from earlier today. Video below, English transcript after the jump:
Ukrainians! Ukrainians! And all our partners!

Today, at 9:15 a.m., the Russian army fired a missile at our town of Kostyantynivka in Donetsk region. The enemy used S-300 missiles. They hit the residential sector. As of now, 17 names are on the list of victims. 14 are wounded. Three people were killed. My condolences to the families and friends…

These Russian missiles hit Konstantinovka, in particular, four residential buildings. Unfortunately, such shelling is a daily occurrence in our territories, which the Russian army reaches with such missiles. Donbas, Kharkiv region, the south of the country…

It would be possible to stop this Russian terror if we could provide our military with adequate missile forces. So that the terrorists would not have a sense of impunity.

Ukraine needs long-range missiles, in particular, to remove the possibility for the occupier to set up its missile launchers far from the front line and destroy Ukrainian cities with them.

I am grateful to everyone in the world: politicians, public figures, journalists and ordinary people who insist with us that there can be no taboos in the supply of weapons to protect against Russian terror.

We will do everything we can to ensure that our partners open up this vital supply of ATACMS and other similar weapons.

Because it is necessary to protect lives. To protect cities like Kostiantynivka or Kharkiv, for example.

Today, I continued our marathon of honesty, which should bring international sports organizations back to true Olympic principles.

I sent a letter to the presidents of the leading international sports federations. The call is simple and fair: to make a decision on the decision of the International Olympic Committee, which, unfortunately, wants to open sport to the propaganda influence of a terrorist state.

If Russian athletes appear at international competitions, it will only be a matter of time before they start justifying Russia's aggression and using terror symbols. And it is also only a matter of time before the Kremlin starts using the existing unprincipled "flexibility" of the International Olympic Committee to say that the world agrees to make concessions to the aggressor.

We cannot ignore the fact that every day Russia continues its terror.

Today, I signed a decree to implement the NSDC decision on sanctions against legal entities and individuals used by the aggressor state to transport military equipment and soldiers by rail. We are talking about 185 companies and individuals. Their assets in Ukraine will be blocked, and their property will be used for our defense. And we will work to ensure that similar blocking is applied by other countries.

I am grateful to everyone who helps us to strengthen sanctions against Russia! And, by the way, I thank all the investigators who expose the ways that the terrorist state uses to circumvent sanctions!

I am grateful to each and every one of you who are eliminating the consequences of Russian shelling and rescuing the wounded! And, of course, I thank each and every one of our soldiers at the front who are defending our positions and destroying the occupiers!

Today I would like to especially mention the units that are most effectively defending Donetsk region.

This is the 21st separate battalion of the 56th separate motorized infantry brigade – thank you for your resilience and repulsion of Russian attacks!

The soldiers of the 26th and 55th separate artillery brigades – thank you for your accuracy!

92nd separate mechanized brigade – thank you guys!

Thank you to everyone who gives Ukraine the necessary results every day and every night! And we will respond to every Russian attack. We will.

Glory to Ukraine!
We share 🇮🇱 pain after the terrorist attacks in Jerusalem. Among the victims is a 🇺🇦 woman. Sincere condolences to the victims' families. The crimes were cynically committed on the Intl Holocaust Remembrance Day. Terror must have no place in today's world. Neither in 🇮🇱 nor in 🇺🇦

— Володимир Зеленський (@ZelenskyyUa) January 28, 2023
Here is former NAVDEVGRU Squadron Leader Chuck Pfarrer's most recent assessments of the situations in Bakhmut, Kremenna, Soledar, and Vulhedar:
BAKHMUT /1310 UTC 28 JAN/ UKR troops are engaged in the urban area of Krasna Hora as RU tactical units attempt to take the T-05-13 / M-03 HWY junction. South of the city, the UKR Gen'l Staff reports two RU attacks were repelled S of Ivanivske. pic.twitter.com/dVGpF2FM1o

— Chuck Pfarrer | Indications & Warnings | (@ChuckPfarrer) January 28, 2023
KREMINNA AXIS /1325 UTV 28 JAN/ RU launched attacks across the P-66 HWY, engaging UKR troops at Novosadove & Chervonopopivka. UKR is a reported to have rebuffed these sallies. UKR air defense downed a RU 'SuperCam' recon UAV, as well as an Mi-8 helicopter. pic.twitter.com/O12k1EH2sy

— Chuck Pfarrer | Indications & Warnings | (@ChuckPfarrer) January 28, 2023
SOLEDAR AXIS /2220 UTC 28 JAN/ RU forces have crossed the rail line at Blahodatne and have effectively cut the T-05-13 HWY north of Bakhmut. Wagner units continue to press toward the critical M-03 / T-05-13 junction. Heavy fighting at Krasna Hora. pic.twitter.com/Bhol5hdNz7

— Chuck Pfarrer | Indications & Warnings | (@ChuckPfarrer) January 28, 2023
VUHLEDAR: In recent days, RU has attempted a combined armed offensive against the town of Vuhledar in the south. @Tendar posts this video of the disintegration of a RU task element during a failed attack. Morale and unit cohesion continues to deteriorate in Russian units. https://t.co/RxgcJgKFYs

— Chuck Pfarrer | Indications & Warnings | (@ChuckPfarrer) January 28, 2023
Mariupol:
"My grandpa and almost all of my friends died" – Angelina Balakireva, Mariupol pic.twitter.com/ER790DI0tw

— Anton Gerashchenko (@Gerashchenko_en) January 28, 2023
This is an interesting analysis, by tweet thread, from the Dean of the College of International and Security Studies at the Marshall Center:
🧵 A word of advice for all those "realists" among Western elites who oppose support for #Ukraine: Finally, once and for all bury the Yalta mindset. Understand the Russia is no more entitled to a sphere of influence than a gangster is entitled to keep the spoils of a robbery. 1/

— Andrew A. Michta (@andrewmichta) January 27, 2023
Here's the rest from the Thread Reader App:
Time to set aside our double standard whereby when it comes to #Russia, we don't enforce the rules, but instead hope for a good tsar (Gorbachev, Yeltsin) with whom we can (to quote Lady Thatcher) "do business." We should also set aside the nonsense about Russian high culture. 2/
Russian culture must be seen in its totality — it's not just Dostoyevsky, Tolstoy or ballet; it's first and foremost the Gulag, prisons, firing squads, rape and torture. It's the culture of violence and theft as a mode of governance. It's an empire awash in blood. 3/
Watch how the Russians behave in #Ukraine, where premeditated destruction and murder is the rule, and ask yourself if that this someone you would like to invite to dinner, or even live next door to. Bottom line: Europe will know no peace until Russia is expelled from Europe. 4/
Listen to Finns, Poles, or Balts. They have lived next door to Russia for centuries and paid an awful price while the West often looked the other way. It's time "realists" among Western policy elites grow up and end the "what-about-ism" nonsense when it comes to Russia. 5/
Democracies are not perfect, but we certainly are better than the Russian and Chinese alternatives. And the Ukrainians are fighting on our behalf, they want to be a part of us. They deserve our respect and all the material and political support we can muster. #ArmUkraineNow
Politico has new details on the push to send F-16s to Ukraine:
A contingent of military officials is quietly pushing the Pentagon to approve sending F-16 fighter jets to Ukraine to help the country defend itself from Russian missile and drone attacks, according to three people with knowledge of the discussions.

Ukraine has kept American-made F-16s on its weapons wish list since the Russian invasion last year. But Washington and Kyiv have viewed artillery, armor and ground-based air defense systems as more urgent needs as Ukraine seeks to protect civilian infrastructure and claw back ground occupied by Russian forces.

As Ukraine prepares to launch a new offensive to retake territory in the spring, the campaign inside the Defense Department for fighter jets is gaining momentum, according to a DoD official and two other people involved in the discussions. Those people, along with others interviewed for this story, asked not to be named in order to discuss internal matters.

Spurred in part by the rapid approval of tanks and Patriot air defense systems — which not long ago were off-limits for export to Ukraine — there is renewed optimism in Kyiv that U.S. jets could be next up.

"I don't think we are opposed," said a senior DoD official about the F-16s, speaking on condition of anonymity to discuss a sensitive debate. The person stressed that there has been no final decision.

However, Ukraine has yet to declare that fighter jets are its top priority, the official stressed, noting that the Pentagon is focused on sending Kyiv the capabilities it needs for the immediate fight.

But fighter jets may be moving to the top spot soon. Kyiv has renewed its request for modern fighters in recent days, with a top adviser to the country's defense minister telling media outlets that officials will push for jets from the U.S. and European countries.

A top Ukrainian official said Saturday that Ukraine and its Western allies are engaged in "fast-track" talks on possibly sending both long-range missiles and military aircraft.

One adviser to the Ukrainian government said the subject has been raised with Washington, but there has been "nothing too serious" on the table yet. Another person familiar with the conversations between Washington and Kyiv said it could take "weeks" for the U.S. to make a decision on shipments of its own jets and approve the re-export of the F-16s from other countries.

"If we get them, the advantages on the battlefield will be just immense. … It's not just F-16s: fourth generation aircraft, this is what we want," Yuriy Sak, who advises Defence Minister Oleksii Reznikov, told Reuters.

A White House spokesperson declined to comment for this story, but pointed to remarks by deputy national security adviser Jon Finer. He said the U.S. would be discussing fighter jets "very carefully" with Kyiv and its allies.

"We have not ruled in or out any specific systems," Finer said on MSNBC Thursday.

"We have nothing to announce regarding F-16s," said a DOD spokesperson. "As always, we'll continue to consult closely with the Ukrainians and our international Allies and partners on Ukraine's security assistance needs to enable them to defend their country."

Ukraine wants modern fighters — U.S. Air Force F-16s or F-15s, or their European equivalents the German Tornado or Swedish Gripen — to replace its fleet of Soviet-era jets. Dozens of the more modern planes will become available over the next year as countries such as Finland, Germany and the Netherlands upgrade to U.S. F-35 fighters.

Despite the age of Ukraine's jets, Kyiv's integrated air defenses have kept Russia from dominating its skies since the Feb. 24 invasion.

But now, officials are concerned that Ukraine is running out of missiles to protect its skies. Once its arsenal is depleted, Russia's advanced fighter jets will be able to move in and Kyiv "will not be able to compete," said the DoD official involved in the discussions.

Modern fighter jets could be one solution to this problem, argues a group of military officials in the Pentagon and elsewhere. F-16s carry air-to-air missiles that can shoot down incoming missiles and drones. And unlike the Patriots and National Advanced Surface-to-Air Missile Systems the West is currently sending, fighter jets can move around an area quickly to protect different targets.

"If they get [F-16] Vipers and they have an active air-to-air missile with the radar the F-16 currently has with some electronic protection, now it's an even game," the DoD official said.

Even if the U.S. decided not to send the Air Force's F-16s, other Western nations have American-made fighters they could supply. For example, Dutch Foreign Affairs Minister Wopke Hoekstra told the Dutch parliament last week that his Cabinet would look at supplying F-16s, if Kyiv requests them. But the U.S. must approve the transfer.

Senior Pentagon officials acknowledge that Ukraine needs new aircraft for the long term. But for now, some argue that Ukraine has a greater need for more traditional air defenses, such as the Patriots and NASAMs that the U.S. and other countries are supplying, because jets may take months to arrive.

Sending Ukraine F-16s "does not solve the cruise missile or drone problem right now," the senior DoD official said.
Much, much more at the link!
Christopher Miller at The Financial Times has new details on the recent anti-corruption efforts in Ukraine:
When Ukrainian investigative reporter and anti-corruption activist Yuriy Nikolov was tipped off about an overpriced catering contract for the defence ministry, he knew the story could land him in trouble.

By publishing it, not only would Nikolov break a taboo on criticising the Ukrainian government during wartime. He knew it could also cast a shadow over his embattled country and tarnish the reputation of one of the most prominent figures of the war: defence minister Oleksiy Reznikov.

Nikolov reached out to the ministry, but was brushed off, he told the Financial Times. On Monday he published his findings, which showed the ministry had signed a $350mn deal with a catering company to pay wildly inflated prices for food going to Ukrainian troops.

The story of overpriced eggs and gherkins set off alarm bells for Ukrainians, who, according to the country's central bank, have donated about $500mn of their own money to the army. Many recognised it as a classic scheme used by powerful officials to line their pockets. That it was money meant to help feed their defenders made it all the more scandalous.

The army food scandal broke as Ukraine was pleading with its western partners to supply it with tanks and other critical arms supplies for the fight against Russia's invasion forces. The country's bid to become an EU member state will depend on credible rule of law and anti-corruption reforms.

It was the first domino in a cascade of stories that would lead to resignations and sackings of senior government officials, as well as the biggest government shake-up since the start of Russia's full-scale invasion.

In a matter of days, one of President Volodymyr Zelenskyy's deputy chiefs of staff, five governors of frontline provinces, four deputy ministers and two members of the president's ruling Servant of the People party in parliament would resign or be fired because of scandalous or allegedly corrupt behaviour.

"Corruption is a negative in any case but in our circumstances, at our level of development in our democracy and fighting against Russia, the cost is very high, it's people dying every day," said lawmaker Yaroslav Yurchyshyn, first deputy head of the parliamentary committee on anti-corruption policy.

Ukrainians are focused on defeating Russia, Nikolov said, "but it turned out that, in fact, [Ukrainians] really don't like corruption and want justice, too".

"Soldiers in the trenches," he added, were among the many readers who had written to thank him for exposing the deal and stopping it before payment was made.

Reznikov denied any wrongdoing in a fiery Facebook post and passed the blame to his deputy, Vyacheslav Shapovalov, who oversaw procurements and who quit when the scandal broke.

Ukraine's top military commander, General Valeriy Zaluzhnyi, called for a thorough investigation of the corruption allegations, adding that the military had "zero tolerance for corruption".

Yurchyshyn, who sits on a parliamentary committee dealing with anti-graft policies, told the FT that the shake-up proved that ongoing anti-corruption reforms were working. "We created NABU, an anti-corruption court, a special anti-corruption prosecutor and ProZorro" — a digital procurement system to increase transparency and competition, Yurchyshyn said.

"It is fair, it is needed for our defence, and it helps our rapprochement with European institutions," Zelenskyy said of his government shake-up on Tuesday. "We need a strong state, and Ukraine will be just that."

Ana Pisonero, a spokesperson for the European Commission, said leaders in Brussels, who say Ukraine's potential future accession into the 27-member bloc is conditional on it cleaning up corruption, were pleased with Zelenskyy's response and "welcome the fact that the Ukrainian authorities are taking these issues seriously". But more progress on reforms was still needed, she added.
Much, much more at the link!
We interrupt this update to let you know that a whole lot of Iran has gone kaboom!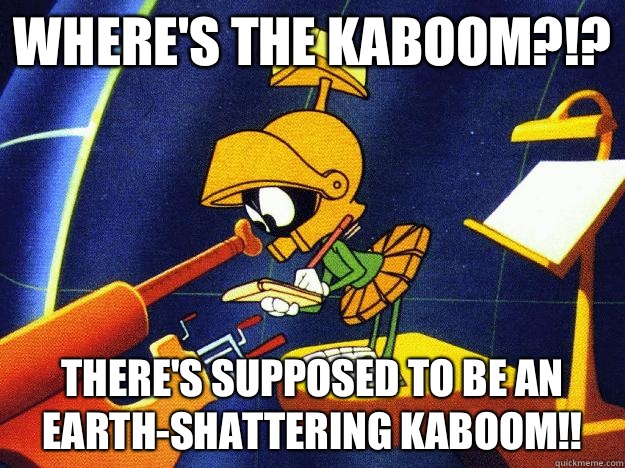 Also a new attack in Hamedan was reported minutes ago. This seems like a coordinated attack.

Israel?

— NOËL 🇪🇺 🇺🇦 (@NOELreports) January 28, 2023
Footage of the attack in Iskhafan at a military complex. This is reportedly an ammunition production center. pic.twitter.com/l6HOFeXDTR

— NOËL 🇪🇺 🇺🇦 (@NOELreports) January 28, 2023
In the city of Khoy, another attack. pic.twitter.com/cZOur7NDBo

— NOËL 🇪🇺 🇺🇦 (@NOELreports) January 28, 2023
Local authorities confirm the explosions at the munitions factory in Isfahan, — IRIB News

Iranian media also reported drone attacks on military facilities in the Iranian cities of Tabriz, Hamadan and Karaj.

— NOËL 🇪🇺 🇺🇦 (@NOELreports) January 28, 2023
I don't know why that thread isn't actually set up to thread.
Now we wait and see if anyone takes credit. Israel is, of course, the obvious choice. But Iran is also now supplying Russia's drones, so…
That's enough for tonight.
Your daily Patron!
A new video from Patron's official TikTok:
The caption machine translates as:
I jump into your arms! 😄 #песпатрон
Open threads!