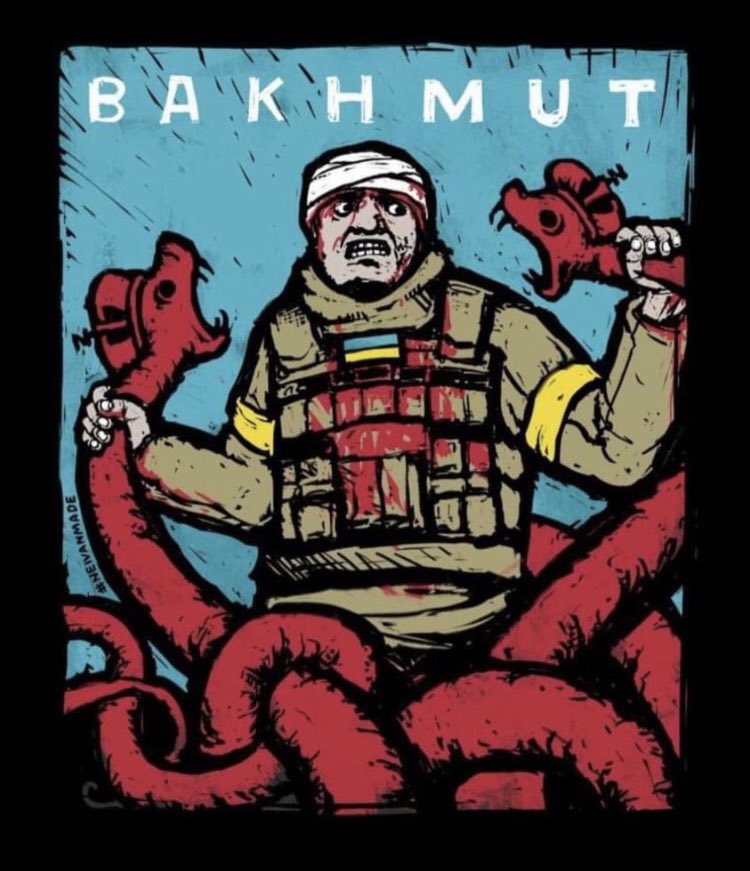 (Image by NEIVANMADE)
President Zelensky said at his press conference with EU leaders visiting Kyiv this afternoon: "Nobody will give away Bakhmut. We will fight for as long as we can. We consider Bakhmut our fortress." The eastern city's in a tough spot right now, with Russian forces closing in.👇 https://t.co/X7KS4XKl28

— Christopher Miller (@ChristopherJM) February 3, 2023
Here is President Zelenskyy's address from earlier today. Video below, English transcript after the jump:
Dear Ukrainians, I wish you health!

Another Ukraine-European Union summit took place today. It was held in Kyiv, our capital. We have quite specific agreements with our partners on how Ukraine will become even closer to the European Union.

This morning in Ukraine, like many others, began with an air raid alert. This day, like many others, was spent in extremely brutal battles at the front.

But all the same, this evening we can say that Ukraine is moving towards its goal.

We've preserved Ukrainian freedom. We're protecting the values of Ukraine. And we will achieve the goals of our state. European goals of our state.

Today, there was a lot of confidence in this during the summit. We spoke and are already speaking as members of the European community. And we are working to fix this de jure.

What exactly did we agree on today?

There is an understanding that it is possible to start negotiations on Ukraine's membership in the European Union this year.

The partners also understand that this year, as last year, we have to continuously strengthen the defense support of our country and the pressure on Russia, in particular the sanctions pressure.

We talked today about the tenth EU sanctions package, which is currently being prepared. There are our proposals for this package – we announced them to our partners today.

We discussed changes in the institutions of our state, which we are implementing. And which we are still preparing to implement. Financial cooperation was discussed. Of course, we discussed the restoration of infrastructure, primarily social and energy.

Also, the implementation of our Fast Recovery Plan, what needs to be restored now.

I thank the European Commission for the decision on EUR 1 billion, which will be sent specifically to Fast Recovery.

We are preparing for greater integration of Ukraine into the internal market of the EU – it means more income for Ukrainian companies, more production and jobs in our country, and more income for state and local budgets. That is, it is what makes Ukraine really stronger.

And for me, it is very important that there are specifics regarding such areas as, for example, replacing the children's boarding school system in our country with another one. More civilized and friendly to children who, unfortunately, do not have parental care.

Children should have a family. Raising children in family-type orphanages is definitely much better than the old boarding school system. We will make this reform together with the European Union. An appropriate office will be created to be responsible for this reform. And preliminary agreements regarding this reform have already been outlined.

I have already reported on the various arrangements regarding our Peace Formula. These are specific ten points, the implementation of which will definitely make it possible to restore our territorial integrity and security, not only of Ukraine but also of the whole of Europe and the international legal order. That is, to restore everything that Russia's aggression is destroying.

Today, the European Union officially supported the Ukrainian Peace Formula. This was recorded in the final statement of the summit. And we agreed on concrete assistance from the EU in implementing our Peace Formula.

This is a significant diplomatic achievement. And we are doing everything to make Russia's aggression suicidal for it.

The situation at the front remains very difficult, especially in Donetsk region.

I thank all our soldiers who withstand the harsh pressure of the occupiers and who clearly and completely fulfill the task of defending our positions. And who, even in such difficult conditions as on the front lines now, bring Ukraine good news.

In particular, I thank the 10th mountain assault brigade for successful counteroffensive actions in Donetsk region!

Thanks to the fighters of the 54th separate mechanized brigade – for their bravery and true Ukrainian resilience in the battles for Donbas!

The 81st separate airmobile brigade and the 66th separate mechanized brigade – I thank you, guys, for the protection of Luhansk region and steel strength!

And I would like to single out our National Guardsmen – the 3rd operational brigade of the National Guard. Guys who successfully destroy enemy aircraft in Donetsk region. Thank you!

Thank you to everyone who fights for Ukraine! Thank you to everyone who helps us defend ourselves from the occupier!

Thank you to everyone who strengthens our international positions and helps get weapons for Ukraine!

Today, I spoke with the Minister of Defence of Poland in Kyiv – he, together with other partners and the Minister of Defense of Ukraine, took part in the third meeting of the states that are members of our tank coalition. We are doing everything to ensure that our soldiers receive modern tanks as soon as possible.

And today, the United States announced another large package of defense support for our country. I thank President Biden, all friends of freedom in Congress, and every American for this tangible support!

Now, we must work together to deliver this aid to Ukraine as quickly as possible.

And one more.

There are other sanctions decisions of the National Security and Defense Council of our country against those who work for Russian aggression.

The decrees on the implementation of the decisions of the National Security and Defense Council have already been prepared.

And separately, I thank the employees of the Security Service of Ukraine, the SBI, the National Police, and the Prosecutor General's Office for taking new steps to restore justice after the actions of those who did not understand that in public positions one should work only for the interests of the state.

Glory to Ukraine!
Thank you @POTUS for the new $2.2 billion defense aid package. It's important to strengthen the 🇺🇦 Defense Forces. Together with 🇺🇸 we stand against terror! The more long-range our weapons are and the more mobile our troops are the sooner Russia's brutal aggression will end.

— Володимир Зеленський (@ZelenskyyUa) February 3, 2023
Here's what's in the aid package:
‼️ Pentagon Spox Pat Ryder: Precision-guided rockets in the package for #Ukraine are GLSDB bombs. This will give them a longer-range capability that will enable Ukrainians to conduct operations to defend their country and take back their sovereign territory.

— Ostap Yarysh (@OstapYarysh) February 3, 2023
Here is former NAVDEVGRU Squadron Leader Chuck Pfarrer's most recent assessment of the situation in Bakhmut:
BAKHMUT /1240 UTC 3 FEB/ The slow progress of RU Wagner PMC units has compelled Moscow to engage increasing numbers of regular RU forces in the Bakhmut Area of Operations (AO). These forces include Russian VDV (Airborne) units and motor rifle troops. Heavy fighting continues. pic.twitter.com/WFFsXXPQBL

— Chuck Pfarrer | Indications & Warnings | (@ChuckPfarrer) February 3, 2023
Bakhmut:
The river that splits Bakhmut in two has become a key dividing line in the fighting. People living on the eastern bank, risk their life every day to get water, woods or reach one of the humanitarian centers for a hot meal, or some precious internet

2/8#AFP #ukraine #bakhmut pic.twitter.com/Xf4ESJDcYY

— Arman Soldin (@ArmanSoldin) February 2, 2023
Just about to cross the bridge on her daily trip to get water and/or wood, Natalia, 75, says she spends so long taking cover in her basement that she feels "like a mole" as she steps out into the light and her eyes adjust, "how could I leave?"

3/8#AFP #ukraine #bakhmut pic.twitter.com/DB3aBKCPUT

— Arman Soldin (@ArmanSoldin) February 2, 2023
Around 7,000 people (75,000 pre-war) — many of them elderly — still live in the town despite the constant sound of artillery exchanges, gunfire and drones buzzing overhead.

5/8#AFP #ukraine #bakhmut pic.twitter.com/d8Sy6cs2Yo

— Arman Soldin (@ArmanSoldin) February 2, 2023
"Only a fool wouldn't be afraid," she says.
"Everything is possible, if God wants it, I'll stay alive," she says outside her Soviet-era apartment building as she hauls sacks of wooden pallets, "that's how we live in the 21st century"

7/8#AFP #ukraine #bakhmut pic.twitter.com/2RLDfQvulI

— Arman Soldin (@ArmanSoldin) February 2, 2023
Outside the city, Ukrainian soldiers have been busy fortifying positions as RU forces have been trying to seize control of the city for months in what has become the longest and bloodiest battle since Russia invaded Ukraine last February.

8/8 THE END#AFP #ukraine #bakhmut pic.twitter.com/sppEvZkm3b

— Arman Soldin (@ArmanSoldin) February 2, 2023
Soledar:
Spent the day with a mortar unit of the 10th Mountain Brigade operating in the direction of Soledar. The soldiers were using a French MO-120-RT mortar, which they described as powerful and "extremely accurate." Today's fire mission was successful, according to spotters. pic.twitter.com/cOOpAgMLcT

— Guillaume Ptak (@guillaume_ptak) February 3, 2023
Here's a BBC video report that you may find interesting:
"I have no moral right to ask Ukrainians for forgiveness. I can't forgive myself, so I can't expect them to forgive me." A former Russian army officer tells us about crimes he says he saw Russian soldiers committing in Ukraine, including torture & looting. Producer @BBCWillVernon pic.twitter.com/vNDOjKGpBW

— Steve Rosenberg (@BBCSteveR) February 2, 2023
If Bloomberg's reporting is accurate, the Biden administration's strategy is too cynical by half:
The war in Ukraine is reaching a new phase, and US strategy is undergoing an important shift. Fears of Russian nuclear escalation are receding as fears of a long war featuring unrelenting attrition are increasing. So President Joe Biden's administration is ramping up support for Ukraine now in hopes of producing an eventual diplomatic resolution — an "escalate to de-escalate" strategy that may prove very difficult to execute.

Nearly a year into the war, uncertainty about its course is greater than ever. For the first six months, Russia had the initiative: The major questions were when, where and with what success it would attack. Over the following five months, Ukraine had the initiative, and analysts tried to divine the location and prospects of its counteroffensives.

Now, it's harder to tell what comes next and who has the edge. Both sides may be preparing new offensives. And both sides are dealing with a mix of battlefield losses and new capabilities that make it more difficult to discern their relative strengths.

Russian President Vladimir Putin probably believes that his best ally is time. If he can keep hammering Ukraine's infrastructure, while at least holding what he has on the battlefield, perhaps he can create a protracted slugfest in which Russia's superior manpower will prove decisive.

Ukraine sees time as its enemy. It must exploit Russia's weakened, poorly equipped forces now, before additional newly mobilized Russian troops arrive on the battlefield, before Russian defense production hits high gear, and before support from Kyiv's Western backers dissipates.

The Biden administration is only guardedly optimistic about Ukraine's prospects. The easiest gains at the expense of an overstretched Russian army may already have been had. Putin is defending a shorter front with a larger number of troops. That makes routing Russia from every inch of Ukrainian territory difficult, even if Kyiv's committed, creative military can go further than it has to date.

So the US administration is updating its strategy in three ways.

First, it is better defining American war aims. In December, Secretary of State Antony Blinken announced that the US is committed to helping Ukraine liberate lands lost since February 2022, but not necessarily every inch of territory Putin has stolen since 2014. Washington's goal is a Ukraine that is militarily defensible, politically independent and economically viable; this doesn't necessarily include retaking difficult areas such as the eastern Donbas or Crimea.

Second, the US and its allies are sending Ukraine more sophisticated weapons: Armored personnel carriers, Patriot missiles, and tanks that can bust through layered Russian defenses. Washington is also moving toward providing longer-range munitions that can pulverize Russian rear areas: The ground-launched small diameter bomb, likely to be part of an upcoming assistance package, has nearly twice the range of the HIMARS rounds Ukrainian forces have used to devastating effect. The next debate may involve sophisticated aircraft: Biden recently said the US won't provide F-16 fighters to Ukraine, but that's also what he said about providing American tanks up until the moment he changed his mind.

Third, Biden may not envision Ukraine liberating Crimea by force, but he has reportedly become more supportive of strikes against Russian targets there. Could hitting Crimea, which is central to Putin's narrative of Russian resurrection under his rule, trigger escalation?
More at the link!
Why is this cynical, because CBS News confirms what we've all long known and what the fourth paragraph of the Bloomberg reporting above states:
CIA Director William Burns said Thursday that the next six months would be "critical" in the war in Ukraine with Russian President Vladimir Putin betting that waning Western interest and "political fatigue" could afford his military a new chance at making battlefield gains.

"Putin, I think, is betting right now that he can make time work for him," Burns said. "The key is going to be on the battlefield in the next six months, it seems to us."

"Puncturing Putin's hubris, making clear that he's not only not going to be able to advance further in Ukraine, but as every month goes by, he runs a greater and greater risk of losing the territory that he's illegally seized from Ukraine so far," he continued. "So this next period, I think, is going to be absolutely crucial."
There is no escalating to deescalate with Putin. Because Putin has no interest in a negotiated settlement. This doesn't mean that Putin will escalate beyond conventional weaponry to nuclear – as I've repeatedly explained, that part of Russian military doctrine was always intended to create information advantage and dominance and prevent US, NATO, and other decision-makers from actually doing anything to stop him – it just means he's not going to stop what he's doing.
The Guardian reports on the auto body shop that has been set up to get all the Russian military equipment seized by Ukraine repaired and back into service.
The first task is to wipe off or cover up the Z, says Anatoly, 44, of the call sign infamously daubed on Russian hardware involved in the war in Ukraine. "We don't want friendly fire later on." Then the mechanics get to work.

In a secret location in Ukraine, within a vast warehouse that could be mistaken for a tank graveyard, what was once Russian – Soviet, in many cases – is being turned Ukrainian.

All the headlines have recently been made by the decision of Germany and a host of others to supply Ukraine with western heavy armour: Leopard 2s, Challengers and Abrams.

The names have become familiar and they may have the technical cutting-edge and firepower to turn the course of the Ukraine's war, when they arrive and if in sufficient numbers.

But for all the efforts of the Nato allies, it is Russia that is unwittingly, and yet by some margin, Ukraine's biggest donor of tanks today.

Admittedly the trophies do not always turn up in tip-top condition.

Gesturing towards a T-72B3, covered in dry leaves, and bearing evidence of battle in the form of warped and battered armour, Anatoly proudly boasts that it is the most recent upgrade of the old Soviet T-72 tank.

It was brought into the facility, which lies just a few miles from the frontlines, by the 54th brigade from the eastern Donetsk region, four weeks ago. "It took a direct hit on its turret," says Anatoly. "The firing system was damaged too."

They plan to get it back on its tracks in swift time, with added armour. There is little time for sentiment. Did Russian soldiers die in it? "I don't know, I suppose so. There were arms and legs in it. Lots of blood."

In some cases the Ukrainian army has set about getting such vehicles back on the field of battle under their flag. "But the state is busy repairing Ukrainian tanks," says Roman Sinicyn, 37, a coordinator at the Serhiy Prytula Foundation, a charity managing this operation in partnership with an engineering company whose name is being withheld to avoid identification of the plant site.

As a result, civil society has stepped in. A host of private companies have set aside their usual business to get in the game of refurbishing killing machines: the tanks, armoured vehicles, missile systems and other lethal hardware left behind.

These operations are often funded through donations. The Prytula Foundation, one of the largest organisations crowdfunding the purchase of military equipment, has invested £200,000 in this facility. "It is not a lot of money," says Bohdan Ostapchuk, 30, who is leading on tank refurbishment for the Prytula Foundation.

It has, however, borne deadly fruit: seven tanks back into battle, a command vehicle, a Hurricane rocket system, a multiple rocket system, an infantry transport vehicle and a host of armoured vehicles, so far.

Their destinations are a roll-call of Ukraine's deadliest hot spots: Bakhmut, Kramatorsk, Luhansk, Svatove, to name a few.

The liberation of the Kharkiv region, in north-east Ukraine, last May was the high point in the hunt for battlefield treasure, as the Russian forces panicked in retreat. "It was like walking into a big, big shop where you can walk through and say, 'I will have this one, and this one,'" says Ostapchuk.

The mistake was not repeated when the Kremlin ordered the retreat in the southern Kherson region before Christmas, but there remains a healthy supply of vehicles coming through the doors. They are, however, often of an older model, the mechanics note.

Pointing to a former personnel carrier brought in by Ukraine's 46th airborne brigade from Soledar, the eastern Ukrainian city recently captured by Russia, Anatoly says it was probably built somewhere between 1982 and 1987.

The same goes for a Soviet-era Shturm S model anti-tank missile carrier that bears the O sign of the Russian marines on it side. It went over a mine near Vuhledar in the Donetsk region and was abandoned.

Then there is the T62 Soviet tank, likely dating from 1970 or so, brought back by the 128th mountain brigade from Kherson, three months ago, at the time of the Ukrainian counteroffensive there.

"This old tank is no good for war," says Anatoly, "so we have cut off the top of it, the turret and we are going to turn it into an evacuation vehicle that can pull heavy armoured tanks when they get stuck."
More at the link!
Finally, The New York Times brings us a report on what Russian soldiers' lies are worth in Russia:
The number of Russian troops killed and wounded in Ukraine is approaching 200,000, a stark symbol of just how badly President Vladimir V. Putin's invasion has gone, according to American and other Western officials.

While the officials caution that casualties are notoriously difficult to estimate, particularly because Moscow is believed to routinely undercount its war dead and injured, they say the slaughter from fighting in and around the eastern Ukrainian city of Bakhmut and the town of Soledar has ballooned what was already a heavy toll.

With Moscow desperate for a major battlefield victory and viewing Bakhmut as the key to seizing the entire eastern Donbas area, the Russian military has sent poorly trained recruits and former convicts to the front lines, straight into the path of Ukrainian shelling and machine guns. The result, American officials say, has been hundreds of troops killed or injured a day.

Russia analysts say that the loss of life is unlikely to be a deterrent to Mr. Putin's war aims. He has no political opposition at home and has framed the war as the kind of struggle the country faced in World War II, when more than 8 million Soviet troops died. U.S. officials have said that they believe that Mr. Putin can sustain hundreds of thousands of casualties in Ukraine, although higher numbers could cut into his political support.

On Norwegian TV on Jan. 22, Gen. Eirik Kristoffersen, Norway's defense chief, said estimates were that Russia had suffered 180,000 dead and wounded, while Ukraine had 100,000 killed or wounded in action along with 30,000 civilian deaths. General Kristoffersen, in an email to The New York Times through his spokesman, said that there is "much uncertainty regarding these numbers, as no one at the moment are able to give a good overview. They could be both lower or even higher."

Senior U.S. officials said this week that they believe the number for Russia is closer to 200,000. That toll, in just 11 months, is eight times higher than American casualties in two decades of war in Afghanistan.

A senior U.S. military official last month described the combat around Bakhmut as savage. The two sides exchanged several thousand rounds of artillery fire each day, while the Wagner private military company, which has been central to Russia's efforts there, had essentially begun using recruited convicts as cannon fodder, the official told reporters. He spoke on the condition of anonymity to discuss operational details.

The convicts took the brunt of the Ukrainian response while the group's more seasoned fighters moved in behind them to claim ground, the official said. Wagner has recruited some 50,000 troops to fight in Ukraine, according to senior American military and defense officials.

Thousands of the convicts have been killed, a loss of life that has shocked American officials, who say the strategic value of Bakhmut simply is not in line with the price Russia has paid.

Kusti Salm, Estonia's deputy defense minister, in a briefing with reporters in Washington last week, said that Russia was better able to stand its losses than Ukraine.

"In this particular area, the Russians have employed around 40,000 to 50,000 inmates or prisoners," Mr. Salm said. "They are going up against regular soldiers, people with families, people with regular training, valuable people for the Ukrainian military."

"So the exchange rate is unfair," he added. "It's not one to one because for Russia, inmates are expendable. From an operational perspective, this is a very unfair deal for the Ukrainians and a clever tactical move from the Russian side."

"In essence, it does not matter how big the Russian losses are, since their overall human resource is much greater than Ukraine's," Mr. Salm, the Estonian official, said in a follow-up email. "In Russia the life of a soldier is worth nothing. A dead soldier, on the other hand, is a hero, regardless of how he died. All lost soldiers can be replaced, and the number of losses will not shift the public opinion against the war."
More at the link!
Here's a new video from Patron's official TikTok!
The caption machine translates as:
This feeling
Open thread!