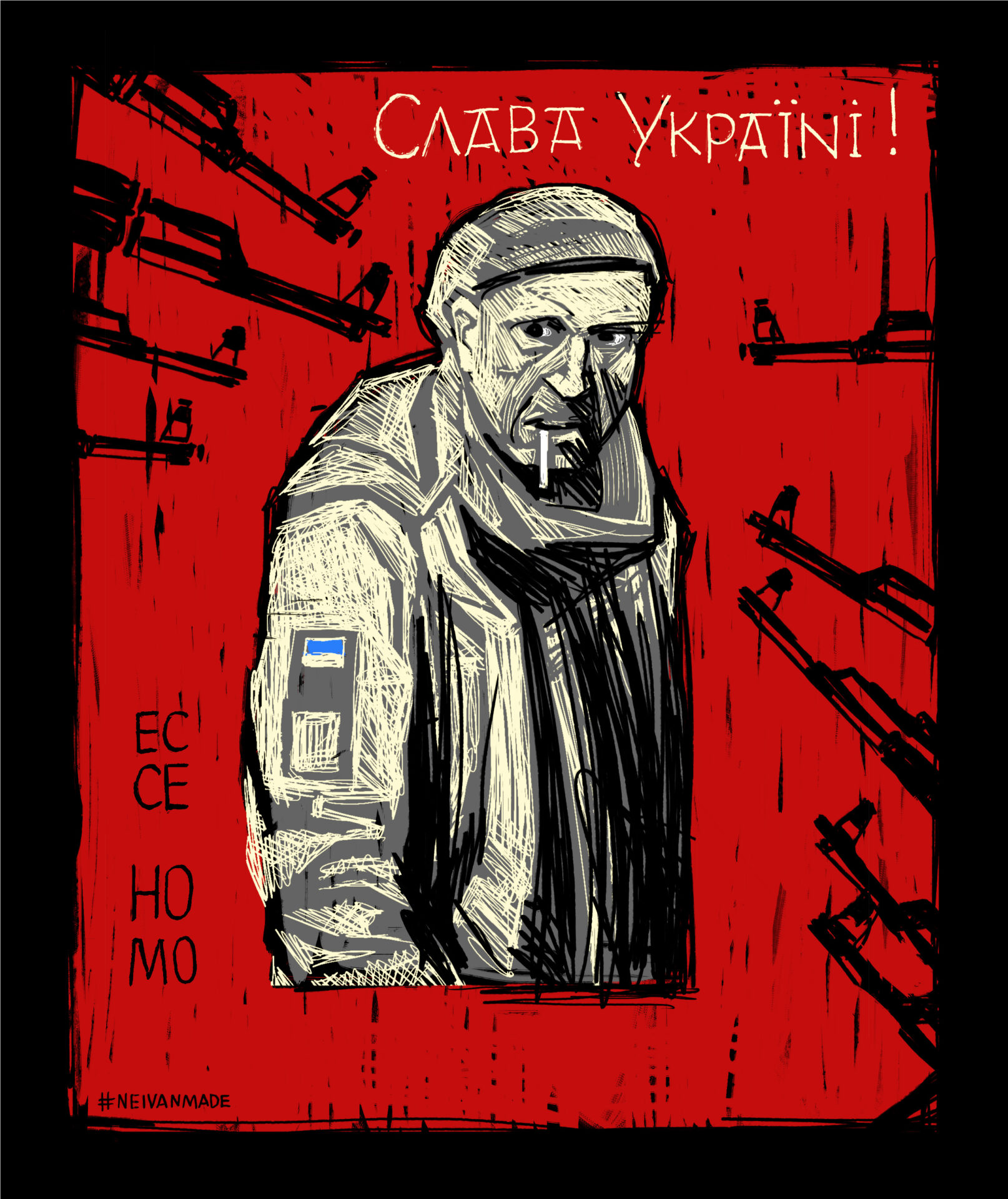 (Image by NEIVANMADE)
It's been a long week and a long day, so just a quick update tonight.
First, we now have a positive confirmed identification of the Ukrainian Soldier who was executed in a Russian war crime:
The hero pic.twitter.com/DQQqBOy4P8

— Illia Ponomarenko 🇺🇦 (@IAPonomarenko) March 9, 2023
Representatives of the Armed Forces of Ukraine have confirmed that the soldier, who was shot in a video that appeared on social networks on March 6, was a fighter from the 163rd battalion of the 119th separate brigade of the Territorial Defense Forces of the Chernihiv region, Oleksandr Matsiyevsky.

According to the Regional Directorate of the "North" Territorial Defense Forces of Ukraine, on December 30, 2022, Matsiyevsky along with four of his comrades, was engaged in combat with superior Russian forces near Soledar. Communication was eventually lost, and reinforcements could not come due to heavy fire.

Much is still unknown, as his comrades are either still missing or dead. However, Matsievsky's mother recognized him, as did his son and his fellow servicemembers. TV channel Suspilne published an interview with his mother.

Before the Russian invasion, Matsiyevsky worked as an electrician in Kyiv. After the war began, he volunteered for the territorial defense of Nizhyn in the Chernihiv region. Matsiyevsky's body was handed over to his family as part of a casualty exchange between Russia and Ukraine. His relatives identified him in a Kyiv morgue.

Earlier, Ukrainian officials stated that the man in the video was a different prisoner of war, Timofey Shadura, a soldier of the 30th separate mechanized brigade named after Prince Konstantin Ostrozhsky, who went missing on February 3, 2023. At the same time, journalist Yury Butusov said that the video depicts exactly Oleksandr Matsiyevsky.
Here is President Zelenskyy's address from earlier today. Video below, English transcript after the jump:
No matter how treacherous Russia's actions are, our state and people will not be in chains – address by President of Ukraine

9 March 2023 – 22:54

Good health to you, fellow Ukrainians!

Today I held several meetings on the consequences of a massive attack on our infrastructure.

Another attempt by the terrorist state to wage war against civilization has led to temporary power, heat and water outages in some of our regions and cities.

Russian missiles have claimed the lives of six Ukrainians today. My condolences to the families…

Restoration work at power facilities has been ongoing all day. Kharkiv and the Zhytomyr region have the most difficult situation. Odesa, the Dnipropetrovsk region, Kyiv and Zaporizhzhia are also facing difficulties.

Repair crews, power engineers, local authorities and the central government – everyone will work for as long as necessary to restore power supply to the cities and districts where there are problems. I thank everyone who is working for this.

We have already shown what Ukraine is capable of. And no matter how treacherous Russia's actions are, our state and people will not be in chains. Neither missiles nor Russian atrocities will help them.

I want to thank all the warriors of our Air Forces today. And especially the 138th Dnipro, 160th Odesa and 208th Kherson anti-aircraft missile brigades, which distinguished themselves in the defense against this Russian attack. Thank you, warriors!

I am also grateful to everyone in the world who realizes how important it is to give full protection to the Ukrainian sky, and to everyone who is ready to help us guarantee normal life for people.

Today I spoke with President of the European Commission Ursula von der Leyen, in particular, about energy support for Ukraine. I informed her about the consequences of the attack by the terrorist state. I am grateful to Mrs. Ursula for the relevant assistance provided.

Of course, we also discussed the issue of putting pressure on Russia for terror. Sanctions pressure. Ways to expand sanctions.

By the way, as a result of this strike, the Zaporizhzhia nuclear power plant was disconnected from the power grid again. This is a critical situation. And Russia is deliberately creating such critical situations at our nuclear facilities. This simply means, by definition, that Russia cannot be a bona fide participant in any relations in the nuclear sphere.

This means that the sooner the Russian nuclear industry is subjected to sanctions, the safer the world will be. A terrorist state cannot be allowed to use any nuclear facilities anywhere in the world for terror.

Mrs. President of the European Commission also positively assessed the progress of our country in the anticorruption area. In particular, the approval of the Anticorruption Strategy and the appointment of a new NABU Director. This is important in the context of our further progress in European integration before the start of negotiations on Ukraine's membership in the European Union.

Today I also had a rather long meeting with representatives of our cultural community. Theater, cinematography, music, literature, state cultural institutions, public initiatives. The Shevchenko Committee and Ukrainian journalists were represented.

We discussed ways to strengthen the capacity of Ukrainian culture to communicate with the world to ensure support for Ukraine. Diplomacy, journalism, and culture are the three areas that do the most to make the world understand our struggle and help us.

Of course, we also talked about our own national needs.

It is very important that the experience of a full-scale war, our soldiers, what they are going through at the front, the experience of Ukrainian trenches, the experience of our people who are actually defending European freedom, that all this experience be described by Ukrainians.

So that our culture, its figures, its institutions, could fill the need for a Ukrainian cultural product, for an understanding of the Ukrainian situation.

Ukraine has achieved the greatest national unity in its history. Ukraine has united the world. Ukrainians inspire hundreds of other nations with the way they defend their country and freedom. And it would be right that all this is reflected by Ukrainian culture, our institutions, and our people. Ukrainian cinematography, Ukrainian theater, Ukrainian literature, Ukrainian music, Ukrainian museums, Ukrainian visual art. So that all of this preserves the true experience of those who are going through the war, who are on the frontline, who are really experiencing what "Keep fighting – you are sure to win!" means.

Many ideas were voiced today. There are things that the state can and should do. There is something that depends on the cultural community itself.

I thank the participants of the meeting once again. And I thank all the Ukrainian cultural figures for this year and for all the years of Ukrainian independence, when we have grown stronger.

Glory to all those who are now fighting for Ukraine! Bakhmut, Avdiivka, Kupyansk, Lyman and the entire Donbas! Our Zaporizhzhia, Nikopol, Kherson region! Glory to all those who are defending our Sumy, our Chernihiv region, our Kharkiv region, all our cities and communities, and our border!

Glory to every Ukrainian soldier whose courage means the life of Ukraine!

Eternal and blessed memory to all those whom this war and Russia have taken from us!

There is no other choice but to win.

Glory to Ukraine!
Here is former NAVDEVGRU Squadron Leader Chuck Pfarrer's most recent assessment of the situation in Bakhmut:
BAKHMUT AXIS /1140 UTC 9 MAR/ RU renewed futile attacks on the villages of Orikhovo-Vasylivka & Dubovo-Vasylivka. RU troops consolidated forces on the east bank of the river. UKR has engaged RU soldiers who crossed the Bakhmutka by a damaged footbridge S of the H-32 HWY. pic.twitter.com/EqxRy6Hqop

— Chuck Pfarrer | Indications & Warnings | (@ChuckPfarrer) March 9, 2023
Bakhmut:
Father and son, Oleh and Mykyta Khomyuk, died in a battle near Bakhmut.
From the first days of the full-scale russian invasion both went to defend their land as servicemen of @TDF_UA
They died together
True heroes don't die, they forever remain in our hearts
Glory to the Heroes! pic.twitter.com/9X6WIvVOtj

— Defense of Ukraine (@DefenceU) March 9, 2023
The Russians opened up on the Ukrainians today with a cruise missile and drone barrage:
Massive missile and drone attack on Ukraine tonight. Air raid in Kyiv for 7 hours. Energy objects shelled in:
Kyiv – Kinzhal missile hit energy facility
Kharkiv – city and region hit by 15 strikes
Mykolaiv
Zaporizhzhia
Odesa
Dnipro
Zhytomyr regions#RussiaisATerroistState

— Maria Avdeeva (@maria_avdv) March 9, 2023
Left alone.
A dog that miraculously survived today's attacks lies in the ruins of the house in which his owners died.
5 civilians were killed as a result of russia's missile strike in Zolochiv district of Lviv region.
In moscow, this murder is being called "retribution" pic.twitter.com/2Kj5dxtmkG

— Defense of Ukraine (@DefenceU) March 9, 2023
Ukrainian authorities confirm, Russian missile attacks hit critical energy infrastructure in Kyiv's southern Holosiivskyi District.#RussiaIsATerroistState pic.twitter.com/kR1yhfK5bS

— Julian Röpcke🇺🇦 (@JulianRoepcke) March 9, 2023
Situation in Zhytomyr (270,000 inhabitants) is dire. No water, no warmth, no electricity after multiple hits by Russian invasion forces:
Ukraine urgently needs more AD and the Western allowance to destroy Russian bombers inside Russia.

— Julian Röpcke🇺🇦 (@JulianRoepcke) March 9, 2023
Four killed in Lviv region as a result of Russian missile attack. In Zolochiv, the rocket fell on residential buildings. There may be other people under the rubble. pic.twitter.com/e8J0bRMmCs

— Maria Avdeeva (@maria_avdv) March 9, 2023
Russia launched all types of cruise missiles at Kyiv overnight. Thanks to the work of Ukrainian air defense, , strikes by cruise missiles and drones were prevented. Kinzhal ballistic missile, which Ukraine cannot intercept, hit energy facility. pic.twitter.com/BkMluWWmt9

— Maria Avdeeva (@maria_avdv) March 9, 2023
Kharkiv this morning after massive Russian missile attack with at least 15 S-300. pic.twitter.com/QmlJTp89Kl

— Maria Avdeeva (@maria_avdv) March 9, 2023
The situation with electricity in Kharkiv remains critical tonight. A city of a million people plunged into darkness after massive Russian missile strike from Belgorod with more than a dozen S300 missiles. pic.twitter.com/GH9ZnTGT97

— Maria Avdeeva (@maria_avdv) March 9, 2023
UPDATE: RU fired 81 missiles of various types at UKR last night, as well as 8 Shahed 136s. Only 38 of these missiles were shot down. The lower interception rate likely reflects a change in launch tactics by RU. Ukraine desperately needs upgraded air defense weapons.

— Chuck Pfarrer | Indications & Warnings | (@ChuckPfarrer) March 9, 2023
Last night, russia attacked Ukraine with 81 missiles and 8 Shahed drones.
34 cruise missiles and 4 drones were shot down by Ukraine's air defense. 8 rus missiles missed their targets.
There are killed and injured among civilians.@CinC_AFU

Ukraine needs more air defense systems. pic.twitter.com/VnFTyiZ0N9

— Defense of Ukraine (@DefenceU) March 9, 2023
Yes, yes Ukraine does!
Radio Free Europe/Radio Liberty reports that Slovakia is considering providing Ukraine with their old MiGs, which they're transitioning away from:
Slovakia must make a decision on sending MiG-29 fighter jets to Ukraine, Defense Minister Jaroslav Nad said on March 9, referring to a fleet of 11 that were retired last summer, not all of them in operational condition. Nad said he had spoken to Poland's defense minister at a European Union meeting a day earlier and was told that Warsaw would agree to a joint process to hand over MiG-29 jets to Ukraine. Western countries that have provided Ukraine with arms have so far declined to send fighter jets. Poland has said it would be willing to send war planes in a coalition of countries.
For you art history fans, here's a thread on Taras Schevenko. First tweet below, followed by the rest from the Thread Reader App:
Today is the birthday of Taras Shevchenko (1814-1861), a great 🇺🇦 artist and poet, a symbol of the struggle for independence and against russian imperialism. You probably heard about him at least once. Big thread about his life and art. 🧵

'Kateryna' (1842) pic.twitter.com/fMkWWMBSc2

— Ukrainian Art History (@ukr_arthistory) March 9, 2023
In 1828, Shevchenko was hired as a serving boy to a lord's court in Vilshana and obtained permission to study with a local artist. When Taras was 14, Vasily Engelhardt died, and the village of Kyrylivka and all its people became the property of his son, Pavlo Engelhardt 
This'll get your attention:
Russian TV hacked to broadcast nationwide nuclear alert. pic.twitter.com/7RntfIvJLs

— Maria Avdeeva (@maria_avdv) March 9, 2023
That's enough for tonight.
Your daily Patron!
A new video from Patron's official TikTok!
The caption machine translates as:
A video for everyone who loves croissants 🥐😋 #песпатрон
Open thread!