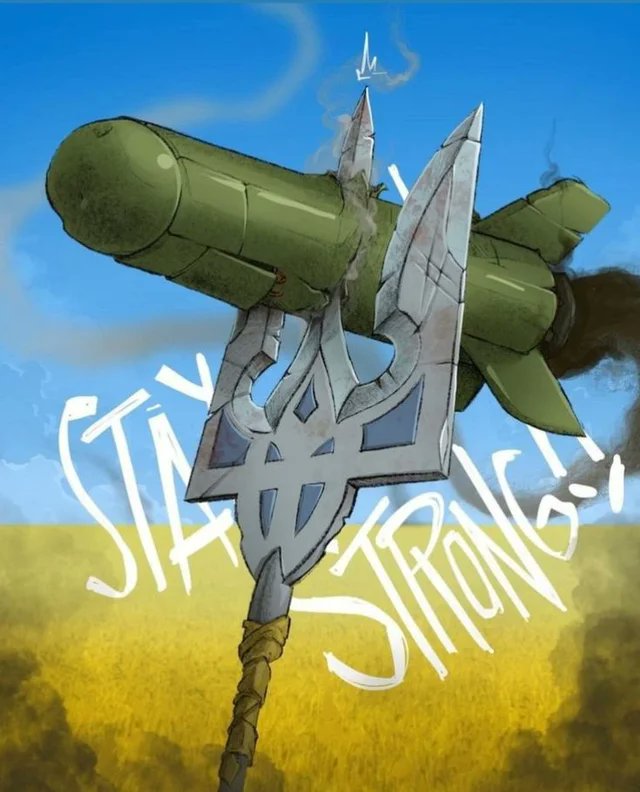 President Zelenskyy went to Kherson today:
Zelenskyi visited the town of Posad-Pokrovs'ke in liberated Kherson region. For a long time, this town acted as the actual frontline between Ukrainian and Russian troops. pic.twitter.com/50eELeNiIt

— NOËL 🇪🇺 🇺🇦 (@NOELreports) March 23, 2023
This also happened in Kherson this morning:
Since the first day of liberation, russian terrorists have been shelling Kherson non-stop.
On the morning of March 23, russian shells hit the cardiology center, residential buildings, and communication lines.
A 50-year-old woman died, another woman was injured. pic.twitter.com/AwPdlPwU5e

— Defense of Ukraine (@DefenceU) March 23, 2023
While I'm sure they do everything possible to keep him safe, it is important to keep in mind the risks President Zelenskyy is willing to take to get out and be among both Ukrainian military personnel and Ukrainians in general.
Here is his address from earlier today. Video below, English transcript after the jump:
In the free territory of the Kherson region, more than 50 villages were almost completely destroyed by the occupier, but people are returning even to such villages – address by the President of Ukraine

23 March 2023 – 21:34

Good health to you, fellow Ukrainians!

I have returned from the Kherson region – my day was devoted primarily to this region of ours.

The security situation: our responses to the enemy shelling of the Kherson region, counter-battery fighting and everything else that our soldiers do so that the occupier knows that we will not forgive or forget terror.

Today, the Russian army struck again at the Kherson region, hit Beryslav – the local administration, houses, the museum… Even the historical museum in Beryslav is a threat to Russia for some reason… An absolutely mindless state, purely a terrorist state. Which we will neutralize.

I held a long meeting in Kherson with all those responsible for the region: for defense, for the social situation. We separately and carefully considered the energy situation, the issue of recovery.

In the free territory of the Kherson region, more than 50 villages were almost completely destroyed by the occupier. In some places, more than 90% of the buildings in the villages are ruined. But even in such villages, people return, and this is proof that life still prevails.

Today I was in one of the largest such villages – Posad-Pokrovske. Once one of the largest, before the invasion of Russia. And we will do everything to make this village one of the largest again – we will do everything to rebuild our territories.

I am grateful to everyone who helps restore the normality of life after the Russian evil. To everyone who, even in such difficult areas, continues to work and give work, to everyone who helps our soldiers.

I especially want to thank everyone involved in demining. It is nice to see when the fields of the Kherson region, cleared of Russian mines and shells, are cultivated again, live again.

Of course, there are still few such lands, and there is still enough work for our sappers and pyrotechnicians… But I am sure that we will cleanse our land of all the deadly manifestations of Russia. All of Ukraine will live.

I am grateful to Finland, which today announced a new package of security support. Among other things, these are demining machines. Plus, of course, important things for our military on the frontline.

I had the honor to present state awards today to our soldiers who distinguished themselves in the defense of the Kherson region and the whole of Ukraine.

On the train of our "Ukrzaliznytsia" – by the way, I thank the entire team of our strong railway – I took part online in the meeting of the European Council, which took place in Brussels with the participation of the leaders of all EU states and the President of the European Council Charles Michel. I was very specific in this address.

I pointed out the strong steps taken by the partners. But I also noted things that, unfortunately, do not allow us to speed up the liberation of the territories, do not allow us to speed up the end of the war.

First of all, it is the supply of more effective weapons to our warriors – long-range weapons and modern aircraft, regarding which we still see a certain delay in the decisions of our partners. It is also important to move more actively in the direction of new and stronger sanctions against Russia for terror and new steps in our Ukrainian integration with the structures of the European Union.

I am sure: the partners have heard Ukraine's position.

And one more thing. Today we have a result which we have been working on for some time.

An agreement was signed on the opening of a representative office of the International Criminal Court in Ukraine.

This step will allow international justice to be even more active in investigating the crimes of the Russian military on our Ukrainian soil.

I am thankful to the entire team of the International Criminal Court, the Office of the Prosecutor General, our partners, everyone who helps the work of international justice – the investigation of Russian crimes against Ukraine and Ukrainians.

Glory to all who are now fighting for freedom!

Glory to each and every one who defends our Kherson region, our Mykolaiv region, Odesa region, Dnipropetrovsk region, Zaporizhzhia, Donbas, Kharkiv region, Sumy region, Chernihiv region and all of our Ukraine!

Glory to Ukraine!
A Ramadan message from President Zelenskyy:
May the power of prayer in this holy month of Ramadan help us cleanse Ukraine of Russian godless evil, of those who truly believe in nothing, and that is why they are capable of such terror. Let the next Ramadan begin in peace and on the entire Ukrainian land free from Russia. pic.twitter.com/ukzhncJ3Tg

— Володимир Зеленський (@ZelenskyyUa) March 22, 2023
Here's an update from Ukraine's GUR/Main Intelligence Directorate of the Ministry of Defense and one from Colonel-General Syrksyi posted at the Ukrainian MOD's Telegram channel: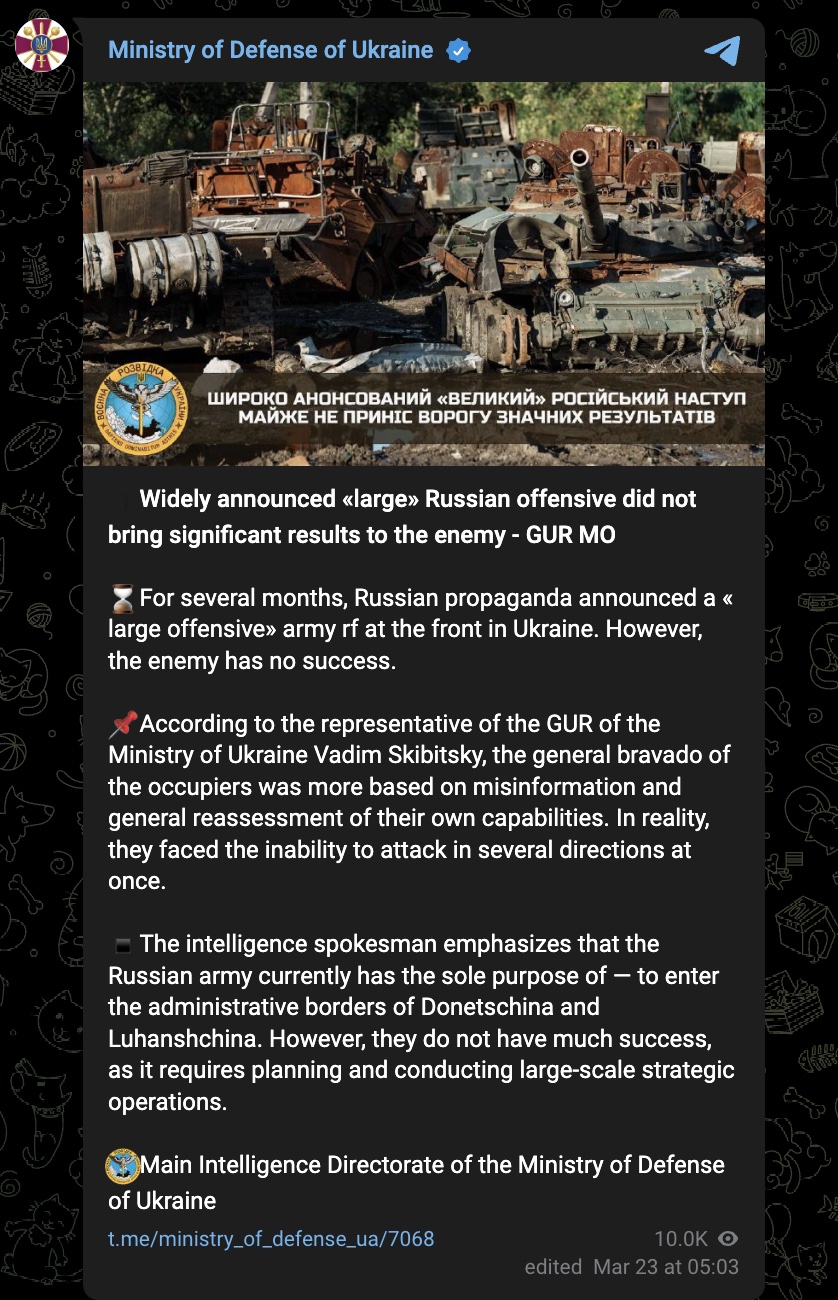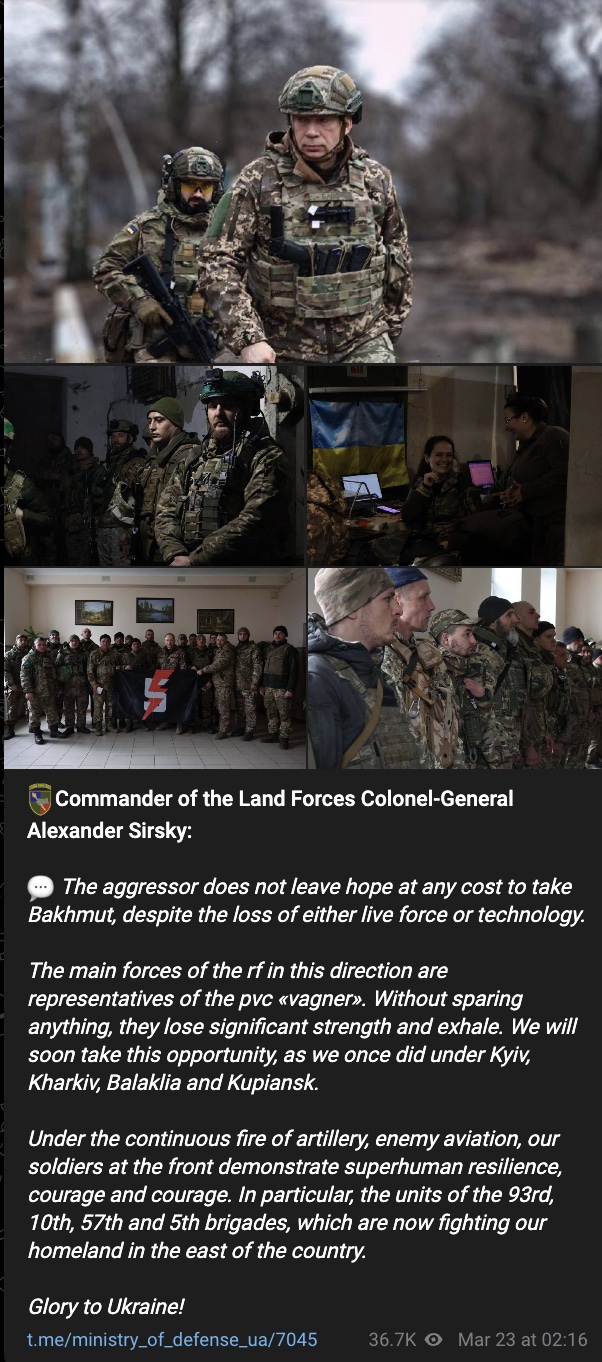 Here is former NAVDEVGRU Squadron Leader Chuck Pfarrer's most recent assessment of the situations in Bakhmut:
BAKHMUT CITY /2020 UTC 23 MAR/ RU forces continue to press round-the-clock attacks on urban areas. UKR reports that Russian losses are mounting in men, materiel and vehicles. pic.twitter.com/Pi5YoOEDrJ

— Chuck Pfarrer | Indications & Warnings | (@ChuckPfarrer) March 23, 2023
BAKHMUT AXIS/ 1200 UTC 23 MAR/ Wagner continued piecemeal attacks along the North [M-03] axis, where stubborn UKR defense broke up attacks at Bohdanivka. RU forces are reported to have sustained heavy losses in positional fighting in the northern and riverfront areas of Bakhmut. pic.twitter.com/g27uH9pgRM

— Chuck Pfarrer | Indications & Warnings | (@ChuckPfarrer) March 23, 2023
Bakhmut:
Ukrainian artillery near Bakhmut.

📷@WGrzedzinski pic.twitter.com/O4wzYLiRjC

— Defense of Ukraine (@DefenceU) March 23, 2023
Despite the loss of their commander, DaVinci's Wolves are on the prowl!
Part 2 pic.twitter.com/wHLg5z4ba8

— NOËL 🇪🇺 🇺🇦 (@NOELreports) March 23, 2023
The O0506 road from Chasiv Yar through Khromove to Bakhmut has been a "road of life" and most recently a "road of death" amid a brutal escalation on the eastern front. The photo is mine from 2010, before Russia invaded. The video is from recent days, posted on telegram. Hell. pic.twitter.com/B75EC3UPL3

— Christopher Miller (@ChristopherJM) March 23, 2023
In this intercepted call, the occupiers are discussing cases of desertion from Russian units, and complain about failures in the Bakhmut direction, knowing how many more cities are ahead of them. pic.twitter.com/I6rYoKdhxC

— Dmitri (@wartranslated) March 23, 2023
Combined tactical unit 'ADAM' with another video on how they eliminated an enemy Wagner assault group near Bakhmut. pic.twitter.com/E6RMLKBs8b

— NOËL 🇪🇺 🇺🇦 (@NOELreports) March 23, 2023
Like I'm not going to include a video about a Ukrainian unit named Adam hunting Wagner in Bakhmut?
Avdiivka and Kreminna:
In Kreminna I received confirmation that Ukrainian troops had indeed pushed Russian troops north of Dibrova 500-1000m back. Large-scale Russian attacks remain out of the last 48-72 hours. Local skirmishes in Kreminna forest. The AFU also averted an attack on Bilohorivka. pic.twitter.com/Mm4ZnUY0w9

— NOËL 🇪🇺 🇺🇦 (@NOELreports) March 23, 2023
Odesa:
Tonight, Ukrainian air defence shot down two Kh-59 guided cruise missile over Odesa region.#russiaisateroriststate

— Defense of Ukraine (@DefenceU) March 23, 2023
BLOCKED SHOT: Ukrainian air defenses intercepted two Russian Kh-59 air to ground missiles fired at civilian targets in Odesa. The attacking Russian Su-35 strike fighters were driven off after launching missiles over the Black Sea. https://t.co/y6xRT4HfAh pic.twitter.com/UdVSSeFkDQ

— Chuck Pfarrer | Indications & Warnings | (@ChuckPfarrer) March 23, 2023
Nova Kakhovka, Kherson:
General Staff on Nova Kakhovka: Russian forces are still there. Information about their withdrawal was made public as a result of incorrect use of available data.

Nova Kakhovka will be liberated, no doubt.

— Maria Avdeeva (@maria_avdv) March 23, 2023
The cost!
Deported Ukrainian *children* returning home from RU describe psychological torture they endured, including being told their parents didn't want them anymore and that Kherson being liberated by Ukrainians was a lie. https://t.co/Ms2KdvYLUi

— Markian Kuzmowycz 🌻 (@markiank) March 23, 2023
The tweet being quote tweeted machine translates as:
The video shows children deported by the Russian occupiers from Kherson region who were returned to Ukraine.

They say that they were threatened with a Pskov boarding school, told that their parents had abandoned them, beaten with metal sticks, and taken away for shouting "Glory to Ukraine." In addition, the Russians told the children that the liberation of Kherson was not true and that they would forever remain "children of Russia."

Video: Tatiana Popova.
This guy…
Prigozhin claims that he knows about the Ukrainian plan to deal 3 blows and liberate the territory to the 1991 borders. He states that Ukraine concentrated 200,000 of reserves in the Donbas, with 80k of them being near Bakhmut. Plans include invading the Belgorod region to be… pic.twitter.com/tylrPk6yKl

— Dmitri (@wartranslated) March 23, 2023
Slovakia:
Bird migration.
Thank you, Slovakia! https://t.co/aOe4xicIKp

— Defense of Ukraine (@DefenceU) March 23, 2023
In time for spring, birds traditionally arrive in Ukraine…
MiG-29 jets from Slovakia will have a lot of work defending the Europe.
Thank you to @eduardheger @JaroNad and the Slovakian people.
🇺🇦🤝🇸🇰
Our Air Force is ready to accept more jets and protect our skies!

— Oleksii Reznikov (@oleksiireznikov) March 23, 2023
The Associated Press has the details on what Slovakia is getting to backfill the MiGs:
BRATISLAVA, Slovakia (AP) — The United States has offered Slovakia 12 new military helicopters as compensation for the MiG-29 fighter jets the European country is giving to Ukraine, Slovakia's defense minister said Wednesday.

Under the offer, Slovakia would pay $340 million for the Bell AH-1Z attack choppers in a deal worth about $1 billion that also includes 500 AGM-114 Hellfire II missiles and training, Defense Minister Jaroslav Nad said.

U.S. foreign military financing would cover the other $660 million, he said. The European Union also would send Slovakia 200 million euros ($213 million) in additional compensation, Nad said.

The Slovak government still needs to accept the offer.

Nad said his country's armed forces currently don't have any combat helicopters and that the deal would "significantly increase the defense capability of Slovakia."

On Friday, the Slovak government approved a plan to give Ukraine its fleet of 13 Soviet-era MiG-29 fighter jets, becoming the second NATO member country to heed the Ukrainian government's pleas for warplanes to help defend against Russia's invasion.

Slovakia grounded its MiGs in the summer due to a lack of spare parts and expertise to help maintain them. Fellow NATO members Poland and the Czech Republic stepped in to monitor Slovak air space.
Slovakia also has an order in for fourteen new F-16s, but they won't be delivered until sometime next year.
Despite our NATO partners who are transitioning away from their legacy Soviet/Russian platforms and sending htem to Ukraine, I don't see the F-16 discussion/debate going away any time soon:
The Nato head Jens Stoltenberg did not rule out member states going further by sending F-16s or other western jets to Ukraine.
"We should continue to address the need for more capabilities," Stoltenberg said.

We need F-16. 📣 pic.twitter.com/ih4arFs283

— Ukrainian Air Force (@KpsZSU) March 23, 2023
The discussion has now evolved to include request for FA-18s! Machine translated from reporting at Helsingin Sanomat:
Paavo Teittinen HS, Teemu Luukka HS
22.3. 23:09 | Updated 7:17

According to the information obtained by Sanomat, Ukraine has submitted a request to Finland for tripartite discussions between Finland, Ukraine and the United States on Hornet fighters.

The request has come shortly after the Prime Minister Sanna Marin ( sd ) discussed the President of Ukraine Volodymyr Zelenskyin the possibility of extraditing Hornet fighters leaving the country.

According to the HS, the request has been received by the Ministry of Defense for non-very high-level military officials providing assistance to Ukraine, not directly to ministers or the Finnish government.

REQUEST joins a fact-finding team set up by Ukraine to find out the possibility of obtaining American-based machines from different countries in Ukraine.

According to the HS, Ukraine has visited, or at least expressed its wish, discussions with other EU countries with fighters.

The issue of fighters is extremely sensitive and important to Ukraine, which is defending itself from the Russian war of aggression.

Ukraine's request for discussions is a reaction to the fact that earlier in March, during his visit to Kiev, Marin opened up the possibility of handing over to Ukraine Hornet fighters leaving Finland. Marin met with Ukrainian President Zelensky in Kiev.

According to HS data, Ukraine was well aware of the fighter situation in Finland. Several sources of the HS say that the fighters first raised Zelenskyi.

HORNETS are coming to an end of their service life and are being replaced by new U.S. F-35 fighters. The first batch of Hornets will be phased out in two or three years at the earliest.

President of the Republic Sauli Niinistö said earlier in an interview with MTV on Wednesday that Ukraine has not been in contact, at least with him, with the Hornets.

UKRAINE Finland's request for a debate on fighters also applies to the United States. The divestiture would require US approval because the US company has manufactured the Hornets.

The fighter issue is difficult for the United States because it does not want to hand over fighters to Ukraine.

To the President of the United States Joe Biden there has been pressure in the country's Congress to hand over fighters, but Biden has stated that Ukraine does not currently need fighters. The United States fears the escalation of war.

Also the German Chancellor Olaf Scholz has rejected the dispatch of fighters. The President of France Emmanuel Macron and the Prime Minister of Britain Rishi Sunak have stated that sending fighters " is not excluded ", but they have not given the fighters the green light either.

MARIN fighter comments emerged earlier in March during a trip to Kiev when a reporter asked about it.

On Tuesday at the Ilta-Sanomat election exam, Marin confirmed that he had spoken to Zelensky before the fighters came up at the press conference.

No promises have been made. But I'm told that we have such a situation, that we are acquiring new fighters and we know their schedule. And that this is a debate that can be held in Finland ", Marin said.

HS asked Marin on Wednesday evening for a comment on Ukraine's request for tripartite discussions on fighters.

Marin did not respond to the interview request but forwarded the written comment through his special assistant. The comment does not comment on Ukraine's request for a debate on fighters, but states that Zelenskyi " has highlighted the need for confirmation of air defense and the supply of fighters to Ukraine " on various occasions.

" I told President Zelensky that we can discuss the matter, but promises have not been given. I also told the acquisition of new fighters that Finland has made the decision and that we can discuss the use of the outgoing equipment together with the state management, taking into account the geopolitical location ", the message conveyed by Marin's assistant is written.
More at the link!
Release the Super Bugs!
While Ukraine waits to find out what other aviation assets it might get, The Economist reports it is not just sitting around twiddling its thumbs.
On february 28th the skies above Russia buzzed with the sound of hostile drones. St Petersburg, the country's second city, imposed a 200km no-fly zone around its airports. In Krasnodar in the south, an oil depot went up in flames. Drones reached Belgorod and Bryansk regions, which share a border with Ukraine. One even came close to Moscow—downed after reportedly clipping trees less than 100km from the capital. The incursion was not the first time that Ukrainian unmanned aerial vehicles (uavs) had found a way past Russian defences, but it was the first concerted attack of its kind. It had many Ukrainians wondering if they had found a key to overturning Russia's long-range strike advantage—even in the absence of long-range Western munitions like atacms missiles, which may never come.

Only a few military systems can perform well. "The Russians are very, very good at what they do," the industry source says. "They are performing black magic in electromagnetic defence. They can jam frequencies, spoof GPS, send a drone to the wrong altitude so that it simply drops out of the sky." The threat from ground-based air defences means that Ukrainian reconnaissance drones struggle to see more than 15km behind Russian lines, says one expert with recent experience of observing drone operations.

At an early stage the Ukrainians appeared to pin hopes for controlling drones behind Russian lines on Elon Musk's Starlink satellites, which work at frequencies and in numbers that Russian systems struggle to jam. A naval-drone attack on Russia's Black Sea fleet in October reportedly made good use of this gap. But Mr Musk, apparently worried about the escalatory effect of such moves, has stepped in where Russian technology proved unable to. Starlink now uses geofencing to block the use of its terminals—not only above Russian-occupied territory inside Ukraine, but also, according to a Ukrainian military intelligence source, over water and when the receiver is moving at speeds above 100km per hour. "You put it on a boat at sea and it will simply stop working," he says. So Ukraine's drone developers now use a range of other, more expensive communication systems, with multiple systems often on the same vehicle. The success of the attack on February 28th in getting so close to Moscow suggests that Ukraine may be getting close to a solution that works.

But though Ukraine may have proved the concept, it is another thing to scale it up. Ukraine's strike-drone programme still appears some way from achieving the production volumes it needs to rival Russia's long-range strike capacity, says Seth Frantzman, the author of "Drone Wars", which traces the use of UAVs in combat. One problem is access to air-launched munitions, with America reluctant to provide weapons that could reach deep inside Russia. Improvised devices and ingenuity can only go so far, though the Ukrainians are certainly trying.

Another major bottleneck is engine production, especially the petrol engines (as opposed to electric motors) needed to power strike drones over large distances. Only a limited number of manufacturers in the world can produce them and Ukraine is competing to buy from the same markets as its enemy. "We really sense the presence of the other party here," says Mr Fedorov, the deputy prime minister

Drones have been flying above war zones for more than a century. The Israelis flew reconnaissance craft in the 1970s; an American precision-strike drone was deployed for the first time in the early 2000s. But current usage is evolving fast. Ukraine is deploying drones in at least five different ways: as small, commercially available reconnaissance vehicles that can feed video footage back over a short range; as small-scale improvised loitering munitions, often designed to disturb more than destroy; as more sophisticated reconnaissance or electronic-warfare drones; as larger loitering munitions designed to destroy heavy armour; and finally as strike drones, whether airborne or naval, able to deliver bombs and missiles over distances of hundreds or even thousands of kilometres.

If the hardware for the former categories comes in many different forms and is mostly produced abroad, strike drones are produced in much smaller quantities and are almost exclusively Ukrainian. It is here that military inventors are hoping to make their breakthrough.

Mykhailo Fedorov, the 32-year-old deputy prime minister responsible for both Ukraine's drone programme and its digital transformation, says the turning-point may be coming faster than people think. A number of changes are about to make a big impact, he says. The army has completed a big restructuring, establishing 60 new attack-drone squadrons, at least one in every brigade, with separate staff and commanders. This is the first reform of its kind anywhere in the world. Ukraine's military doctrine has been updated to include (classified) guidelines on drone use. The defence ministry has created a new board to co-ordinate the work of drone producers. There has been a drive to deregulate: removing import and certification barriers. And this month is marked by the launch of a new military "cluster" venture designed to link Ukrainian military tech with international companies and capital.

A defence-industry insider, speaking on condition of anonymity, confirms that the army is due to gain "significant and high-tech capacity" in the coming weeks and months. That said, it will still struggle against the Russians, he cautions. Their own Iranian-designed drones have tormented Ukrainian cities since the start of winter. The war is also testing drone technologies as never before: over a large, contested airspace and against sophisticated electronic-warfare systems.
That's enough for tonight.
Your daily Patron!
A new video from Patron's official TikTok!
Open thread!