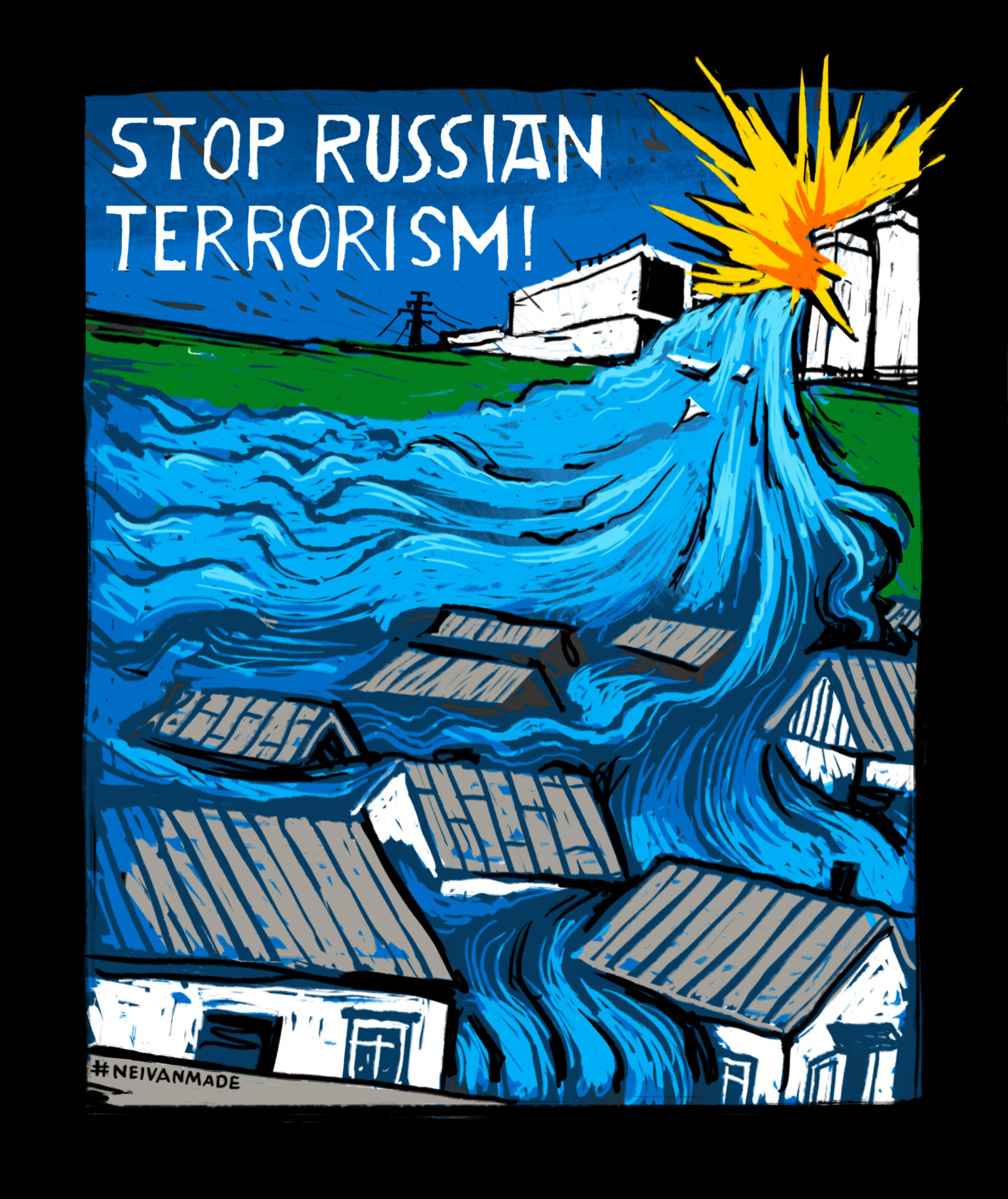 (Image by NEIVANMADE)
The Russians did not just blow the Kakhovka dam, they are also destroying smaller dams in Zaporizhzhia Oblast:
2/ Satellite images show the change in the water level in the village of Petrivka, 30 km west of Melitopol. pic.twitter.com/YL2ETjmCHr

— Giorgi Revishvili (@revishvilig) June 9, 2023
In the video, Russian invaders destroyed small dams in Petrivka, Zaporizhzhia Oblast to prevent Ukrainian advance. Just to note, yesterday, Ukrainian defenders made territorial gains in Lobkove and Luhove pic.twitter.com/l3ta5CoVVp

— Giorgi Revishvili (@revishvilig) June 9, 2023
Here is President Zelenskyy's address from earlier today. Video below, English transcript after the jump.
Ukrainian sense of international relations is that we should always take care of each other – address of President Volodymyr Zelenskyy

10 June 2023 – 18:53

Dear Ukrainians, I wish you health!

A summary of this day. The first is negotiations with Prime Minister of Canada Justin Trudeau.

Weapons and ammunition. There is a defense package, in particular, the important 155mm. The coalition of modern fighters and the training of our pilots have the visible progress. The movement towards NATO – in this regard, there is also a result today.

I am personally grateful to the Prime Minister and to all Canadians for their unwavering and unequivocal support for our freedom.

The consequences of the Russian terrorist attack on the Kakhovka HPP were discussed in detail. Canada is among those who can help us recover from this disaster. We understand each other in the steps that are needed. And they are needed very quickly.

Of course, we will not stay away from the disaster Canada is facing now.

Massive wildfires, colossal environmental losses, and threats to people… Ukraine is ready to help extinguish fires if Canada needs such international assistance.

Our Ukrainian sense of international relations is precisely in the fact that we should always take care of each other when support is needed. And really help.

I am sure it will become global principles. Mutual action, mutual support, mutual strength.

Now, unfortunately, we see that at some levels in the world, there is simply a shameful indifference to the ecocide and human tragedy caused by the Russian terrorist attack on the Kakhovka HPP.

When international organizations that are supposed to protect life on a global scale do not have time to organize and send a rescue mission to the occupied territory even in a week when some world players do not dare to come out even with clear and strong statements that would condemn this new Russian war crime, terrorists are simply fueled by this weakness of the world, this indifference – it encourages them. And we have to overcome this. And we will overcome.

We are pressing and encouraging so that international organizations and international support come to the part of Kherson region where the occupiers are now.

As of now, over 3,000 people have already been evacuated in Kherson and Mykolaiv regions. But again, it is only a free territory under our control.

In the occupied territory, it is only possible to help people in some areas – Russian terrorists are doing everything to make the victims of the disaster as many as possible. Russian shelling continues – even at evacuation points. Russia does not provide any real help to the people in the flooded areas – not for the sake of propaganda, but for the sake of the people…

The Russian state and the Russian leadership should bear separate, fair and strict responsibility for all this.

And international organizations should operate in our areas, which we have not yet de-occupied. Every life is important – all of Kherson region, all of the south. Every city and village. We will do everything possible and impossible so that help comes to all our people.

I thank each of our rescuers, military and police, local communities, and international organizations currently operating in Kherson region and Mykolaiv region, all our volunteers – each and every one who helps save people, animals, and life in general in the disaster zone… I thank the journalists, who spread the truth and tell the world the stories of people who have suffered.

I'm thankful to everyone who helps people after the strikes of Russian missiles and Iranian Shahed drones. Odesa… My condolences to the relatives of those whose lives were taken last night by Russian terror… More than 20 were wounded. Everyone gets help.

As every day, thanks go to our soldiers. To everyone who is on the front line, in positions, at combat posts, and on combat missions. Who destroys the enemy on land and protects our sky. I thank everyone who is taking a stand and who is moving forward. Khortytsia, Tavria – thank you to each of our heroes!

Every effort to quickly restore peace to our entire state, every city, every village, every corner of Ukraine.

Glory to Ukraine!
Here is the video, with English subtitles, of the joint press conference with President Zelenskyy and Prime Minister Trudeau:
Kherson:
Look closely into her eyes.
Maria, 84 y.o., is suffering from the second full-scale war of her life.
The russia-caused flood submerged her house in #Kherson.
She is one of the lucky ones. Unlike so many others, she was rescued.
📷 Pavlo Petrov pic.twitter.com/MzL6PcgYUA

— Defense of Ukraine (@DefenceU) June 10, 2023
A team of rescuers and volunteers in Kherson who received a NAFO boat thanks to your help. – https://t.co/tVmFpZckH5
Also a short video about the conditions in which this team has to work. pic.twitter.com/DV8l0EgEWZ

— Special Kherson Cat 🐈🇺🇦 (@bayraktar_1love) June 10, 2023
And a Ukrainian strike on the Arabat Spit:
Reportedly, this night strikes were carried out on recreation centres in Kherson region:
– Arabat Spit (1-2 photos)
(45.9904660, 34.8479778)
– Zhelezny Port (3-4 photos)
(46.1206061, 32.2827680)@GeoConfirmed pic.twitter.com/wEw2o3nPP7

— Special Kherson Cat 🐈🇺🇦 (@bayraktar_1love) June 10, 2023
Kharkiv, Poltava, and Odesa:
Last night, russians attacked Kharkiv, Poltava, and Odesa regions with cruise missiles, Iskander ballistic missiles, and Iranian-made Shahed-136/131 drones.
Our air defenders shot down 2 cruise missiles and 20 Shaheds.
Unfortunately, fragments of the destroyed drone hit an… pic.twitter.com/cwOcvDAJ46

— Defense of Ukraine (@DefenceU) June 10, 2023
Here's the full text of the tweet:
Last night, russians attacked Kharkiv, Poltava, and Odesa regions with cruise missiles, Iskander ballistic missiles, and Iranian-made Shahed-136/131 drones.
Our air defenders shot down 2 cruise missiles and 20 Shaheds.
Unfortunately, fragments of the destroyed drone hit an apartment building in Odesa. Three civilians were killed, and 27 others, including a pregnant woman and two kids, were injured.
Three people killed and 26 wounded including three children in Odesa as a result of drone attack. Can't believe Russia kills civilians every night, and someone is still talking about negotiations. pic.twitter.com/BfSH8jVaJ2

— Maria Avdeeva (@maria_avdv) June 10, 2023
Kherson and Khakhovka:
Saving cats, dogs, and humans in Kherson and Kakhovka 1/ pic.twitter.com/3VOyk4KwV5

— Tymofiy Mylovanov (@Mylovanov) June 10, 2023
— Tymofiy Mylovanov (@Mylovanov) June 10, 2023
— Tymofiy Mylovanov (@Mylovanov) June 10, 2023
— Tymofiy Mylovanov (@Mylovanov) June 10, 2023
— Tymofiy Mylovanov (@Mylovanov) June 10, 2023
11/ pic.twitter.com/BcmnfhFOeQ

— Tymofiy Mylovanov (@Mylovanov) June 10, 2023
13X pic.twitter.com/9oT16tP8Pa

— Tymofiy Mylovanov (@Mylovanov) June 10, 2023
Latest Defence Intelligence update on the situation in Ukraine – 10 June 2023.

Find out more about Defence Intelligence's use of language: https://t.co/Sr1VlSp8Hy

🇺🇦 #StandWithUkraine 🇺🇦 pic.twitter.com/lBSwEVN2pH

— Ministry of Defence 🇬🇧 (@DefenceHQ) June 10, 2023
I know everyone is seeing a few videos or a couple of pictures on social media of Ukrainian armor and other vehicles after they hit a few mines. This has resulted in a lot of gloom and doom. Everyone needs to chill out and realize a few important things. The first is that this is the first time the Ukrainians are really attempting combined arms maneuver. The senior leadership has and is working very hard to shed the Soviet and post-Soviet Russian system of land warfare they came up in early in their careers. The younger Soldiers – those from 2014 on – have learned their own way of war the hard way and it isn't based on the Soviet legacy model. There's a layer in between, however, that will have to work hard to overcome the indoctrination they received as their careers progressed. So this is going to be a work in progress. The second is that the Ukrainians DO NOT HAVE AIR SUPERIORITY! And the Russians, if they could get their shit together, have the ability TO HAVE AIR SUPERIORITY! The United States Army is really the only professional military that can do combined arms maneuver at scale and we ALWAYS HAVE AIR SUPERIORITY! We wouldn't even attempt to do what the Ukrainians are doing without air superiority. The third thing to keep in mind is that this is not going to be the 1st Armored Division making a speed run to Baghdad. The axes of combat is long and winding and runs through multiple different types of terrain. That alone would make whatever the Ukrainians are really doing now and are going to be doing throughout the summer and Fall difficult. It will be a long, grinding campaign. There will be clear advances, clear setbacks, and a lot of the time the conflict may and will look frozen as each side grapples with the other. Clausewitz's statements about fog and friction need to be kept foremost in mind at all times. The Ukrainians are in this for the long haul. The least those of us watching from safety can do is not to freak out with every tweet.
As I just wrote, the Ukrainians are in this for the long haul. The one thing that should not be in doubt is that the vast, vast majority of Ukrainians oppose territorial concessions even if it prolongs the war. From The New Voice of Ukraine:
The vast majority of Ukrainians – 84% – continue to believe that no territorial concessions are acceptable, even if that means the war will last longer and they will have to live under further threats, according to a Kyiv International Institute of Sociology (KIIS) survey released on June 9.

Only 10% believe that Ukraine should give up some territories to achieve peace and preserve independence.

In every region of Ukraine, the absolute majority of the population is against any territorial concessions, KIIS said.

In Eastern Ukraine 75% are against concessions (only 13% are ready to make concessions), while 86% are against concessions (only 8% are ready) in Southern Ukraine.

Compared to May 2022, there is a distinct dominance of the opinion in all regions that Ukraine should not cede any of its territories, sociologists said.

KIIS noted there were only 19 respondents in the sample who continue to identify themselves by nationality as Russian. This amount is not enough for statistically reliable calculations. However, it is indicative that among them only two respondents are in favor of concessions, and 15, on the contrary, reject any concessions.

The survey was conducted from May 26 to June 5.

1,029 people were interviewed by phone in all regions of Ukraine, with the exception of the Russian-occupied territories. Those who went abroad after Feb. 24 were also not interviewed.

Since last May, the indicator of Ukrainians' unwillingness to make territorial concessions to end the war has remained at almost the same level, despite regular Russian attacks on critical and civilian infrastructure.

The nighttime missile strikes at Kyiv and other Ukrainian cities, which have been going on almost every day for over a month, has not affected the opinion of the respondents. Russia also began to actively use ballistic missiles. Ukrainian air defense, however, intercepts almost all enemy targets.
More at the link!
Here is Michael Kofman's take on the past week's events. Kofman is the Director of Russian Studies at the Center for Naval Analysis.
My comment here is not meant to paint a rosy picture. Early impression is this looks much closer to Kherson than Kharkiv. Those who thought it would be difficult, with high levels of attrition, are therefore not surprised. But this is based on very fragmentary visual evidence.

— Michael Kofman (@KofmanMichael) June 9, 2023
And Franz-Stefan Gady's:
And all of these combined arms operations are being conducted without Ukraine having achieved air superiority, something no Western-style military, including the United States, has any experience in.

— Franz-Stefan Gady (@HoansSolo) June 10, 2023
Zaporizhzhia Oblast:
— Special Kherson Cat 🐈🇺🇦 (@bayraktar_1love) June 10, 2023
Olaf Scholz:
"… and that part of🇺🇦territory is simply turned into🇷🇺. That, in all honesty, is President Putin's plan. (…) He wants to build another🇷🇺empire. He thinks his country is not large enough. To him, 🇺🇦+🇧🇾are part of Russia, as he has told us time and again." /2

— Thomas Kleine-Brockhoff (@KleineBrockhoff) June 10, 2023
That's enough for tonight.
Your daily Patron!
The caption machine translates as:
Morning affirmations 🥰😌
Open thread!