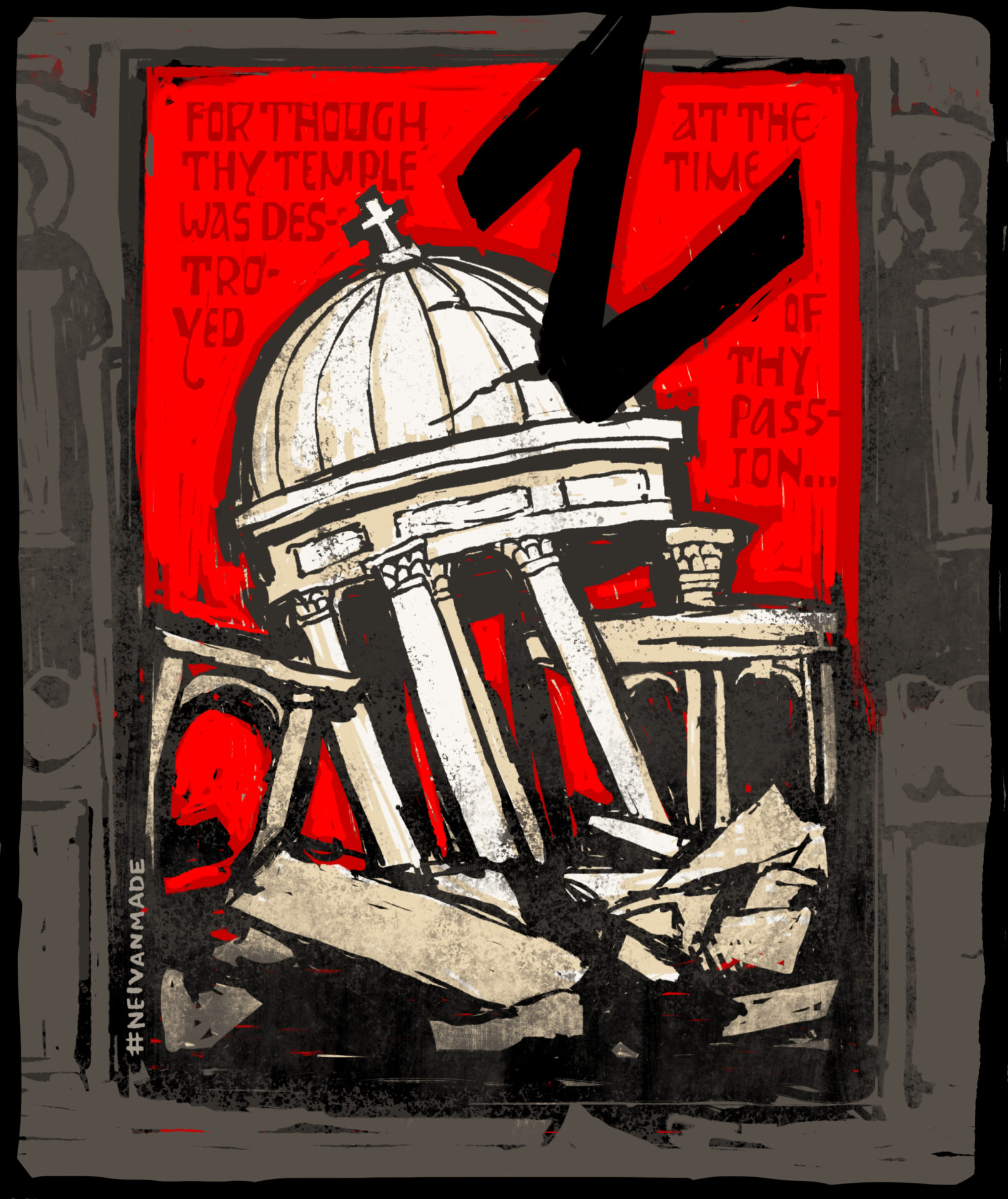 (Image by NEIVANMADE)
From sundown Wednesday 26 July through sundown Thursday 27 July, Jews will observe Tishs B'Av, which commemorates the destructions of the first and second temples.*
Destroyed twice – by Stalin and Putin – the Odesa Transfiguration Cathedral was built between 1794 and 1808. It was blown up by the Bolsheviks in 1936 and rebuilt after Ukraine regained independence (1996–2006).
On the night of July 22–23, 2023, it was hit by a russian missile.… pic.twitter.com/vCwDhANoR1

— Defense of Ukraine (@DefenceU) July 23, 2023
Destroyed twice – by Stalin and Putin – the Odesa Transfiguration Cathedral was built between 1794 and 1808. It was blown up by the Bolsheviks in 1936 and rebuilt after Ukraine regained independence (1996–2006).
On the night of July 22–23, 2023, it was hit by a russian missile.
📷 Konstantin Brizhnichenko, Roman Savitskyi, @Liberov
Odesa's main Orthodox cathedral. Established in 1794, destroyed by Stalin in 1936, rebuilt under an independent Ukraine and destroyed again by Putin in 2023. One of several historical parts of central Odesa, a UNESCO world heritage site, hit by Russian missiles strikes today. pic.twitter.com/X9BvICUbQ4

— Yaroslav Trofimov (@yarotrof) July 22, 2023
At night Russians launched another missile attack on Odessa. During the attack the Spaso-Preobrazhensky Cathedral in Odessa was severely damaged. https://t.co/HZMlvGkIuP pic.twitter.com/iPMjHFa0KS

— Special Kherson Cat 🐈🇺🇦 (@bayraktar_1love) July 23, 2023
History never repeats, but sometimes it rhymes.
Here is President Zelenskyy's address from earlier today. Video below, English transcript after the jump.
Despite any attempts to break our state and our people, we know that Ukraine has a future – address by President Volodymyr Zelenskyy

23 July 2023 – 21:29

Fellow Ukrainians!

Today, the liquidation of the consequences of the Russian terrorists' attack on our Odesa continues all day long. 19 missiles of various types were launched on purpose to make them harder to shoot down and cause more destruction.

Last night in Odesa, one person was killed. My condolences to the relatives and friends. 20 people were injured, including four children. 11 years old, 12 years old, two 17-year-olds. Everyone is being provided with the necessary assistance. And I thank each and every person who is with Odesa. I thank everyone in the city who is helping the victims and clearing the rubble. Rescuers and doctors, military and police, volunteers and local authorities. Businesses that have joined in. I also thank all the city residents. It is very important to help each other and your city!

I would also like to thank those in the world who have already condemned this latest manifestation of Russian evil. We cannot allow people around the world to get used to terrorist attacks. The target of all these missiles is not just cities, villages or people. Their target is humanity and the foundations of our entire European culture. Last night, a Russian missile – it was an X-22, an anti-ship missile – hit the altar of the Spaso-Preobrazhensky Cathedral in Odesa… One of the most valuable cathedrals in Ukraine. In 1936 it was looted and destroyed by the Bolsheviks. The cathedral was restored in independent Ukraine. And now terrorists are trying to destroy it again. Last night alone, nearly 50 buildings in Odesa were damaged, 25 of them architectural monuments. The historic center. A world heritage site that UNESCO has taken under its protection. The building of the Greek Consulate was also damaged, and this is already the second consular office in Odesa to be hit by Russian terror. Only three days ago, another such attack damaged the building of the Chinese Consulate.

Obviously, all this is a global threat. The destruction of cities, the destruction of culture, the destruction of ports that are fundamental to the world's food security. There has never been a terrorist capable of overcoming the world, and these Kremlin madmen will not succeed either.

There will be Spaso-Preobrazhensky Cathedral in Odesa. We will definitely restore everything. By the way, I am grateful to Italy, Madam Giorgia Meloni, members of the Italian Parliament, and the entire Italian society for their promise to help restore Ukraine's historical monuments.

The main thing is that despite any attempts to break our state and our people, we clearly know that we, Ukraine, have a future because we are defending culture and humanity. Russia, on the other hand, is bringing only one thing closer with its terror: its dismantling from history.

And one more thing.

We have already started preparing for the upcoming week. There will be a lot of different events that will definitely bolster Ukraine's defense.

I thank NATO Secretary General Jens Stoltenberg for promptly convening the first meeting of the NATO-Ukraine Council. In fact, immediately after our conversation yesterday, we agreed on the date – the meeting will take place this Wednesday. We are preparing it to be meaningful.

We are also preparing new support packages from our partners – everything that brings the defeat of Russian terrorists closer. More air defense for Ukraine, more artillery, more long-range weapons. The recipe for ending the war is obvious: everything depends on the unity and determination of all those who value freedom, culture and life.

Thank you to everyone who helps Ukraine! Thank you to everyone in Ukraine who cares about their neighbors.

Glory to our warriors!

Glory to Ukraine!
russia attacks Ukraine with indiscriminate high-power weapons. The Kh-22 missile, in particular, has a 50% chance of reaching a target with a 300-meter deviation. In fact, this means that even if the Kh-22s were targeting military or other infrastructure in Odesa last night, they…

— Defense of Ukraine (@DefenceU) July 23, 2023
russia attacks Ukraine with indiscriminate high-power weapons. The Kh-22 missile, in particular, has a 50% chance of reaching a target with a 300-meter deviation. In fact, this means that even if the Kh-22s were targeting military or other infrastructure in Odesa last night, they could only hit them by accident. Those who gave the order and launched them were well aware of this. This is a war crime, and the perpetrators will be brought to justice.
WARNING!!! WARNING!!! INTENSE & GRAPHIC CONTENT!!! WARNING!!! WARNING!!!
.@ZelenskyyUa
Ukraine needs a full-fledged sky shield – this is the only way to defeat russian missile terror. We have already shown that we can shoot down even the russian missiles that the terrorists boasted about. Thanks to the help of our partners and the air defense systems… pic.twitter.com/rIHHxZkFPM

— Defense of Ukraine (@DefenceU) July 23, 2023
Ukraine needs a full-fledged sky shield – this is the only way to defeat russian missile terror. We have already shown that we can shoot down even the russian missiles that the terrorists boasted about. Thanks to the help of our partners and the air defense systems provided to Ukraine, our defenders of the sky have saved thousands of lives. But we need more air defense systems for our entire territory, for all our cities and communities. The world must not get used to russian terror – terror must be defeated. And it is possible!
ALL CLEAR!!!
Odesa:
.@KpsZSU
Overnight, russians attacked Odesa region with 19 missiles of various types:
5 Oniks cruise missiles;
3 Kh-22;
4 Kalibr;
5 Iskander-K;
2 Iskander-M ballistic missiles.
Air defense forces shot down 4 Kalibr and 5 Iskander-K missiles.

— Defense of Ukraine (@DefenceU) July 23, 2023
Last night, russian terrorists attacked Odesa once again.
Six residential buildings were destroyed, and many buildings in the city center were damaged.
At least one person was killed, and 19 were injured.
During the attack, the Odesa Cathedral was hit.
Forgive them, Lord,… pic.twitter.com/Nkd33IBCGJ

— Defense of Ukraine (@DefenceU) July 23, 2023
Last night, russian terrorists attacked Odesa once again.
Six residential buildings were destroyed, and many buildings in the city center were damaged.
At least one person was killed, and 19 were injured.
During the attack, the Odesa Cathedral was hit.
Forgive them, Lord, because we will not.
🎥 @suspilne_news
Odesa kindergarten this morning after an Russia barbaric attack #StopRussia #StandWithUkraine pic.twitter.com/Cw7doy9fv8

— Mariana Betsa (@Mariana_Betsa) July 23, 2023
On the night of July 23rd, 🇷🇺 Russia attacked #Odesa, a 🇺🇦 Ukrainian port city.

The Transfiguration Cathedral, located in the historic center of Odesa, protected by 🇺🇳 @UNESCO, was destroyed. A war crime that will never be forgotten and forgiven.#RussiaIsATerroristState pic.twitter.com/nxi0gGkDtg

— MFA of Ukraine 🇺🇦 (@MFA_Ukraine) July 23, 2023
Russian propaganda's attempt to justify the attack on Odesa is sickening. When they made a list of targets for 19 missiles, they knew full well they were not only aiming the port but also historical center and residential buildings. pic.twitter.com/ahhYczm4UH

— Maria Avdeeva (@maria_avdv) July 23, 2023
This is what she's referring to:
Two noname alcoholics and a propagandist discussing on live Russian TV whether to preserve Odesa or not. Decided on only keeping the Opera house and destroying everything else. pic.twitter.com/P6Hj6g4iKJ

— Dmitri (@wartranslated) July 23, 2023
The priests at the Transfiguration Cathedral in central Odesa, which took a direct hit by a Russian missile overnight, are doing an outdoor service. pic.twitter.com/iDkzJMyZ06

— Shaun Walker (@shaunwalker7) July 23, 2023
Chasiv Yar:
Cultural center in Chasiv Yar, Donetsk region. It housed the humanitarian headquarters and was used as an aid distribution point for the civilian population. In the morning, russian terrorists shelled this place with cluster munitions. pic.twitter.com/jOkIjTsw8h

— Defense of Ukraine (@DefenceU) July 23, 2023
From the legitimate Ukrainian governor of Donetsk Pavlo Kyrylenko:
Рашисти знищили Палац культури у Часовому Ярі, який використовувався як міський гуманітарний штаб та місце надання медичної допомоги.

Окупанти відкрили вогонь по місту вдосвіта – касетними боєприпасами.

детальніше дивіться за посиланням: https://t.co/eEPHzp7ARo#StopRussia pic.twitter.com/89HJmmodlG

— Павло Кириленко (@Pavlo_Kyrylenko) July 23, 2023
Here is the machine translation of his statement:
The racists destroyed the Palace of Culture in Chasovoy Yar, which was used as the city's humanitarian headquarters and a place for providing medical aid.

The occupiers opened fire on the city at dawn – with cluster ammunition.

see the link for more details:
Here is a machine translation of Governor Kyrylenko's statement from his FB page:
The Nazis destroyed the Palace of Culture in Chasovyi Yar, which was used as the city's humanitarian headquarters and a place to provide medical care.

The occupiers opened fire on the city at dawn with cluster munitions. A fire broke out.
Rescuers of the State Emergency Service arrived at the scene, but had to stop working because the racists did not stop shooting.
The building of the Palace of Culture burned down. A small stock of humanitarian aid (food kits, household chemicals) and medical equipment were destroyed.
Fortunately, there were no casualties.

Once again, the racist troops proved that they disregard the rules of warfare and try to inflict maximum damage, first of all, on civilians.
DeepL seems to be rendering the Ukrainian Рашисти as NAZIs, instead of racists or rashists. I'll let one of our Ukrainian speakers provide any clarification necessary in the comments.
Jack Watling, a senior research fellow for land warfare at RUSI, published an essay on the US, NATO, ally, and partner training programs for the Ukrainians at The Guardian.
For two months Ukrainian forces have been endeavouring to fight their way through densely fortified Russian positions to breach the so-called Surovikin line in an attempt to liberate their territory. Fighting has been exceedingly hard, with heavy losses of equipment and personnel on both sides. Irrespective of how much progress is made over the coming months, Ukraine's international partners need to focus their assistance on preparing Ukrainian armed forces for the next fight.

It is important to understand the challenge the Ukrainians are trying to overcome. Russian troops are fighting from successive layers of concrete-hardened positions, each behind 120-500 metres of complex minefields. They are backed up by significant artillery and attack helicopter support and protected by dense electronic warfare and air defences. Although Ukrainian troops tend to win when they get into close combat with the Russians, getting there without taking unsustainable losses is not always possible.

The Ukrainians also have longer-ranged, more accurate, and more plentiful heavy howitzers, limiting Russian counter-battery fire. The US decision to provide cluster munitions will extend the duration of Ukraine's artillery advantage. Although western support has enabled Ukraine to gain serious advantages over Russian forces, it is also important for Ukraine's international partners to appreciate what they got wrong over the past few months and to correct these mistakes.

A couple of months before Russia's full-scale invasion of Ukraine, I was lying on a hilltop watching a US mechanised battalion thundering down a valley, tasked with breaching a set of obstacles. The obstacles were less formidable than those in Ukraine, and the enemy in the exercise comprised a single company backed by limited artillery. Nevertheless, the US troops made a mess of things. Their reconnaissance troops failed to screen their vehicles, they went static in sight of the enemy and they were severely punished.

The fact that well-trained US troops struggle to conduct combined-arms obstacle breaching under more favourable circumstances underscores how difficult it is. Moreover, the US troops I was observing may have performed poorly, but they did so in training. If ever they have to do it for real, they will have had repeated opportunities to learn and improve. Ukrainian troops have not had that luxury.

What the Ukrainians would need in order to conduct successful offensive operations was clearly communicated to western capitals from July to September last year. The priorities were: artillery, engineering capability, tactical air defence, protected mobility, and collective and staff training. Of these, Ukraine's partners have provided sufficient artillery and protected mobility. Engineering and tactical air defences have been less forthcoming. Collective and staff training have been slow to be set up, with Ukraine's partners prioritising training individual Ukrainian soldiers.

There was a shift to training Ukrainian units after the decision to give Ukraine western tanks and IFVs (infantry fighting vehicles). But despite the requirement being identified in September 2022, the decision to proceed was not taken until January 2023 and has only been partially implemented. Months of delays gave Russian forces time to build their defences, significantly complicating the task for the Ukrainians. The upshot is that Ukrainian forces had around two months to master a panoply of western systems in varying states of repair, and to take new troops and try to prepare them for some of the hardest tactical tasks that can be demanded of a force.

Another problem is that much of the training provided has been poorly designed. Individual soldiers can be trained in Ukraine. What cannot be easily done there – with Ukraine's training grounds targets for Russian strikes – is unit training above the company. For this reason, collective training has been organised on European training grounds for some Ukrainian units. However, western forces have a mantra that you should ''train as you fight''. Ukrainian troops have been clear that they have not been able to do this on western training areas. They have not been able to fly their UAVs (unmanned aerial vehicles) because of regulatory constraints, or use their own fire control software because it is not certified by Nato.

Perhaps the biggest problem is that regulations have been rigid in requiring us to teach Ukrainians how we do business, without there being adequate time to actually deliver all the relevant modules. Instead, courses need to be adapted to best amplify existing Ukrainian strengths. But to do that requires permissions to trainers to be relaxed to adapt what is taught, and a collaborative approach with Ukrainian staff to course design.

These bureaucratic constraints highlight a serious problem for Ukraine's partners. While not actually fighting a war, the future of European security depends upon the outcome of Ukraine's struggle. And yet western capitals continue to be process-driven and slow, applying peacetime approaches to much of their activity. Western militaries have made progress in adapting their practice since the start of the war. The rest of government has been slower to realise what must be done.
There is more at the link. What we are seeing, however, is a pattern emerging that what the US and its allies and partners have been doing in terms of training Ukrainian military elements is insufficient. This is, at least in regard the US, not surprising.
Several years ago Congress mandated that a full scrub be done on how we do partner and ally training through defense security cooperation and foreign internal defense and other authorities. The key question to be answered was is what we're doing and how we're doing it working. Specifically in terms of whether the courses designed make any sense within the context of those we are teaching and training. Back in 2019 one of my former students who was, at that time, running a special US Army training program for a KSA element reached out to ask me to design and then teach a course for his personnel because they had gotten there, got handed a curriculum, and got nothing about how Saudis learn, communicate, understand time, organize themselves, etc. My boss and I worked out a comprehensive consulting package – assess and evaluate the curriculum, observe and assess the US personnel conducting the training, work with the US Army personnel to then tailor the curriculum and its delivery, observe the delivery of the revised curriculum, make additional adjustments, write the whole thing up as a pilot and prepare to deliver the prep to each successive cohort of US personnel prior to deploying – but then there was the drone attack and the whole project went poof.
This was not the first time I had heard of these types of problems. Prior to that, when I started at Joint Special Ops University as a senior fellow in 2015 I was required to take a course from a retired Tech Sergeant with a masters in education to certify me to be allowed to teach at JSOU if asked (the senior fellows were in the research center, not the teaching departments). This is what I wrote up of that mess:
During a new personnel teaching and training certification inservice at a Geographic Combatant Command in June of 2014, the inservice instructor (Instructor X*) relayed his experiences with directing a training mission to Saudi Arabia. The purpose of this example, by the instructor's own stated intention, was to explain to the US inservice personnel when it was necessary for an instructor to put their foot down (take control) in the classroom. The reality, based on what was relayed, was far, far different as described below.

Instructor X presented a recent experience while delivering a training assignment to a Saudi military element an example of classroom management, specifically when an instructor needs to assert greater control of the training environment. Instructor X related that when he and his training team arrived in Saudi Arabia and began their training assignment, they were frustrated because the Saudis would not communicate clearly and directly, had trouble sticking to the provided schedule, would try to conduct their official duties during class/training time, and expected an instructor, not student driven training/ educational experience. After a couple of days of what Instructor X stated was training site chaos, Instructor X gathered his team together, gave them instructions to impose greater control, and that they then did so by focusing the instructional dynamics on the instructors and implementing time management control. At that point they made it through the remaining training without any significant classroom difficulties or disturbances. Instructor X never revealed whether the Saudi military personnel actually learned or met the training objectives.

The key lessons learned from Instructor X's experience, while leading a training assignment for Saudi forces, is that Instructor X's priority was classroom order, organization, and management and not whether any of his Saudi students actually learned anything. Instructor X's example demonstrates his failure to prepare himself and his team for the differences in how Saudis communicate, understand time and organize themselves, understand relationships, and learn. A modicum of cultural preparation could have prevented Instructor X from failing to do anything but check the boxes on his training mission to Saudi Arabia.

* The instructor will be referred to as Instructor X to protect his identity. He is a retired US Air Force Technical Sergeant with a masters in education from an accredited US university.
What we're seeing in these reports, assessments, and analyses that have begun to trickle out is one manifestation of a much larger problem that I've been working on for most of the past 20 years: how to get the US military, get senior leaders civilian or military, to listen to what our allies, partners, peer competitors, and enemies are actually telling us. We are not listening to what the Ukrainians are telling us. This is not a new problem, but right now it has far more deadly consequences than whether we waste a bunch of Saudi money that is being paid to the US to do a special course for the world's greatest parade ground and display military.
Along these lines, The Washington Post has reporting on the US not being in a hurry to provide Ukraine with long range missiles.
The Biden administration is holding firm, for now at least, on its refusal to send long-range Army missiles to Ukraine despite mounting pressure from U.S. lawmakers and pleas from the government in Kyiv, according to U.S. officials.

Disappointment at the slow pace of Ukraine's counteroffensive against entrenched Russian forces and a newly equivocal tone by President Biden have led to widespread speculation that the missiles will soon follow the path taken by other U.S. weapons systems that were first denied but ultimately approved during the 17 months of the war.

In late May, Biden appeared to alter his previously firm "no" on the possibility of ATACMS, the Army Tactical Missile System, saying for the first time that it was "still in play." Two weeks later, Ukrainian President Volodymyr Zelensky said that he and Biden had spoken about the missiles at the NATO summit in Vilnius, Lithuania, but that no decision had been made.

But U.S. defense and administration officials familiar with the issue said that despite what one called a growing public perception of "some sort of slow, gravitational pull" toward approval, there has been no change in U.S. policy and no substantive discussion about the issue for months. The officials spoke on the condition of anonymity to address the sensitive subject.

The Pentagon believes that Kyiv has other, more urgent needs than ATACMS, and worries that sending enough to Ukraine to make a difference on the battlefield would severely undercut U.S. readiness for other possible conflicts.

The number of ATACMS in American stockpiles is fixed, awaiting replacement with the next generation, longer-range Precision Strike Missile, called the Prism, for PrSM, which is expected to enter service by the end of this year, officials said. Lockheed Martin still manufactures 500 ATACMS each year, but all of that production is destined for sale to other countries.

Ukraine has said that the ATACMS, with a range of 190 miles, is essential for destroying command posts and logistics areas far behind Russian front lines.

"Without long-range weapons, it is difficult not only to carry out an offensive mission but also to conduct a defensive operation," Zelensky said at a July 7 news conference in Prague.

The ATACMS would allow Ukrainian forces to target the farthest reaches of Russian-occupied Crimea from their own current front lines, including the 12-mile Kerch Bridge and the Russian naval base at Sevastopol.

Asked at the Aspen Security Forum on Thursday what is at the top of Ukraine's list of security needs, Andriy Yermak, the head of Zelensky's presidential office, said: "My answer will be very simple. At this point, it's very clear and understandable. We need and are waiting for decisions on ATACMS."

Kyiv has asked for hundreds of the missiles.

Last month, the House Armed Services Committee included funds to send ATACMS to Ukraine in its draft of the defense budget, and the House Foreign Affairs Committee passed a bipartisan resolution calling for the United States to "immediately" provide the missiles.

"There's no reason to give Ukraine just enough to bleed but not enough to win," Committee Chairman Michael McCaul (R-Tex.) said. "If we're going to be helping them, either go all in or get out." The resolution was backed by the committee's chief Democrat, Rep. Gregory W. Meeks (N.Y.).

Early this month, Sens. James E. Risch (Idaho) and Roger Wicker (Miss.), the ranking Republicans on the Senate Foreign Relations and Armed Services committees, respectively, joined McCaul in a statement that said transfer of ATACMS, along with cluster munitions and F-16 aircraft, was "critical" to Ukraine's success.

Since last year, the administration has cited several reasons for holding back. Refusal initially centered on concerns that Ukraine might fire the long-range missiles into Russian territory, escalating the conflict into a U.S.-Russia confrontation. Even supplying the weapons, Moscow has said publicly, would cross a red line.

Whatever Moscow's threats, those worries seem to have abated. The Biden administration has said it is satisfied with public statements and written pledges from Kyiv not to use U.S.-supplied weapons to target Russians beyond the border. Although officials privately concede there have been some breaches, Ukraine is said to have largely complied with those promises.

"The problem now is not their ability to strike deep" into Russian-occupied Ukrainian territory, Kahl said. "They have that ability. They are doing it now. The Russian command and control, their logistics, have been disrupted in the deep."

"The problem is not a hundred kilometers away, it's one kilometer in front of them with the minefields" the Russians have laid, along with rows of trenches and tank traps, in defensive lines along the 600-mile front line, Kahl said.

The minefields are the primary cause of delay in the Ukrainian offensive, according to Gen. Mark A. Milley, the chairman of the Joint Chiefs of Staff. "Right now, [the Ukrainians] are preserving their combat power and they are slowly and deliberately and steadily working their way through all these minefields. And it's a tough fight. It's a very difficult fight," Milley said after Tuesday's virtual meeting of the 50-plus group of Ukraine's international backers.

"The various war games that were done ahead of time have predicted certain levels of advance and that has slowed down," he said. "Why? Because that's the difference between war on paper and real war. These are real people in real machines that are out there really clearing real minefields and they're really dying."

Not only would the ATACMS not be game changers in Ukraine, in the view of the administration, but they also would "limit the use of HIMARS or the GMLRS," a defense official said, referring to the U.S. High-Mobility Artillery Rocket System and the Guided Multiple Launch Rocket System it is capable of firing six at a time with a nearly 50-mile range. The ATACMS are also fired from HIMARS, but only one at a time.

"There's a very limited number [of ATACMS] available to export, and for distances longer than the GMLR can reach, the Ukrainians have been given Storm Shadows and SCALPS," the defense official said. This fall or winter, Ukraine also will receive U.S. GLSDB, or Ground Launched Small Diameter Bombs, with a range of 93 miles and the ability to fire on a 360-degree trajectory.
This one is a little more difficult, but it goes back to Watling's point in his essay in The Guardian. Yes, the US and our NATO and non-NATO allies only have limited stocks, but we're now eighteen months into Ukraine's defense against Russia's genocidal re-invasion and we are still proceeding as if it is business as usual. No Americans or Brits or Canadians or French or Germans are getting killed in Ukraine, other than a few here or there who have joined the various legions fighting on behalf of Ukraine, so there's no urgency. Until or unless DC, Ottawa, London, Paris, and Berlin get on a war footing, this is going to continue. The ongoing refusal to recognize that this is a world war; that Putin started it somewhere between 2009 and 2011, though he blames the US for it; that it is largely being fought non-kinetically outside of Ukraine (and the Sahel, Libya, and Syria) using the elements of national power other than military power, and that it is not evenly distributed is going prolong this war even further. Our leaders have decided that we will spend no blood to assist the Ukrainians, only treasure. They have also decided the treasure will be dribbled out a bit at a time thereby costing Ukraine more blood.
That's enough for tonight.
Your daily Patron!
At least on my end, TikTok is down. I checked down detector and apparently there are some problems.
The Ukrainian Army Cats & Dogs feed still has no new content as a result of DMCA complaints, so here's some related content from various places.
He used to live in Irpin. But his house is no longer there anymore. Year ago we found him and couldn't resist of giving this fluffy butt new home

— Eugene Kibets (@eugenehmg) July 23, 2023
He was rescued from the flood in Kherson

— Eugene Kibets (@eugenehmg) July 21, 2023
Today's Ukrainian kitten—rescued after the Russians launched a massive attack on Mykolaiv Oblasts yesterday. Look into those eyes and try to tell me that animals don't have souls. Photo: @NewVoiceUkraine pic.twitter.com/HFiOuIXmVV

— Lorenzo The Cat (@LorenzoTheCat) July 20, 2023
Meet Olha! She saved her kittens after the dam explosion in Ukraine by putting them on her head and swimming to safety 🥹 But Olha's home was damaged by the floodwaters. Hachiko volunteers are making sure the cats 🐈 🐈‍⬛ have everything they need & we're replacing all her windows! pic.twitter.com/L9TZi1uesj

— Nate Mook (@natemook) July 20, 2023
Amidst the daily destruction & death in Ukraine, I am uplifted each morning by reports from our Hachiko volunteers helping displaced pets on the front lines. These kitties near Kramatorsk were very happy with today's delivery of food, litter boxes & medicine. 😸 #CatsOfUkraine 🇺🇦 pic.twitter.com/1BVXVD6UYm

— Nate Mook (@natemook) July 20, 2023
Even from far away from Hamburg, Ukrainians and local residents did not stand aside and, quickly organizing themselves, gathered a whole car of various assistance for our tailed ones. And the local shelter gave us an ultrasound machine!

Vielen Dank, Hamburg!❤️🇺🇦🇩🇪 pic.twitter.com/GYuLALdAso

— Patron Pet Center (@PatronPetCenter) July 21, 2023
Let's share a piece of happiness 😍

✅ 77 animals have ALREADY been arranged.

✅ Another 60 dogs and 10 cats are waiting for their families at our Patron Pet Center adoption center.

You know what to do 🙏
Repost, tell your friends, come visit, walk, hug, and take home ❤️ pic.twitter.com/8oixA2fmPe

— Patron Pet Center (@PatronPetCenter) July 18, 2023
The atmosphere of the Patron Adoption Center is something incredible. This is something that can only be experienced by visiting us. ❤️

We can't just tell in a post how much love, gratitude, care is here. You have to see it with your own eyes. pic.twitter.com/dhhHN0QESh

— Patron Pet Center (@PatronPetCenter) July 16, 2023
Thank you very much @natemook and @Y_Stefanyuk for your help, support and incredible care for animals pic.twitter.com/rU3HrNSZP5

— Patron Pet Center (@PatronPetCenter) July 15, 2023
Open thread!