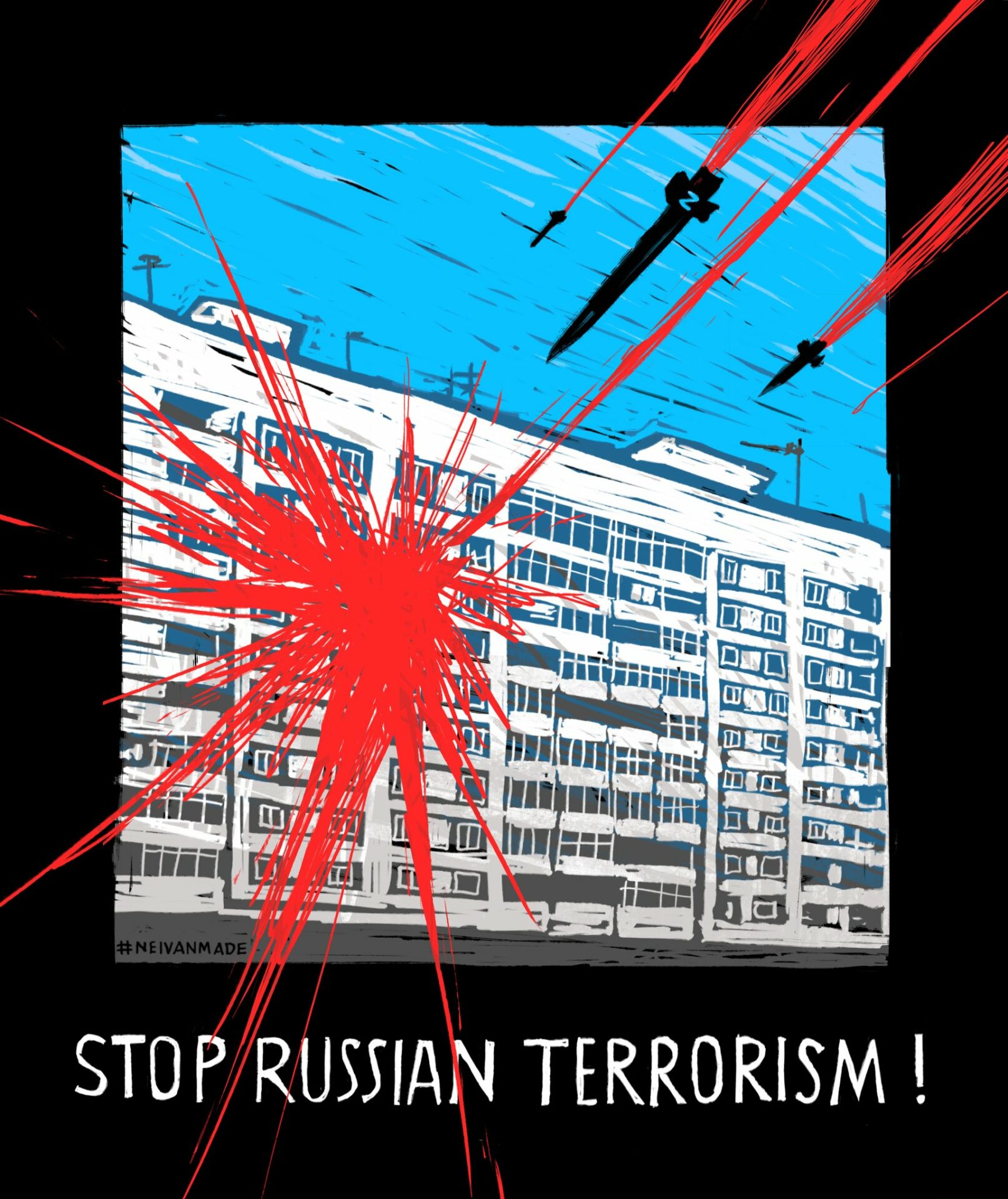 (Image by NEIVANMADE)
The Russians opened up on civilian targets in Zaporizhzhia again. They were targeting a children's day camp!
This is a very crowded place near the river bank. Especially on this warm summer afternoon. Can't imagine what these people went through. pic.twitter.com/6s3ZywppAw

— Maria Avdeeva (@maria_avdv) August 10, 2023
They were targeting children.
The Reikartz hotel in Zaporizhzhia, which was hit by a missile attack by Russian terrorists today, is the site of a children's day camp for kids aged 6 to 13. The camp operates until 6 p.m. every day. The strike was launched at 7 p.m. One person was… pic.twitter.com/CBsw4pMJBm

— Defense of Ukraine (@DefenceU) August 10, 2023
They were targeting children.
The Reikartz hotel in Zaporizhzhia, which was hit by a missile attack by Russian terrorists today, is the site of a children's day camp for kids aged 6 to 13. The camp operates until 6 p.m. every day. The strike was launched at 7 p.m. One person was killed, and 16 were injured. Only a miracle of timing saved the children from the russian killers today.
This is the price!
Svitlana and Khrystyna, the two young women killed in yesterday's Russian missile strike on Zaporizhzhia. This video was taken hours before the attack that killed them.

They were just 19 and 21 years old.pic.twitter.com/JP8DK3twr9

— Jimmy Rushton (@JimmySecUK) August 10, 2023
I've honestly got nothing. What the fuck else is there left to say. Post the funny video of the Ukrainian Soldier ordering cheeseburgers and shawarma? Memes? The really insightful analysis of all the policy issues the EU is grappling with quietly in order to bring Ukraine into the European Union? The fourth or fifth excellent piece from War on the Rocks about how badly we're fucking up the training of the Ukrainian military? Why? What the fuck would be the point.
Russia is committing genocide, let me repeat that more loudly RUSSIA IS COMMITTING GENOCIDE!!!! and we're not moving our manufacturing economy to a war footing. We're not actually providing usable training. Some secret country had to buy up some collector's surplus supply of 100 Leopard tanks and donate them to Ukraine because our allies and partners in Europe can't get the stick out of their collective asses!
Here is President Zelenskyy's address from earlier today. Video below, English transcript after the jump.
Ukraine must realize its historic chance for development gained by the courage of our people – address by President Volodymyr Zelenskyy

10 August 2023 – 22:10

I wish you health, fellow Ukrainians!

Today was a long, exhausting day. A day of briefings, discussions, meetings.

We continue to prepare the Ukrainian Doctrine, a thorough text that will serve as a basis for the transformation of our country. We do not forget our main goal – to win the war and not to lose the country. Ukraine must realize its historic chance for development gained by the courage of our people – our entire nation.

We are also preparing more defense packages for our warriors and more defense systems for the entire Ukrainian society, including air defense systems. Today I also had a conversation with representatives of the UK military leadership – a confidential conversation. But an effective one.

As for today's meetings, which are worth mentioning publicly… I spoke with a representative of the Ecumenical Patriarchate, Metropolitan Emmanuel. We are working at all levels and with all actors in global relations to implement the Peace Formula, in particular, to return children deported from our land to Ukraine. I am grateful to the Ecumenical Patriarchate for its willingness to help.

Of course, as always, we talked about strengthening the spiritual independence of Ukraine and about spiritual peace in Ukraine. Our country is one of the historical centers of Christianity. And it will remain so. Ukrainians have managed to build a special format of religious relations in their home: our country has a Council of Churches and Religious Organizations, which guarantees that all communities are respected, all communities can express their opinions to the state, and all communities can participate in solving socially important issues. The state will never allow any of the Ukrainian religious communities to be used by the aggressor state. Ukraine will endure, will preserve its independence – all aspects of independence, including spiritual one. And I am grateful to everyone in the world who supports our country and our people in this.

But first of all, I am grateful to each and every person who is fighting for our independence.

Today I would like to recognize our warriors. Those who deserve special gratitude, who show exceptional courage and give the state exceptional results. Glory to you, warriors!

Soldier Oleksandr Hryn, the 81st separate airmobile brigade. Thanks to Oleksandr, more than two dozen invaders have been killed and wounded. Soldier Oleksandr Hrinko, our "Eightieth ", airborne assault troops. Thank you, Oleksandr, for replenishing our exchange fund. Soldier Artem Aizentsimmer, the 5th separate assault brigade. Soldier Iryna Shevchenko, chief sergeant-instructor of the 1st mechanized battalion. Soldier Andriy Maksychka, the 54th Hetman Mazepa separate mechanized brigade, Bakhmut direction. He took out the wounded, was wounded himself, but returned to the frontline after recovery. Soldier Ivan Harbuz, the 36th separate marine brigade, fighting in the Zaporizhzhia direction.

Senior soldier Serhiy Prymochenko, spotter of the mortar crew of the 54th Hetman Mazepa separate mechanized brigade. Senior soldier Viktor Dorenskyi, airborne assault troops, the 80th brigade. Battles near Klishchiivka, very powerful! Senior soldier Maksym Makarenko, a member of the "Eightieth", fighting for Ukraine in Donbas. Senior soldier Oleksandr Lysenko, the 5th separate assault brigade.

Senior sailor Anatoliy Lukyanov, the 37th separate marine brigade, a very brave warrior!

Sergeant Olha Voytiuk, sanitary instructor, the 1st mechanized battalion. Sergeant Ruslan Malitsky, the 38th separate marine brigade.

Junior Sergeant Mykyta Myskov, our glorious 55th artillery brigade "Zaporizhzhia Sich".

Chief Petty Officer Andriy Skotnytskyi, our 36th separate marine brigade. Thank you, Andriy, for your heroism in repelling the Russian assaults.

Junior Lieutenant Andriy Skibin, the 10th separate mountain assault brigade "Edelweiss". A very effective man! Senior Lieutenant Serhiy Fedchyk, the 3rd mechanized battalion.

Major Maksym Zakharchenko, deputy commander of a tank battalion.

I am proud of all of you, our warriors! Each and every one of you!

And I would like to particularly commend the units that ensure the offensive of our troops. These are the units of Ukrainian sappers. They are clearing the Ukrainian land of Russian mines, opening the way for our troops to move forward. The 808th separate support regiment, the 48th Kamyanets-Podilskyi engineering brigade, the 143rd Joint Training Center of the Support Forces – thank you all!

Glory to all who fight for the independence and freedom of Ukraine! 

Glory to Ukraine!
Here is Ukrainian Army officer Tatarigami's assessment of what Winter 2023 to 2024 may bring. It is grim, but I think it is also accurate. For now. That's honestly the best that can be said for every assessment, even the best ones, that it is accurate for now.
I would like to address some potential upcoming risks for the coming winter and explore avenues for their mitigation. It's essential to emphasize that this perspective is based on open-source information and analysis, rather than insider insights, and should be regarded… pic.twitter.com/yPxD1lPv15

— Tatarigami_UA (@Tatarigami_UA) August 8, 2023
I would like to address some potential upcoming risks for the coming winter and explore avenues for their mitigation. It's essential to emphasize that this perspective is based on open-source information and analysis, rather than insider insights, and should be regarded accordingly.

The current lack of air dominance and limited assault capabilities on both sides has brought us back to a state of attritional warfare, both in the South and the East. Artillery plays a pivotal role in this war, resulting in a higher ammunition expenditure compared to production capacity. To address this, the White House procured a substantial artillery ammunition batch from South Korea, supplemented by cluster munitions to avert shortages. I am not sure whether that can be replicated again in the coming year. Nonetheless, unless a significant operational breakthrough occurs, the situation remains tactically dynamic without producing strategic shifts. The potential liberation of Bakhmut by our forces or occupation of isolated areas near Kreminna-Svatove by Russians merely alters the map's appearance, while exacting a toll in terms of casualties without generating significant operational changes

Russia's ammunition supply is not solely reliant on domestic production; external sources like North Korea and China could potentially bolster their arsenal, as suggested by Shoigu's visit to Pyongyang. This remains speculative, hinging on the provision of sufficient quantities by these nations.

Speculation arises that russia might initiate a counter-offensive in the winter, boosted by additional ammo and human reserves from another partial mobilization. Concerns heighten as their loitering munition production escalates and shouldn't be dismissed. Comparatively, Ukraine lacks fortified defenses, with notable vulnerabilities even observable via open satellite imagery.

I am of the belief that Putin's strategic objective is to bolster his position in the winter months, strategically accumulating negotiation leverage and demonstrating his commitment to sustaining the war of attrition. This timing is significant, particularly given the upcoming U.S. Presidential elections in 2024. It is apparent that he aims to capitalize on anti-Ukrainian sentiments during the election cycle, seeking to diminish prospects for continued assistance, as he anticipates the Russian invasion of Ukraine to be a pivotal subject in debates among candidates. This move is aimed to exert influence and potentially force West to agree with his agenda.

I am equally convinced that Putin will initiate further rounds of missile and Shahed drone attacks, targeting essential infrastructure such as power plants, to undermine Ukraine's resilience during the winter. This strategy aims to erode Ukrainian resolve, foster war weariness, and gain a stronger position for negotiation leverage.

Nonetheless, I firmly believe that there are ways to mitigate it and avoid unfavorable circumstances:

· Ukraine requires more air-defense capabilities to provide air-defense cover. In this question, we completely rely on our allies.

· To disrupt the enemy's ability to command and sustain logistics of large force concentrations, Ukraine needs extended-range capabilities. To reach necessary effect, it would require efforts of multiple countries.

· Defense preparations and the establishment of minefields need to be escalated if significant operational breakthroughs in the South or East won't happen

· Collaboration between Ukraine and its Western allies should prioritize hybrid training initiatives. This involves joint training exercises conducted on Western training grounds, facilitated by seasoned Ukrainian officers and NCOs alongside Western instructors. This approach will yield practical training closely aligned with the on-ground realities.

Despite these challenges, there are some optimistic prospects that require acknowledgment:

– Notable disruptions to logistical pathways connecting Russia through Crimea to the South have substantially hampered Russian supply routes in the southern region.

– The attrition ratio in the Southern region remains uncertain, and it's not beyond the realm of possibility that russian forces might weaken sufficiently to provide our troops with a chance for a breakthrough.

– Uncertainty surrounds Russia's potential to sufficiently replenish artillery ammunition for the upcoming winter. Additionally, the concerning depletion of artillery barrels remains unresolved, casting doubt on Russia's ability to address this matter.

– The feasibility of another effective Russian mobilization remains unclear, as potential internal complications within Russia could impede such efforts.

– Recent Chinese involvement in Jeddah negotiations introduces the possibility that China may opt to avoid providing extensive aid to Russia, instead prioritizing diplomatic gains. This strategic approach mirrors China's prior actions in the realm of international relations, exemplified by brokering a deal between Iran and Saudi Arabia.

In conclusion, although the outlook may appear grim, proactive measures can prevent these scenarios. By addressing this situation with a sense of urgency and preparing for worst-case scenarios, we can avoid future challenges. While I think that certain concerns might not materialize and may remain theoretical in nature, it remains imperative that we underscore the importance of readiness for these plausible scenarios, as they still hold a significant level of realism.
Here's a bit more on the Russian ships damaged in last week's Ukrainian naval drone attacks:
/2. Plus a bit of the damage is visible in the hull of the Russian "Oleniegorski Gorniak" which was also damaged by a sea drone https://t.co/PaNb6KFJ0e

— Special Kherson Cat 🐈🇺🇦 (@bayraktar_1love) August 10, 2023
Moscow:
Moscow suburbs tonight pic.twitter.com/kcXLmBIo7k

— Illia Ponomarenko 🇺🇦 (@IAPonomarenko) August 10, 2023
That's all I've got the bandwidth for tonight.
Sorry to have ranted at everyone.
Your daily Patron!
There's a new slideshow at Patron's official TikTok. They won't embed here like the videos do, so click across and give it a watch.
Open thread!