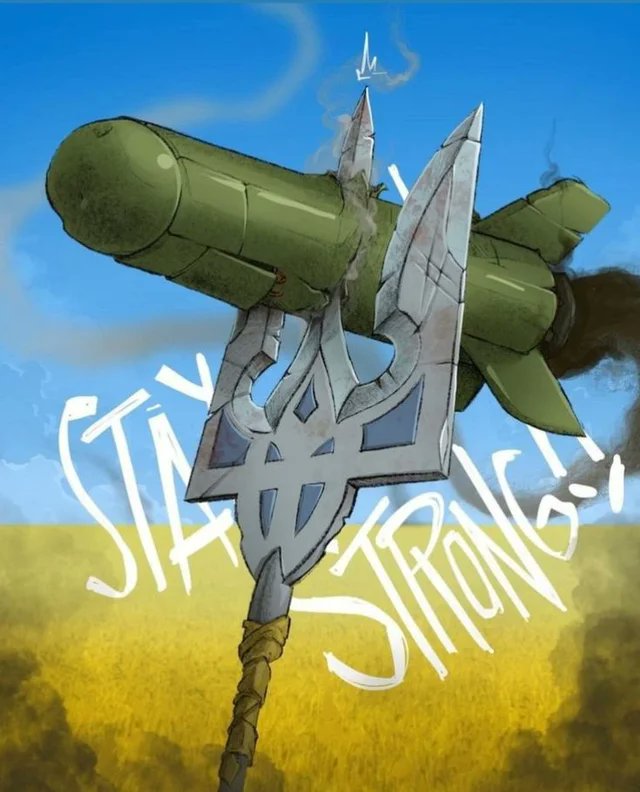 Last night, russians attacked Ukraine with 8 Kalibr cruise missiles and 23 Shahed UAVs.
ALL TARGETS HAVE BEEN SHOT DOWN.
Glory to Ukraine's air defenders!

— Defense of Ukraine (@DefenceU) August 14, 2023
Good start to the working week. Today, around 5:00 a.m., an anti-aircraft missile unit destroyed a russian Ka-52 attack helicopter in the Bakhmut area. pic.twitter.com/PD5cTveYQm

— Defense of Ukraine (@DefenceU) August 14, 2023
The mission has only fully been accomplished once a press release about another feat of our soldiers has been issued. pic.twitter.com/kbIpMancM3

— Defense of Ukraine (@DefenceU) August 14, 2023
Here is President Zelenskyy's address from earlier today. Video below, English transcript after the jump.
Those who are not fighting on the frontline must help fight – address by the President of Ukraine

14 August 2023 – 20:31

Good health to you, fellow Ukrainians!

Since early morning today, I have been in Donetsk region, in the positions of our combat brigades. The 3rd and 5th separate assault brigades, the "Eightieth" airborne assault brigade, the 57th separate motorized infantry brigade, the 22nd and 24th separate mechanized brigades, the 26th separate artillery brigade, the 92nd separate mechanized brigade… I had the honor to award the best, to thank everyone – each brigade – for their bravery, courage, and results for the sake of Ukraine. Together with General Bohomolov, commander of the Soledar operational and tactical group, we talked to the brigade and battalion commanders – those who are in combat – about their frontline needs.

There is always an overall picture, there are reports on each direction, on each brigade. But it is important to talk directly to the warriors about the war experience of those who are on the ground. Today we had detailed, frank conversations. We talked about our offensive, about supplies to the troops, about the capabilities of commanders, about what these capabilities are now and what they should be.

Weapons and scarce ammunition. Repair of equipment. A pressing issue is transportation to evacuate the wounded and the time of evacuation. Drones used by the enemy: Lancets, Orlans. Drones needed by our warriors: from Mavics to every other drone system. Obviously, the Ukrainian production of drones – Leleka, Fury, etc. – as well as supplies from partners and all forms of imports – must grow, and this is one of the most important tasks. It is very important that all officials in the defense system perceive this task exactly as it is said on the frontline. Drones are consumables, and there should be as many of them as needed – as our warriors need – to save lives and ensure results in battles. There is much to be done in this area, and it is too early to say that we are doing enough.

An important topic is how commanders can manage their personnel. Motivation of warriors, training of warriors, manning of units. There are a lot of problems due to the poor performance of the military medical commissions… Military commanders should be engaged in war, not bureaucracy. We will develop solutions.

Another thing that was voiced today in different brigades.

Warriors from the frontline who come to the rear cities deserve to see and feel that these are rear cities. That people live there, remembering that there are warriors there, that our warriors here in Donetsk and other directions are fighting for Ukraine, giving their lives for Ukraine. Freedom and independence are not gained by someone there… at the front. This is a common national cause of all those who are fighting and working for victory. Everyone is at war. Ukraine is at war. And those who are not fighting on the frontline must help fight. Not in bars, not in clubs, not by street racing or some kind of ostentatious consumption, but by helping the warriors in a very specific way. To say the least of it. All the country's adrenaline, all the country's emotions, all the country's strength should be there – in the battles for the sake of the state.

For the sake of Ukraine is the key principle. For the sake of something else or for the sake of ourselves will be later, when we win. And now it is defense. Now it is war.

By the way, I am grateful to the United States today for the new package. We got munitions for Patriots, for HIMARS, artillery, Javelins etc. These are much-needed supplies. We will soon be doing more work with our partners for the sake of defense.

Thank you to everyone – everyone who is constantly helping! Glory to all our warriors! Glory to our strong people! And thank you to our Donetsk region for this day.

Glory to Ukraine!
The Biden administration has announced new security assistance for Ukraine:
RELEASE
IMMEDIATE RELEASE
Biden Administration Announces Additional Security Assistance for Ukraine
Aug. 14, 2023

Today, the Department of Defense (DoD) announced additional security assistance to meet Ukraine's critical security and defense needs. This announcement is the Biden Administration's forty-fourth tranche of equipment to be provided from DoD inventories for Ukraine since August 2021. It includes additional air defense munitions, artillery and tank ammunition, anti-armor weapons, and other equipment to help Ukraine counter Russia's ongoing war of aggression.

The capabilities in this package, valued at up to $200 million, include:

Additional munitions for Patriot air defense systems;
Additional ammunition for High Mobility Artillery Rocket Systems (HIMARS);
Mine clearing equipment and systems;
155mm and 105mm artillery rounds;
120mm tank ammunition;
Tube-Launched, Optically-Tracked, Wire-Guided (TOW) missiles;
Javelin and other anti-armor systems and rockets;
37 tactical vehicles to tow and haul equipment;
58 water trailers;
Over 12 million rounds of small arms ammunition and grenades;
Demolitions munitions for obstacle clearing; and
Spare parts, maintenance, and other field equipment.

This security assistance package will utilize assistance previously authorized under Presidential Drawdown Authority (PDA) for Ukraine that remained after the PDA revaluation process concluded in June.

The United States will continue to work with its Allies and partners to provide Ukraine with capabilities to meet its immediate battlefield needs and longer-term security assistance requirements.
For our tank goes boom afficionados:
A Russian UR-77 goes… evaporated? pic.twitter.com/kpuXuIfE1r

— Illia Ponomarenko 🇺🇦 (@IAPonomarenko) August 14, 2023
Or in this case a tracked mine clearing vehicle.
Odesa:
Three attack waves on Odesa overnight: Russia launched 8 Kalibr missiles and 15 drones. All successfully downed by Ukrainian Air Defense. Falling debris resulted in citywide damage, including a major supermarket catching fire. pic.twitter.com/cK4jipSYHt

— Maria Avdeeva (@maria_avdv) August 14, 2023
While Ukrainian air defense was successful, the debris from what they shot down still has to land somewhere. Unfortunately. The Financial Times has the details:
Russian air strikes caused a series of explosions and fires in the Black Sea port city of Odesa, marking the latest bombardment in a weeks-long campaign aimed at choking Ukraine's grain exports to global markets.

"At night, Russian terrorists attacked Odesa with three waves of attacks: two waves of attack drones, a total of 15 drones, and eight Kalibr missiles," Oleg Kiper, the region's governor, said on Monday. Debris caused by the "downing of the missiles", which were all successfully intercepted, damaged three buildings, he added.

Posting a video of a damaged supermarket on Twitter, Andriy Yermak, Ukrainian president Volodymyr Zelenskyy's chief of staff, wrote: "Russians are insane terrorists." No fatalities were reported.

The foreign ministry on Monday condemned a "provocative" action by a Russian warship that fired warning shots at a cargo vessel, as Moscow moved to reinforce a naval blockade of Ukrainian ports.

Zelenskyy, in his overnight video address, also slammed Russia for indiscriminate shelling of villages in the southern Kherson region on Sunday. Seven people including a family of four with a 22-day-old baby were killed.

"We will not leave any crime of Russia unanswered," he said. "Our soldiers have the opportunity to restore justice to Ukraine . . . along the entire length of the front from the Kharkiv region to Kherson," he added.

Monday's strikes on Odesa came a day after a Russia warship moved to reinforce a naval blockade of Ukrainian ports by firing warning shots and conducting a forced inspection of a Palau-flagged Turkish cargo vessel. It was heading to Izmail, the Ukrainian river port on the Danube delta which borders Romania.
Much more at the link.
As for the Russian naval interdiction and inspection of the Turkish cargo vessel, we have video:
Russian Navy seizing, searching (and finding nothing on a) Ukraine-bound and Turkish-crewed commercial vessel not far from Turkey's territorial waters. pic.twitter.com/sTnXsjpY9N

— Yaroslav Trofimov (@yarotrof) August 14, 2023
Kupyiansk:
Amidst Russia's escalating assault on Kupiansk, mandatory evacuation was announced on August 9. Already 248 people, incl 90 children, evacuated. These intensified attacks seem to align with approaching one-year mark of Russia's major retreat in Kharkiv Oblast.

📷 Dumka pic.twitter.com/TeYYeIMrCp

— Maria Avdeeva (@maria_avdv) August 14, 2023
Bakhmut:
Tanks of the 3rd Separate Assault Brigade fire on Russian positions on the outskirts of Bakhmut. https://t.co/EO0hy1jsTn pic.twitter.com/GnFmeinAe9

— Special Kherson Cat 🐈🇺🇦 (@bayraktar_1love) August 14, 2023
Yurivka:
/2. Approximate location of the explosion. https://t.co/OB0N61d6tP pic.twitter.com/ckj5APuImC

— Special Kherson Cat 🐈🇺🇦 (@bayraktar_1love) August 14, 2023
Kazachi Lahery:
Strikes on Russian positions and base in Kazachi Lahery area.
(46.7083338, 32.9463974)https://t.co/FeE1oYJbdR pic.twitter.com/cAlDdEKNUz

— Special Kherson Cat 🐈🇺🇦 (@bayraktar_1love) August 14, 2023
Dmitri has some translations and analysis regarding Russian disinformation:
Russian military blogger Roman Saponkov, using an example of a small channel that boasted about Russian success in Urozhaine, explains how Russian informational campaigns try to shut down any author that attempts to tell the truth, and deliberately spread "positive news".… pic.twitter.com/98xcsk2PgW

— Dmitri (@wartranslated) August 14, 2023
Russian military blogger Roman Saponkov, using an example of a small channel that boasted about Russian success in Urozhaine, explains how Russian informational campaigns try to shut down any author that attempts to tell the truth, and deliberately spread "positive news". https://t.me/RSaponkov/5741
There are so many posts like this in recent days, rus mil bloggers are working overtime trying to cover the situation. You can't repost enough of them here. It's actually shunned by the govt so bloggers must keep reminding readers of why revealing this info is valuable- to… https://t.co/whztlmEb0d

— Dmitri (@wartranslated) August 14, 2023
Here's the full text of Dmitri's tweet:
There are so many posts like this in recent days, rus mil bloggers are working overtime trying to cover the situation. You can't repost enough of them here. It's actually shunned by the govt so bloggers must keep reminding readers of why revealing this info is valuable- to improve the situation since so many issues exist and the mil leadership is keen on doing things as it pleases.
And of the tweet he's quote tweeting:
Rare, sober post from RU milblogger Zhivov talking about the difficulties they are facing all along the front currently.

Some copium in there regarding available UA forces and "just hold on for another month" but that's to be expected.

"The last days have become a difficult test on all fronts..

Kyiv actively uses terrorist methods, shelling bridges and warehouses in the rear, arranges explosions and sabotage..

It gets to the point that the HIMARS spends two or three rockets on a trench.. [

Ru soldiers] need support, reinforcement, rotation, help."
This is just sad and it shows how depraved Russia's war machine is:
A bottle of cold water is all that this person now has. Do you know what is going to happen to them next? Nothing. They will be not worthy of exchange like thousands of POWs currently unwanted by Russia, so they'll stay at a camp wearing a robe for quite some time. They are…

— Dmitri (@wartranslated) August 14, 2023
Here's the full text of the first tweet:
This man is now in Ukrainian captivity, safe. Why is this person on the battlefield? Where are all the Western free thinkers, human rights activists and critics of Ukraine, why is none of them trying to stop Putin from exterminating its own population? All you care about is parroting delusional contrarian slogans and farming engagement on posts with fake beach parties in Ukraine whilst sitting in cozy homes 8,000 miles away. This is insanity…
And the second one:
A bottle of cold water is all that this person now has. Do you know what is going to happen to them next? Nothing. They will be not worthy of exchange like thousands of POWs currently unwanted by Russia, so they'll stay at a camp wearing a robe for quite some time. They are permanently displaced, they can't come back home. Even if they are foolish, is this what people in their later years deserve?
Regardless of what you might feel right now for Russians, this old man had no business on the battlefield at all! I've seen some old Soldiers, guys in the Guard who manage to stay in well past when they are safe to fight, but this is just sad. And sending this old guy just show how depraved Russia's war machine is.
Tatarigami has an interesting assessment of a Russian armored repair plant. First tweet from the thread, the rest from the Thread Reader App.
During times of war, determining the enemy's production capacity, often shrouded in secrecy, is a challenging task. As promised, today's focus involves employing satellite imagery analysis and OSINT to approximate production numbers at BTRZ-103 (Armored Repair Plant). 🧵Thread: pic.twitter.com/47UppiWoWP

— Tatarigami_UA (@Tatarigami_UA) August 14, 2023
2/ 

Before delving into specifics, let's clarify the role of BTRZ-103. Situated near Chita in Russia's East, this plant specializes in repairing and modernizing vehicles. The facility's current emphasis centers on T-62, BRDM, and BMP vehicle modernizations. 

3/ 

T-62 tanks undergo complete disassembly, with engine replacements, rust removal, installation of new wiring, fire control, sight systems, and upgraded armor with ERA blocks. A contract was awarded to BTRZ-103 for the modernization of 800 T-62 tanks over a 3-year span.

4/ 

Based on satellite imagery from mid-April and late June, we observe 11 and 17 recently modernized tanks respectively, evident by distinct appearances and darker paint, a distinguishable detail from faded paint on other vehicles.

5/ 

Significant portions of the scrapyard appear relatively untouched, implying many vehicles are in poor condition, designated for last-resort storage or deemed irreparable, corroborated by recent satellite imagery and photos from nearly a decade ago.

6/ 

Despite relocation of vehicles to the facility's interior, not all will undergo modernization, as interviews with factory workers reveal assessment for repair feasibility or potential use as parts.

7/ 

Considering Gurulev's prior remarks, coupled with accessible satellite imagery illustrating a two-month gap and internal facility videos, my assessment suggests a production range spanning from a conservative estimate of 7 tanks per month to a more generous estimate of 17.

8/ 

These estimates, 7 to 17 tanks per month, provide a general overview of production scale, with a range of uncertainties. This falls below the Russian target of 16 tanks per month, translating to 576 tanks in three years, fewer than the stipulated 800.

9/ 

It's important to note this facility isn't the sole repair/modernization center in Russia. There other factories and BTRZ plants (22, 61, 81, 103, 144, 153), albeit it appears that their production scale could be even lower.

10/ 

Despite ERA blocks, the T-62's armor remains vulnerable to contemporary anti-tank weaponry. Nevertheless, they retain utility in offering indirect fire support and presenting a formidable challenge to mobile forces attempting to advance or flank the secondary defense line. 

11/ 

It's worth noting that our destruction of russian tanks currently surpasses their repair and production capabilities. Nonetheless, this threat persists for our units, particularly those with limited resources. Maintaining assistance to Ukraine is vital to keep this trend 

12/ 

Your contributions via Buy Me A Coffee have enabled the availability of this satellite imagery and others. If you found this thread valuable, please support by liking and retweeting the first message of the thread. Your engagement enables me to provide better materials 

A typo here. I meant to say that the goal was set at 800, and with current production tempo it won't reach 800 in 3 years. 
The Washington Post has the grim and disturbing details of a Ukrainian Soldier taken prisoner by Wagner mercenaries during the battle of Bakhmut.
WARNING!! WARNING!! DISTURBING CONTENT!! WARNING!! WARNING!!
Wagner mercenaries were within shouting distance when the ambush began.

From the high ground, they raked a column of Ukrainian military armor below. An antitank rocket punched through Ilia Mykhalchuk's vehicle, and the 36-year-old recalled quickly taking stock of his injuries.

They were ghastly.

Right arm: ribbons of shredded flesh. His left: pocked with shrapnel.

Mykhalchuk stumbled from the burning wreckage, fell to the frozen ground and, using his fractured teeth for leverage, tightened a tourniquet onto each of his mangled arms. Moments later, his attackers drew near, shooting him through the legs. They moved closer. Death, Mykhalchuk believed, was imminent.

"I was sure," he recently recalled, "they wouldn't capture me."

Yet that is exactly what happened.

Mykhalchuk spent six weeks as a prisoner of the Wagner Group, Russia's contract army whose savage campaign to capture the eastern city of Bakhmut cost thousands of lives over the winter and spring and left thousands more, including Mykhalchuk, grievously wounded. The Kremlin's management of the months-long siege and its bid to force the private entity into subservience so enraged Wagner boss Yevgeniy Prigozhin that in June he took the extraordinary step of staging a rebellion, marching on Moscow in a stunning — if fleeting — challenge to President Vladimir Putin's authority.

Mykhalchuk was freed in a prisoner exchange in April, having spent 46 days in captivity, during which he lost both arms to amputation by Wagner medics who, he said, neglected to suture his skin after the procedure. In interviews with The Washington Post, he gave a breathtaking account of his captors' alleged barbarism and mind-bending efforts to break the will of Ukrainian soldiers they had taken off the battlefield.

Following corrective surgeries in Ukraine, Mykhalchuk was brought to the United States by a consortium of charitable groups for intensive rehabilitation. He's now in the Washington area at a specialized facility outfitting him with arm prosthetics from a company with deep expertise treating American troops who lost limbs while at war in Iraq and Afghanistan.

Mike Corcoran, the prosthetist heading the effort, marveled at Mykhalchuk's resilience, saying, "He's not a shrinking violet."

Corcoran's company, Medical Center Orthotics and Prosthetics, has provided services to 19 Ukrainians, and more of them are on the way. It's a costly enterprise; Mykhalchuk's arms alone are valued at $200,000. The work has been facilitated through donations from the Brother's Brother Foundation and the aid group United Help Ukraine, which pays for housing, food, interpreters and other nonmedical needs.

It is vital for amputees to accept their limb loss and focus on rehabilitation, Corcoran said. Some of the Ukrainians he has helped have struggled, he said, and it's clear from the look in Mykhalchuk's eyes that his experience in Wagner captivity has taken a toll.

Before Russia's full-scale invasion last year, Mykhalchuk previously served small stints in the Ukrainian military under mobilization obligations in 2004 and in a volunteer unit in 2015 to 2017. He was drafted in December, he said, and stationed in the east with the 67th Mechanized Brigade.

In late February, the unit drew an important mission outside Bakhmut, then the epicenter of fighting. U.S. intelligence assessments at the time revealed that Ukrainian forces were desperate to hold vital supply routes, including those stretching back to Berkhivka.

The 67th was ordered to secure part of the village. The brigade, Mykhalchuk said, is loathed by Russian forces for its ties to the far-right nationalist group Right Sector, which formed a militia following the Kremlin-backed insurgency in eastern Ukraine in 2014. Right Sector was absorbed into the Ukrainian armed forces last year, but animosity between its members and Russian forces remains. That was top of mind, Mykhalchuk said, when Wagner fighters approached as he lay immobilized. They often "kill us right away," he added.

The Wagner attack on Mykhalchuk's unit was so fast and violent that it had to have been planned, he said. One other Ukrainian soldier was captured along with him, he said, with dozens of others either still missing or presumed dead. A spokesperson for the brigade could not provide an official account of the incident or Mykhalchuk's time in captivity. Ukrainian prosecutors have announced war-crimes investigations into the Wagner Group.

Wagner soldiers slipped off his tourniquets and replaced them with crude rubber tubing, tying them in knots so tight they could not be loosened, he recalled. As Mykhalchuk was moved into Russian-held territory, he pleaded for his captors to amputate his right arm. They refused to help him, he said.

Ten hours later, they arrived at a compound where Mykhalchuk would spend the duration of his captivity. He was taken to the basement, which he described as dark and poorly ventilated.

His left arm was salvageable after the rocket attack, he said, but it had turned black from necrosis, starved of blood from the tight rubber tubing. He said his captors made clear there would be no medical attention rendered until he was interrogated — which he said went on for hours.

Eventually, Mykhalchuk was sedated, he recalled. When he awoke, both arms were gone above the elbow. The people who performed the procedure bandaged his stumps without first stitching them, he said.

The interrogations were unrelenting. When he would lose consciousness, he said, he was injected with an unknown substance to keep him awake so they could continue.

His captors did not appear interested in tactical information, such as Ukrainian troop locations or other potentially useful intelligence. There were higher-ranking prisoners whom Wagner could have pressed for such information, Mykhalchuk said. Instead, he surmises that his value to Wagner was merely to be tortured psychologically. His interrogators made light of his amputations, telling him, he said, that he would never fight again, and sadistically asking questions about his fondness for fishing.

Wagner's strategy, he said, appeared designed to undermine the Ukrainians' values and to make them question how their countrymen would view them after release from captivity. The Wagner fighters sought to splinter the soldiers' solidarity and, alluding to their experiences fighting in other conflict zones, showed cunning proficiency when it came to manipulation.

"They tried to make us believe that we couldn't trust each other, and that it was a kill-or-be-killed situation," he said. "They were just playing with us, the way a cat plays with a mouse — when he catches it before he kills it."

The artificial limbs he's being outfitted with give him far greater dexterity than anything he would have been provided back home. They are equipped, for instance, with bionic sensors that will make it much easier to summon the necessary power from what remains of his arms.

For the first time in five months, Mykhalchuk picked up an object. The rubber hand grasped a white bottle. He tightened his grip before letting it go. It felt unusual, he said.

He practiced learning the most important motions right away: how to bring the artificial hand to his face to eat, drink and, importantly, smoke. One important goal is to tie his own shoes, he said.

Other possibilities have become clear, too. In one session, as he and the staff discussed precision touch, his interpreter offered a suggestion. "Can you show the finger to the Russians?" she asked.

Mykhalchuk smiled.
Much more at the link!
That's enough for tonight.
Your daily Patron!
A new video from Patron's official TikTok!
Thank you Patron for singing us the song of your people!
Open thread!