This morning I woke up, and like most mornings, I readied myself for the daily wave of anti-trans rhetoric.
For those of you who don't know what a gish gallop is, it's a tool used when debating to overwhelm an opponent with SO MANY arguments, with no discretion for the validity of the argument, that it is impossible to respond. Waves and waves of anti-trans "concerns" flood the news, and by the time you even begin to answer one "concern," there are a dozen more that have accumulated while you've been responding.
Honestly, some days it's hard to breathe when I get hit by that tidal wave.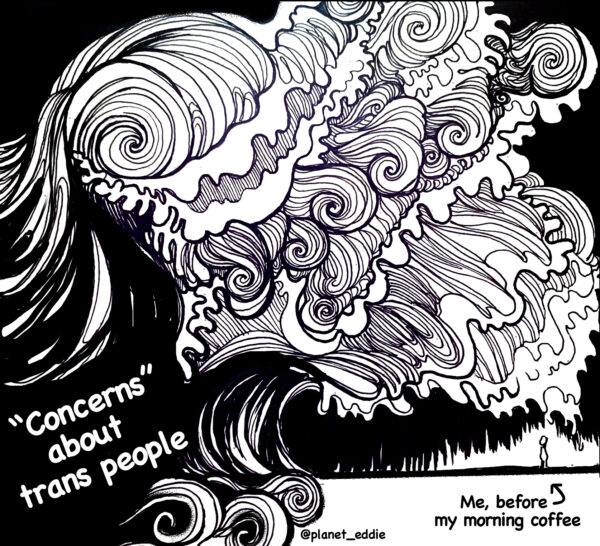 Something I've observed though is that most of the "concerns" around trans folks are premised on fundamentally not believing trans people are who they say they are. This pile of problems creates an unnavigable morass to distract from the primary issue: trans people are people who deserve full human rights, dignity, and respect.
I cannot tell you how many times I have stopped a conversation about women's bathrooms or trans people in sports in its tracks by simply cutting straight to the chase "Do you believe that trans women are real women?" In that moment there is often… a hesitation, and then something like "Well… yes but also they haven't lived as real women…" or "If someone has fully transitioned, then yes, but if they haven't then…" This slippery nugget slithers under the majority of trans-related concerns, creating an Otherness in people's minds, and until it is addressed it will continue to insinuate itself into every "concern."
It's okay to not "get it." It's okay to be confused, and there will be lots of messy uncomfortable moments as the world adjusts to creating space for trans people. People's feelings will get hurt. Change is hard! But the first thing you can do as an ally is simply this: believe trans people.
The Gish Gallop: Recognizing and Responding to Bad Faith Trans "Concerns"Post + Comments (274)