As Election Day nears, the battle for King Shit of Turd Mountain, i.e., the contest between Charlie Crist and Rick Scott for governor of Florida, has produced a shit-storm of negative advertising. Commercial after commercial projects images of the combatants in sinister poses and evil lighting, accompanied by strained voiceover accounts of their misdeeds in office.
Obviously, the Crist Photoshop team has the cushier job: I don't think there's a photo in existence of Rick Scott where he doesn't look like an alien creature from a reptile off-world come to foreclose an orphanage and grind the inhabitants into feed-paste.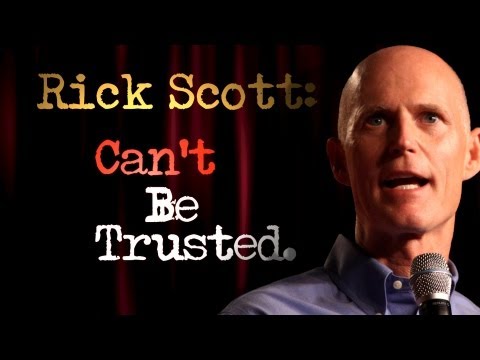 But yesterday, there was an ad I hadn't seen before featuring former Governor Jeb Bush excoriating former ally Charlie Crist as a career politician only interested in personal aggrandizement. The stones. The fucking stones on those Bushes.
Bush 2016: The Restoration is apparently a thing. Here's a puke-inducing paragraph from a NYT article published yesterday about the alleged upswing in Jeb Bush's political prospects:
Just six years ago, at the end of the last tumultuous Bush presidency, this would have been all but unthinkable. But President Obama's troubles, the internal divisions of the Republican Party, a newfound nostalgia for the first Bush presidency and a modest softening of views about the second have changed the dynamics enough to make plausible another Bush candidacy. And while Jeb Bush wants to run as his own man, invariably this is a family with something to prove.
Unpacking that paragraph is like opening a rancid diaper pail, but let's brace ourselves and give it a go: "President Obama's troubles?" Yes, he has them, mostly traceable to Stately Bush Manor and exacerbated by the Bush-aligned vandals in Congress.
"Internal divisions of the Republican Party?" Oh, you mean that GOP rebranding campaign gone awry in which the Republican Party nominated scads of pekoe-huffing troglodytes who lost winnable races and turned the GOP presidential primary into a crackpot bake-off?
"Newfound nostalgia for the first Bush presidency and a modest softening of views about the second?" Bush I is a doddering old fart who occasionally weeps with shame in public over his fuck-up namesake. He will be forever overshadowed by the half-wit he served as VP, and his son empowered a cabal of sociopaths to complete the cycle of destruction Poppy's boss set into motion.
And now we're seriously being asked to countenance another Bush run at 1600 Pennsylvania? Just shoot me now. (You can get away with it here in Florida — thanks to Jeb's partnership with the NRA.) I can't be objective because I utterly despise them all. But is there really a Bush restoration movement afoot outside of the Bushies, their minions and political columnists? Y'all help me out here: I haven't seen any evidence of it.
God, that article. "This is a family with something to prove?" Fuck them. "The Bushes, Led by W., Rally to Make Jeb '45'?" From the current generation until the sun goes supernova and vaporizes this planet, fuck the Bushes, and fuck the putrid media hacks who enable them by framing the ambitions of that clan of psychotic leeches as if writing a human interest piece on a sports dynasty.
When the Obama administration decided not to pursue its vile predecessors for their ghastly war crimes and corruption, I understood the rationale, even if I didn't agree with it entirely. It would have paralyzed the government in the midst of a cascading global crisis.
But the question of justice denied aside, this spectacle of the Bush family rehab alone is evidence that the dirty fucking hippies were right: We should have driven a stake through the fat black heart of that bunch when we had the chance.