Even before the president announced the executive order on immigration, Republicans were responding exactly as you'd expect:
Some Republicans expressed frustration that Obama invited only Senate and House Democrats to dinner Wednesday evening to huddle before the announcement.

Rep. Tom Cole (R-Okla.) said the fact that Republicans were not invited signals that Obama is creating "the beginning of a political campaign" that provokes "partisan warfare" and not a bipartisan agreement.

Republicans should have been included in Wednesday's dinner, said Rep. Michele Bachmann (R-Minn.).

"I think that's endemic of how the president has run his office," she said. "He has been unwilling to reach out to Republicans."
No surprises there; any one of us could have written their talking points for them. But what about the response of people who don't follow politics closely and others who are paid to pretend it's irrelevant that one of our two major parties has been hijacked by lunatics? If what I'm hearing in the news is any indication, there's considerable angst in those quarters that the president's executive action could torpedo bipartisan cooperation for the rest of his term.
I've prepared the following charts to help our fellow citizens gauge the likely effect of the executive order on bipartisan cooperation. First, let's chart the pre-executive order levels of Congressional comity: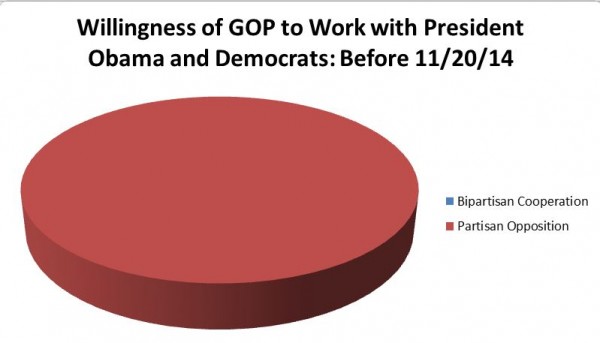 Next, let's have a look at the projected levels of cooperation in the post-executive order world: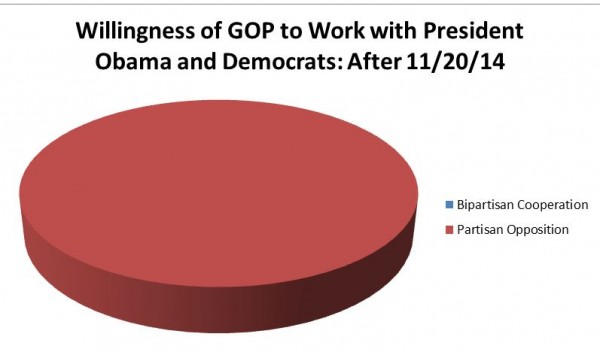 Isn't it amazing how visual aids can bring the complex interplay between confusing datasets so sharply into focus? No need to thank me; it's just something I do.