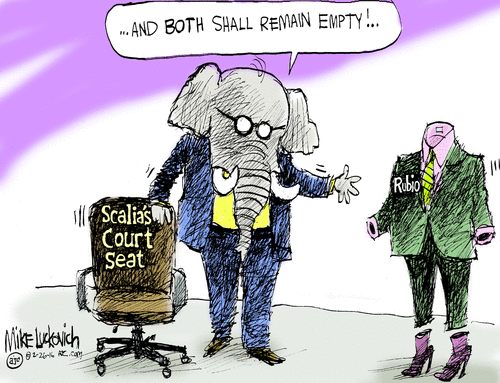 So this weekend we all got to "enjoy" a humongous display of spoilt white elitists embarrassing themselves in public… and also the Oscars. The Republican "Establishment," such as it remains, has been gripped by the deadly horror of its unleashed Id made visible, and of course it turns out that it's everybody's fault but the Republicans'!
From the Washington Post, company paper of the town whose monopoly industry is national politics:
The implosion over Donald Trump's candidacy that Republicans had hoped to avoid arrived so virulently this weekend that many party leaders vowed never to back the billionaire and openly questioned whether the GOP could come together this election year.

At a moment when Republicans had hoped to begin taking on Hillary Clinton — who is seemingly on her way to wrapping up the Democratic nomination — the GOP has instead become consumed by a crisis over its identity and core values that is almost certain to last through the July party convention, if not the rest of the year.

A campaign full of racial overtones and petty, R-rated put-downs grew even uglier Sunday after Trump declined repeatedly in a CNN interview to repudiate the endorsement of him by David Duke, a former grand wizard of the Ku Klux Klan. Trump had disavowed Duke at a news conference on Friday, but he stammered when asked about Duke on Sunday…

Roger Stone, a Republican consultant and longtime Trump associate who does not work for the campaign, said Sunday that he has been reaching out to fellow alumni of Ronald Reagan's presidential campaign about volunteering on Trump's behalf at the convention.

"We're looking at pulling together people with deep knowledge and experience at Republican conventions going back to Barry Goldwater in '64 or Reagan in '76," Stone said of his efforts, which have been taking place by telephone. "If they try to change the rules to steal it from Trump, he'll need friends who understand the rules."…
Anybody who believes that Roger Stone, a foundational CREEPster with a Nixon tattoo on his back, stopped working with Trump after that embarrassing incident last August is too naive to be allowed to walk to the corner store with a ten-dollar bill. Neither Barry Goldwater in 1964 nor Ronald Reagan in 1976 ended up as the GOP candidates in the general election, but the ugly chaos they created at their respective conventions did guarantee that "their" party would lose to the Democrats… and, more importantly in the long run, that their separate authoritarian philosophies would permanently warp the Republican Party, to the detriment of our long-suffering nation over the past fifty years. Trump — via Stone — is setting himself up as the Next Great GOP Iconoclast. Whether he's got the ability or the attention span to pull it off is an open question. But perhaps the pundits who wonder if Cleveland 2016 will end up as the historical counterpart to the Democratic disaster in Chicago 1968 are not merely fantasizing a return to past excitement…
***********
Apart from watching the clown show turn gladiatorial, what's on the agenda for the start of the week?
This is what the GOP reaps for telling everyone things have already gone to hell.

— Josh Barro (@jbarro) February 29, 2016