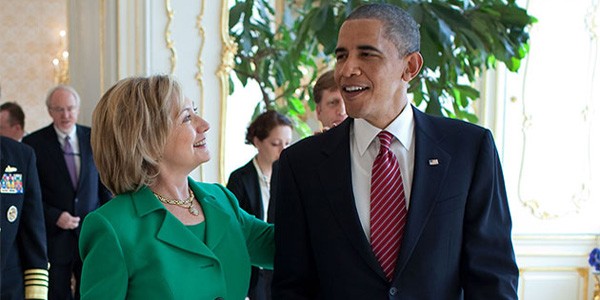 I'm so proud to be a Democrat today. We elected and then reelected President Barack Obama, a man whose vision, steadiness, wisdom and genuine human decency have inspired millions of people around the world (and personally restored my faith in politics and America). And now we've nominated and will work our asses off to elect Hillary Clinton, an incredibly intelligent, diligent, dedicated and supremely qualified woman who understands the nature of our opponents and knows how to keep us moving forward.
And as if that weren't exciting enough, the combined forces of stupidity and hubris have bestowed upon us a comic book villain of an opponent in GOP nominee Donald J. Trump. A preening narcissist, vile racist, odious sexist, sleazy con man, bully and braggart — is Trump not the Platonic Ideal of the modern Republican Party, a hideous bastard born of an unholy, unspeakable three-way between David Duke, Bernie Madoff and Phyllis Schlafly? Plutocracy lickspittles like Paul Ryan and debauched patricians such as the Bushes may recoil in horror, but they built that.
But you know what? Democrats are always tasked with cleaning up Republicans' messes, and who better than hardworking Hillary to take on the Herculean task of sweeping all that nasty Trump out the door? But damn it, people, we've got to help her get it done. Volunteer. Donate. Knock on doors. Persuade friends. Placate frenemies. Register voters. Enter data. Lick envelopes. Attend rallies. Above all, support Democratic candidates at the local, state and federal level.
Because Trump does not deserve to merely lose. He must be pantsed before all the world to wipe away the embarrassing stain of his nomination. When he takes the stage after the polls close in 152 days and does his Mussolini jaw-jut, I want to see his protruding lower lip tremble with incipient tears. I want to watch his insufferably smug sons sobbing into each other's Armani lapels as they contemplate the extinction-level hit to the Trump brand. I want to see mascara streaks staining the cheeks of the Robert Palmer video-like female entourage assembled behind the humiliated candidate.
The Republicans embarrassed this great nation by nominating a clueless, vulgar buffoon to lead it. It's up to us to make it right. So it's on, people. We can do this. We must do this. We will do this.