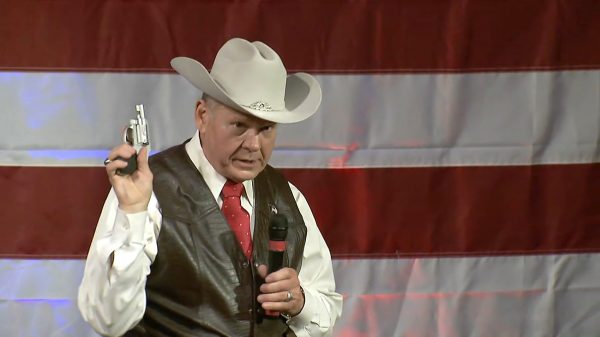 Beltway media outlets have settled on "conservative firebrand" to describe Alabama GOP nominee Roy Moore. I like Charlie Pierce's formulation better: "theocratic crackpot." "Lawless zealot" would also work, as would "Talibangelical" or "Bible-humping, dainty-pistol-waving crazypants."
Longtime GOP operative and WaPo columnist Ed Rogers is dismayed this morning:
Roy Moore's win is bad for Alabama, and even worse for the GOP

To liberals, having Moore in the Senate will be the gift that keeps on giving. He will be the mainstream media's favorite Republican senator. They will count on Moore to embody every negative stereotype that a conservative from Alabama and an elected Republican can have… Finally, there is a truly anti-gay, anti-woman, anti-Muslim, anti-everything elected Republican for all the world to see… Alabama specifically and Republicans everywhere will suffer as a result of Moore's presence in Washington.
Emphasis mine, and from your keyboard to the Flying Spaghetti Monster's delicate al dente orrecchiette, Ed; Republicans everywhere deserve to suffer.
He goes on:
Trump's support for appointed Sen. Luther Strange (whom I contributed to) was right in every way. Trump needs more poised, experienced allies in Congress. He should do all he can to populate the Republican caucus with serious leaders who have a good sense of reality and what is achievable.
How on earth is Trump, a permanent resident of a delusional narcissistic fantasy world, supposed to identify Republicans who are "serious leaders who have a good sense of reality and what is achievable," Ed?
He meeps some more:
Political predictions are foolish. It is a mistake to take today's headlines and extrapolate to the next election. But Republicans are doing nothing to discourage Democrats about their prospects for 2018 by electing the likes of Moore. The idea that Moore's victory was some kind of Bannonite strategy to strengthen Trump by diluting rational Republicans in the Senate with incapable crackpots is demented.
You know who's "demented," Ed? The "incapable crackpot" your party put in the Oval Office. And while the walking canker sore Steve Bannon may have selected that particular piece of crackpottery as a vessel, the lunacy contained therein is an artisanal GOP product in production since at least the 1970s.
Ed sadly concludes:
The bottom line for Republicans is, in Congress, within the White House and among the electorate, things are perilously close to being out of control. Our leaders, while discouraged, certainly don't need to capitulate. But real Republicans need to start winning.
The "real Republicans" have already won, Ed — last November and last night. You broke it, you bought it; Crackpottery Barn Rule.