Shortly after 7:30 AM ET today, Trump tweeted the following:
"House votes on controversial FISA ACT today." This is the act that may have been used, with the help of the discredited and phony Dossier, to so badly surveil and abuse the Trump Campaign by the previous administration and others?

— Donald J. Trump (@realDonaldTrump) January 11, 2018
As he frequently does, Trump was live-tweeting Fox & Friends, the show featuring the three sofa squatters who have a symbiotic relationship with the White House, wherein the program runs pro-Trump propaganda every morning in exchange for Trump serving as their social media director.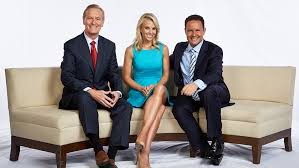 But adult daycare supervisor John Kelly may have to alter the terms of that agreement. The F&F story caused Trump to target a surveillance policy the Trump admin and GOP support. Kelly must've received the cleanup notice fairly quickly, because a couple of hours later, Trump walked it back with a self-congratulatory flourish:
With that being said, I have personally directed the fix to the unmasking process since taking office and today's vote is about foreign surveillance of foreign bad guys on foreign land. We need it! Get smart!

— Donald J. Trump (@realDonaldTrump) January 11, 2018
Fox News is the Trump state propaganda channel. But like most Trump-branded endeavors, it is staffed by low-quality people and is wildly dysfunctional.
If I were Putin or another evil oligarch who wants to control U.S. policy, I'd find three operatives who resemble the F&F sofa squatters (they're as interchangeable as light bulbs, so that shouldn't be difficult), recreate the set and beam a fake F&F show into the White House each morning. It would be a simple matter to lace the program with flowery tributes to Trump and bait it with favored policy tidbits.
Not only would this strategy result in getting my preferred policies championed by the nominal POTUS, it would probably generate all sorts of positive press for Trump by people like Maggie Haberman and Dana Bash, who would be bowled over by Trump's newfound independence. I wonder how long it would take Kelly to figure out what was going on?