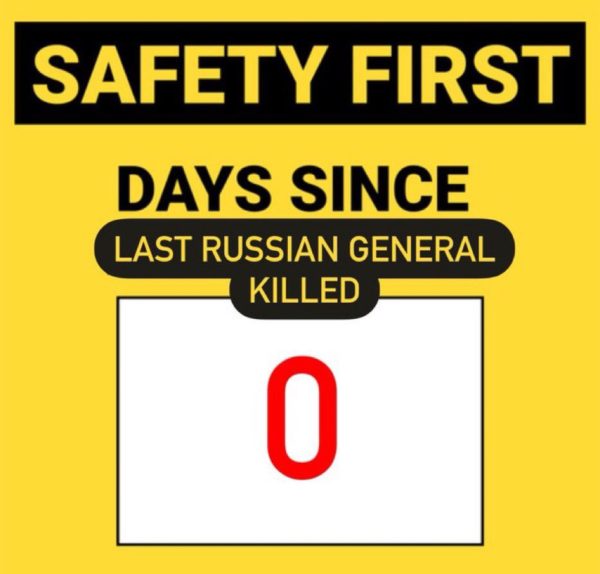 (Sent to me by commenter JCJ courtesy of his daughter who found it here)
Earlier today President Zelenskyy did an interview via video with independent – as in not state owned, backed, and/or approved – Russian journalists from Meduza, Kommersant, Novaya Gazeta, and TvRain in defiance of Russian government orders to not do the interview. I am very grateful, as I'm sure our Russian speaking commenters who have offered to translate stuff for me for the updates are as well, that they included English sub-titles on the ninety-two minute interview!
Here are some English translation excerpts from Natalia Krapiva, whose Twitter feed is where I got the link to the YouTube video from.
NEW: @ZelenskyyUa just gave a remarkable interview to Russian independent journalists from @meduzaproject @kommersant @novaya_gazeta & @tvraine, who defied Russian government orders not to release it.

Here are some highlights in English. ???1/https://t.co/dB4BCHO1dw

— Natalia Krapiva ??‍?? (@natynettle) March 27, 2022
2/ Zelensky: "[Russian government's] refusal to see Ukraine as an independent state is a shared tragedy of Ukrainian & Russian people," as he sees Russian people (народ) as separate from the Russian government (власть).

3/ Zelensky says that he is "99.9% certain" that Russian leadership was told by pro-Russian political forces in Ukraine that Ukrainian people were awaiting Russian forces with "flowers and smiles" and that Zelensky's government was widely unpopular.

4/

@tikhondzyadko

asks Zelensky to clarify the number of dead/POW on the Russian side. Zelensky says Ukraine shares all the lists with the Russian army. Many of the killed

Russian

soldiers are "children," born in 2003-2004, & Russian side refuses to acknowledge them/take their bodies.

5/ Zelensky gets very emotional as he is saying that even cats & dogs get better treatment after they die than killed Russian soldiers who Russian government is refusing to acknowledge & instead is offering "trash bags" to Ukraine. "They are not just cattle," says Zelensky.

6/ Zelensky says Russian gov's disregard for the lives of its own people is a tragedy that is affecting Ukraine. A lot of Russian soldiers ("children," he repeats), as Ukrainian intelligence confirms, didn't understand where they were going. They were sent to be slaughtered in

Ukraine

7/ Despite this, Zelensky says he doesn't know if Ukrainian people will ever be able to forgive & restore their relationship with Russian people. If the war continues, every single Ukrainian will have someone in their family as a victim of Russian aggression.

8/ As to Russian language, Zelensky says he never has any problem speaking Russian if someone is addressing him in Russian. But the biggest harm that was done to the Russian language was done by Putin himself as Russian speaking cities were destroyed by his army.

9/ Paraphrasing Zelensky: The Russian people aren't somehow our enemy just because they haven't overthrown

#Putin

. But each Russian has a responsibility to speak out about the invasion, even if it's just to 1 other person.

10/ Zelensky confirms several Russian oligarchs, including Abramovich, offered to send money to Ukrainian army, rebuild Ukraine, and move their businesses there. Zelensky says any Russian businessperson who is ready to support Ukrainian army will be offered security & job.

11/ Zelensky says Russian forces should return to pre Feb 24 positions as a compromise & then talks about Donbas should continue. Then he makes an interesting hint: Whomever Ukrainians elect next will be younger & less accommodating. So

#Putin

shouldn't slow-walk negotiations.

12/ In the end, Zelensky addresses Russian people & asks them to tell their loved ones & friends the truth about Russian government's actions in Ukraine. Only then he says there may be hope that Russian and Ukrainian children & grandchildren will live in peace.
President Zelenskyy's remarks were clearly aimed at Russians who might be able to view and listen to the interview.
Much more after the jump.
I'm still not sure the Russians were on the up and up regarding this Phase 2 thing…
Again total missile strikes at ??. Lutsk, Kharkiv, Zhytomyr, Rivne. Every day more & more rockets. Mariupol under carpet bombing. ?? no longer has a language, humanism, civilization. Only rockets, bombs & attempts to wipe ?? off the face of the earth. Does Europe really like it?

— Михайло Подоляк (@Podolyak_M) March 27, 2022
Hope, however, springs eternal!
11 hr 11 min ago

French President Emmanuel Macron seemed to warn against labeling Putin on Sunday.

"I wouldn't use terms like that because I'm still in talks with President Putin," Macron said during an interview on French Channel France 3.

Macron added: "Our goal is to stop the war Russia launched in Ukraine, while avoiding a war and escalation."
Bless his heart!
I've been quite hard on Israel's lack of a useful response to Russia's reinvasion of Ukraine, so they deserve to be recognized for setting up an advanced field hospital in western Ukraine.
This would seem to be ungood!
10 hectares of forest are burning in the Chornobyl Zone, caused by #Russian shelling. It isn't possible to put out the fire now, as this territory isn't controlled by #Ukraine. We're afraid that the fire will reach the nuclear power plant. The radiation level is already elevated.

— Inna Sovsun (@InnaSovsun) March 27, 2022
The Russians (in red on the map) still appear to be trying to encircle the Ukrainian Army in eastern Ukraine, known as the Joint Force Operation (JFO) (in blue), so they can then reduce it. The JFO needs to pull back and reform its lines in a more secure position to prevent being encircled and reduced.
Something to watch very closely now: potential Russian reinforcements to the Izium area, probably at the expense of the Chernihiv, Kharkiv, and Sumy axes of attack.
Their only possible way is to try and surround Ukraine's Donbas military group now. pic.twitter.com/20r47V4OX3

— Illia Ponomarenko ?? (@IAPonomarenko) March 27, 2022
Mariupol:
Denis Dudinski via Instagram: "This car came from Mariupol. The Russian military at the city checkpoint gave them 40 seconds to drive away. Just for fun. It's like: "You run, I'll count to 40, then I start to shoot!" 1/2 pic.twitter.com/sKyhItJYmb

— Yana Morozova ?? (@jane_in_vain) March 27, 2022
They didn't manage to drive away before the russians started shooting. But everyone who was in the car is alive: grandmother, grandfather, husband, wife, son (4 years old), daughter (1.5 years old). 2/2

And, yes, there's the word "children" written on the car in russian.

For those saying they did this because of a video where ukrainians allegedly shot russians in legs. Yes, they shot the people who came here to kill in the legs, so let's kill the innocent kids

Also, let's make it a game!! Maybe they manage to escape, maybe they won't. So fun.

I'll use this opportunity where no one can reply to say this: i sincerely don't give a fuck what happens to russian soldiers. No one invited them here. No one gave them an order to rape kids, burn animals alive, loot homes, but they do it anyway. Drop dead

Those feeling sorry for the poor russian soldiers who can't refuse obeying orders should read this:
The first this from the second to last tweet above:
"To feed the children I was ready to kill our dog"

Confessions from people who managed to escape Mariupol. Via volunteer Sonya (@ sonyalawyer8 on Instagram)

Part 1/?

"People from Mariupol escaped hell, but hold on as best as they can.. pic.twitter.com/tSt9oEqtiC

— Yana Morozova ?? (@jane_in_vain) March 27, 2022
They came to the headquarters for food kits and disposable tableware. There is emptiness in their eyes; as soon as you offer your help, people cannot hold back the tears. I hugged a woman. She started falling and losing consciousness from fatigue and stress. 2/?

We brought her water, she started feeling better, and continued telling her story. She said: "You have a business. You live your life. And before you know it, you are seeing mutilated bodies." 3/?

"We cooked in the yard on the stones. Put a saucepan on them and cooked." Then, they got shelled. Their shelter was destroyed. Those who could – got out. But only those who could. 4/?

They buried people in the yard. Russian dead bodies were left in the streets, and later taken away by animals. 5/?

"Every second I prayed for the children to survive. There was no food, no water. We found the basement that we used to hide by accident, when we were running in between the bombings. It was damp there, and you could here the squeaking of rats." 6/?

She told me about how she kept pressing the child to herself and how she did not sleep for a second; sometimes she would pass out from exhaustion. 7/?

They were trapped under the ruins, but couldn't scream for help. Too dangerous. Russian soldiers would have simply come and killed them. They would have killed them for pleasure. They like the feeling of power, they revel in human grief. 8/?

"We were so starved, we thought about killing our dog and eating it in order to last a few more days." She was already ready to do it, as suddenly she heard: "Is there anyone alive under there?" (in Ukrainian). 9/?

She thought it was hallucinations, but no, our soldiers dug them out from under the ruins, and helped get out of that hell. 14 people were driving in one car, sitting on top of each other. "Sophia, we all started believing in God." 10/?

They still do not understand that they are already safe. They squeeze bottles of water and cry bitterly all the time. I am writing this now and my hands are shaking. We could not hold back the tears as well. Just kept hugging them, and sobbing. 11/?

These are all crippled lives of our people, our Ukrainians. We all fainted in a morgue, during my internship there. And here are small children, who saw hundreds of mutilated corpses and parts of human bodies. How do you live after this? I hate them. (Russians)" 12/12
The second this from that first thread:
"I started hallucinating from hunger."

Confessions from people who managed to escape Mariupol. Via volunteer Sonya (@ sonyalawyer8 on Instagram)

Part 1/?

"A woman in her forties began to tell her story, while stuttering.. pic.twitter.com/RLXELWihXg

— Yana Morozova ?? (@jane_in_vain) March 27, 2022
"There was constant vomiting and dizziness from stress. The problems that occupied my brain before the war, suddenly disappeared. For me, war is a different life. Unbearable smell of urine, feces, vomit, blood and decaying bodies.. 2/?

People deal with stress differently. I know some die of pain and grief. Their heart fails and there is no cure. The same is with diabetics and cancer patients. 3/?

Everyone is calling it a "humanitarian catastrophe",but let me explain what it means for women.U are on your period, and u are wearing 1 pad for 5 days. There is no water, napkins, or even toilet paper.The only thing u have is clothes. I think u know where i'm going with this.4/?

On the 4th day we ran out of food. On the 7th day, the hallucinations and convulsions from hunger began. We were in the basement, sitting on a rag and no longer crying. We kept thinking about how to get out. 5/?

We covered the mouths of children so that the russians would not hear that we were there. Everything we read from the history books about Nazis, we felt many times worse. These monsters came to destroy. Killing a child, or raping a woman brings them PLEASURE. 6/?

We have never seen so many corpses in our lives. There was a stench of decomposing bodies in the streets. Just yesterday you had a good, satisfying life, and today you are left with nothing. But we have Faith and God is with us." 7/?

Children lose their parents, they are shot in front of their eyes. How long can this go on for? The survivors of these concentration camps, created by Russian monsters, will remain crippled forever. 8/?

And if physical wounds can somehow be cured, although not all of them, the psychological damage that's been done is irreparable. 9/9
Kharkiv:
In Kharkiv alone, more than a thousand houses were destroyed by Russia during the month of the war. Most of them residential buildings. This is one of those, which looks like a toy house crushed by an evil force. pic.twitter.com/dsO84hE4qI

— Maria Avdeeva (@maria_avdv) March 27, 2022
Yesterday, The New York Times published a long form piece of reporting by Roger Cohen that includes detailed interviews with a number of senior leaders who have met and interacted with Putin over the past twenty plus years.
PARIS — Speaking in what he called "the language of Goethe, Schiller and Kant," picked up during his time as a K.G.B. officer in Dresden, President Vladimir V. Putin addressed the German Parliament on Sept. 25, 2001. "Russia is a friendly European nation," he declared. "Stable peace on the continent is a paramount goal for our nation."

The Russian leader, elected the previous year at the age of 47 after a meteoric rise from obscurity, went on to describe "democratic rights and freedoms" as the "key goal of Russia's domestic policy." Members of the Bundestag gave a standing ovation, moved by the reconciliation Mr. Putin seemed to embody in a city, Berlin, that long symbolized division between the West and the totalitarian Soviet world.

Norbert Röttgen, a center-right representative who headed the Parliament's Foreign Affairs Committee for several years, was among those who rose to their feet. "Putin captured us," he said. "The voice was quite soft, in German, a voice that tempts you to believe what is said to you. We had some reason to think there was a viable perspective of togetherness."

"He hated what happened to Russia, hated the idea the West had to help it," said Christoph Heusgen, the chief diplomatic adviser to former Chancellor Angela Merkel of Germany between 2005 and 2017. Mr. Putin's first political manifesto for the 2000 presidential campaign was all about reversing Western efforts to transfer power from the state to the marketplace. "For Russians," he wrote, "a strong state is not an anomaly to fight against." Quite the contrary, "it is the source and guarantor of order, the initiator and the main driving force of any change."

"Putin's nightmare is not NATO, but democracy," said Joschka Fischer, a former German foreign minister who met with Mr. Putin several times. "It's the color revolutions, thousands of people on the streets of Kyiv. Once he embraced an imperial, military ideology as the foundation of Russia as a world power, he was unable to tolerate this."

Although Mr. Putin has portrayed a West-leaning Ukraine as a threat to Russian security, it was more immediately a threat to Putin's authoritarian system itself. Radek Sikorski, the former Polish foreign minister, said: "Putin is of course right that a democratic Ukraine integrated with Europe and successful is a mortal threat to Putinism. That, more than NATO membership, is the issue."
Much, much, much more at the link. For me, this is one of the key takeaways:
"Power, for the Russians, is arms. It is not the economy," said Ms. Bermann, the former French ambassador, who closely followed Mr. Putin's steady militarization of Russian society during her time in Moscow. She was particularly struck by the grandiose video display of advanced nuclear and hypersonic weaponry presided over by the president in a March 2018 address to the nation.
Which is why I do not think the sanctions and economic measures will have their intended effect.
Another reason I think that is until or unless we sanction Russian oil and natural gas, we're allowing Putin to pull in millions every day to offset the effects of the sanctions and other economic measures. This, as well as the other uneven application of the sanctions and economic measures, is why they are not going to work:
An embargo of Russian energy would see Russia's GDP completely collapse. Our baseline forecast has GDP fall -30% by end-2022 and does NOT yet put a 100% weight on an energy stop. This number would be MUCH worse in the event of an embargo, making war harder to sustain for Putin… pic.twitter.com/6ZMJceyjH9

— Robin Brooks (@RobinBrooksIIF) March 26, 2022
We'll finish with this:
An emotional performance of Ukrainian figure skaters Oleksandra Nazarova and Maksym Nikitin at the world championship in France. They are from Kharkiv, Nazarov spent weeks there under Russian bombs. They had less than a month to prepare this dance and no time to make costumes pic.twitter.com/qP2efP7BXq

— Olga Tokariuk (@olgatokariuk) March 27, 2022
Open thread!