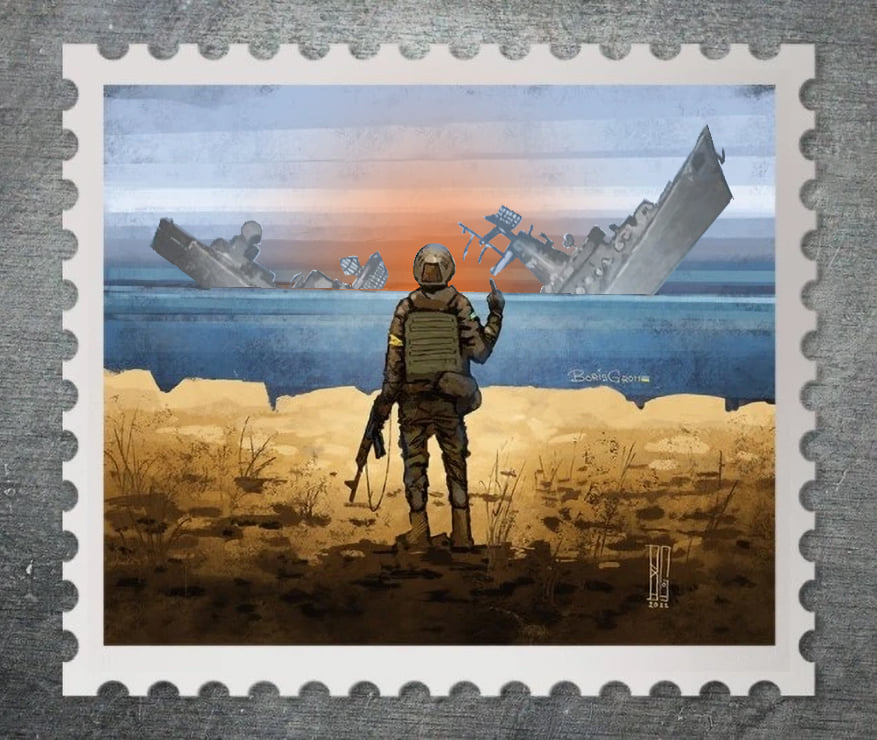 Here is tonight's address by President Zelenksyy. Video below, English transcript after the jump (emphasis mine):
Dear Ukrainian men and women!

The one hundred and fiftieth day of our defense against Russia, against their invasion, is coming to an end. And this day is in some ways similar to all the previous ones – missile strikes again, heavy fighting in many areas of the front – Donbas, Kharkiv region, shelling again.

But this day also shows how far we have come towards our victory. It will be!

First of all, we can say now about Kherson region. The occupiers tried to gain a foothold there, their collaborators made various brazen statements, which in Russian are called the very apt word "shapkozakidatelstvo" (false forecasts)… But how did it help them? The Armed Forces of Ukraine are advancing step by step in the region.

Today's Russian missile attack on Odesa, on our port, is a cynical one, and it was also a blow to the political positions of Russia itself. If anyone in the world could still say that some kind of dialogue with it, with Russia, some kind of agreements are needed, see what is happening. Today's Russian Kalibr missiles have destroyed the very possibility for such statements.

And we see the absolute unanimity of the world's reaction to this strike. The occupiers can no longer deceive anyone. Among other things, as a result of this strike, the building of the Odesa Art Museum was also damaged. The missiles hit very close to the historical objects of Odesa – something that is an asset not only for Ukrainian culture, but also for the culture of Europe.

This apparent Russian barbarism brings us even closer to obtaining the very weapons we need for our victory.

Today in the capital of Ukraine, I held talks with U.S. congressmen led by Adam Smith, the chairman of the House Armed Services Committee.

And we understand each other from half a word. And this also reflects the way we have passed during all these days – days of war.

By the way, I want to thank the people of the United States, President Biden for the new $270 million security assistance package.

I spoke today with the President of Kazakhstan, Mr. Tokayev. I thanked him for his fundamental support for Ukraine, our sovereignty, and international law. We discussed specific projects in the fields of energy, economy, digitalization.

And, finally, today the second annual Summit of First Ladies and Gentlemen took place in Kyiv. This year, it gathered even more participants. It united Kyiv with Warsaw, Brussels, London, and Washington. It united top politicians, public figures of other countries and our soldiers. Representatives of business, sports, media. Writers, show business stars, educators, doctors… In today's world, it is impossible to make do with the usual conventional diplomacy. We need soft power, we need the sincere desire of different societies to help the state, which is fighting for its indomitability and independence. And from this point of view, it has become very successful today.

The initiative of the First Lady of Ukraine in two years actually became a traditional format – unique for the world community. Everyone recognizes the potential of soft power. But only Ukraine managed to direct its indomitability, its potential into concrete diplomatic practice.

And in general, in these almost five months, we have achieved such large-scale and diplomatic support for Ukraine that Russia will not be able to oppose it.

The day will come when missiles will lose their meaning for the occupiers. Now, it is possible to shoot down some of the missiles. The goal is to shoot down each one. And we will do everything necessary to still get modern and effective air defense systems. It's our goal.

The terrorist state provides new arguments for this every day.

As of today, almost 24,000 defenders of Ukraine have been given state awards for their bravery. A total of 160 soldiers were awarded the title of Hero of Ukraine. Millions of our people joined the defense of our state. And I am sincerely grateful to them, each of them.

Our independence is our joint achievement. Victory will be shared. It will definitely be! I know it. I believe in it.

Glory to Ukraine!
The Ukrainian MOD did not post an operational update today.
Here is today's assessment from Britain's MOD:
They did not post updated macro level map today.
We're getting more and more reporting out of Kherson indicating that the Ukrainians are on the front foot. President Zelenskyy referenced that in his address this evening. The British MOD focused their update today on it. This is an excellent thread that quickly drills down into the Ukrainian counteroffensive in Kherson Oblast and the south of Ukraine:
A couple of weeks ago (or so) the Russians announced an 'operational pause' in the Donbas.

Op pauses are pretty normal in this type of high intensity warfare, because of the vast supplies required and damages inflicted.

— Dr Mike Martin 🔶 (@ThreshedThought) July 22, 2022
Armies sometime just have to take 'time outs' to regroup and build up their supplies again. Although normally you don't broadcast to everyone that you're doing it. That's a big weird an makes it seem like there must be another reason that Russian military activity has decreased.

And decreased it has – Russian artillery fire has significantly dropped, and there are a lot less offensives. (They compensated for this by lobbing a few missiles into cites, just to remind everyone they were still there, and still relevant. As if we'd all forgotten!)

And during this RUSSIAN operational pause, the Ukrainians started bringing into action the longer-range, western-donated artillery systems.

And continuing a theme (of the last two months) – while the Russians were focussing on (regrouping in) Donbas, the Ukrainians started hitting targets on the Kherson front in the south.

Just a quick reminder – Kherson is much more important strategically – it is the only foothold that the Russians have north and west of the Dnipro River – which is the major strategic barrier that runs across Ukraine from Crimea to Kyiv.

It is also the route to Crimea for the Ukrainians, which is where they should put pressure on the Russians if they want to evict them from the whole country. If the Russians feel threatened in Crimea they will strip units out of elsewhere, including the Donbas.

Anyway, I digress.

Over the last fortnight or so, the Ukrainians have been hitting Command and Control posts up to the 70km range of the new systems (headquarters, communications sites, air defence radars etc.). This dislocates a military force.

This sort of range means that generally speaking they are hitting Brigade and Divisional HQs rather than company and battalion ones. In a war you keep the more valuable things further from a front line to protect them. Longer range artillery upsets this calculation.

Secondly, the Ukrainians have been hitting supply dumps. I'm sure we've all seen the videos and photos on twitter. Judging by the size of those fires they were brigade, divisional and corps level supply dumps – which are predominantly fuel and ammo.

And specifically for the Russians and the way that they conduct war – it means a lot of artillery ammunition.

This has meant that the Russians have had to move all of these supply dumps back beyond the range of the new Ukrainian artillery. And this has one very simple effect.

The Russians now have to transport all those supplies, say, 100km rather than 30km. And if you have the same amount of lorries it means you can only bring up 1/3 of the supplies that you could before you had to move your supply dumps. And what does that mean?

It means that Russia, who rely on a very artillery heavy way of fighting war (and artillery is the most logistics intensive thing ever), can probably no longer get enough supplies up to the front line to conduct offensives; they can probably only defend on the Kherson front now.

And, I guess as the cherry on the cake, the Ukrainians have started hitting the bridges over the river Dnipro that connect Kherson to the other side of the river. In other words, the bridges to the Russian force's rear.

There are only two of them. And they haven't destroyed them yet, they've just cratered them making them unsuitable for heavy logistics. But if I were a Russian soldier in Kherson I would be pretty scared right now.

The way to get an enemy force to collapse is to hit their command and control, hit their logistics, and then start playing games with their minds.

I would be watching Kherson very closely over the next ten days. I think we might be about to see another Russian 'goodwill' gesture as they pull out of Kherson

ENDS
The Russians are also signalling that the Ukrainians are effectively pressing them in Kherson:
Ukraine refuses the enemy's request for a green corridor for thousands of soldiers to exit Kherson region. Ukraine demands their surrender of troops and equipment otherwise they will be eradicated. https://t.co/KhOMb0aX3I

— Euromaidan PR (@EuromaidanPR) July 22, 2022
Ukrainian memories of the Russian treatment of the defenders of Mariupol is not lightly set aside…
There is some initial reporting and concern that the Russians are using thermite over Donetsk this evening.
Another view from Donetsk pic.twitter.com/h3RbZVN1f1

— Aric Toler (@AricToler) July 23, 2022
Whole bunch of videos in this Telegram channel, via @666_mancerhttps://t.co/3yBjUiCKCy pic.twitter.com/i4MaZVzbRU

— Aric Toler (@AricToler) July 23, 2022
One of the reasons I'm still not particularly enthusiastic that the economic and sanctions regime will have any effect is because we're not actually doing anything about the categories of crimes that are called white collar crimes and organized crime. Which, by the way, have so much overlap they are pretty much the exact same thing. A great example comes to us as a warning from the anonymous whistle blower who delivered the Panama Papers to the International Consortium of Investigative Journalists (ICIJ). Der Spiegel has the details:
The anonymous whistleblower behind the bombshell leak known as the Panama Papers has emerged anew to warn how offshore companies are enabling Russia's war machine.

What kind of instability do you mean?

The rise of fascism and authoritarianism globally, from China to Russia to Brazil to the Philippines, but especially now in the United States.

America has made some terrible blunders in its history, but it has served as a balancing force against the absolute worst regimes when needed most. That balance has functionally ceased to exist.

Tax havens seem to be of crucial importance for strongmen in autocratic regimes.

Putin is more of a threat to the United States than Hitler ever was, and shell companies are his best friend. Shell companies funding the Russian military are what kill innocent civilians in Ukraine as Putin's missiles target shopping centers. Shell companies masking Chinese conglomerates are what kill underage cobalt miners in the Congo. Shell companies make these horrors and more possible by removing accountability from society. But without accountability, society cannot function.

"Shell companies funding the Russian military are what kill innocent civilians in Ukraine."

– John Doe

The Panama Papers seem to be more relevant than ever, due to the Russian aggression in Ukraine. For example, one of the oldest and closest friends of Vladimir Putin, the cellist Sergei Roldugin, got sanctioned at the end of February. The main reason for that has been found in the Panama Papers, which showed that Roldugin seems to have acted as a proxy for his powerful friend and owns billions — at least on paper. Are you pleased about that twist of events?

I was glad to see Roldugin sanctioned. I think it's brilliant.

Do you fear Russia might seek revenge?

It's a risk that I live with, given that the Russian government has expressed the fact that it wants me dead. Before Russia Today's media presence was curtailed due to Russia's attack against Ukraine, it aired a two-part Panama Papers docudrama featuring a "John Doe" character who suffered a torture-induced head injury during the opening credits, after which a cartoon boat sailed through the pool of his blood, as though it were the Panama Canal. However bizarre and tacky, it was not subtle. We have seen others with connections to offshore accounts and tax justice resort to murder, as with the tragedies involving Daphne Caruana Galizia and Ján Kuciak. Their deaths affected me deeply, and I call upon the European Union to deliver justice for Daphne and Ján and their families. And to deliver rule of law in Malta, one of Mossack Fonseca's former jurisdictions.

German police have shared Mossack Fonseca data with dozens of countries, but they limited it to data about citizens of the country in question. According to this logic, data about oligarchs could only be shared with Russian authorities, unless there are criminal investigations in other countries — an absurd situation, especially given that these men have recently been sanctioned in response to the Russian invasion of Ukraine.

Unfortunately, neither the governments of Germany nor the United States have expressed much interest in the Panama Papers. Instead, they are focused on yachts. Frankly, yachts do not matter very much, beyond symbolic value. Offshore companies and trusts matter. Sanctions are one important tool but there are others. For example, the United States could raid some of the offshore incorporators' offices on American soil to send the signal that this type of activity is no longer acceptable. It would be easy for them to do. But it hasn't happened.

The Russian elite routinely hides ownership of luxury homes, yachts, jets and other assets through complex offshore arrangements. How can this be stopped?

I think the Western world viewed Vladimir Putin as a nuisance for a long time, but one that they could control with economic incentives. Obviously, that has not worked. It would take a truly extraordinary effort, a kind of modern-day Manhattan Project, where the goal would be the untangling of the enigmas of the offshore world. Certainly, the computational capacity to do this exists. The question is whether the political will does. So far, I have not seen much evidence.

Why do you think we haven't seen a major Russian whistleblower yet?

Even given some requisite amount of bravery, it also takes a certain degree of freedom to become a whistleblower. Someone has to be there to listen and there must be at least some desire to make change. Apart from the fact that Putin murders and imprisons the brave, it's very hard to find that kind of freedom in a place like Russia.
What has become abundantly clear since 2016 is that the US, the UK, the EU member states, Israel, and several other developed states and societies all have significant organized crime problems. That a significant amount of this organized crime is actually white collar crime. And that it is being very effectively used by Russia, the PRC, the Saudis, the Emiratis, the Iranians, and a number of others to wage a different form of warfare – a 21st century form of warfare – against the US and our allies. Until or unless the US, the UK, our EU, and our non-EU allies actually crack down on and then take the steps to make it much, much, much harder to engage in white collar and organized crime the economic and sanctions regime will fail.
Finally, several members of the International Legion were killed by Russian forces in Ukraine this past week. Two Americans, a Canadian, and a Swede were killed in action. Politico has the details:
KYIV — Two Americans, a Canadian and a Swedish citizen were killed this week when a Russian tank opened fire on them during an hourslong battle at the frontline in the eastern Donetsk region, their commander confirmed exclusively to POLITICO.

Ruslan Miroshnichenko, the foreign fighters' commander, said Saturday that the Americans killed were Luke "Skywalker" Lucyszyn and Bryan Young. He said they were killed alongside Emile-Antoine Roy-Sirois of Canada and Edvard Selander Patrignani of Sweden on July 18.

The men were part of a special operations force within the Territorial Defense of the Armed Forces of Ukraine, Miroshnichenko said. Their unit has been based near Siversk, a town in eastern Donetsk oblast that has been the target of Russia's invasion force.

In an attempt to slow Russia's advance, the foreign fighters were deployed to the village of Hryhorivka, two miles northwest of Siversk. There, Miroshnichenko said, "the guys were tasked to take their firing positions" and clear a ravine where Russian forces were working to cross a river.

"They did it successfully. But at the end of the mission they were ambushed by Russian tanks," Miroshnichenko said. "The first shell injured Luke. Three guys, Edward, Emile, and Bryan, they immediately attempted to help Luke, to do first aid, and evacuate him from this spot. Then the second shell killed them all."

The State Department spokesperson confirmed the deaths of the two Americans on Friday but did not name them. "We are in touch with the families and providing all possible consular assistance. Out of respect to the families during this difficult time, we have nothing further to add," the spokesperson told POLITICO.
More at the link!
That's enough for tonight.
Your daily Patron!
Look what I found. It's called "Wow, Patron, you're a great guy." That's what my team told me. #UkraineRussiaWar #Patron #DogPatron #dogsoftwitter pic.twitter.com/9Psgd5Pl0O

— Patron (@PatronDsns) July 7, 2022
And a new video from Patron's official TikTok:
Open thread!