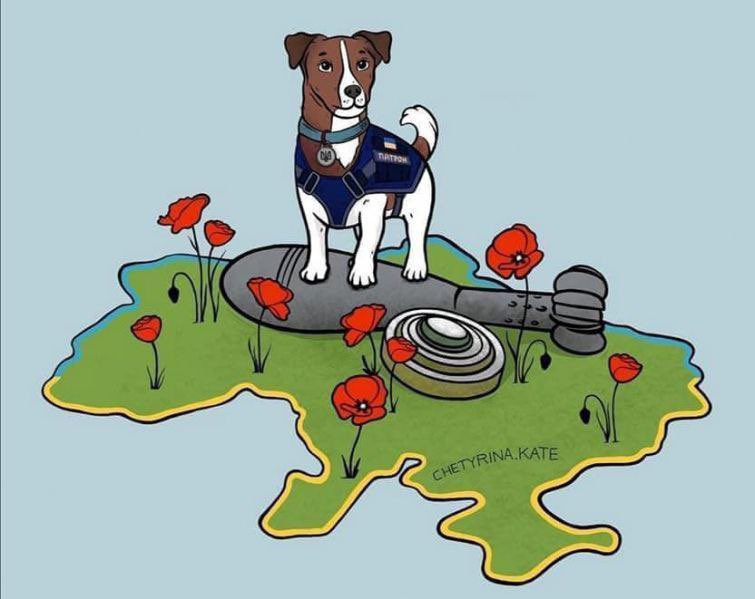 Here is President Zelenskyy's address from earlier this evening. Video below, English transcript after the jump (emphasis mine):
Good health to you, fellow Ukrainians!

These days, in our information space and in social networks, there are a lot of reports about conflict situations and threats that exist in other geographies. First – the Balkans, then – Taiwan, now it may be the Caucasus… All these situations seem different, although they are united by one factor, namely: the global security architecture did not work. If it worked, there wouldn't be all these conflicts.

And this is actually what Ukraine has been drawing attention to not only for 161 days since the start of the full-scale war, but for years. Since Russia has completely ignored international law, the interests of humanity as such.

2014 became a turning point. Then, in quite obvious situations – with Crimea, with Donbas, with the downed Malaysian Boeing – Russia avoided immediate and tangible responsibility, preserved business and political ties with the world… And now many in global relations believe that they will manage to do so as well.

That is why Ukrainians are now doing a very important thing for everyone in the world. Our people united the free world not just around their struggle for freedom, but around understanding how fragile our freedom is. The freedom of every nation in Europe and in other parts of the world.

This fragility can only be protected by joint action, and for this to work in the long term, there must be an effective global security architecture that ensures that no state can ever again resort to terror against another state.

At the system level, at the level of global institutions, this is exactly what we are currently working for – both the Ukrainian state and all our partners.

Today I spoke with the student community of Australia. More than 20 universities, as well as the interest of Australia's leading media, politicians. I called on all our Australian friends to help us in the information war and spread the truth about Ukrainian defense and Russian terror as much as possible.

It is necessary to solve an extremely important national task: the Ukrainian point of view should be seen and heard in those parts of the world where Russian propaganda is still very loud. This applies to the Pacific region, the countries of South and East Asia, the Arab world, Africa and Latin America. And that is why information support is needed from all our people and all friends abroad whose voice can be heard.

Today I met with the Minister of Foreign Affairs of Estonia who visited Ukraine. I thanked him for starting the visit with the topic of restoring Ukraine. In the Zhytomyr region, in the framework of our Fast Recovery Plan, we will begin the construction of the first kindergarten out of fifteen objects that have been proposed to the Estonian Government for help in the reconstruction of the region. This is extremely important right now – when displaced people are returning home.

Estonia is one of those countries that started helping us even before February 24 and whose support has become extremely important. Ukraine will always remember this.

Switzerland has today joined the European Union's seventh package of sanctions – and I am grateful for that. When such a country does not remain neutral in the protection of values and human morality, it is a very important signal for the whole world.

Now it is felt that Russia has begun to realize the inevitability of being recognized as a terrorist state. After all that the Russian army and allegedly private Russian military companies have done, no other terrorist organization in the world can claim primacy in terror. Russia is definitely number one among terrorists. And this definitely deserves legal consequences, in particular, in the decisions of the United States and other world actors.

And precisely because of this, a new propaganda activity started in Moscow. They suddenly decided to define "Azov" as terrorists, although when a terrorist state does this, it is obviously absurd. They are activating various emissaries with theses that the terrorist state allegedly wants negotiations… If Russia really wanted the end of the war, it would not accumulate its reserves in the south of Ukraine now and would not create mass graves of murdered innocent people on Ukrainian territory.

Well, in general, it is simply disgusting when former leaders of powerful states with European values work for Russia, which is fighting against these values.

Therefore, we need to fight, we need to beat terrorists on our land, we need to spread information about Ukrainian interests and achieve success and victories for Ukraine. Each and every one at their own level – both Ukrainians and partners. Terror can be stopped only by a joint indomitable force.

I signed a new decree on awarding our warriors. 194 combatants were awarded state awards. 28 of them – posthumously.

Eternal memory to everyone whose life was taken by terrorists!

Glory to all who fight for Ukraine!

Glory to Ukraine!
Here is today's operational update from Ukraine's MOD:
The operational update regarding the russian invasion on 06.00, on August 3, 2022

Glory to Ukraine! The one hundred sixty first (161) day of the heroic resistance of the Ukrainian people to a russian military invasion continues.

The enemy continues to carry out air and missile strikes on civilian objects on the territory of Ukraine.

In the Volyn and Polissya directions, communications training of the General Staff of the Armed Forces of the republic of belarus was held. The occupiers continue to use the territory of the republic of belarus to transfer sabotage and intelligence groups to the territory of Ukraine.

In the Siversky direction, the enemy fired at the positions of our troops from barrel artillery. Conducts aerial reconnaissance in the border areas of Chernihiv and Sumy oblasts. The work of the enemy's means of radio-electronic warfare is noted.

In the Slobozhansky direction, the enemy is conducting combat operations with the aim of holding the occupied lines and preventing the offensive of units of the Defense Forces.

In the Kharkiv direction, the areas of the settlements of Kharkiv, Prudyanka, Pytomnyk, Ruski Tyshki, Nova Mykolaivka, Rubizhne, Pishchane, Borshcheva, Zamulivka, Lebyazhe, Korobochkyne, Bazaliivka and Basove were shelled.

The occupiers made an advance in the direction of Kochubeyivka – Dementiyivka, were repulsed and retreated.

In the Slovyansk direction, shelling from barrel and rocket artillery was recorded near Nova Dmytrivka, Bohorodychne, Chepil, Karnaukhivka, Dovhenky, Barvinkove, Shnurky, Husarivka, and Dmytrivka.

With the forces of the reconnaissance group, the enemy tried to conduct reconnaissance south of Mazanivka, the occupiers were detected and neutralized.

In Donetsk region, the enemy is concentrating its main efforts on the Bakhmut direction.

In the direction of Siversk, the enemy fired from barrel and rocket artillery, as well as tanks near Siversk, Serebryanka, and Hryhorivka. Conducted aerial reconnaissance of the UAVs near Nykyforivka and Tetyanivka.

In the Bakhmut direction, in order to dislodge our units from the occupied lines, artillery shelling was conducted in the areas of Kodema, Semyhirya, Travneve, Vyimka, Berestove, Bakhmutske and Opytne settlements. Carried out airstrikes near Semihirya and Bilohorivka.

The enemy launched an offensive in the area of ​​the western outskirts of Berestove, was unsuccessful, and retreated. The situation is the same on the directions Volodymyrivka – Yakovlivka and Semihirya – Kodema.

Fighting continues on the Volodymyrivka – Soledar and Pokrovske – Bakhmut directions.

Ukrainian soldiers inflicted powerful fire damage on the directions of Vidrodzhennya – Kodem and Dolomytne – Semihyrya and forced the occupiers to withdraw.

In the Avdiivka direction, the enemy shelled the Avdiivka area. Tried to improve the tactical position, unsuccessfully, retreated with losses.

On the Novopavlivske and Zaporizhzhia directions, shelling was recorded near Kostyantynivka, Novosilky, Velyka Novosilka, Charivne, Mala Tokmachka, Novopole, Yurkivka, and Hulyaipole.

Due to the low level of staffing of the tank regiment of the reserve, the equipment of the military unit, which was moved to the Zaporizhzhia direction at the end of May of this year, was handed over for additional staffing of the tank battalions that are part of the 58th Combined Arms Army of the Southern Military District.

To counteract the technical means of intelligence, the enemy deploys means of radio-electronic warfare.

In the South Buh region, in order to hinder the actions of our troops, the enemy is shelling positions from tanks, barrel and rocket artillery in the areas of the settlements of Potyomkyne, Topolyne, Knyazivka, Velyka Kostromka, Apostolove, Stepova Dolyna, Posad Pokrovske, Novohrihorivka, Luparevo, Lymany, Kobzartsi, Shyroke, Kvitneve and Bilohirka. Used aviation to attack the area of ​​the Plotnytske tract.

It conducts aerial reconnaissance to clarify the position of our troops, adjust fire and control the camouflage of his units.

It continues to take measures to ensure the protection of bridge crossings across the Dnipro River.

In the waters of the Black Sea, there are two Kalibr sea-based cruise missile carriers ready to use high-precision weapons.

The enemy's aviation group conducts systematic combat operations in order to support the actions of ground groups. Efforts are focused on hitting military facilities in the Donetsk direction. Due to bad weather conditions, the intensity of aviation flights is reduced.

Ukrainian missile and artillery units continue to fire at strongpoints, manpower concentrations, and enemy logistical support bases.

We believe in the Armed Forces of Ukraine! Together to victory!

Glory to Ukraine!
There was no background briefing today from the DOD.
Secretary Austin did release a readout of his call with Ukrainian Defense Minister Reznikov:
As part of our ongoing and close coordination, I again spoke with my 🇺🇦 counterpart @oleksiireznikov. We discussed key dynamics shaping the battlefield, as well as Ukraine's ongoing security assistance needs. pic.twitter.com/FSKvUSMl6R

— Secretary of Defense Lloyd J. Austin III (@SecDef) August 3, 2022
Here is today's assessment from Britain's MOD: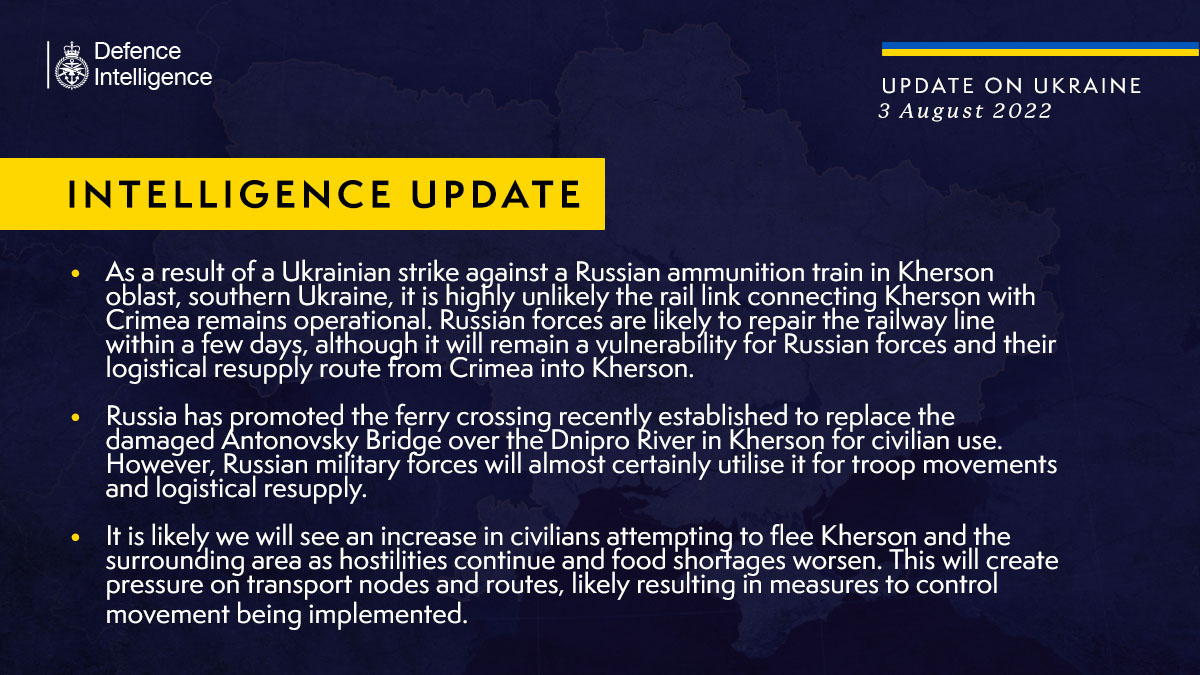 And here is their updated map for today: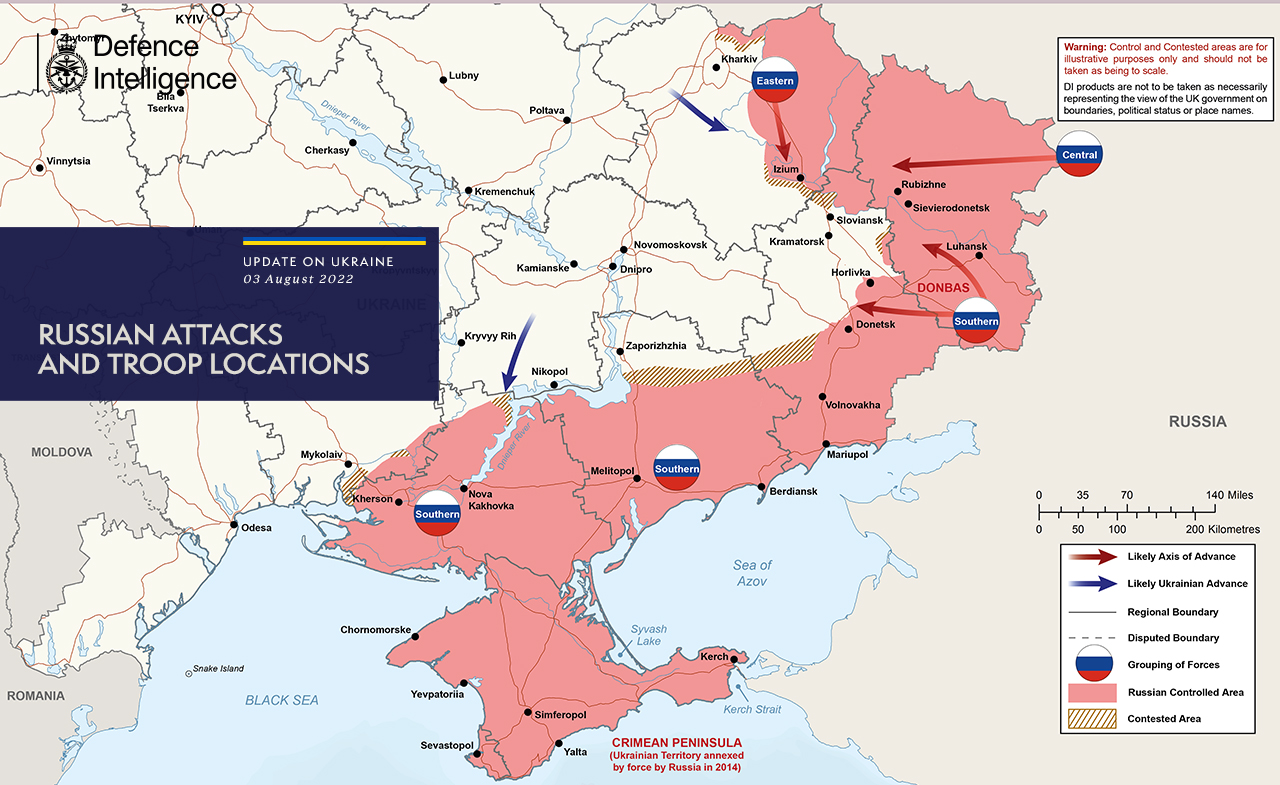 As we've repeatedly discussed, at the macro level, things are very static along the lines of engagement snaking from Kharkiv to Kherson. While at the same time the Ukrainians have been making effective use of their new NATO standard weapons systems like the HIMARS to degrade and attrit Russia's capabalities in the occupied areas of Ukraine. On the flip side of that the Russians have been doing what they've done since the beginning of the war: bombarding everything they can reach with their artillery and their aviation. And while all of this has been going on Ukraine has been communicating that they are preparing for a major push to drive the Russians from Kherson and other parts of southern Ukraine that Russia is occupying.
Illia Ponomarenko, The Kyiv Indepent's defense correspondent, has published a report on what comes next.
The third phase of Russia's war on Ukraine is coming.

The first, the Kremlin's brazen blitzkrieg in late February that culminated in the Battle of Kyiv, failed. The months-long Battle of Donbas in Ukraine's east making up the second phase has gotten bogged down, with Russia having barely enough strength to complete the region's capture.

The war's focus has now pivoted to the south.

After over five months of its full-out war, Russia is employing close to 100% of its conventional military power against Ukraine, with only limited results to show for it.

Russia is steadily losing military power as the country struggles to generate high-quality reserves. It has spent the last month refraining from large-scale operations in Donbas and elsewhere, trying to recover from previous battles.

For Ukraine, this hiatus is a window of opportunity.

While Russia is still coming around, Ukraine's military has the chance to deliver a decisive strike that would allow it to gain an edge over Russia and define the course of the rest of the war. In other words, this could be the war's turning point.

This third phase could determine the rest of the war. If successful, it could lead to a fourth phase in which Ukraine defeats Russia.

The Kremlin clearly understands the stakes. It is urgently redeploying much of its forces from Donbas to Ukraine's south, where its positions are the most vulnerable.

The next few months will define the war's outcome, the majority of experts believe.

Limited results 

While the fighting in Ukraine's east has been raging since the first day of Russia's full-scale invasion, the region became Russia's primary focus during the war's phase two, the Battle of Donbas, which started mid-April.

Months later, Russia had nearly 78% of Donetsk and Luhansk oblasts under its control, the full seizure of which was repeatedly stated as the new campaign's main goal. However, it had already occupied a total of 30% of the two regions' territory since Russia's invasion of 2014-2015.

And this is despite the fact that at the height of the Battle of Donbas, Russia had concentrated close to 65% of its overall military power in Ukraine in northern Donbas.

It's been nearly a month since Russia, following more than 60 days of fighting, finally seized Sievierodonetsk and Lysychansk, the twin cities of Luhansk Oblast, in late June and early July. For the next month, Russian forces took "an operational pause" to restore their severely depleted units.

Experts polled by the Kyiv Independent agree that Russia paid an unreasonably heavy price for their gains in the Battle of Donbas.

The "pause" continued pretty much until the end of July. During this time, Russia managed to make just tactical gains close to Bakhmut in Donetsk Oblast, such as the capture of the defunct Vuhlehirska power plant by Wagner mercenaries on July 26.

A Russian force of up to 150,000 soldiers is still not enough for all that the Kremlin wants in Ukraine.

Experts believe that Russia made the strategic mistake of dispersing its limited strike force across several axes in Ukraine instead of just one. It had to give up on Kyiv and northern Ukraine and in not withdrawing from the south, Russia was forced to commit a lot of military power at the expense of its offensives in Donbas.

"And thus they fall short of the strength to get 100% results," said Andriy Zagorodniuk, a former Ukrainian defense minister and currently the head of the Kyiv-based Center for Defense Strategies.

"And we can see that after success in Luhansk Oblast, they're finding it hard to consolidate their gains in Donetsk Oblast. We have spoken to many analysts, including our American colleagues, and most of them have doubts about Russia's ability to seize the whole of Donetsk Oblast."

The Battle of Donbas may not be completely over. But the Kherson and the Zaporizhia sectors are gaining increasingly stronger significance.

And the Ukrainian military is making incremental gains. According to local Ukrainian authorities, 60 towns and villages have been retaken in tactical strikes all along the 230-kilometer front line of Kherson Oblast as of Aug 3.

Ukraine's Armed Forces have reached the point of openly targeting Russia's ground lines of communications and derailing its infrastructure across the Dnipro River. More than 50 fuel and munition dumps have been destroyed over the last few weeks.

Out of the three bridges that can be used to supply the Russian military in Kherson, two have been rendered unusable with HIMARS strikes. The last bridge to Kherson, the Kakhovska power plant dam, is already within Ukrainian firing range.

The plan of cutting the Russian military off supplies and blocking it in Kherson, discussed for weeks in the media, is slowly moving along.

But nonetheless, Russia does have a rather strong, multilayered defense in Kherson, and has brought in urgent reinforcements to Zaporizhia Oblast.

A new battle could start anywhere in the swathes of Ukraine's southern steppe. Ukraine may opt to go for Kherson or try and deliver a strike toward Melitopol, a key transportation point with a strategic airfield.

Technical advantage

The war's third stage became possible largely thanks to massive assistance from the West, particularly heavy artillery, munitions, and components.

The Battle of Donbas was a tragedy in itself when at some point in early summer, Ukrainian artillery ran out completely of its old Soviet munition.

Ukrainian guns went silent in the very heat of Russia's destructive drive to claim Sievierodonetsk. This was a critical point in the war that could have spelled the end of all hope. Stripped of heavy weaponry, Ukraine would have had no serious chance against Russia.

Luckily, this disastrous logistics gap was rather short.

So while this window of opportunity is open, Ukraine has the chance gain an edge over Russia while it's still making up for its losses.

This must be completed before November, when winter comes in Ukraine and the cold and rain will make it extremely difficult to go on the offense. It is crucial Ukraine not lose this chance. Time is not on Ukraine's side —an endless war of attrition is simply not a choice the country can make.

For the moment it is unclear about where Ukraine can deliver the main strike — leaving Russia guessing and dispersing its forces among all possible areas, exactly what it is doing now.

A concentrated strike along just one axis, with the use of all advantages provided by Western weaponry, could be a success, Zagorodniuk believes.

"But there's an 'if'," the expert says.

"Our Western partners have to continue providing us with weapons and hardware at least at the same tempo or even faster. It is important that they do not fall to deliberations."

"Because each time the war enters a new phase, we have noticed this, they fall into deliberations — if there'll be a success, or if we can do that, and so on. These deliberations tend to become self-inflicting doubt."

"Besides, there's this 'fatigue,' a frustration that goes as far as blaming Ukraine for this endless war. So then just give us what we're asking for, and we'll end this war as soon as possible. If anyone is really tired of this war, it's Ukraine."
The question is whether Pon0marenko's analysis is correct. Time will only provide the answer for that.
My take at this point is that Russia is not capable enough to break out of the territories they're occupying. Ukraine is not yet strong enough in terms of western supplied equipment and material to drive the Russians out of the areas they're occupying. As a result, Ukraine is using strategic communication – official statements – combined with small scale engagements and partisan activity behind the lines to concentrate Russia in the south because that will be advantageous to Ukraine's theater strategy. Whether that is actually counter-attacking in Kherson, as all evidence seems to be indicating, or attacking somewhere else remains to be seen. The Ukrainians are clearly watching the calendar. They know that this exceedingly hot summer in Europe is going to give way to winter. While Winter will slow operations in Ukraine, it is clear that Ukraine's leadership is worried what the effects of the EU being cut off from most of Russian energy supplies will mean for its continued support.
For those wondering what it looked like the other day when Ukraine hit the Russian rail convoy with their HIMARS the other day. Well here you go:
Stop and watch this..

Ukrainian HIMARS destroyed 40 Russian train cars loaded with ammo and gear. We heard about it..but to see it..the scale..

Just massive. pic.twitter.com/KE9WGOdFQ6

— Jay in Kyiv (@JayinKyiv) August 3, 2022
UPI, published via MSN, is reporting that the Director General of the IAEA, Rafael Grossi, is very concerned about what is going on at the Russian occupied nuclear power plant in Zaporizhzhia.
Aug. 3 (UPI) — Rafael Grossi, director general of the International Atomic Energy Agency, said Wednesday that Russia's war in Ukraine has pushed Europe's largest nuclear plant in Zaporizhzhia into "grave" danger.

Grossi said the situation with the plant is "completely out of control" because of the shelling around the facility ,and he called for Russia and Ukraine officials to allow experts to visit the complex to prevent a nuclear accident.

"Every principle of nuclear safety has been violated," Grossi said, according to Sky News. "What is at stake is extremely serious and extremely grave and dangerous."

Russian forces took control of the plant early in the war, but its Ukrainian staff has remained on duty. Grossi said the energy agency's contacts at the plant have warned about its current condition.

"We are not sure the plant is getting all it needs," Grossi said. "When you put this together, you have a catalog of things that should never be happening in any nuclear facility."
What could possibly go wrong?
Before someone asks, I've seen tweets going around today that Congresswoman Slotkin has stated that Ukraine will soon begin to receive ATACMS – the long range missiles for the HIMARS – from the US. THIS IS NOT CORRECT!!!!! What appears to have happened is that the statement that Congresswoman Slotkin made to CNN on 28 July that there is bipartisan Congressional support to send ATACMS to Ukraine has been repurposed into a definitive statement that the US is, indeed, sending them. Until or unless the White House or the DOD announces we're sending ATACMS we're not sending ATACMS.
Finally, the US Senate has voted to admit Finland and Sweden into NATO. The one no vote?
U.S. Senate votes 95-1 to bring Finland and Sweden into NATO.

The one no vote was Sen. Josh Hawley, R-Mo.

— Jake Tapper (@jaketapper) August 3, 2022
I think that's enough for tonight.
Your daily Patron!
I'm thinking about fate these days. As if somewhere in Hollywood, some soup TV scriptwriters were fired, and they are now "creating" plots for fate. And fate is like this "LOL, and little Taiwan will be attacked by China, this is funny, let's go! 😂Accepted!". What do you think? pic.twitter.com/QXYGph2s4H

— Patron (@PatronDsns) August 3, 2022
And here's a new video from Patron's official TikTok:
The caption translates into English as:
And also you, my dear followers!❤️ #pespatron #patrondsns #slavaukrainii
Open thread!