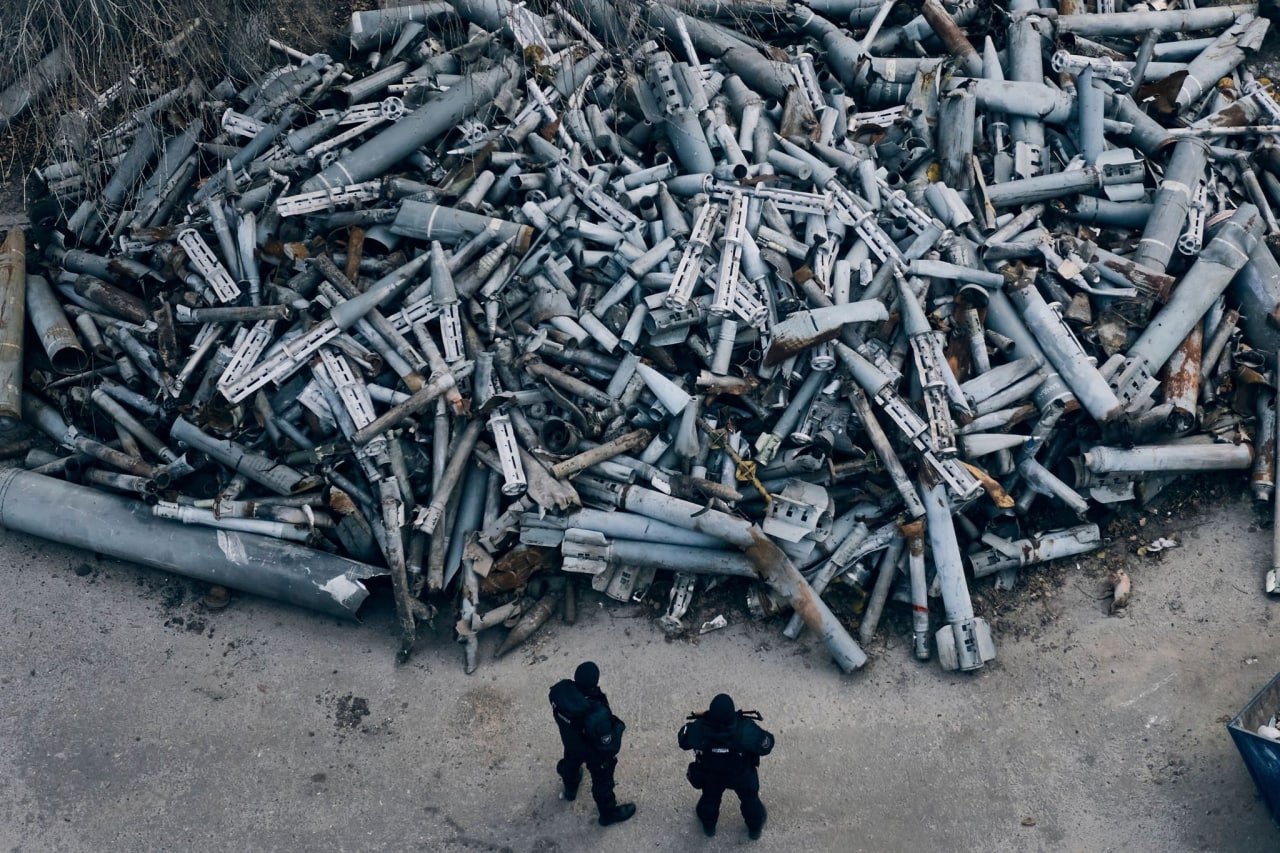 Earlier today the Ukrainian MOD tweeted out the image above. The picture is from Kharkiv and was takne by Kostiantin & Vlada Liberov. It is all of the ordnance that the Russians have fired at Kharkiv since the start of the war. Here is the original tweeted out by the photographer:
Харків. Кладовище снарядів. Автор фото – я. Будь ласка, як побачите це фото під іншим підписом, просіть виправити. Ми не побудуємо правову державу, нехтуючи авторськими правами. pic.twitter.com/mkdMqvR0E0

— Kostiantyn & Vlada Liberov (@Liberov) December 4, 2022
The message in the tweet translates as:
Kharkiv. Cemetery of shells. I am the author of the photo. Please, when you see this photo under a different signature, ask to correct it. We will not build a rule of law by neglecting copyright.
Just a brief post tonight.
Here's President Zelenskyy's address from earlier today. Video below, English transcript after the jump:
Indomitable people of an indomitable country!

The fourth day of this winter is coming to an end. The winter, which will obviously be difficult. But still, it is worth perceiving this winter not as a test, but as time – time that brings us closer to the main thing – to victory. Each of these 90 winter days.

The enemy really hopes to use winter against us: to make winter cold and hardship part of his terror. We have to do everything to endure this winter, no matter how hard it is. And we will endure. To endure this winter is to defend everything.

Russia still has missiles and an advantage in artillery. Yes, but we have something that the occupier does not have and will not have. We defend our home, and that gives us the strongest motivation possible. We fight for freedom, and that always multiplies any force. We defend the truth, and this unites the whole world around Ukraine.

We see happy people when they meet the Ukrainian flag in liberated cities – wherever Ukraine returns. The people, the Armed Forces, all of us return. And this means they are waiting for us wherever there is still an occupation. They are waiting and they believe that Ukraine will return. They are waiting and they know very well: if Russia invades, it will not be forever.

To get through this winter, we have to help each other more than ever and care for each other even more. And please don't ask if you can help, and how. Just help when you see you can.

To get through the winter, we have to be even more resilient and even more united than ever. There can be no internal conflicts and strife, which can weaken us all, even if someone out there thinks that somehow it will strengthen him personally. We need more interaction than ever. All of Ukraine has to become one big Point of Invincibility and work every day, work every night. The state, business, people – all of us, Ukrainians, all together.

This autumn, a lot was done to strengthen the position of the state and to make the occupier lose. We must do everything so that the same can be said after this winter. Ukrainians worked round the clock to restore normal life after the Russian strikes. And no matter how large-scale the terror of the occupiers was, our desire to restore everything in our home was always even greater. It should continue to be so.

Our defense forces firmly hold positions and even the most difficult directions. How many times have the occupiers planned to capture all of Donbas, to be in Bakhmut… How many times have they already announced new deadlines for their advance, their victories… Our guys are true heroes.

And this is our key task – both for the state and the people – to do everything to support our defense forces, to strengthen our defense forces, to find everything necessary for our defense forces in the world.

I know how difficult it is in Bakhmut, in Donbas. Guys, hold on! I am with you. The people are with you.

In order to carry out this task – to carry it out successfully – we must always support each other, precisely for this. And I thank everyone who helps strengthen Ukraine and who after this winter will definitely be able to say that the approach of our victory is also his or her personal result, a personal achievement.

Glory to all who fight for Ukraine and who work for Ukrainians!

Glory to our strong people!

Glory to Ukraine!
Here's former NAVDEVGRU Squadron Leader Chuck Pfarrer's most recent assessments of the situations in Bakhmut:
BAKHMUT/0010 UTC 5 DEC/A Russian assault on the T-13-02 axis was stopped by UKR forces in the parkland NE of the H-32 HWY junction. Present RU losses in this AO are reported to be as high as 50 KIA daily– upwards of 350 dead and as many as 1000 wounded per week. pic.twitter.com/SLqGZwnb8H

— Chuck Pfarrer | Indications & Warnings | (@ChuckPfarrer) December 5, 2022
Here's his previous one:
BAKHMUT/1340 UTC 4 DEC/ Fighting heavy as RU forces attempt to improve their tactical positions. In the last 24 hours UKR and RU forces traded numerous airstrikes in the Bakhmut AO. UKR air defenses confirm downing a RU Orlan-10 recon UCAV, and an SU-24 ground attack aircraft. pic.twitter.com/g2Fh44H4ga

— Chuck Pfarrer | Indications & Warnings | (@ChuckPfarrer) December 4, 2022
Here is a very interesting analysis from Gabriellus Lansbergis, Lithuania's Foreign Minister.  First tweet below, the rest copied and pasted from the Thread Reader app:
Why aren't we sending Ukraine all the tools needed to end the war? Why are we avoiding specifics during the debate on Ukraine's membership of NATO? Because the belief is still alive that after the war we can return to business as usual, as if February 24th was just a glitch.

— Gabrielius Landsbergis🇱🇹 (@GLandsbergis) December 4, 2022
The tactic of leaving Russia undefeated and ready for future partnership is toxic. It leads to calls to end the war by negotiation instead of ending it with a Ukrainian victory. Some even suggest Ukrainian territorial concessions to the invaders as a gift. 

That isn't how the rules-based international order works. Russia shouldn't get invited to 'peace' negotiations as a reward for brutally invading, occupying and murdering its neighbours again and again. 

The creeping normalisation of Russia's actions is fundamentally wrong. Also misguided is the belief that the current security architecture of multilateral regional and global organizations must be preserved as the 'best we have'. 

International organisations completely failed to prevent conflict of a magnitude unseen in Europe since WW2. At the very least there must be change within those organizations. But we should not rule out the possibility of some organisations disappearing and new ones forming. 

With previous conflicts in Europe, the security architecture was rethought after the fighting ended, new structures appeared. For example, the United Nations appeared after mistakes made during the League of Nations era. 

First Russia has to face defeat on the battlefield. For that Ukraine needs all our help. All the weapons, all the assistance we can give. Otherwise Russia will continue trying to reinvent the continent according to its own imperialist world vision. 

It is in Europe's interest to fight off and defeat the invader. After this defeat a new system needs to be created out of the lessons learnt from previous mistakes. 

Reliance on economic exchange as a principle of mutual assurance, desecuritization, veto power on security issues given to the aggressors – these are some of the misconceptions which failed to ensure the safety of the continent. 

Our strategy needs to be rethought and reflected in a new security architecture that will ensure the safety of the continent for decades to come. And we should start creating this new system with Ukraine, not with Putin's Russia. 
Kyiv:
This video was shot in Kyiv — a city plunged into complete darkness by🇷🇺shelling. Streets and squares, apartments and offices; schools, cafes, stadiums. It is dark everywhere. And it is still dark in hospitals, where heroic Ukrainian doctors have to operate by flashlight. pic.twitter.com/W2OYMYltHQ

— U24 (@U24_gov_ua) December 2, 2022
Kyiv right now pic.twitter.com/JivI5Z30nZ

— Illia Ponomarenko 🇺🇦 (@IAPonomarenko) December 4, 2022
Donbas:
Spotted in the Donbas: "Welcome to hell, bitches." pic.twitter.com/ruReOHnGEB

— Christopher Miller (@ChristopherJM) December 4, 2022
This latest US support should help Ukraine's air defense:
SIMI VALLEY, California — The U.S. military has sent threat emitters, built to replicate aircraft and weapons for American pilots to train, to Ukraine to confuse Russian aircraft in the latest innovative way for the Pentagon to assist. U.S. Air Force Chief of Staff Gen. Charles Q. Brown Jr. says.
That's enough for tonight.
Your daily Patron!
Here I'm in the arms of the commander of the Operational Command North, Major General Viktor Nikoliuk.

— Patron (@PatronDsns) December 4, 2022
The tweet may say "I feel safe", but Patron's expression says "There's cheese on that refreshments table!"
And a new video from Patron's official TikTok:
The caption is self explanatory.
Open thread!