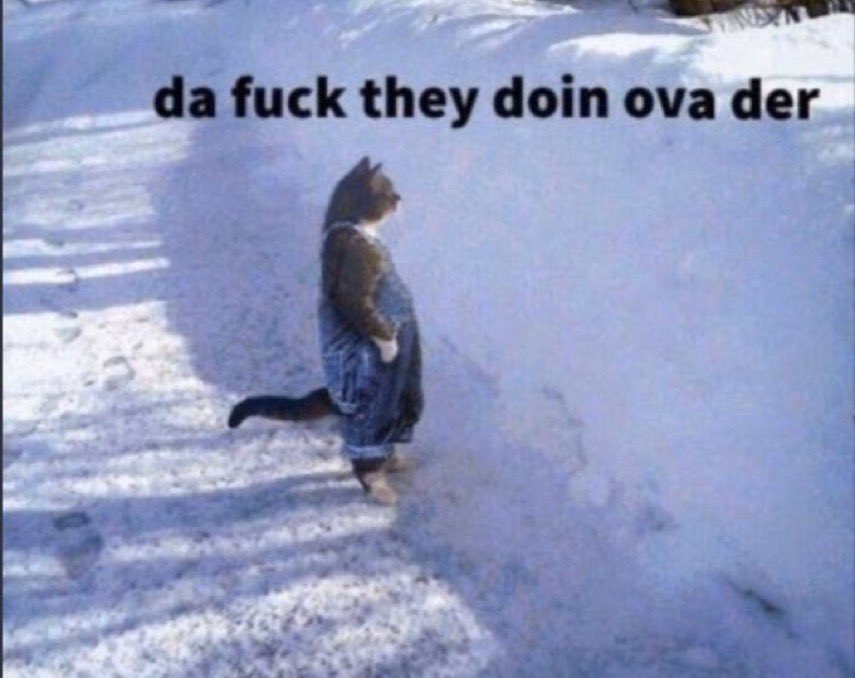 A month of Mondays crammed into a Wednesday, so let's get started!
Here is President Zelenskyy's address from earlier today. Video below, English transcript after the jump:
 I wish you health, dear Ukrainians!

Today, here in Lviv, important news for Ukraine was announced during the Summit of the Lublin Triangle, our special format with Poland and Lithuania. Poland has decided to provide tanks for Ukraine – I am grateful for this. I thank President Duda, the Government of Poland, all our Polish friends.

Lithuania provides anti-aircraft systems to our country – the weapons we need to protect ourselves from Iranian drones – to protect our energy sector.

I thank Gitanas for another demonstration of unwavering and principled support for Ukraine, which began even before February 24 and will continue until our victory.

Today, I heard this confidence once again from both Andrzej and Gitanas – we will go all the way together to restore security of Ukraine and the whole of Europe, to restore our territorial integrity, to restore peace. Russian aggression must fail – and it will.

Today, we have discussed the issue of our integration into the EU and NATO in a very meaningful way. This year, we must achieve tangible progress in European integration. This concerns, first of all, the start of negotiations on membership. Poland and Lithuania are equally and comprehensively ready to support us, see us fully integrated into the European and Euro-Atlantic structures. Together with our other partners on the continent and in the Alliance, we have to transform this readiness, this energy into real institutional movement, into real decisions.

Of course, today we also talked about the situation on the battlefield. In particular, that Russian aggression will be depleted only when Russian ambitions have no other alternative except for the defeat. All Russian ambitions – on the front, in politics, in economy, in the legal sphere.

Now the terrorist state and its propagandists are trying to pretend that some part of our city of Soledar – a city that was almost completely destroyed by the occupiers – is allegedly some kind of Russia's achievement. They will present – and are already presenting – this to their society in such a way as to support mobilization and to give hope to those who support aggression.

But the fighting continues. The Donetsk direction is holding out. And we do everything, without stopping for a single day, to strengthen Ukrainian defense. Our potential is growing. And I thank all our partners who help in this.

Western-type tanks are the work of our entire anti-war coalition and this is a new level of our potential.

Today, in Lviv, I also held a meeting on the security situation in our western regions and on our state border. We take into account all threats, strengthen all elements of the security of our regions.

Glory to all who fight for Ukraine!

I thank everyone who works for our victory!

I thank everyone who helps us restore security!

Glory to Ukraine!
Touch not the cat, but a glove!
Prezydent @AndrzejDuda w #Lwów: Kompania czołgów Leopard dla Ukrainy zostanie przekazana w ramach budowania koalicji międzynarodowej. Taka decyzja jest już w Polsce.

— Kancelaria Prezydenta (@prezydentpl) January 11, 2023
Here's the machine translation:
President @AndrzejDudaw #Lwów : A company of Leopard tanks for Ukraine will be transferred as part of building an international coalition. Such a decision is already in Poland.
Right now Chancellor Sholtz is in full pucker mode…
Here is former NAVDEVGRU Squadron Leader Chuck Pfarrer's most recent assessments of this situations in Kremenna, Bakhmut, and Soledar:
KREMINNA /2240 UTC 11 JAN/ Sources indicate that UKR's 140th Marine Recon. Battalion is attacking along the Vul Lymanska Rd (O-131306) east of Dibrova. UKR troops are also reported to have entered Kuzmyne, approximately 3 Km from the urban center of Kreminna. pic.twitter.com/3ST4XP4qhq

— Chuck Pfarrer | Indications & Warnings | (@ChuckPfarrer) January 11, 2023
BAKHMUT AXIS /1350 UTC 11 JAN/ Overnight on 10-11 JAN, RU forces failed in an attempt to encircle Soledar. Despite repeated and costly attacks RU has failed to make any significant tactical progress against Bakhmut. pic.twitter.com/PkVv1uS9Xh

— Chuck Pfarrer | Indications & Warnings | (@ChuckPfarrer) January 11, 2023
SOLEDAR /1300 UTC 11 JAN/ UKR artillery applied predictive and directed fires to prevent RU units from expanding control of prominent terrain N & S of the town. UKR's 46th Air Mobile Brigade continued its strong defense overnight as RU failed to encircle the urban area. pic.twitter.com/UrDjSwJfoJ

— Chuck Pfarrer | Indications & Warnings | (@ChuckPfarrer) January 11, 2023
The Ukrainians are holding in Soledar!
⚡️⚡⚡ #Soledar now: there are heavy battles, the enemy has replaced his units, increased the number of #Wagnerians. The #Russians are throwing all their forces at the city, but they cannot capture it.#ArmUkraineNow #UkraineWillWin #StandWithUkraine #Ukraine #UkrainianArmy pic.twitter.com/xuMeKP2JMN

— 🇺🇦UkraineNewsLive🇺🇦 (@UkraineNewsLive) January 11, 2023
Video of a ground CASEVAC by Ukrainian forces in Soledar with an M113. https://t.co/Y4NC0d7LI1 pic.twitter.com/uvrciTodwO

— Rob Lee (@RALee85) January 11, 2023
Update from Soledar by Magyar – not much, but at least, no bad news today. pic.twitter.com/BWduSiB6ej

— Dmitri (@wartranslated) January 11, 2023
Here's Dmitri's English translation so you don't have to click through and then click again: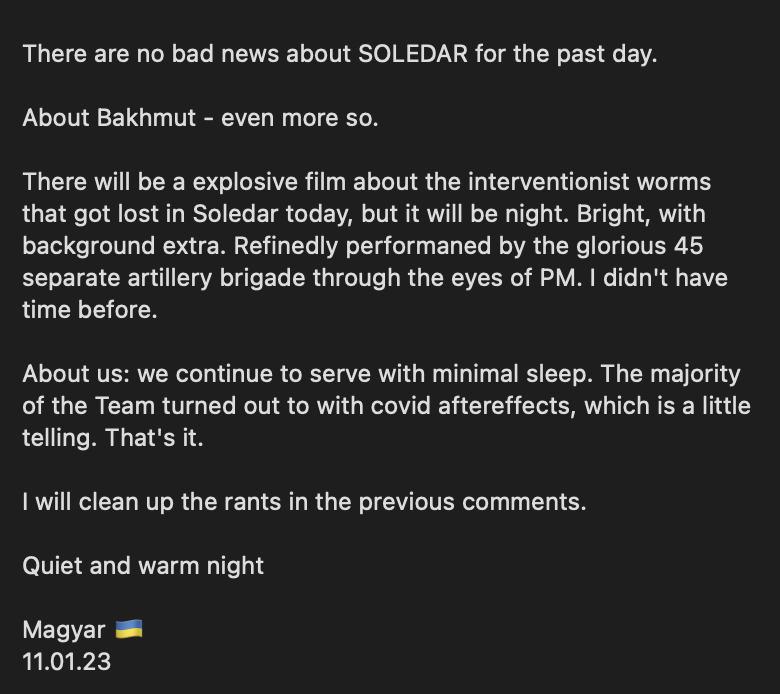 I'm not going to post Dmitri's English subtitled video update from Magyar this morning as the term he uses to refer to the Russians is a slur for LGBTQ in the US. Here, however, is a different one of Dmitri's English subtitled video's from a different Ukrainian Soldier in Bakhmut this AM:
Update from Bakhmut (and Soledar), morning of 11 January. pic.twitter.com/KOKCklaXgw

— Dmitri (@wartranslated) January 11, 2023
Don't go on patrol like this. Just don't.
Soledar, early January.
Very interesting. pic.twitter.com/q3DiLlgptt

— Illia Ponomarenko 🇺🇦 (@IAPonomarenko) January 11, 2023
And here's Dmitri with the explanation of what we're seeing above:
Combined border guards and a mechanised brigade unit of the AFU greeting a group of Wagner mercenaries in Soledar in early January.

Wagnerites came under crossfire with large-caliber machine guns inflicting casualties on the them, finished with an artillery strike. pic.twitter.com/YzT0Mv71Rh

— Dmitri (@wartranslated) January 11, 2023
General Surovikin has been relieved of command of Russian forces in Ukraine. The new theater commander is now General Gerasimov. Surovikin will now report to him, though it is unclear if he is going to take over the air component or some other senior assignment.
Here's RAND's Dara Massicot with an excellent analysis:
It's hard to argue that Surovikin was demoted for cause. As commander, a "fixer" – he consolidated positions, used resources better, had Putin's ear, is popular among the troops, milbloggers, Kadryov, Wagner/mercenaries, got a lot of attention./2

— Dara Massicot (@MassDara) January 11, 2023
Surovikin has not made strategy blunders on the battlefield like so many other Russian generals have. I do not believe MOD's rationale that it is to generate greater resources. They may need more resources, but such a step is unnecessary. On what grounds was he demoted? /3

Putin appeared to be getting more realistic assessments from Surovikin, a change from when he was getting some other version of events from Shoygu-Gerasimov early on. /4

Contrast with Gerasimov and Shoygu's command record for this war: it's a flunk. They flunked it. They signed off on a secret plan, multiple bad assumptions, didn't tell the majority of their troops. led to big casualties and a partially broken force /5

Under Shoygu and Gerasimov's command, a large percentage of the Ground Forces and Airborne forces (equipment and personnel) were destroyed. Thousands of both are gone. This leadership is so negligent that it should have been grounds for dismissal in any normal system.. 

/6

..But they are loyal to Putin and the system so they were kept on. Gerasimov and Shoygu for months now have been sidelined from the main command of the operation. As criticism of them mounted from some quarters. /7

Who can claim their leadership is competent after one year of this war? But, they are experienced players in Moscow. With this change, I view this as a power struggle that has resolved in favor of Shoygu/Gerasimov. So, where does this go from here? 

/8

With Gerasimov in charge, if this is indeed permanent, I think the possibly of the Russians asking their tired force to do something that it cannot handle rises exponentially. Gerasimov didn't push back in Feb 2022 and won't do it now. IDK if that is good or bad for Ukraine. 

/9

This move also puts pressure on Prigozhin and others who don't trust the MOD leaders anymore. Or they get in line quickly. Wagner has been hurling major insults at the MOD leadership lately. /10.

I view this news like Shoygu's speech announcing the return of more divisions. Seniors in Moscow are clingingly fiercely to the status quo and also soviet past. Important to keep in mind that they default to looking inwards and backwards even when it leds them to poor outcomes/11

@mentionshas an interesting look at Russian forces under Surovikin here. Let's see what Russian forces retain of these strategies, or if they try something else. /12

(And, as it turns out, the MOD Telegram was being shady a few weeks ago.) 12/

TL:DR: Russians demoted their "fixer" commander in favor of Gerasimov, who last year agreed to and oversaw a debacle invasion plan that resulted in the partial destruction of their army. What? /END
And here's Galeotti's thread. Galeotti is a professor at University College London's School of Slavonic and East European Studies:
Is it a demotion for former joint commander Surovikin? Implicitly, yes, of course – even if being framed simply as a response to the increased 'status' of the op. 2/

— Mark Galeotti (@MarkGaleotti) January 11, 2023
What did Surovikin do wrong? Nothing, really (in context – this is not about his morality…). Yes, there were all kinds of reversals, including the recent Makiivka strike, but there is a limit to what one new commander can do in 3 months 

3/

 

But Putin doesn't necessarily understand this (remember: no military experience and a court full of sycophants) nor care. 

4/

 

For Gerasimov (who were were being assured was out of favour and about to be sacked… or who was Putin's right hand man…) it is a kind of demotion, or at least the most poisoned of chalices. It's now on him, and I suspect Putin has unrealistic expectations again 

5/

 

It has been pretty clear that there will be spring offensives – that's what the 150,000 mobiks not thrown into the fight are being held for. 150k fresh troops, however poor quality, will make a difference, but not, I suspect enough for Putin 

6/

 

There may well be some advances, but nothing decisive (and the Ukrainians themselves will be looking to a spring offensive). In many ways, I don't think Moscow's strategy hinges anyway on battlefield victory – it's more about politics 

7/

In other words, demonstrating to the West that Russia is in this for the long haul, and hoping that we will lose the will and unity to continue to support Kyiv. (I think Putin will be disappointed, but he *has* to believe this – it's his only real shot at some kind of victory) 

8/

 

So what does this actually mean? (a) Confirmation, if we needed it, that there will be serious offensives coming, and that even Putin recognises that poor coordination has been an issue (though can even Gerasimov truly command Wagner + Kadyrovtsy?) 

9/

 

(b) Gerasimov is hanging by a thread. I don't think this is intended to create a pretext to sack him as the war is too important and Putin can sack who he wants. But he needs some kind of win or a career ends in ignominy. This may well suggest some kinds of escalation 

10/

 

Not the nuclear option, but more mobilisation or, arguably more militarily logical but politically dangerous, also deploying conscripts. They are better trained and equipped than most mobiks! 

11/

 

(c) Putin doesn't understand/care about his officer corps. If you keep appointing, rotating, burning your (relative) stars, setting unrealistic expectations, arbitrarily demoting them, that's not going to win loyalty 

12/

 

Here and now, I don't see that as a crucial issue, but as with the anger and demoralisation of the Rosgvardiya (because they feel they were used as cannonfodder), it's one of those issues which may bite Putin in a real crisis. 13/end 

Oh, and obligatory PS: NO, THERE IS NO GERASIMOV DOCTRINE! ;)
And here's Marine vet and FPRI Senior Fellow Rob Lee's take:
The Russian Ministry of Defense announced that Valery Gerasimov is taking over as the commander of Russian forces in Ukraine. His deputies will be Surovikin, Army General Oleg Salyukov, and Colonel General Alexey Kim. https://t.co/3bWZCMhNkI pic.twitter.com/VBD02Wvz4v

— Rob Lee (@RALee85) January 11, 2023
I don't think this is because Surovikin is viewed as a failure. Certainly possible that this was driven by political reasons. As the unified commander in Ukraine, Surovikin was becoming very powerful and was likely bypassing Shoigu/Gerasimov when talking to Putin.

— Rob Lee (@RALee85) January 11, 2023
Prigozhin is trying to make himself the public face of Russia's force, and he consistently puts out videos allegedly showing him near the front and seeing the hardships his fighters face. He has repeatedly criticized generals and MoD leaders who are doing the opposite. pic.twitter.com/GVGU0wqrPm

— Rob Lee (@RALee85) January 11, 2023
A good thread by Mark. I think it is important to ask why this change is happening now. If Putin thinks Gerasimov will improve the Russian military's performance, why didn't he appoint him sooner? Russian C2 seems to have improved under Surovikin.https://t.co/f0h1nixtiC

— Rob Lee (@RALee85) January 11, 2023
As a reminder, Putin awarded Surovikin the Order of Saint George on December 31.https://t.co/PtHyefvLKb pic.twitter.com/Gpf5pCWLdD

— Rob Lee (@RALee85) January 11, 2023
And that's enough for tonight.
Your daily Patron!
You`ve probably already seen a cartoon about me. I dream it to become popular and instructive for children all around the world!

And you can help my team create it by joining my Patreon: https://t.co/U5SKtrKTfK

P.S. Tom's photo to attract and hypnotize your attention pic.twitter.com/W9UyAVfKq5

— Patron (@PatronDsns) January 11, 2023
Here's a new video from Patron's official TikTok:
The caption machine translates as:
Dedicated to my best friend and assistant! #pespatron
Open thread!