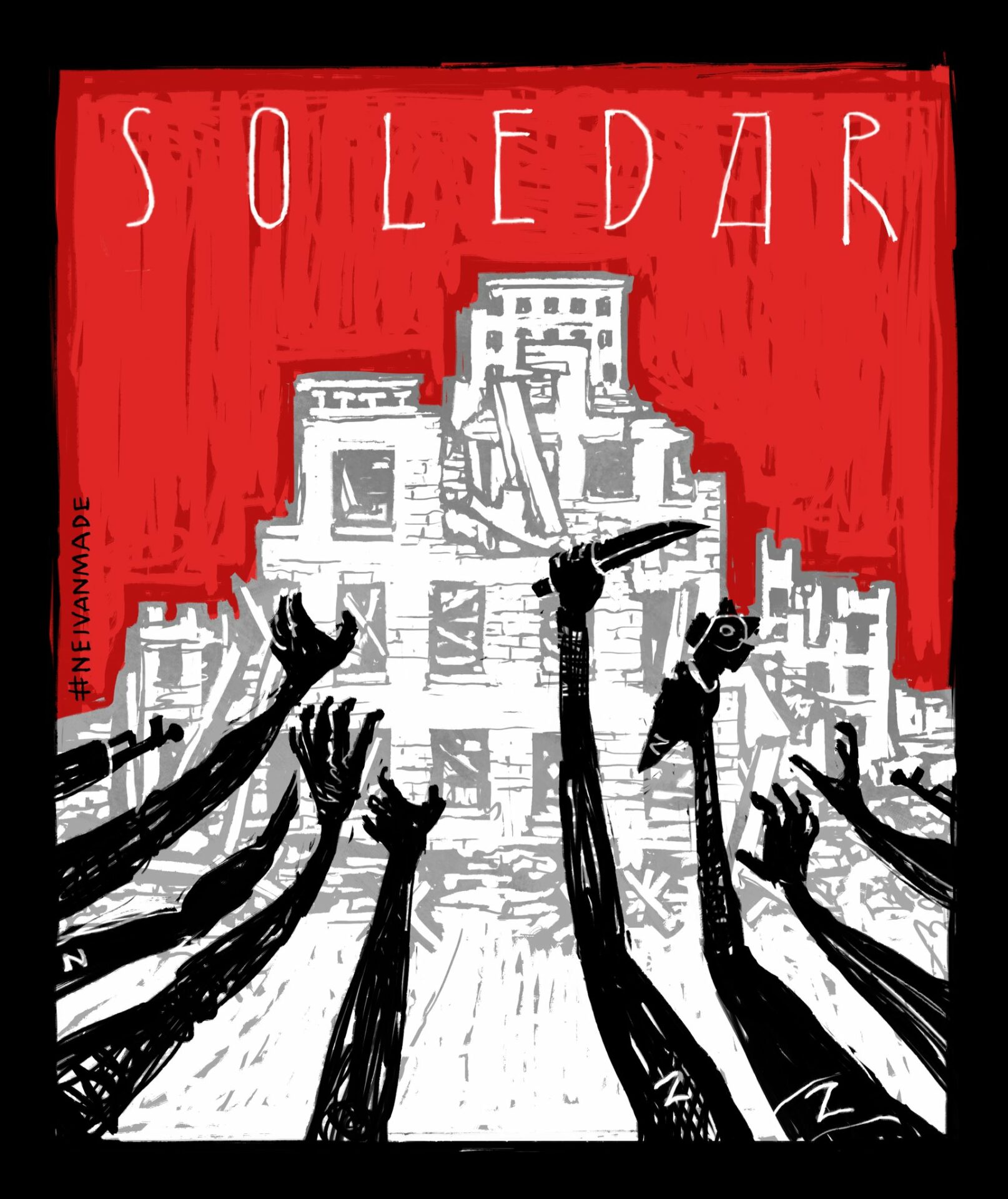 Apparently there was some confusion regarding how one orders the calendar with NEIVANMADE's art. According to the tweet I posted last night, they're available from Back and Alive, which is a charity supporting Ukrainian troops. Here's the link to their website, but I can't figure out how to order the calendars.
Before we get fully started, here's the butcher's bill for Dnipro:
Search and rescue operation in Dnipro has been completed:
– 39 people were rescued, including 6 children;
– 44 people died, including 5 children;
– 79 people were injured, including 16 children;
– 47 reported as missing (23 found dead, 4 found alive). pic.twitter.com/hUUmOiuB23

— Defense of Ukraine (@DefenceU) January 17, 2023
More on Dnipro after the jump.
Finland's Prime Minister speaks, everyone best listen!
From Davos, Finland's PM Sanna Marin says «we don't know when the war ends – but Ukraine has to win. I don't see another choice.» pic.twitter.com/EapDkqbAP6

— Maria Tadeo (@mariatad) January 17, 2023
A bit more from Politico Europe:
Russia would not have invaded Ukraine had it been a member of NATO, Finnish Prime Minister Sanna Marin said Tuesday, adding that was the primary motivation for her country's application to join the military alliance.

Marin said she was "sure" that Vladimir Putin would not have launched the invasion had Kyiv already been a member. "We can look down the history and ask ourselves the question, should Ukraine already be a member of NATO?" she told the World Economic Forum meeting in Davos, Switzerland, adding that "then there wouldn't be a war in Ukraine and this is why also Finland, Sweden is ratifying a NATO membership."

She added that in 2014 when Russia attacked Crimea, Europe and its allies should have acted more robustly. "We need to learn from this day," Marin told the gathering of high-level politicians and business people in the Swiss Alps.

"We want to become a member of NATO because we don't ever again want war in Finland," she said, adding that she hoped the ratification process for Sweden and Finland would go "as fast as possible."

Hungary and Turkey still need to ratify the joint NATO bid of Sweden and Finland.

While Budapest has said it would support the military bloc's latest expansion and sign off on it early this year, Ankara has yet to follow suit.

"There shouldn't be any problems and I have also personally talked with [Turkish] President [Recep Tayyip] Erdoğan and he said what he has said also in public, that there isn't that big of issues with Finland, maybe some with Sweden, but for our perspective, it's very important that Finland and Sweden are going to NATO together because we are sharing the same security," Marin said.
Here is President Zelenskyy's address from earlier today. Video below, English transcript after the jump:
Fellow Ukrainians!

Today the rescue operation in Dnipro has been completed.

79 people were wounded or injured by this Russian strike.

The list of the dead includes 45 Ukrainians, including 6 children, including a boy who was only 11 months old…

Children and civilians are enemies for Russia. Obviously, this could only happen because Russia has turned into an enemy of all mankind.

I thank each and every person in the world who helps us to defend ourselves against terror!

Today we heard very important news from Prime Minister of the Netherlands Mark Rutte. The news is actually a continuation of our recent negotiations with him.

Ukraine will be provided with another Patriot battery. Thank you, Mark! That is, we already have three guaranteed batteries. But this is only the beginning. We are working on new decisions to strengthen our air defense.

Today, I discussed defense cooperation with Federal President of Germany Steinmeier. We are actively preparing for a new meeting in the Ramstein format. We are preparing new important diplomatic steps – we also discussed them today.

The annual forum in Davos, traditionally a powerful global political and economic platform, has started today.

The world hears Ukraine in Davos – they know what Russia has done to Dnipro, they know what terrorists are doing to Kherson, Kharkiv, our Donbas and other territories Russia brought death to.

And we are lobbying for increased global pressure on the terrorist state.

I am confident that following this week, the world will see more active and influential supporters of the establishment of a Tribunal for Russian aggression and a special mechanism to compensate for the losses from the war at the expense of Russian assets.

It is very important that the First Lady of Ukraine presented all the elements of our Peace Formula in Davos today, including the fundamental clause on justice, which envisages full liability of Russian terrorists for everything they have done.

And the world's support for our diplomatic initiative is very much felt.

We are doing everything to ensure that this support becomes truly global and that steps to end Russian aggression and return security are taken by all influential actors in international relations.

Today, I held a meeting with the participation of the Prosecutor General and the Minister of Internal Affairs of Ukraine to identify the culprits of the attack on Dnipro.

Every day there is more and more factual information and legal steps of our state. And all this will end with sentences for all these Russian murderers.

I want to thank all the employees of the Ukrainian law enforcement agencies and all our partners, our intelligence, all special services that are working on the necessary materials for trials against rashists.

I would like to thank all volunteers, public figures, especially journalists who are helping the investigation.

And, of course, I thank all our warriors, each and every one of them who defends the state as part of all our defense and security forces, who is doing everything to oust the Russian army from Ukraine.

First of all, I thank the warriors who are now at the front, who are fighting for our freedom, who are true heroes!

When we oust the occupiers from our land, it will be a matter of time when justice will return, when sentences for Russian murderers will be pronounced.

Glory to all our heroes!

Eternal memory to all those whose lives were taken by Russian aggression.

Glory to Ukraine!
Here is former NAVDEVGRU Squadron Leader Chuck Pfarrer's most recent assessments from Izium and Bakhmut:
IZIUM AXIS / 2230 UTC 17 JAN/ UKR forces have maintained pressure on the Dibrova / Kuzmyne axis. A RU assault across the P-66 Hwy at Chervonopopivka was repulsed. pic.twitter.com/JH7gxSwc7B

— Chuck Pfarrer | Indications & Warnings | (@ChuckPfarrer) January 17, 2023
BAKHMUT/ 2310 UTC 17 JAN/ RU forces attempting to reinforce, support, or resupply Andriivka salient remain under blistering UKR artillery and direct fire weapons. UKR sortied 10 aviation strike missions targeting troop concentrations. Air defense downed a RU Su-25 aircraft. pic.twitter.com/6Dyi2ub0Gz

— Chuck Pfarrer | Indications & Warnings | (@ChuckPfarrer) January 17, 2023
BAKHMUT /1350 UTC 17 JAN/ RU units have renewed frontal attacks in Bakhmut's Eastern suburbs. On 17 JAN, UKR forces were in contact on the H-32 HWY axis south of the Artyomovsk Winery. SW of the urban area, the Russian salient NW of Andriivka appears to have slowed its advance. pic.twitter.com/6YdX55VV3W

— Chuck Pfarrer | Indications & Warnings | (@ChuckPfarrer) January 17, 2023
Bakhmut:
This is the Belarusian regiment fighting on behalf of the Ukrainians.
Assault of the positions of the occupiers near Bakhmut. Soldiers from the "Volat" battalion of the Kalinouski Regiment entered into close combat with the invaders like lions!
They broke into the positions and destroyed the enemy, when the bastards took off the clothes and shoes. pic.twitter.com/3v271rE6iV

— Kastus Kalinouski Regiment (@belwarriors) January 17, 2023
Update from Bakhmut, 17 January – Kiyanyn. pic.twitter.com/yzATGOSwL9

— Dmitri (@wartranslated) January 17, 2023
Soledar:
We've got an identification on the Wagner commander in Soledar:
2/ The Dossier Centre, an organisation founded by Russian dissident Mikhail Khodorkovsky to expose high-level Russian corruption, says it has identified the man who appeared with Prigozhin in a 14 January video (see thread below). https://t.co/WAdLqMz3ds

— ChrisO_wiki (@ChrisO_wiki) January 16, 2023
Here's the rest from the ThreadReader App:
3/ In the video, Prigozhin doesn't name him but calls him an experienced fighter who took Soledar "without chewing snot in a fortnight".

4/ The Dossier Centre names him and says: "He was born in 1981 in Rostov region, graduated from Ulyanovsk Guards Suvorov Military School in 1998 and from Ryazan Higher Airborne Command School in 2003.

5/ "Elizarov served in the 108th regiment of the 7th Guards Airborne Assault Division in Novorossiysk, where he commanded a platoon and a company. He was also a team leader in the 10th Separate Special Forces Brigade in Molkino.

6/ "During his service he took part in combat operations in the North Caucasus. In 2014, Elizarov's military career was derailed. He was accused of fraud with a service apartment – Elizarov provided false documents during its privatisation.

7/ "The court sentenced him to three years of suspended imprisonment and a fine of 100,000 roubles [$1,454 at today's exchange rates]. Elizarov unsuccessfully sued the Ministry of Defence for the flat and was evicted in 2016.

8/ "Since at least 2016, Elizarov has been listed as a member of the Wagner, call sign Lotos, number M-0136. [Note – he was identified by his call sign of 'Lotos' in a recent post by the Wagner-linked Grey Zone Telegram channel.]

9/ "He fought in Syria, where he was wounded by shrapnel in his thigh in 2017, worked as a trainer in Central African Republic in 2018-2019, and commanded an assault unit in Libya in 2021.

10/ "In September 2022, Elizarov appeared with Prigozhin and the governor of the Volgograd region at the funeral of Wagnerite Alexei Nagin.

11/ "The video footage shows Elizarov wearing his awards – a Hero of the Russian Federation star and hero stars of the unrecognised Donesk People's Republic and Luhansk People's Republic."

12/ Meanwhile, while Elizarov's star appears to be rising, Prigozhin's appears to be falling somewhat in the aftermath of Soledar. A source tells the well-connected VChK-OGPU Telegram channel:

13/ "It has now become clear that Prigozhin's influence is absolutely not as huge as everyone (and he himself too) thought. After Soledar, everything went totally different from the plan he had hoped for. It seemed that Prigozhin was about to replace Gerasimov with his own man.

14/ "But everything turned against Prigozhin himself and [Wagner]. Losses are hell, which is generally predictable and understandable given the task at hand. They are trying to cheer up the fighters morally, this was not much practiced in private military companies before.

15/ "But on the whole it is sad, of course. With such an approach the storming of Sloviansk and Kramatorsk will need more men than the 'Musicians' ever had at any one time.

16/ "A small observation – Wagner has come to be referred to internally as "the army" and the military uses the term "unit" [i.e. Wagner calls itself an 'army' while the actual Russian army calls Wagner a mere 'unit'].

17/ "It's hard to tell if this is just a war of words, or if it's some kind of innuendo". /end Sources:

t.me/dossiercenter/…
For anyone wondering, ChrisOwiki is Chris Owens. Owens wrote the military history of L Ron Hubbards service in the US Navy. Which is, perhaps, one of the most niche topics one could pick!
Speaking of Wagner mercenaries, The Financial Times reports that one fled to Norway and is seeking asylum:
A former Russian paramilitary fighting in Ukraine has promised to give evidence against the notorious Wagner group after making a dramatic escape and seeking asylum in Norway.

Andrei Medvedev says he is a former commander of a Wagner unit who left the front lines in November and went on the run until he clambered across two border fences in northern Norway last week.

Tarjei Sirma-Tellefsen, police chief of staff in the Norwegian region of Finnmark, said a border patrol that also included the military arrested the man early on Friday after he illegally crossed from Russia.

Medvedev's high-profile escape is the first known instance of a former member of Wagner defecting to the west since Russia's president Vladimir Putin ordered the invasion last February.

In a video posted on Sunday by Vladimir Osechkin, an exiled Russian human rights activist, Medvedev said he fled from the front lines in November after four months fighting in Ukraine.

Medvedev claimed Wagner had extended his contract indefinitely after it expired and threatened him with extrajudicial reprisals if he refused to fight.
Much more at the link!
Dnipro:
Boxing coach Mykhailo Korenovsky lived in this cozy apartment with his wife and two kids. At the time of the attack, they were in the park, waiting for Mykhailo. He was found dead a day later. Dozens of people are still under the rubble. pic.twitter.com/EyZ1idsHna

— Maria Avdeeva (@maria_avdv) January 16, 2023
Grieving granddad in Dnipro shows a video of his one-year-old grandson: "This little child is still lying under the rubble". pic.twitter.com/CLVLCLbSZ4

— Myroslava Petsa (@myroslavapetsa) January 17, 2023
I'm afraid we might see Russia changing its terror bombing tactics.
Attacks upon vital civilian infrastructure in Ukraine are not bringing about the desired effect, so they might start directly targeting large residential blocks, demolishing several houses at a time.

— Illia Ponomarenko 🇺🇦 (@IAPonomarenko) January 16, 2023
Mariinka:
Mariinka.
The hellscape of Russian liberation. pic.twitter.com/eXx4FmfMtL

— Illia Ponomarenko 🇺🇦 (@IAPonomarenko) January 17, 2023
Saltivka:
Look what Russia did to Saltivka. Once the largest residential area of Ukraine. Only after Ukraine gets more air defense and ATACMS to defend against Russia's daily missile attacks, people will feel safe here. pic.twitter.com/0RkZFj7Ve1

— Maria Avdeeva (@maria_avdv) January 17, 2023
Yes, Putin has ordered a significant increase in the size of the Russian armed forces. However, it is to be a three year build up, so this isn't a call for a 1.5 million person mobilization right away:
Russian President Vladimir Putin ordered the Russian army to increase the number of service members to 1.5 million from 2023 to 2026, according to a briefing of Russia's defense ministry.

— The Kyiv Independent (@KyivIndependent) January 17, 2023
He also did this:
putin has submitted to the State Duma draft laws on withdrawal from the European Conventions on the Protection of Human Rights and on the Suppression of Terrorism.
Indeed, a terrorist state cannot suppress itself.

— Defense of Ukraine (@DefenceU) January 18, 2023
That's enough for tonight.
Your daily Patron!
Ukrainians recapture their territories every day, week, and month. After the military and sappers, volunteers arrive at these places to help people and animals. @UAnimalsENG, Artem Pivovarov, and I fundraise for animal rescue. I will be glad if you join : https://t.co/Kt5hN6s5Xz pic.twitter.com/kBCciS7ELC

— Patron (@PatronDsns) January 17, 2023
You know what to do!
And a new video from Patron's official TikTok!
The caption machine translates as:
Yes, just a few…🥲 #песпатрон
Open thread!