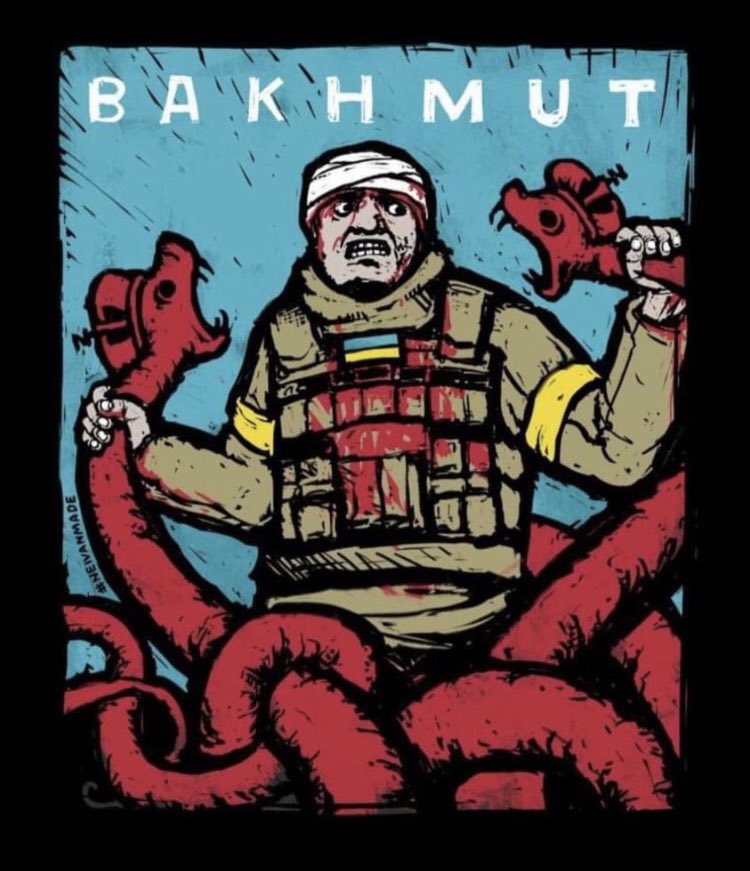 (Image by NEIVANMADE)
Here is The Financial Times' animated map of the battlespace in Bakhmut:
As Russia throws wave after wave of fresh troops into Bakhmut, Kyiv faces an agonising choice over whether it should give up the eastern Ukrainian city https://t.co/kpYBaY5paI pic.twitter.com/cjOsJKVE8I

— Financial Times (@FinancialTimes) February 2, 2023
More on Bakhmut after the jump.
Here is President Zelenskyy's address from earlier today. Video below, English transcript after the jump:
Good health to you, fellow Ukrainians!

Today there was no shortage of statements and comments throughout the day, no shortage of news, especially in the diplomatic sphere.

That's why today's report is brief. I will start with something that has not yet been reported.

Today, I held a meeting of the Staff, for the first time in a dual format.

First, the traditional full composition of the Staff. We reviewed the situation at the front, Russia's attempts to increase pressure in Donbas. The issue of supplying the army. Training of personnel and other issues of constant attention of the Staff.

And then, in the afternoon, an additional meeting of the members of the Staff in a narrow format. For a particularly important conversation.

We will not leave any aggressive action of the invader without our response. The enemy is at a specific stage when Russia's strategic defeat is already clear. But tactically, they still have the resources to attempt offensive actions. They are looking for options to try to change the course of the war and are trying to put the potential of all the territories they still control in the service of aggression.

We have to continue what we are doing: strengthen our resilience, be absolutely united in our aspiration to provide our army and all defenders with the necessary weapons and equipment – we in Ukraine need to speak with one voice to the world on defense supplies. We also need to tangibly increase global pressure on Russia every month.

The enemy must come out of this stage much weaker than they anticipate in the worst-case scenario.

This is a difficult task for us. But we must accomplish it.

We also continue our fight against the internal enemy. I am grateful to the Security Service of Ukraine, the State Bureau of Investigation, the Prosecutor General's Office and all those who are involved in the cleansing of our country. New steps will follow.

Today, in the framework of negotiations with the President of the European Commission and members of the European Commission Board, we have reached very important mutual understandings. That only together a strong Ukraine and a strong European Union can protect the life we value.

That Ukraine needs unwavering and full support in its defense against Russia.

And that we must, through our further integration, give energy and motivation to our people to fight despite any obstacles and threats.

I believe that Ukraine deserves to reach the beginning of negotiations on EU membership this year already.

And I thank Mrs. President of the European Commission, her colleagues and our friends in the EU for their tangible support on the path of integration and in protecting our country and people.

This includes military, financial, energy and social support. And these are the changes by which we ensure more interaction between our institutions – institutions of Ukraine and the EU.

Tomorrow is the second European integration day of the week. The Ukraine-EU Summit will take place. We are preparing.

And one more thing.

Today I took part in the National Prayer Breakfast in Washington, DC. This is an annual event that brings together the most powerful representatives of the American state and society. President Biden was there, as well as senators and members of the House of Representatives, leaders of religious communities and various political communities.

I urged them to do everything we can and as we must in confronting the Russian evil, so that the power of our actions could complement the power of our prayers.

Prayers for salvation from evil, for victory over the invaders, and for peace for all our people – in all municipalities of free Ukraine.

I thank each and every one of our warriors! All soldiers and sailors, sergeants and foremen, officers and generals! To everyone who is resilient!

I thank everyone who helps Ukraine! May all those who pray for our victory be heard!

Glory to Ukraine!
Here is former NAVDEVGRU Squadron Leader Chuck Pfarrer's most recent assessments of the situations in in Kreminna and Bakhmut:
KREMINNA AXIS /2150 UTC 2 FEB/ During the period 1-2 FEB, RU forces conducted a series of armed reconnaissance and offensive operations. UKR forces report contact W of the P-66 HWY between Ploschanka & Bilohorivka. pic.twitter.com/RunIq6cLCO

— Chuck Pfarrer | Indications & Warnings | (@ChuckPfarrer) February 2, 2023
BAKHMUT AXIS /1425 UTC 2 FEB/ RU forces have cut the T-05-13 HWY N of Bakhmut at Blahodatne. UKR staged a disruptive counter-strike against RU areas near Klischiivka. UKR Missile and Artillery targeted RU troop concentrations and a HQ element. pic.twitter.com/PcgxpCrhuN

— Chuck Pfarrer | Indications & Warnings | (@ChuckPfarrer) February 2, 2023
Update on Bakhmut, 2 February. A message to the Ukrainian mobilised – Kiyanyn. pic.twitter.com/X9AKq5ci6o

— Dmitri (@wartranslated) February 2, 2023
The issue confronting the Ukrainians regarding the defense of Bakhmut is risk versus reward. Or, in more tactical slang parlance, is the juice worth the squeeze. At one level you don't want to take the morale hit of giving up a tactical objective you have spent a lot of blood and treasure on. At the same time one has to realistically and, frankly, dispassionately, or as dispassionately as possible, assess the chances for success. And part of that strategic calculus has to be answering the question of whether if Ukraine cedes Bakhmut to the Russians right now does it turns threat to challenge and challenge to opportunity for Ukraine in other places? I can't answer that question because I'm not looking at the intelligence that the Ukrainians have so I don't know what they know. Another consideration is very Taoist: "the wise man invests in loss" and "the wise man yields." Basically if Ukraine stops opposing Russian force trying to take Bakhmut does it cause the Russians to tactically over balance – imagine what happens if someone is pushing on the front of your shoulder and instead of planting your feet and resisting you immediately shift your weight backwards and to the side – creating new openings and opportunities for Ukraine to use Russia's momentum against them. I hope I haven't lost you all, but this is basically taking a concept from internal martial arts – an aikido, judo, or tai chi concept – and applying it to modern combat. I can't answer these questions from my home here in the US, but these are the questions that most surely are occupying the Ukrainian National Command Authority.
I would also suggest that Prigozhin desperately wants Bakhmut. Not because he wants Bakhmut to have Bakhmut, but because he needs it as part of his strategy to go after Gerasimov and Shoigu. Well if he wants it so bad, then give it to him. There are ways to make Bakhmut, to use Sun Tzu's terminology, deadly ground. There are ways to attrit Prigozhin's mercenaries and the Russian military in Bakhmut without direct combat. And ways to bottle them up in Bakhmut as well.
The Economist has reporting on the Ukrainian troops' attitude in the east, including what to do about Bakhmut.
Colonel "Maestro" is a commander in the Kupiansk sector in eastern Ukraine. He has been fighting the Russians since they first invaded, in 2014. His car has a dish for Elon Musk's Starlink satellite-internet service, now ubiquitous along the front lines, attached to its roof. Thanks to his drone intelligence teams, he can watch what the enemy is doing on the other side of the line in real time, "24/7". One night this week he monitored 30 Russian men being sent forward. Two of them were killed. When that happened the rest marched on regardless and did not bolt for cover. In the end nine of them died. "They either had no regard for their own lives," he says, "or they were on drugs."

On January 30th Jens Stoltenberg, NATO's secretary-general, said "we see that they [the Russians] are preparing for more war, that they are mobilising more soldiers, more than 200,000, and potentially even more than that." Mr Stoltenberg is not the only one to warn that a new offensive is in the offing. Ukrainian leaders, including President Volodymyr Zelensky, have said the same, and Russian artillery strikes have sharply stepped up in recent days.But most Ukrainian soldiers at the eastern front seem curiously unfazed. Colonel Maestro's point is that the reinforcements will not be highly trained professionals. Far from it. Many are convicts who have joined the mercenary Wagner Group deployed in the fighting around the city of Bakhmut, because to do so is a way to get out of jail. Their motivation is low, unlike that of the men they are fighting.

If yet more Russian recruits are to be thrown at them, says Oleksandr, a sniper serving under the colonel, that means that the smell of the decomposing bodies abandoned by their comrades will be "unbearable". Meanwhile, Brigadier-General Sergiy Melnyk, who oversees a large part of the Kharkiv region, including its border with Russia, says drones and satellite imagery have not indicated any new build-up of troops there. In fact, he says, the Russians are digging trenches and building defensive positions as if it is they who are expecting an attack.

Ukrainian commanders say that they believe the main Russian aim in trying to take Bakhmut is to present a success to the public at home, particularly for the Wagner Group. "It is in a valley," says General Melnyk, so it will be hard, though not impossible, for the Russians to advance from there and to threaten the much bigger cities of Kramatorsk and Sloviansk, which would then become vulnerable to artillery. It is also possible that Ukrainian-held areas in the region could be encircled. From the Ukrainian perspective, General Melnyk says that the point of continuing to fight to retain the city, even at a high cost, is also symbolic. But beyond that, it plays an important role in tying down a large number of Russian troops. General Melnyk thinks that even if it is lost it could be recaptured later. But not all commanders think defending Bakhmut is worth it in terms of the heavy casualties. "If it was up to me I would pull out," says another of them.

The general hastens to add that there is no room for complacency. He is preparing in case the Russians do launch a fresh push, he says, just as his own forces are getting ready for their own counter-offensive to drive the Russians out of the Ukrainian territory they occupy. It is almost a year since the Russians began their full-scale invasion of the country, but the general says that since Ukrainian forces pushed the Russians out of almost all of the Kharkiv region in September, and Ukrainian forces recaptured Kherson in November, psychologically everything has changed for his men. "We lost our fear of them. We understood that we can fight back and beat them."
More at the link!
Vuhledar:
2/4 At first, I thought that they will accept the failure and will concentrate on holding their gains instead of developing the assault. Especially when some units in the 155th brigade, as well as reserves, refused to assault the "dachi" area.

— Tatarigami_UA (@Tatarigami_UA) February 2, 2023
4/4 Personally, it seems that the enemy generals act like a gambler who is trying to win back the money he has lost, by borrowing even more money from friends and family. Because of this, this battle for Vuhledar is likely to be much longer and bloodier than it was anticipated.

— Tatarigami_UA (@Tatarigami_UA) February 2, 2023
Kramatorsk:
Kramatorsk has witnessed Russian aggression since 2014. In April 2022 Russian missile killed 60 people trying to evacuate at the railway station. And now new Iskander attack destroyed residential building, killing people in their beds. How long will it last? pic.twitter.com/Q20C71YvJn

— Maria Avdeeva (@maria_avdv) February 2, 2023
Apartment building in Kramatorsk destroyed by Russian missile last night. There may still be people under the rubble. Sickening. Painful to see. pic.twitter.com/Ru0uQ84I9R

— Maria Avdeeva (@maria_avdv) February 2, 2023
Izium:
Lyudmila takes Monica for a walk to the devastated main square of Izium. The city was liberated 5 months ago, but the scars are everywhere. On the buildings and on the souls. pic.twitter.com/8QNwCBqZHb

— Maria Avdeeva (@maria_avdv) February 2, 2023
We interrupt this War for Ukraine update to bring you news of a People's Liberation Army surveillance balloon spotted over the US…
"The government has been monitoring a suspected Chinese surveillance balloon…hovering over the northern U.S. for the past few days…military… leaders have discussed shooting it out of the sky, according to two U.S. officials & a senior defense official." https://t.co/KtifZfQoJy

— Shashank Joshi (@shashj) February 2, 2023
"Mr. Biden proposed that the high-altitude balloon be shot down after it was spotted and reported by civilians in a commercial airliner, U.S. officials said. The Pentagon opposed the move, fearing civilian casualties." https://t.co/WXOEpxiZyF

— Shashank Joshi (@shashj) February 2, 2023
"A senior US defense official, speaking on the condition of anonymity under ground rules set by the Pentagon, said the Defense Department considered shooting it down over Montana on Wednesday but decided against doing so out of concern for what might happen to the debris." (Post)

— Shashank Joshi (@shashj) February 2, 2023
I'll shamelessly plug a piece of mine that opened with military ballooning trivia https://t.co/rraA3a6Y6i pic.twitter.com/aH3UzKVvsq

— Shashank Joshi (@shashj) February 2, 2023
This story gets wilder and wilder. "Earlier Thursday, a senior U.S. official described the balloon to ABC News as the size of three buses, with a technology bay" https://t.co/z8bILQFmAF

— Shashank Joshi (@shashj) February 2, 2023
A supposed picture of the balloon https://t.co/zPpLpJiW5E pic.twitter.com/vaaet3uNGC

— Ankit Panda (@nktpnd) February 2, 2023
Obligatorisch:
Also, obligatory:
That's enough for tonight.
Your daily Patron!
A new video from Patron's official TikTok!
The English audio is from AppleTV's new animated adaptation of Charlie Mackesy's "The Boy, the Mole, the Fox and the Horse." Which was excellent. And for the record it was very dusty in here and I'd just used the deshedding tool on the Floofarina and my allergies were acting up when I watched it.
Open thread!