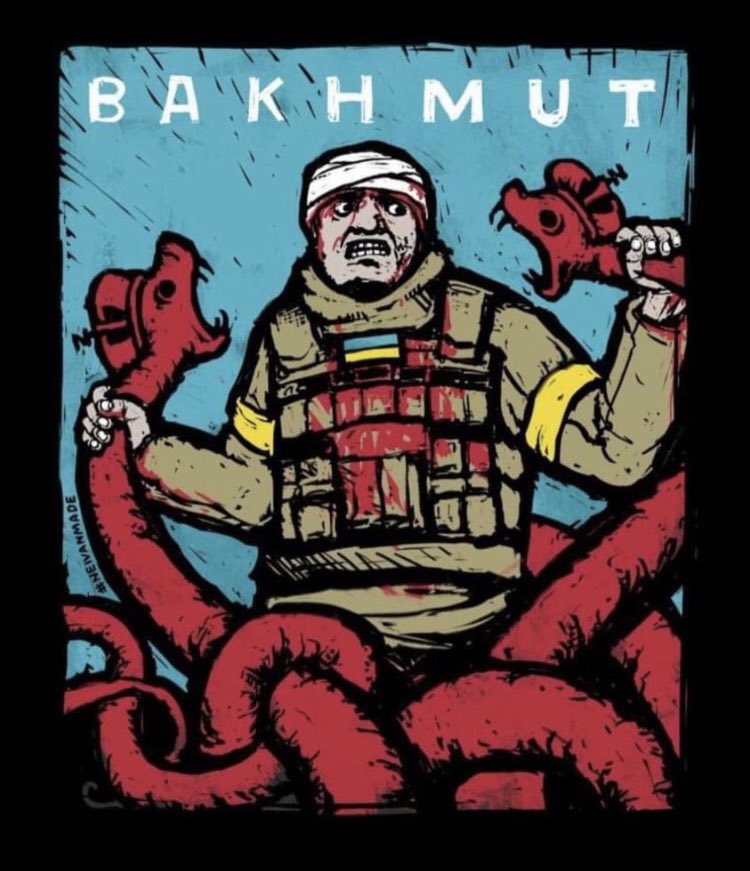 (Image by NEIVANMADE)
Just a quick housekeeping note: I really appreciate those of you that post links to things I've either decided not to include in an update post or haven't gotten too. What I would appreciate though is if you'd be so kind as to actually read through each update post first so we can avoid reposting material in the update post in comments.
Here is President Zelenskyy's address from earlier today. Video below, English transcript after the jump:
Good health to you, fellow Ukrainians!

A report on this day – another day of our defense.

First. The Verkhovna Rada of Ukraine has approved the new Head of the Security Service of Ukraine on my submission. I consider such a path to the appointment a signal to all government officials and employees of our law enforcement agencies.

Vasyl Malyuk has been the Acting Head of the Service for some time. He passed the test of war. He proved his effectiveness. He was appointed.

I am grateful to the people's deputies of Ukraine for their positive vote on the candidacy of Ihor Klymenko for the post of Minister of Internal Affairs. It is important that the system of the Ministry of Internal Affairs, which is an element of the overall defense and security system, has quickly received a leader who has been defending our country since the first minutes of the full-scale invasion together with everyone else.

Now we have people who have gained experience in such a war. They have clear results in their work for the state that is fighting for its people and its independence. There should be more such people on posts of various levels in central and local government.

The relevant appointments have been approved by the Cabinet of Ministers of Ukraine. Dnipropetrovsk, Zaporizhzhia and Kherson regional administrations will be headed by specialists who have real experience in defending the state right now.

Today I met with the German Minister of Defense, who has arrived in Kyiv. The topic of our conversation is obvious. We are doing everything for our skies to be clear, for our warriors to have powerful tanks and for our artillery not to be inferior to that of the occupier. I thank Germany and all partners for the respective support.

Today, as usual, I held several meetings with the military and a meeting with the head of intelligence. We are paying maximum attention to what the occupiers are preparing. And to what our warriors need to effectively resist – in all directions.

The Donetsk region and the east, where the situation is the hottest – I mention them every day in such addresses.

The south sounds less often, although the strategic meaning of these directions is no less significant.

And we are strengthening the state along the entire perimeter.

And today I want to praise the warriors in two directions. Our border guards who are fighting in Donbas. For their daily bravery and resilience in battles. For the results. Luhansk and Kharkiv border guard detachments – I thank you guys!

I am thankful to all our defenders who defend the north of our country! Sumy, Chernihiv, Kyiv, Zhytomyr, Volyn. Operational and Strategic Group "North".

Every direction matters. We are working on all enemy scenarios. We are defending the state.

Today I met with the ambassadors of our United24 charity platform – our athlete Elina Svitolina and French director Michel Hazanavicius.

Michel has joined the ambassadors and will help us with rebuilding.

This is our first United24 voice in France, and I believe it will be a powerful one.

I was pleased to hear that our state charity platform has already managed to accumulate almost $300 million from ordinary people and companies from over a hundred countries.

I spoke with President of Türkiye Erdoğan. I expressed my condolences. I told him about our steps to help the people of Türkiye pull through this ordeal.

Ukrainian rescuers have already left for Türkiye to bolster the rescue operation after the earthquakes. I hope they will be able to save as many lives as possible.

Thank you to everyone who saves lives! 

Thank you to everyone who fights for Ukraine!

Thank you to everyone who helps.

Glory to Ukraine!
Vuhledar, Donetsk Oblast, Ukrainian forces target a formation of Russian T-90S tanks, destroying at least two. pic.twitter.com/SoYG72vDr0

— OSINTtechnical (@Osinttechnical) February 7, 2023
Here is former NAVDEVGRU Squadron Leader Chuck Pfarrer's most recent assessment of the situations in Kreminna and Vuhledar:
KREMINNA AXIS /2310 UTC 6 FEB/ RU forces resumed serial offensives & armed reconnaissance across the P-66 HWY. RU artillery fire missions are plotted inside central Kreminna– confirming that UKR forces have maintained contact within the urban area. pic.twitter.com/BXdxenmT70

— Chuck Pfarrer | Indications & Warnings | (@ChuckPfarrer) February 6, 2023
VUHLEDAR /0300 UTC 7 FEB/ RU offensive operations against Vuhledar frustrated. Ukrainian SOF mine approach vectors and Ukrainian UAVs direct precision strike munitions against advancing RU columns. © Indications & Warnings. Not for use by entities that solicit donations. pic.twitter.com/lQATkQsU9z

— Chuck Pfarrer | Indications & Warnings | (@ChuckPfarrer) February 7, 2023
Kharkiv:
Six explosions in Kharkiv. Air raid alert began after the first strikes. Massive attack with S-300 missiles.

— Maria Avdeeva (@maria_avdv) February 7, 2023
Touch not the cat bot a glove!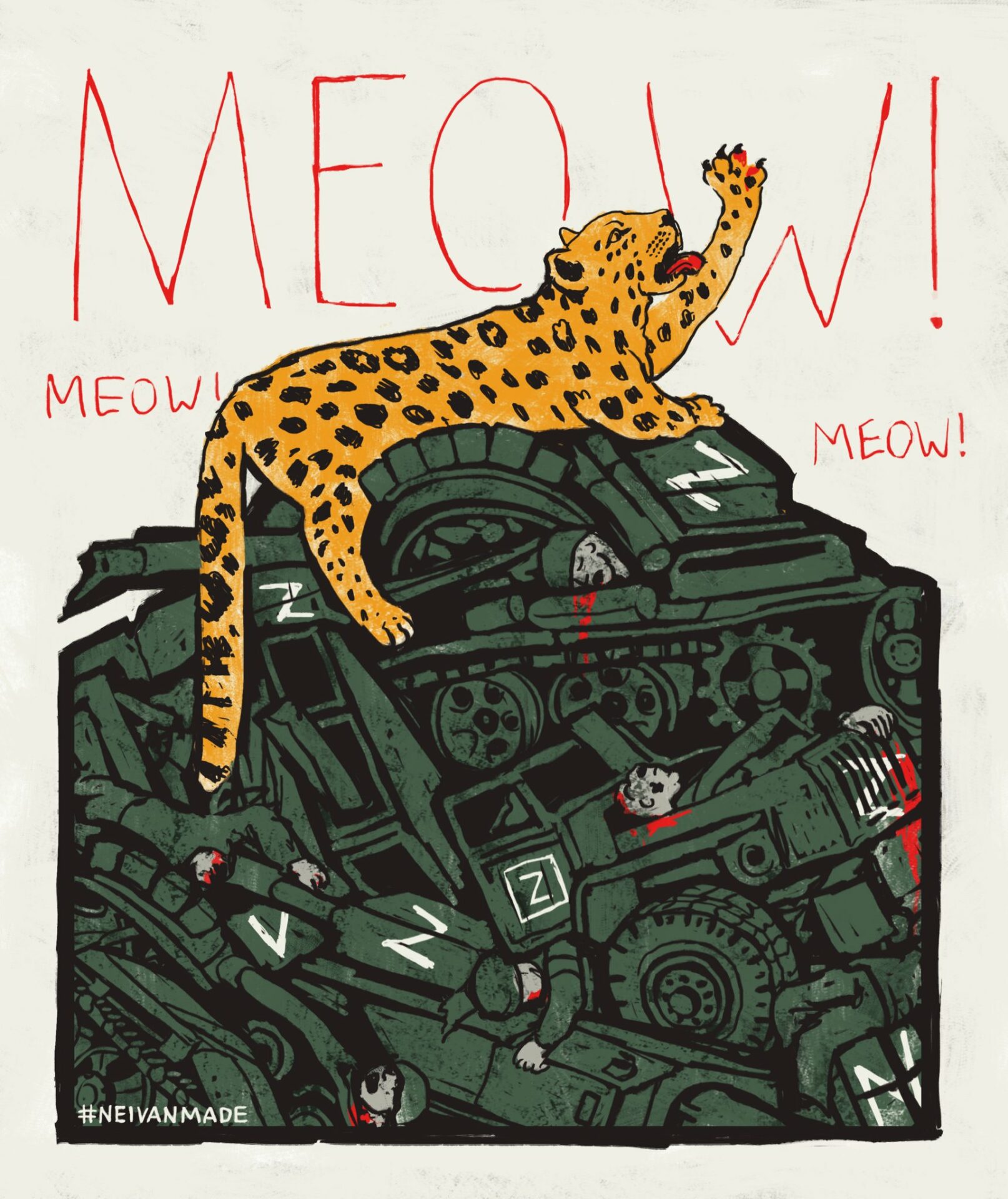 (Image by NEIVANMADE)
Here's the joint statement on the Leopard 1 tanks: https://t.co/gKAI1l94K7

— Christopher Miller (@ChristopherJM) February 7, 2023
Here's the machine translation of the joint statement:
Defense Minister Pistorius and his counterparts from and are starting a joint initiative today to support the #Ukraine with refurbished #Leopard1 A5 main battle tanks from industrial stocks. More information
From the German Ministry of Defense:
Federal government issues export license for Leopard 1 A5 tanks

Release date

The Federal Government supports Ukraine in a European network and in close coordination with international partners by delivering Leopard 1 A5 battle tanks for legitimate self-defense against the Russian war of aggression that violates international law.

The federal government had already announced the political approval of this delivery last week. This was followed by the necessary formal approval steps.

The Federal Ministry for Economic Affairs and Climate Protection ( BMWK ), as the formally responsible approval authority, granted export permits to German armaments companies for up to 178 Leopard 1 A5 main battle tanks for Ukraine. How many Leopard 1 A5 battle tanks are actually delivered to Ukraine depends on the repair work required.

The financing and repair of the tanks as well as the training of Ukrainian armed forces take place in close coordination with European partner countries of the Federal Republic of Germany.
Oh Canada!
Photos from the arrival in Europe of the first Leopard 2A4 Canada is donating to Ukraine.

The donation of four Leopard 2A4 Main Battle Tanks will help Ukraine defend its sovereignty from Russian aggression. pic.twitter.com/jiej7YVtRh

— Canadian Army (@CanadianArmy) February 6, 2023
For you logistics and acquisitions fans out there, and you know who you are and we know who you are, The Financial Times has reporting on the ammunition supply chains:
Ukraine's battle against Russia is consuming ammunition at unprecedented rates, with the country firing more than 5,000 artillery rounds every day — equal to a smaller European country's orders in an entire year in peacetime.

The huge shift to a war footing is creating a supply chain crisis in Europe as defence manufacturers struggle to ramp up production to replenish national stockpiles as well as maintain supplies to Ukraine.

Almost a year since Russia's invasion, the pace of demand for ammunition and explosives is turning into a test of Europe's industrial production capacity in a race to rearm.

"It is a war about industrial capacity," said Morten Brandtzæg, chief executive of Norway's Nammo, which makes ammunition and shoulder-fired weapons.

He estimates Ukraine has been firing an estimated 5,000 to 6,000 artillery rounds a day, which he said is similar to the annual orders of a smaller European state before the war.

The pressure on producers has not been helped by lingering supply chain bottlenecks following the coronavirus pandemic, a lack of production capacity and a shortage of critical raw materials for some explosives, which is holding back efforts to increase output.

Some components are in such high demand, Brandtzæg said, that their delivery time had increased from months to years.

It has led to a rush to source materials, from chemicals for explosives to metals and plastics for fuses and artillery shell casings. Most companies have increased production shifts ahead of expected orders from national governments, and are hiring more people, another challenge since the start of the pandemic.

Yves Traissac, deputy chief executive at military explosives producer Eurenco, said the company was looking to increase production capacity to meet the higher demand from customers that include Germany's Rheinmetall and Britain's BAE Systems.

"We are currently managing a ramp-up to meet our customer demand. It is a challenge but we are working on that," he said.

One particular challenge is sourcing nitric acid, which the company uses in small quantities to make explosives but which is also a key ingredient in the manufacture of fertiliser. With parts of Europe's fertiliser production reduced because of the high cost of energy, the supply of nitric acid "has to be secured with our suppliers", said Traissac. Eurenco, he added, was working to "have additional sources of critical raw materials".

Rheinmetall, Germany's largest defence contractor, announced last month that it would build a new explosives factory in Hungary in a joint venture with the government to address the shortage.

The explosives produced in the new plant will be used for artillery, tank, and mortar ammunition, among other things. The company has also restarted decommissioned ammunition production facilities, it told the Financial Times, and has "bought in large stocks of important materials".

Mick Ord, chief executive of Britain's Chemring, which supplies a range of explosives and propellants to defence contractors, said some customers had asked if it was possible to "increase output [of certain materials] by 100 to 200 per cent".

According to Ord, a "lot of the post-pandemic supply chain challenges are starting to abate".
Much more at the link!
The Guardian brings us a report of the ferality (feralness?) and barbarism of Russian forces in the Donbas:
Ukraine has released extraordinary video footage that appears to show Russian fighters dragging their badly wounded commander away from the battlefield, and then beating him violently with what appear to be shovels.

A Ukrainian drone captured the incident near the eastern city of Bakhmut, where intense fighting has been raging for months. Four soldiers from Russia's Wagner mercenary group carry their colleague through a landscape of ruined houses, holding his arms and legs.

They then dump him next to a barn. A second video appears to show three men then hitting him repeatedly with shovels. The fate of the injured commander is unclear. But the episode tallies with persistent reports of low morale among Russian mercenary units.

Ukrainian soldiers fighting in and around Bakhmut have described how Wagner troops attack in waves. They are reportedly threatened with execution if they fail to advance and are mown down in large numbers, their corpses littering the frontlines.

A drone unit from the Seneka special platoon shot the footage earlier this week. It was released on Ukrainian social media channels on Monday.

According to the centre for defence strategies, a Kyiv thinktank, the Russian military command has recently changed its tactics in Bakhmut. Soldiers were now launching continuous and rolling assaults that sometimes lasted "for 10 hours", it said.

Wagner detachments, together with troops from Russia's 106th airborne division, were trying to storm Ukrainian positions on the northern outskirts. There was heavy fighting on the east of the city. In the south, Russian forces managed to advance 500 metres after a surprise attack, the thinktank reported.

Ukraine's hold on Bakhmut appears increasingly precarious. Most analysis believe Ukrainian units will be forced to withdraw if Russian troops capture the T0504 highway – a key supply route – or break through to the Berkhiv reservoir.

The town has little strategic importance but enormous symbolic value, ahead of the first anniversary on 24 February of Vladimir Putin's full-scale invasion of the country. Ukraine has massively fortified the nearby cities of Sloviansk and Kramatorsk, where the bulk of its eastern forces are concentrated.

Since then, however, Russia has regained the initiative. It has made slow but steady progress towards Putin's goal of "liberating" the Donbas. That means gaining control of all of Donetsk province and the last remaining pockets of Luhansk oblast still in Ukrainian hands.

The head of the Wagner group, Yevgeny Prigozhin, has personally led a campaign to recruit criminals from Russian prisons to fight on the eastern frontline. He has claimed credit for Russian tactical gains in the region, including the capture last month of the Ukrainian town of Soledar, immediately north-east of Bakhmut.

A second prison tour to drum up additional soldiers has been less successful, as reports of the atrocious casualty rate in Ukraine filter back to Russia. Ukraine's parliament and the US have designed Wagner an international criminal organisation.
More at the link!
Speaking of Wagner, Newsweek – yes, I know… – about Wagner and Prigozhin's status in how Putin and the Kremlin are racking and stacking their assets:
The 61-year-old Russian businessman, who earned the nickname "Putin's chef" through his catering contracts with the Kremlin, has given himself credit for the January capture of Soledar. The small salt-mining town Ukraine's eastern Donetsk region was Russia's first battlefield gain in Ukraine since the summer of 2022.

Now, however, months after declaring himself as the mastermind behind the notorious paramilitary outfit the Wagner Group, Prigozhin seems to be losing his influence in the war. As his appetite has grown in the political sphere, cracks are beginning to show in his relationship with the Kremlin.

Rifts over battlefield failures in Ukraine are becoming increasingly frequent. He has also been lauding his fighters as the most effective units in the war despite their failure to make significant advances in the embattled city of Bakhmut, into which he has poured his fighters—largely Russian convicts—for the past six months.

The Wagner Group, which has been heavily involved in the current fighting in Ukraine and assisted the Russian military in the annexation of Crimea in 2014, now seems to be playing a less prominent role in operations around Bakhmut. Putin is gradually replacing Wagner fighters, favoring instead professional military personnel and government officials.

In doing so, the Kremlin appears to be sending a very public message to Prigozhin—that the Russian defense ministry is running the conflict and can finish the war without him.

Ever since Prigozhin stepped out of the shadows in September 2022, his potential political ambitions have been the topic of intense speculation.

Prigozhin, who was born in St. Petersburg and who himself served years behind bars, quickly made a name for himself in the war after he was seen in a leaked video recruiting soldiers from Russia's extensive penitentiary system, amid reports that the country was facing personnel shortages in Ukraine.

For months he has been spearheading a recruitment drive, offering male prisoners commuted sentences and cash incentives in return for six months of military service in Ukraine. To do this, he has had to push Putin to secretly pardon convicts recruited to fight in Ukraine.

Joana de Deus Pereira, senior research fellow at the Royal United Services Institute (RUSI), a British think tank, said that at the beginning of the war, a largely commercial relationship existed between the Kremlin and Wagner Group. The paramilitary outfit was initially seen as a "very useful tool" and as "an instrument of war," she said.

When Prigozhin finally admitted he was the financial sponsor of the Wagner Group, "in his speech, you can see a clear building of a political character," she told Newsweek.

"Now, Prigozhin has become much more dangerous in terms of the political persona he wants to be," she said.

The relationship between Prigozhin and the Kremlin began to disintegrate when the businessman began presenting himself as both a military solution for the conflict and a political solution.

There has been a "crescendo" of publicity since he announced himself to be the founder of the Wagner Group, she said.

"He sees himself as a defense minister or someone with a high profile inside the Kremlin, at least visible and respectful enough to be rewarded for what he has been doing for the country."

Vlad Mykhnenko, an expert in the post-communist transformation of Eastern Europe and the former Soviet Union at the University of Oxford, said Prigozhin seems to have decided that he needs a bigger public role in Russia.

"He is not satisfied anymore with just being a shadowy private sector contractor. He looks like he wants something more, a more serious official public kind of job," Mykhnenko told Newsweek.

The Wagner Group is now losing its power "because the Kremlin wants also to show that they are the ones in charge," said de Deus Pereira from RUSI.

Prigozhin, she said, is "moved by national pride and money."

"He wants to be recognized for his feats, but if he said he has political aspirations, that moment he would be killed. He desperately wants to be seen as a hero—once he is, he has Russian public opinion validation. So he needs to become not only a tool of war, but the hero," she added.

After Soledar's capture, Prigozhin released a video praising his fighters as "probably the most experienced army in the world today."

Tensions mounted when Putin attributed success in Soledar to his defense ministry, making no mention of the Wagner Group. Prigozhin accused the ministry of attempting to downplay the Wagner Group's role in the capture of Soledar, and of belittling its achievements.

Shortly before he claimed to have captured Soledar, he released a video on his Telegram channel, purportedly taken in the town's network of salt mines, caves and 125 miles of tunnels. According to de Deus Pereira, this was Prigozhin's boldest move yet in displaying his political ambitions.

"Looking at symbology, everything that Prigozhin does has meaning. He had a package of salt and paid with salt someone inside a car. He was basically saying we not only control the mines but we also control the villagers and the citizens of Soledar," she said.

"This was a clear message—not only that they control the field, but they also control the people. He wanted to convey this message to his Russian counterparts."

Prigozhin's objective, she said, is to capitalize on his participation in the war and to become a central figure in Russian politics.

Mykhnenko said he believes Prigozhin used Soledar to save his image amid the Wagner Group's setbacks in Bakhmut.

"He used Soledar as a decoy, it was a smaller price, and declared this massive victory understanding that Bakhmut probably will be and is beyond reach," he said.
Much more at the link!
That's enough for tonight.
Your daily Patron!
We've created the poster of the cartoon with the autographs of the main cast + me&Mykhailo. All the profit will go to my fundraising for the sappers☺️https://t.co/W95N20yT46 pic.twitter.com/NnxH51vF0h

— Patron (@PatronDsns) February 7, 2023
Here's the new episode:
And a new video on Patron's official TikTok, which, as you can imagine, is about the new episode:
@patron__dsns

Ви таааак давно її чекали! Друга серія мультсеріалу вже на моєму YouTube та на @MEGOGO😃 Посилання у шапці профілю!
The caption machine translates as:
You have been waiting for it for soooo long! The second episode of the animated series is already on my YouTube channel and on @MEGOGO 😃 Link in the profile header!
Open thread!