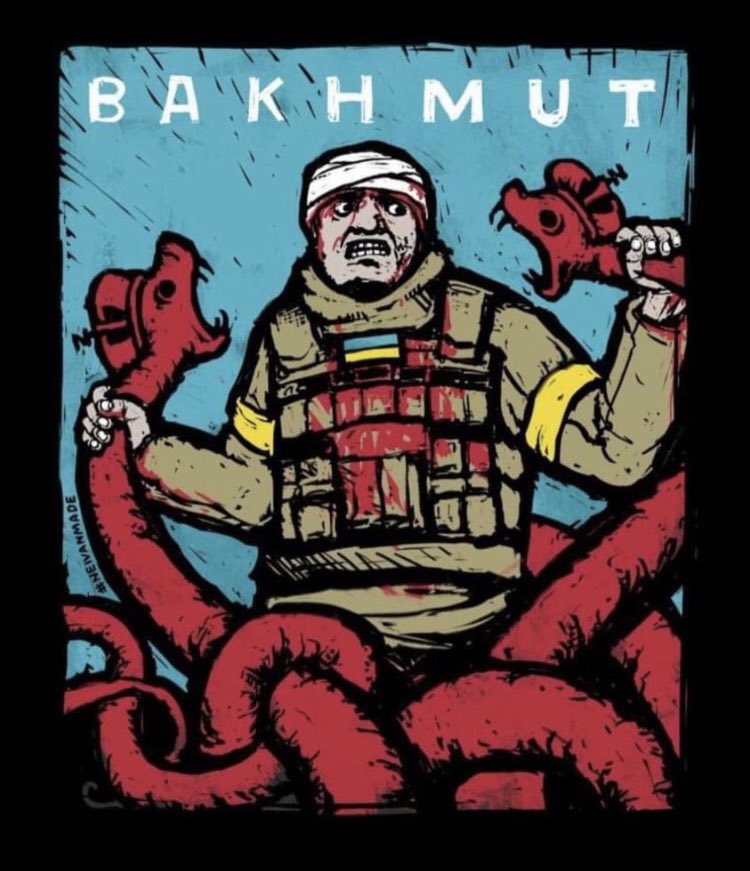 (Image by NEIVANMADE)
Here is President Zelenskyy's address from earlier this evening. Video below, English transcript after the jump:
Good health to you, fellow Ukrainians!

This is another sanctions step by our state against the nuclear industry of the terrorist state. By my decree, I put into effect the decision of the National Security and Defense Council to impose sanctions on 200 people working for the Russian nuclear industry.

We are doing everything to make sanctions against the Russian nuclear industry part of global sanctions against Russia for the war.

It is not easy. There is some resistance. But there was a time when other restrictions against Russia seemed difficult to implement as well. They did. Now they are already in place. For example, on oil and oil products from Russia.

All elements of the Russian system that are involved in the war, in providing terror and financing aggression must be isolated from the global system. This will be done!

This is all the more true for those who participated in the seizure and illegal actions at our Zaporizhzhia nuclear power plant. Russia's radiation blackmail of the world must be punished.

This is also something we will be discussing at various diplomatic levels next week.

This will be an equally important week for our international positions.

We are already preparing for the planned communications and negotiations. We will not interrupt the diplomatic marathon we have launched to strengthen armed and other support for Ukraine for a single week.

Today I would like to personally praise everyone who is restoring the energy capabilities of our country. Today and yesterday, the majority of Ukrainians spent without many shutdowns.

Of course, unfortunately, there were still restrictions in some districts and cities. Where the degree of destruction is too significant. Of course, with the start of the new week, consumption will increase, and therefore there will be outage schedules. But the very fact that we can have such calm days in terms of energy after the constant terrorist attacks with missiles and Shaheds, after the massive missile attack this week proves the professionalism of our power engineers and the extraordinary dedication of everyone who works on the provision of our energy system.

I am grateful to all Ukrainian power engineers, all repair crews, employees of the State Emergency Service, utility workers, regional and local authorities who helped. And to the businesses that have been involved in the relevant work.

We must realize that this is not yet a decisive victory on the energy front. Unfortunately, there may be new terrorist attacks from Russia. There may be new restrictions if there is new destruction and consumption growth. But today and yesterday are yet another proof that by working together and helping each other, Ukrainians are doing great things.

So let's stay united! Do not waste a single day or a single week! All for the sake of Ukraine!

Thank you to everyone who works for our country! Glory to each and every one who is in combat!

Glory to all those who are defending Bakhmut, Vuhledar, Chasiv Yar, Maryinka, Avdiivka and all other directions in the Donetsk and Luhansk regions, as well as along the entire frontline!

Resilience, unity and mutual support are our strength!

Glory to Ukraine!
Here is former NAVDEVGRU Squadron Leader Chuck Pfarrer's most recent assessments of the situations in Bakhmut and Vuhledar:
BAKHMUT AXIS /1630 UTC 12 FEB/ UKR continues to hold the urban area of Krasna Hora. RU forces have maintained a salient N of the village, threatening the M-03 / T-05-13 junction. UKR forces are in contact North of H-32 HWY near Chasiv Yar. pic.twitter.com/TLSenld0Sx

— Chuck Pfarrer | Indications & Warnings | (@ChuckPfarrer) February 12, 2023
VUHLEDAR /1445 UTC 12 FEB/ After the RU defeat at on 10 FEB, local Ukrainian forces counter attacked and dislodged Russian units who had advanced west of Vuhledar. On 12 FEB, UKR forces are reported to be in contact south of the urban area. pic.twitter.com/9UlT1d5pGD

— Chuck Pfarrer | Indications & Warnings | (@ChuckPfarrer) February 12, 2023
Bakhmut:
Magyar from Bakhmut: from tomorrow, the city administration closes access to civilians and press to protect their safety. The enemy continues with regular attempts to encircle the city, but the city remains under Ukrainian control. pic.twitter.com/TjT1CZKiZD

— Dmitri (@wartranslated) February 12, 2023
Update on the Donetsk Oblast offensive, 12 February: very heavy fights, the Russian large-scale offensive is already taking place, with the area north of Bakhmut being the most challenging. But we are holding the line, inflicting major losses on the enemy – Kiyanyn. pic.twitter.com/vkdP5ObM90

— Dmitri (@wartranslated) February 12, 2023
Vuhledar:
12.02 🇺🇦Vuhledar – 17:30 update

The enemy made another fruitless attempt to advance with several tanks through the minefield. Throughout the day even more vehicles and assaulting infantry groups have been eliminated, few POW's were captured.

— Tatarigami_UA (@Tatarigami_UA) February 12, 2023
🧵Vuhledar🇺🇦 update:

1/9 This thread includes additional details about the battle of Vuhledar and satellite imagery that helps to understand and visualize the situation better. I had to break this into several parts, so I can publish more imagery of russian losses later. Part 1 pic.twitter.com/uzxXd0i6YC

— Tatarigami_UA (@Tatarigami_UA) February 12, 2023
3/9 Battalions from the 36th and 72nd (russian motor rifle) brigades tried to advance alongside the 155th and 40th brigades but also failed. Special forces partially lost control when the commander of the 14th Spetsnaz Brigade, colonel Sergey Polyakov was killed. pic.twitter.com/iDGXcAYNov

— Tatarigami_UA (@Tatarigami_UA) February 12, 2023
5/9 Not that many people are fit to be in the forward vanguard assault groups that face an enemy first. It takes a lot of experience, courage, or stimulants to attack and act effectively when you know that your chances to be killed or wounded in the assault are almost 90%. pic.twitter.com/SoUcU6neRA

— Tatarigami_UA (@Tatarigami_UA) February 12, 2023
7/9 After staggering casualties of the VDV forces in the battle for Kyiv, it took them a year to restore assault capabilities partially, which we can see in the Kreminna area. It will take as long for marines to restore assault capacities, especially after a catastrophic failure pic.twitter.com/StmBWiAK2C

— Tatarigami_UA (@Tatarigami_UA) February 12, 2023
9/9 I am planning to publish imagery of infamous armored vehicle columns in the coming weeks, so if you don't want to miss it, make sure to follow and retweet, as Twitter algorithms might not be in favor of war-related information.

— Tatarigami_UA (@Tatarigami_UA) February 12, 2023
A man that looks like Putin strangely declares that the Pacific and North Fleets marines are "fighting heroically, right now". The same marines that drive over each other on BMPs and run around aflame near Vuhledar. Is this person aware at all of what's going on in the war? pic.twitter.com/Ewp8B2JJVJ

— Dmitri (@wartranslated) February 12, 2023
Kyiv:
I have no idea how they do this, but tomorrow it will be the second day in a row with no planned power cuts in Kyiv and the region.
At least that's what our energy monopoly says. And it's frosty now, and there was a massive missile attack just recently.

— Illia Ponomarenko 🇺🇦 (@IAPonomarenko) February 12, 2023
The funniest thing is that the cold season is drawing to an end already. Neither Ukraine nor Europe is not even close to begging Putin for peace on their knees in the dark and cold, but the Kremlin motormouths can't stop masturbating their hourly-paid rage.

— Illia Ponomarenko 🇺🇦 (@IAPonomarenko) February 12, 2023
Kharkiv:
Russian S-300 missile hit Kharkiv central park on Tuesday.

📷 Serhii Kozlov

— Maria Avdeeva (@maria_avdv) February 12, 2023
Even after almost a year, this Kharkiv feels surreal to me. pic.twitter.com/8Xh2vhIq3x

— Maria Avdeeva (@maria_avdv) February 12, 2023
Grozny:
"We will take Odesa, Kharkiv and Kyiv and reach Poland,"
I have to admit Kadyrov has a really good sense of humor.

— Ivana Stradner 🇺🇸🇺🇦 (@ivanastradner) February 12, 2023
The Guardian brings us the details of how Iran is getting their munitions to Russia for use in Ukraine:
Iran has used boats and a state-owned airline to smuggle new types of advanced long-range armed drones to Russia for use in its war on Ukraine, sources inside the Middle Eastern country have revealed.

At least 18 of the drones were delivered to Vladimir Putin's navy after Russian officers and technicians made a special visit to Tehran in November, where they were shown a full range of Iran's technologies.

On that occasion, the 10-man Russian delegation selected six Mohajer-6 drones, which have a range of around 200km and carry two missiles under each wing, along with 12 Shahed 191 and 129 drones, which also have an air-to-ground strike capability.

Unlike the better-known Shahed 131 and 136 drones, which have been heavily used by Russia in kamikaze raids against Ukrainian targets, the higher-flying drones are designed to deliver bombs and return to base intact.

The disclosures demonstrate the increasing closeness between Iran and Russia, which share a hostility towards the US, since Moscow launched its unprovoked invasion of Ukraine a year ago.

Last August, US officials said that Iran had begun showcasing the Shahed 191 and 129 drones in June to Russia, and said they expected Tehran to sell them to Moscow. Mohajer-6 drones have been downed in Ukraine since September, with officials displaying one in November to the Guardian in Kyiv.

Increasingly short of missiles to sustain its brutal bombing campaign of Ukraine's towns and cities, Russia has turned to Iran and also North Korea to replenish its stocks. Many in Ukraine fear Russia plans to launch a major attack around the time of the one-year anniversary of the war in less than two weeks.

Meanwhile, the US, the UK and other western governments have been monitoring the arms cooperation keenly, partly in an effort to prevent it from escalating. Moscow has also sought to buy ballistic missiles, although there is not any public evidence that Tehran has agreed to send them.

Russia may have been keen to obtain the more advanced drones, loosely comparable with the Turkish Bayraktar TB2, because Ukraine has become increasingly effective in stopping the smaller suicide drones, which have to fly in low before striking.

In October, Kyiv was hit by a Shahed 136 drone attack, which killed five when one got through and exploded on a house near the city's railway station. But in January, Ukraine's air force said it knocked out 45 of 45 drones after a mass attack timed to coincide with the new year.
More at the link!
What's American air defense doing?
Senior administration official says the object shot down over Lake Huron today was over Montana last night. NORAD "re-acquired" radar contact today and tracked it over Wisconsin and Michigan.

Was shot down at an altitude of about 20K, lower than previous similar actions.

— Dan Lamothe (@DanLamothe) February 12, 2023
Cylinders are so passé: "The [Lake Huron] object was octagonal in structure, unmanned and traveling at about 20,000 feet, the official said. There is no indication of surveillance capabilities but the admin cannot rule that out." https://t.co/E3ecZpThwZ

— Shashank Joshi (@shashj) February 12, 2023
That's enough for tonight.
Your daily Patron!
I met @RishiSunak a few months ago. And we had a pleasant conversation. Damn, I should have asked for F-16, not a royal corgi pillow! 🫢 How to go back in time? Does anyone know? pic.twitter.com/7TLSURIHM5

— Patron (@PatronDsns) February 12, 2023
@Number10cat , could you please do something? Rishi will not be able to say « no » to you☺️

— Patron (@PatronDsns) February 12, 2023
Typhoon! Not F-16! Made a slip

— Patron (@PatronDsns) February 12, 2023
Open thread!